Edible science experiments are a great way to incorporate food and science into one activity. Kids will love learning the science behind the projects and watching how things work together.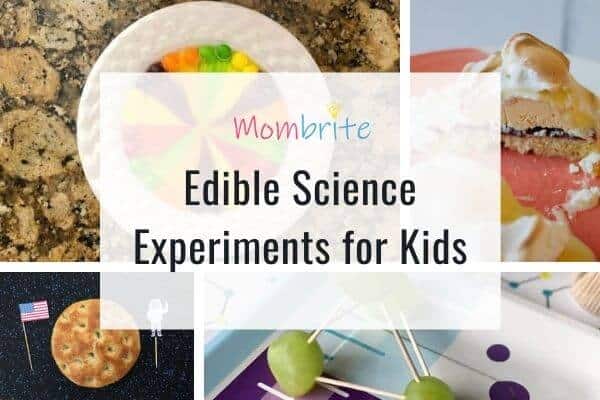 Food can teach us a lot about science, biology, and chemistry. These fun edible science experiments are a great way to incorporate some fun kitchen science learning into your home. Plus, these activities are easy to set up, and most only need a few supplies that you already have in your kitchen.
Food science experiments for kids are like a magic show that unfolds in your kitchen. They offer a unique opportunity for children to explore complex scientific concepts in a tangible and appetizing way. From the chemical reactions behind baking soda volcanoes to the transformation of liquids into solids through the power of gelatin, these hands-on kitchen chemistry experiments demystify the wonders of science while turning food into a fascinating laboratory.
In this blog, we'll delve into a delectable world of food science experiments for kids, where they can mix, measure, and munch their way to understanding the scientific principles hiding within their favorite snacks and dishes. So, roll up those sleeves and get ready to embark on a culinary journey that combines creativity and education in the most delicious way possible!
Edible Science Experiments to Try at Home
Your kids will love using their favorite snack items in these edible science experiments. Just use caution to make sure your child is not stuffing a dirty food item in his or her mouth. I recommend putting some fresh snacks that are "for eating only" aside and making the rule that the ones "for experiment only" should not be eaten.
Magic Melting Skittles Experiment from Mombrite
An easy candy activity for kids, kids will love seeing how Skittles react with water to create a fun rainbow of colors.
Marshmallow in the Microwave from Mombrite
Kids will love seeing what happens to a fluffy marshmallow once it is put in the microwave and heat is added to the mix.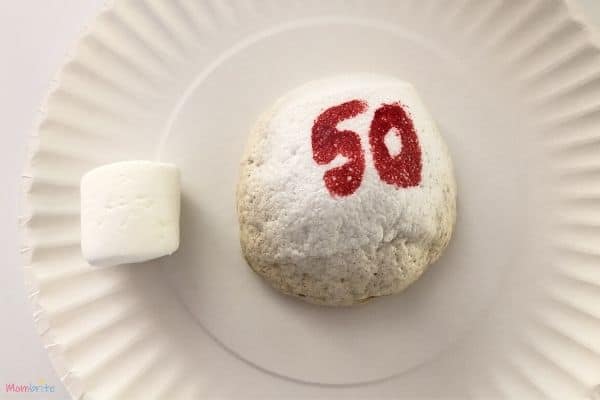 Make Fizzing Leaveners with Yummy Crate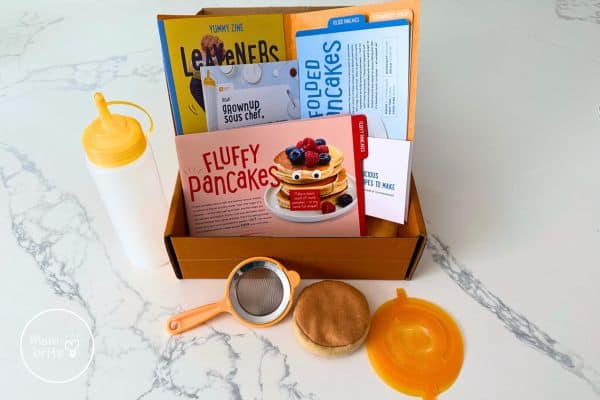 Have you ever used expired baking powder or baking soda and wondered why your baked goods didn't turn out as light and fluffy as you would like?
The leaveners experiment in KiwiCo's Yummy Crate provided a quick test that you can do to find out if your leavener is still good for giving food a bubbly, airy texture. I happened to have baking soda that expired 8 months ago, and I had been wondering if I could still use it, or if should I throw it out.
Using hot water and vinegar and the detailed instructions Yummy Zine booklet, we were able to determine that the expired baking soda was still usable! However, the recently bought baking soda did seem to produce more bubbles.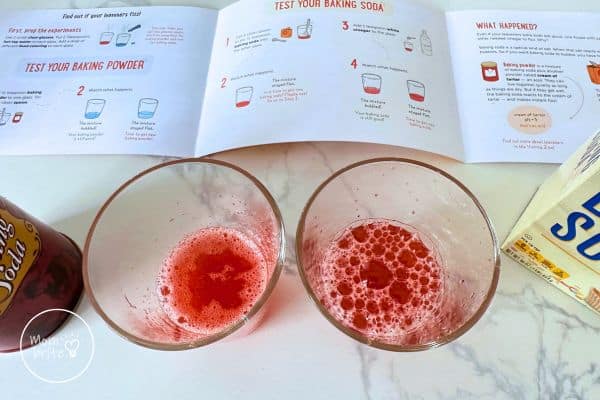 Thanks to the Yummy Crate, we also learned the difference between baking powder and baking soda, made fluffy pancakes, and homemade strawberry syrup. Though we had made pancakes before, I never stopped to carefully look at the leaveners at work. Look at all the air bubbles formed by the baking powder!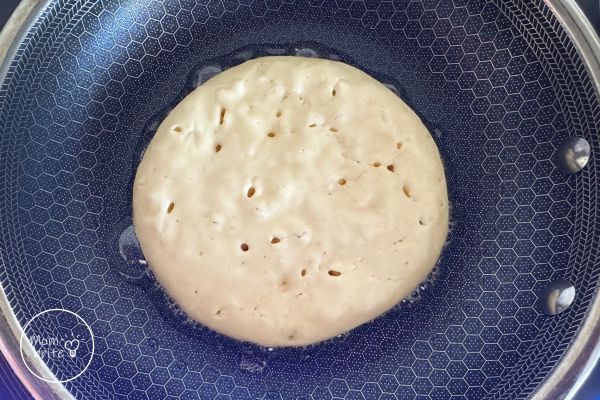 As a homeschool mom, my favorite part of the Yummy Crate is the easy-to-understand explanations of the science behind how things work. In this crate, we learned about the different ways to get air inside treats!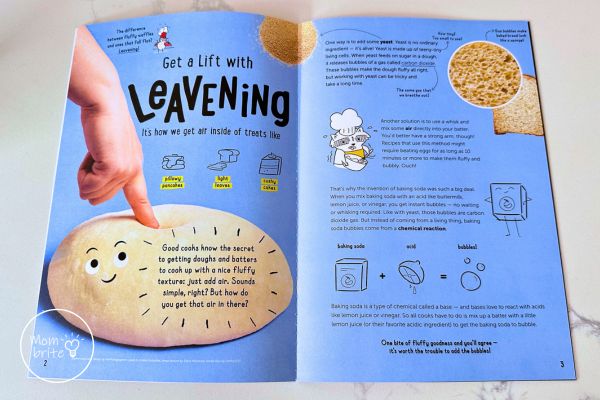 If your kid likes food science and cooking, Yummy Crate by KiwiCo is an exciting monthly subscription that not only comes with fun kitchen experiments but also teaches your kids easy recipes that they can make. We look forward to ours every month!
Popcorn Pop Science Experiment from Mombrite
This edible experiment will have kids learning the science behind how popcorn pops and turns into one of our favorite snacks.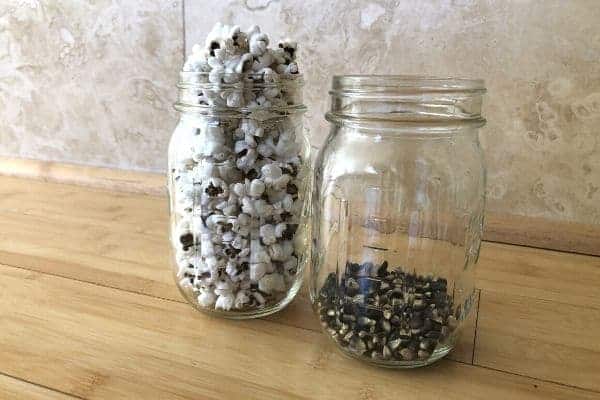 Floating M&M Candy Science Experiment from Mombrite
Like the Skittles experiments, just with M&M candy, this science experiment is a fun way to see which color dissolves faster.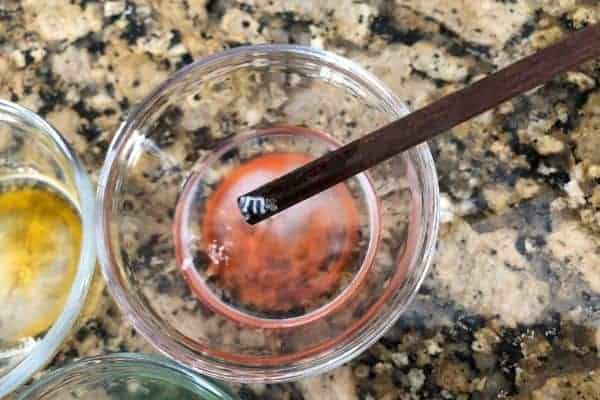 Gummy Bear Science Experiment from Mombrite
Through the process of osmosis, kids will love seeing how gummy bears grow and shrink with this fun science experiment.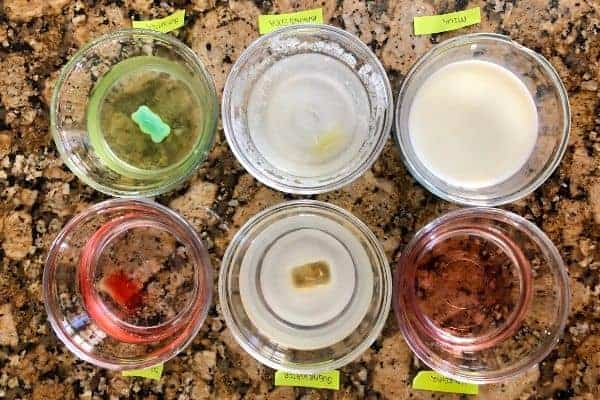 Ice Cream in a Bag from Mombrite
Making ice cream at home without a fancy ice cream machine is easy and is a great science experiment that the kids can do.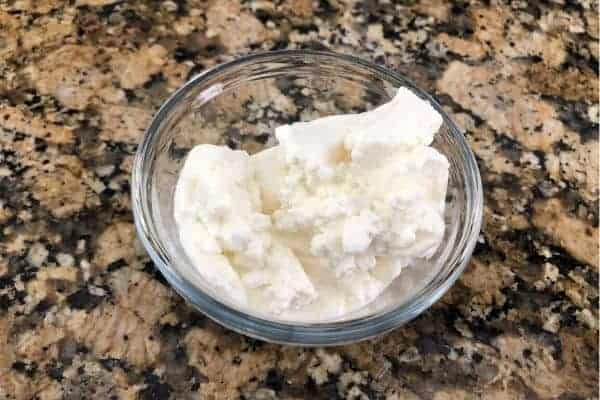 Homemade Butter in a Mason Jar from Mombrite
Such a fun way to incorporate food and science, this experiment will have kids learning the food preparation process by making their own butter.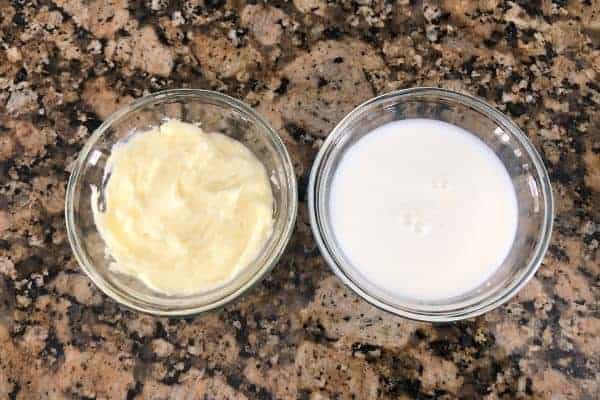 Moldy Bread Experiment from Mombrite
What makes mold grow? In this rather gross science experiment, your kids will discover the optimal storage conditions to prevent mold from growing on bread. This experiment demonstrates the importance of food hygiene and preservation practices.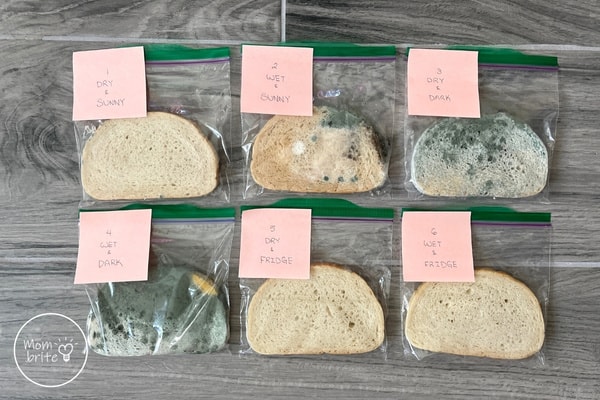 Red Cabbage pH Indicator Experiment from Mombrite
Whether you like eating red cabbage or not, you'll be amazed by how red cabbage juice can decipher the pH levels of various liquids. Your kitchen may smell a bit from making the cabbage juice, but it's worth seeing how the juice can determine the acidity and alkalinity in everyday substances.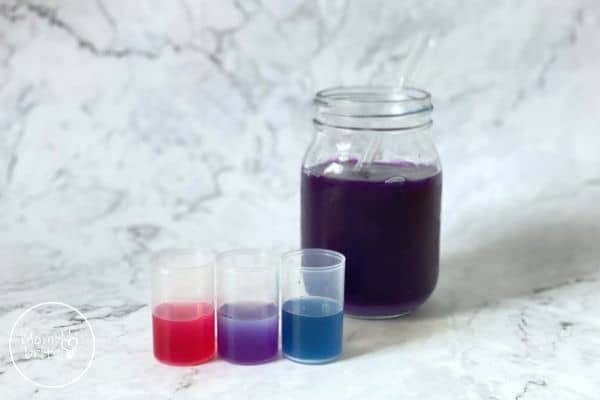 Potato Hydration Science Experiment from Mombrite
It's hard to explain to kids why it's important to stay hydrated. This easy potato hydration experiment will show your kids the effects of dehydration and why they should take water breaks.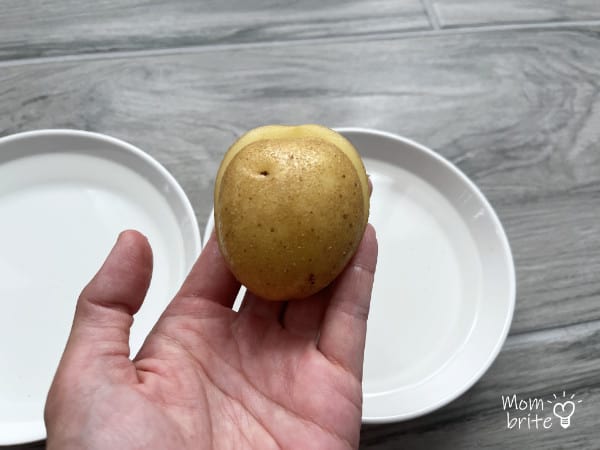 Bone in Vinegar Science Experiment from Mombrite
Vinegar can have wondrous effects on food items. After you and your kids enjoy eating the meat off some drumsticks, stick the bones in a jar filled with vinegar and watch what happens to the hard and rigid bone.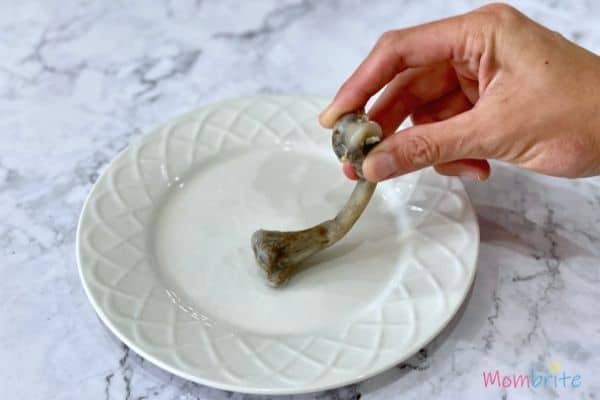 Green Eggs and Ham Experiment from Mombrite
If your kids are Dr. Seuss fans, then they will love making green eggs and ham for breakfast! Mixing cabbage juice (a pH indicator) with the egg whites, you can turn the egg whites green. And this colorful kitchen experiment is meant to be eaten!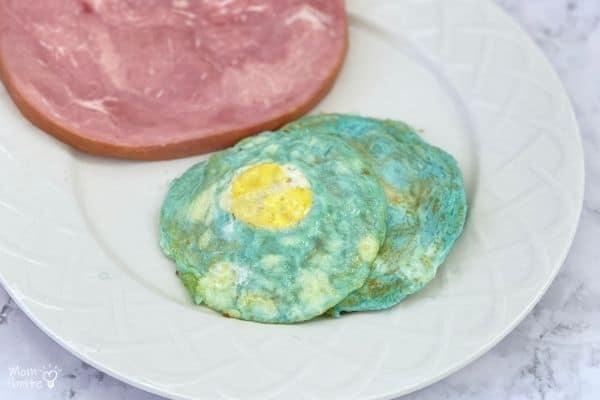 Sugar Water Tower Experiment from Mombrite
Kids generally can grasp the concept of weight and volume, but density is difficult to explain. This sugar water tower experiment stacks sugar solutions with different densities on top of each other, creating a stunning visual effect.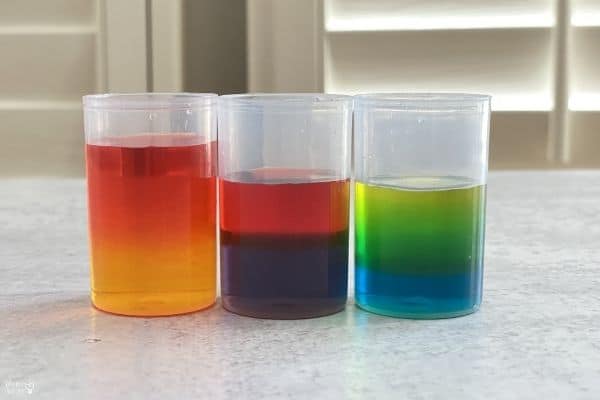 Geometric Shapes with Marshmallows from Mombrite
Using marshmallows and toothpicks, kids will love learning the geometric shapes and about 2D and 3D shapes.
Secret Messages on Marshmallows from Mombrite
A fun science experiment for kids, this experiment helps children learn about the Maillard reaction by writing secret messages on marshmallows.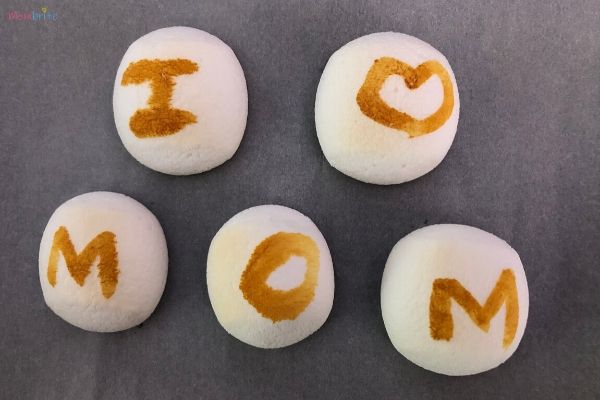 Moon Bread Crater Activity from Mombrite
Want some delicious, warm bread to go with dinner? This out-of-this-world space activity will show your kids how to make moon bread with craters.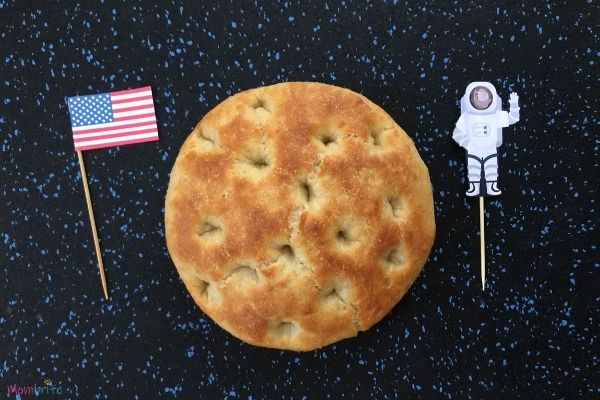 Easy Dissolving Candy Canes Experiment from Mombrite
Candy canes are one of the best treats for the holiday season, but did you know it's also useful for edible science experiments? Explore what variables make candy canes melt faster in this dissolving candy canes experiment.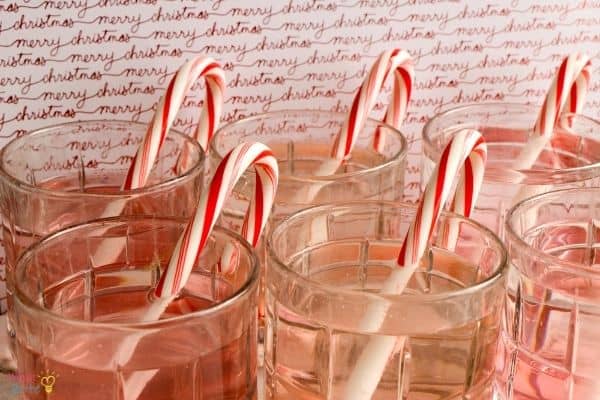 Magic Bending Candy Canes from Mombrite
After adding heat, you can bend candy canes into different shapes like heart, circle, and even pretzel!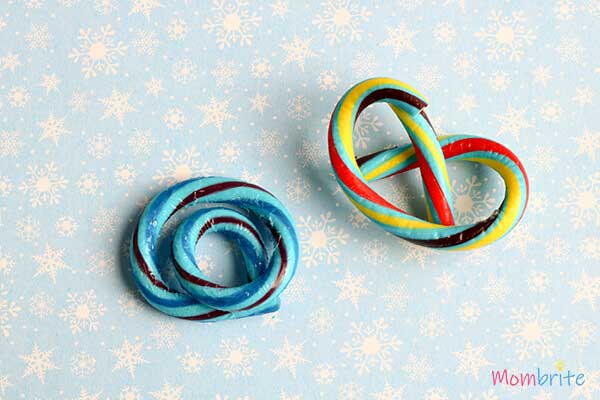 Christmas Candy Cane Skittles Experiment from Mombrite
Christmas is the perfect time to do our favorite Skittles magic experiment. This time, in the shape of a candy cane!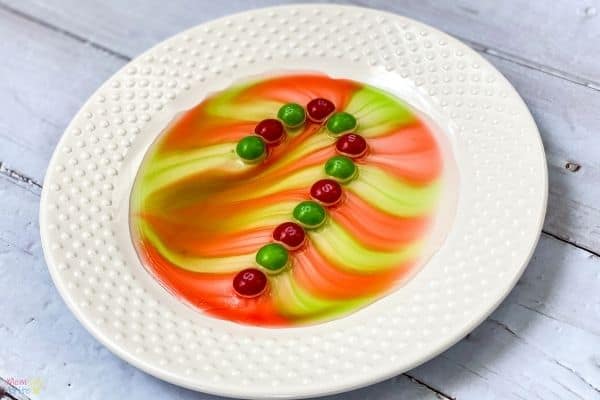 Peppermint Candy Temperature Experiment from Mombrite
Observe how fast peppermint candy dissolve in hot, warm, and cold water. Set a timer and record the results!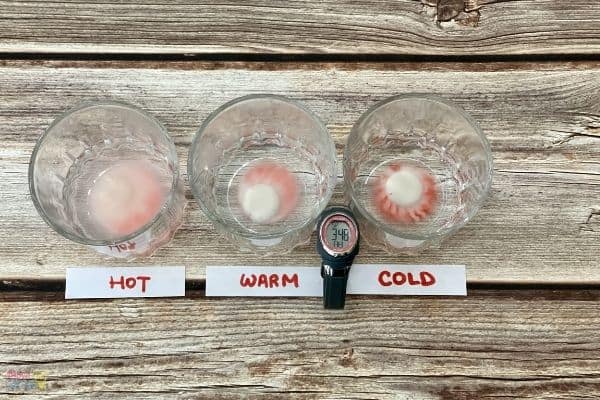 Making Pâte à Choux (Choux Pastry) from Mombrite
How do cream puffs get their light and airy texture? Discover how to make this fancy French dessert and creating the air pockets necessary for sweet fillings using science!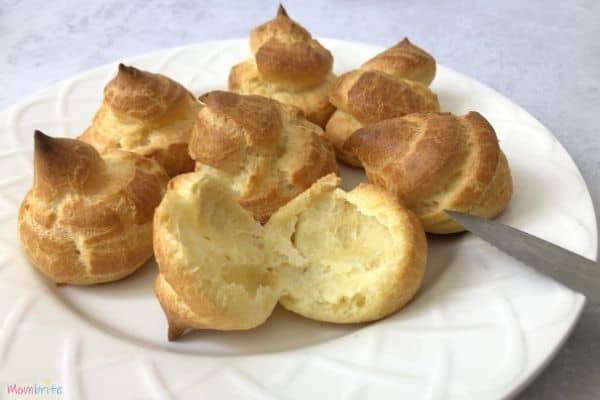 Whipped Cream Science from Mombrite
Have you ever whipped heavy cream in a mixer and hold it over your head to see if it falls? Find out why heavy cream turns into a solid within minutes and amaze your kids.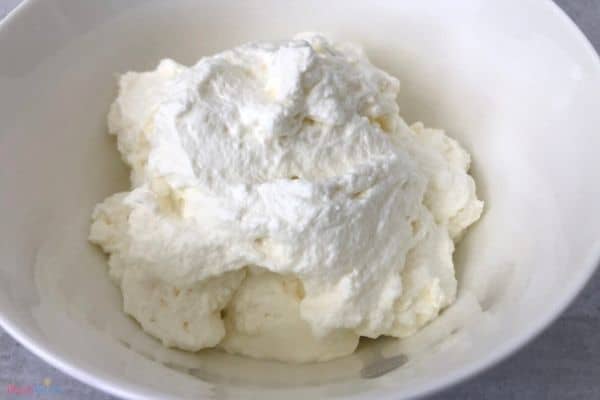 Fluffy 3-Ingredient Cloud Bread from Mombrite
If your kids like the whipped cream science, then they will love this lighter-than-cloud bread! Instead of heavy cream, your kids get to whip egg white until it expands with air bubbles.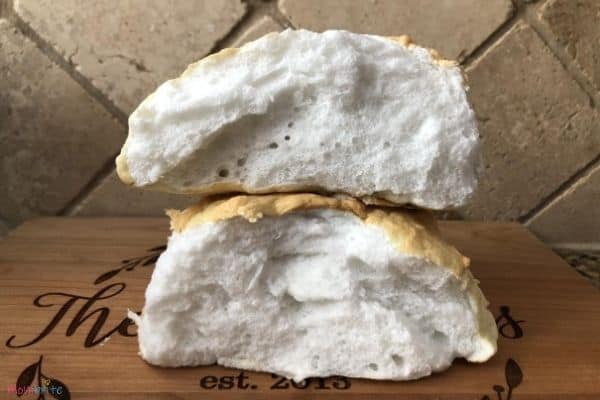 Hot Cocoa and Marshmallows Melting Snowmen Experiment from Mombrite
The cold is no match for some delicious hot cocoa with marshmallows. But what happens when your hot cocoa cools down and then you add marshmallows? Discover the effect of temperature on the melting rate of marshmallows with this simple edible experiment.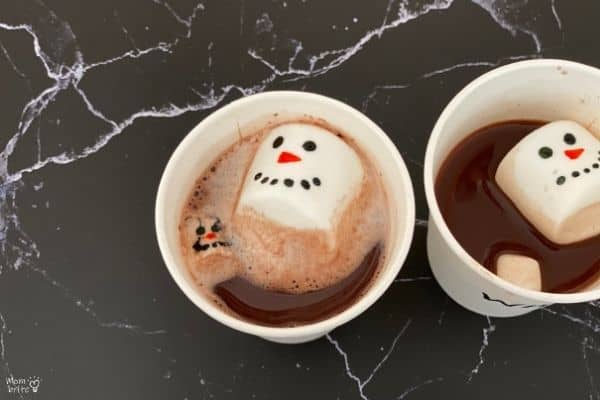 Magic Milk Experiment from Mombrite
Set some milk aside for drinking before you dip soap into the food coloring in the plate of milk. Your kids will want to do this one over and over again.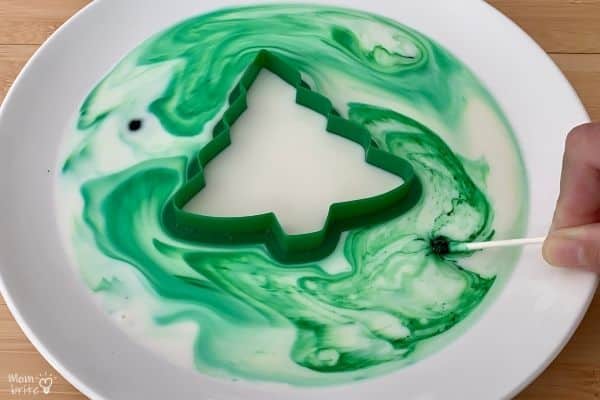 Apple Oxidation Experiment from Mombrite
Answer the age-old question of what prevents apples from turning brown with this easy apple experiment.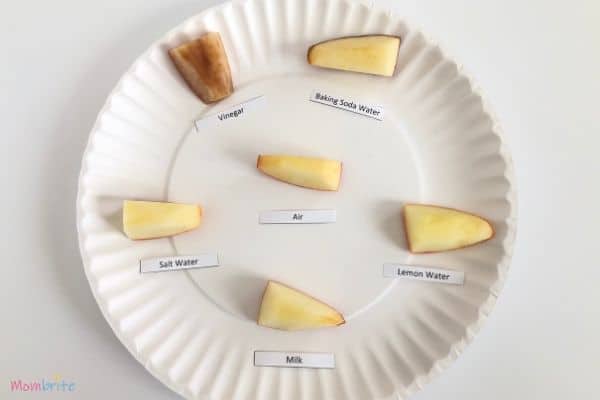 Apple Volcano from Mombrite
If you have old apples that you may not want to eat sitting in your fridge, use them to make colorful apple volcanos instead of throwing them out.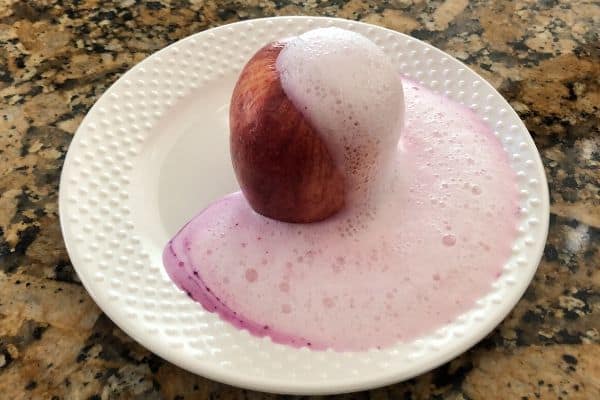 Pumpkin Skittles from Mombrite
Another fun experiment using skittles, this nifty experiment will have kids working with a fun pumpkin theme. It's the perfect chemistry experiment for Halloween and Thanksgiving!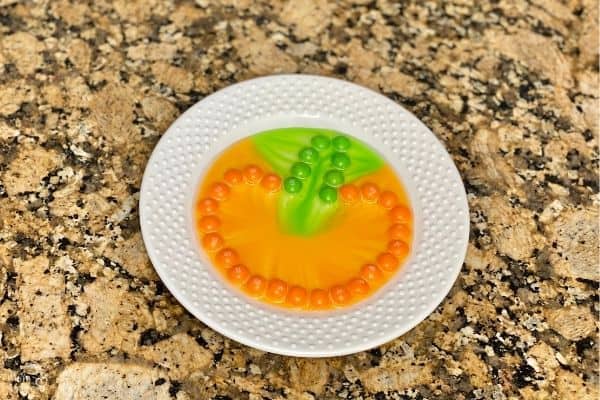 Oreo Cookie Moon Phases from Mombrite
Use on of your kid's favorite snacks to chart the different moon phases.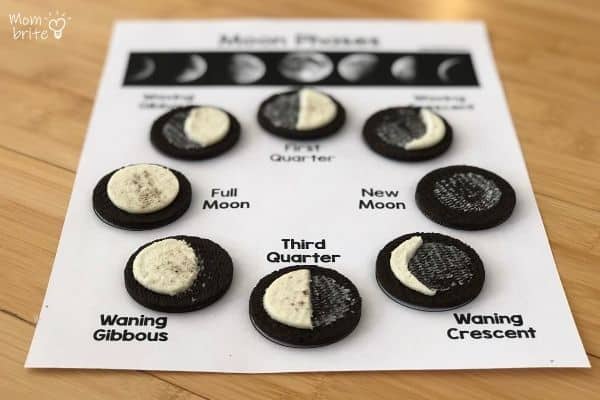 Dancing Raisins from Mombrite
Healthy snacks can have a good time too. Make raisins dance with some baking soda and vinegar reaction.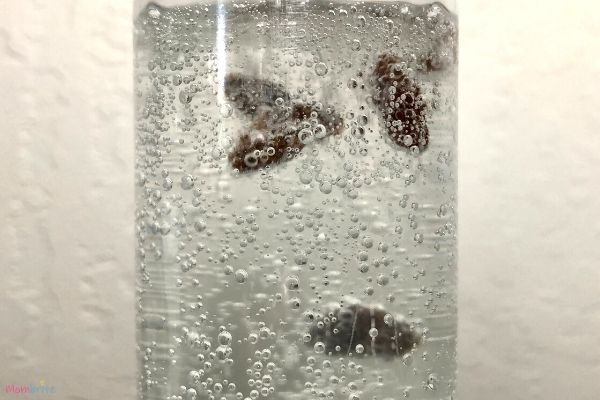 Colorful Dinosaur Eggs from Mombrite
These marbled dinosaur eggs use the same technique as Chinese tea eggs to make the colorful webs on the eggs' surfaces.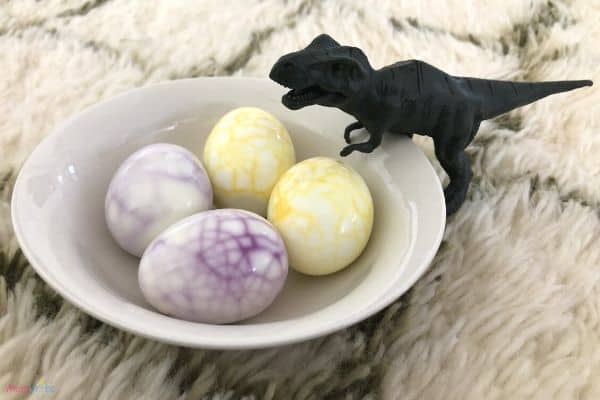 Tooth Decay Eggshells Experiment from Mombrite
Why should your child brush his or her teeth? This eye-opening experiment will motivate your child to brush his or her teeth after every meal.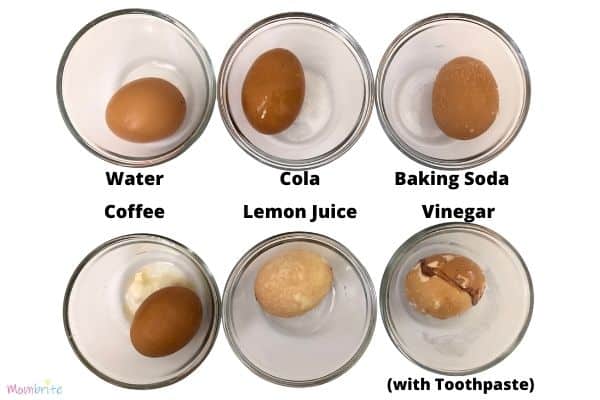 Celery and Food Coloring Experiment from Mombrite
Watch the lettuce leaves turn different colors as you leave them in water with food coloring. This is a great edible science experiment to show your kids the effect of capillary action and how to water your plants.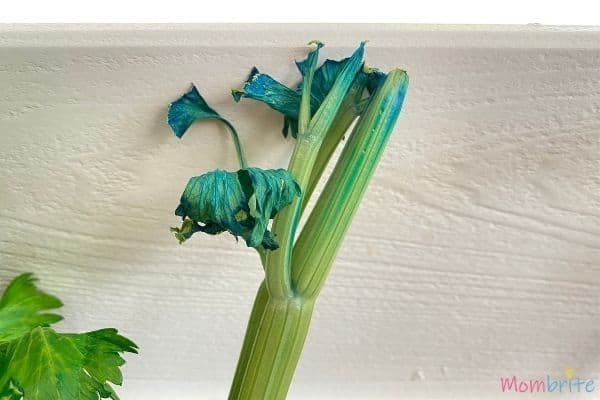 Best Cookies for Santa from Mombrite
Which cookie will sink if you put it in a glass of milk? Which one will hold its form instead of deteriorating into soggy crumbs?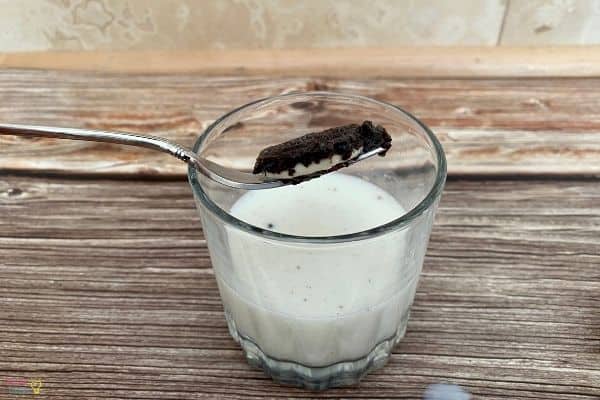 Fruit Caviar from Mombrite
With the help of gelatin, you can make little fruit caviar spheres that you can eat. Your kids will love this cool molecular gastronomy experiment.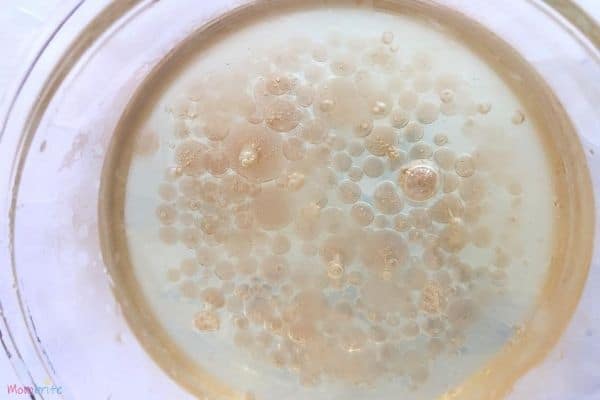 Grape Molecule Food Science Activity from Parties with a Cause
Using tasty grapes and toothpicks, kids will love creating molecules with this fun food science activity.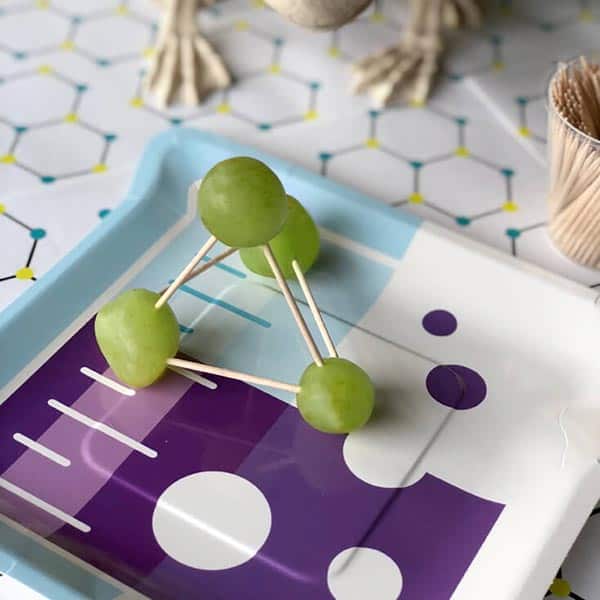 Fun and easy to make, kids will love learning the science behind making rock candy with this edible science experiment.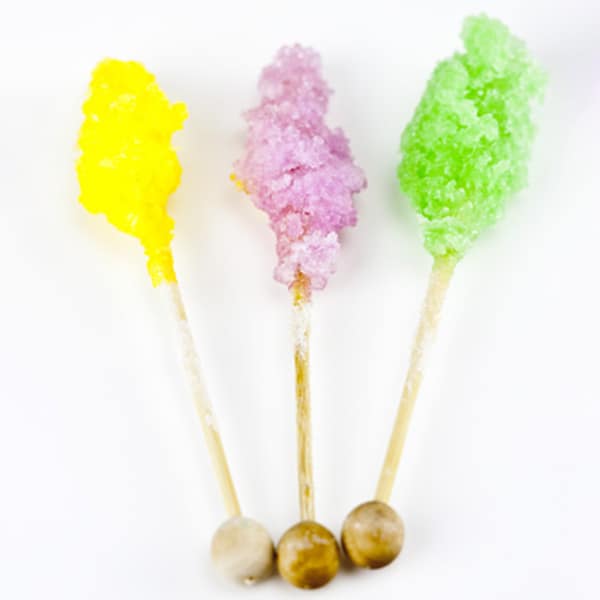 Perfect for older children, this geode candy experiment will have children working with high heat to see how to make crystals.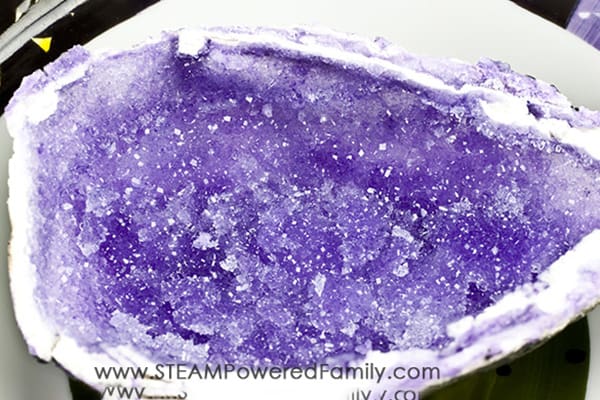 Who knew making fudge could turn into such a fun science experiment? Kids will love learning the science behind making creamy, yummy fudge.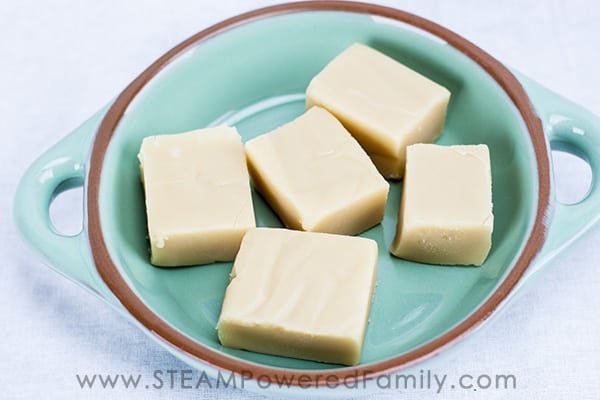 A fun project for kids, this cake will have kids learning about a variety of different subjects. For science, kids can learn more about crystals and chemistry.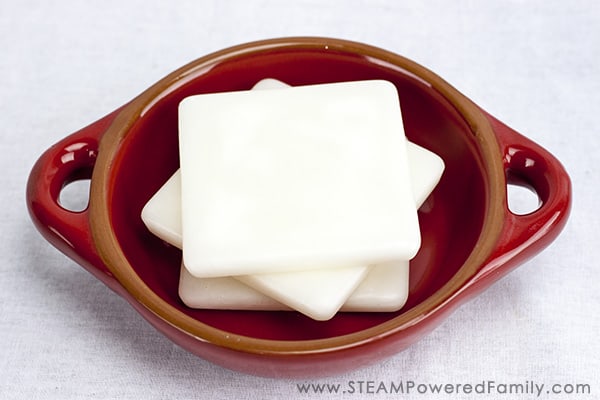 Mad Scientist Green Punch from Finding Zest
A fun chemistry activity that kids will love doing, this mad scientist activity uses sherbet to make a fun green punch.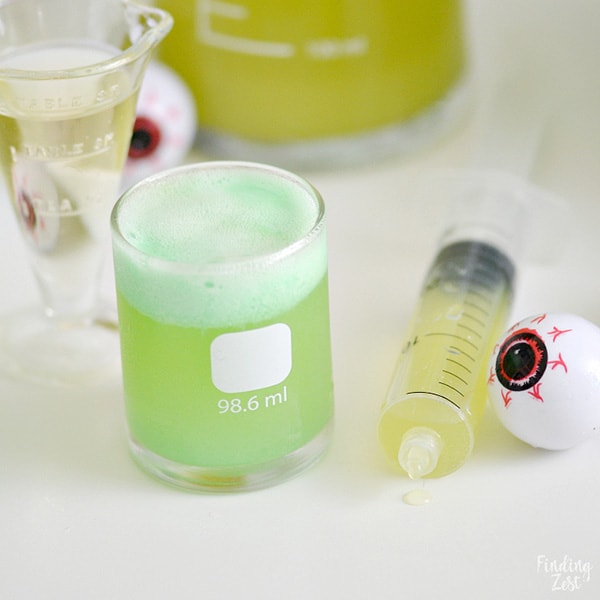 Use this candy DNA model project to learn about the basic biology of living organisms.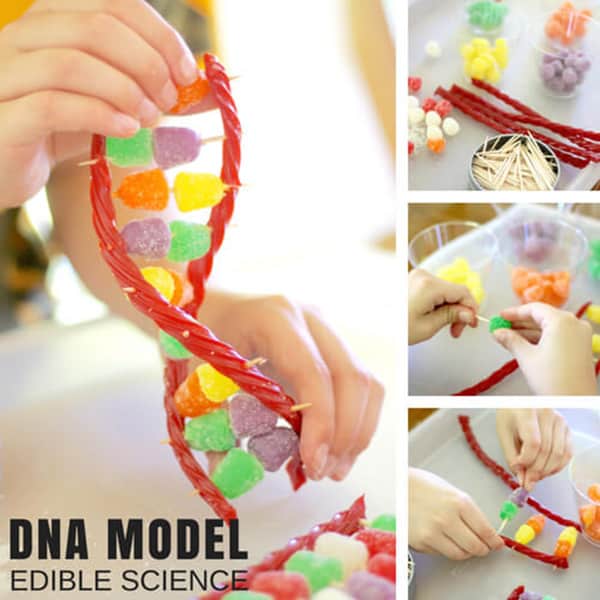 Kids will love exploring the chemical reaction that is made with this tasty fizzy lemonade science project.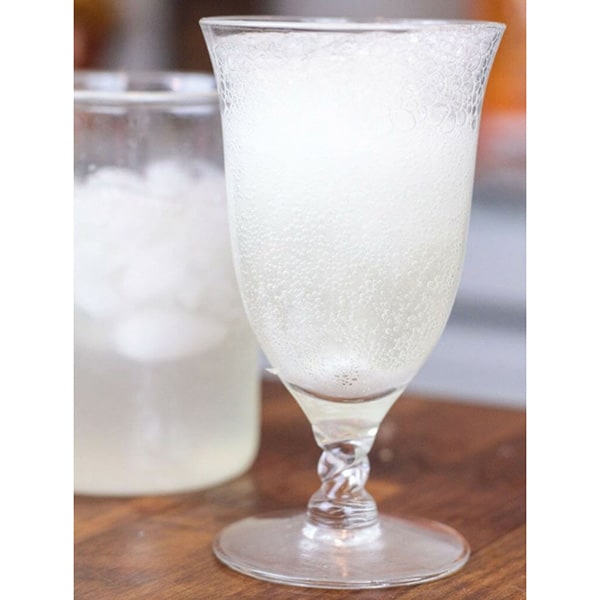 Earthquake Science Investigations from Science Sparks
Learning about the science behind earthquakes can be fun and this candy earthquake experiment will have kids learning in a fun way.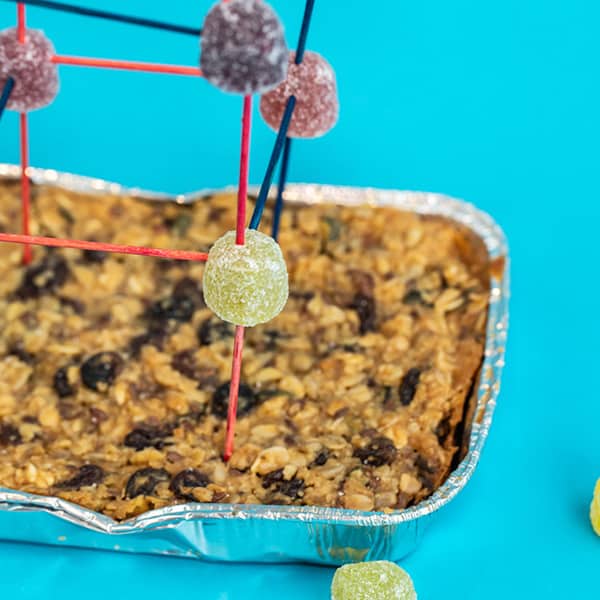 Bake Ice Cream without Melting from Science Sparks
Kids will love learning about how you can bake ice cream without it melting, thanks to the meringue!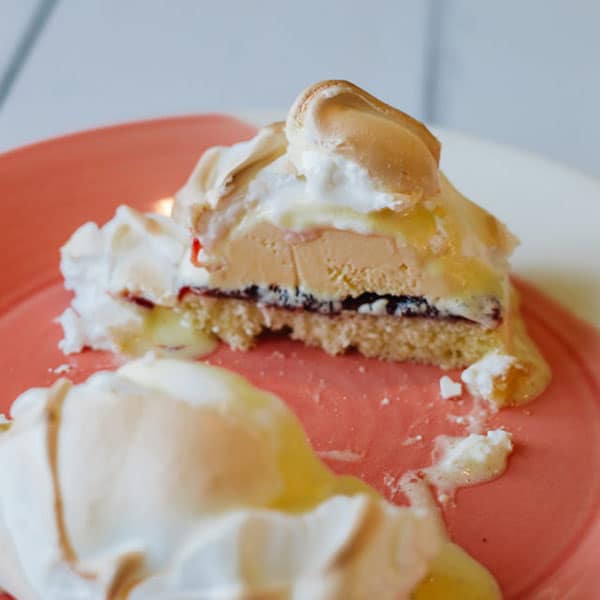 This fun science experiment is perfect for learning about separating mixtures from candy.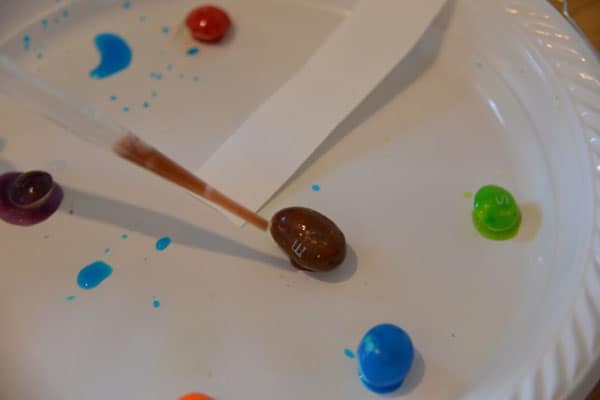 Edible Sour Gummy Worm Silly Putty by Rachel Teodoro
Slime and silly putty are always popular so kids will love making this edible sour gummy worm putty in a fun science lesson.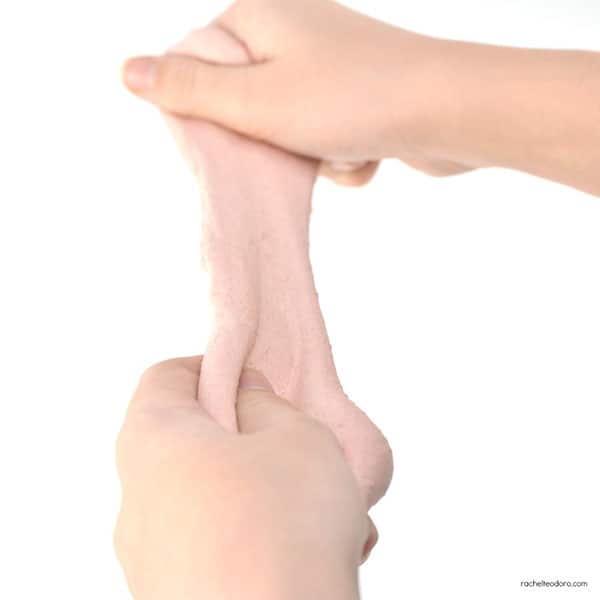 I hope your kids have lots of fun eating yummy snacks and doing these edible experiments!
---
Related Posts