Arrange the colorful Skittles in a candy cane shape and watch as the color travel through water in this Christmas Candy Cane Skittles Science Experiment.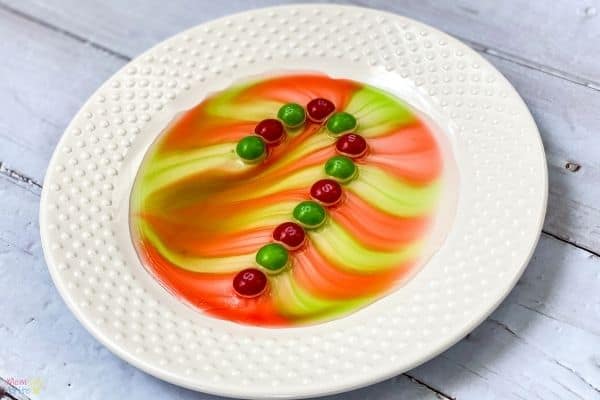 Have you tried the magic melting Skittles experiment? It's so easy to set up and the results are just incredible. The kids loved it so much that we are doing one for every holiday!
We did a Halloween version with orange and green Skittles. Now, we are going to use red and green Skittles for this Christmas Skittles science experiment. If you are looking for a simple and quick winter STEM activity for your kids, you hit the jackpot.
If your kids like this Skittles experiment, don't forget to check out other fun candy science experiments like the floating M&M m's (that is hard to say!) and the dissolving peppermint candy experiment.
Science Christmas Skittles Experiment
Materials:
Red and green Skittles
Plate
Warm water
Instructions:
1. Arrange the red and green Skittles in the shape of a candy cane on the plate.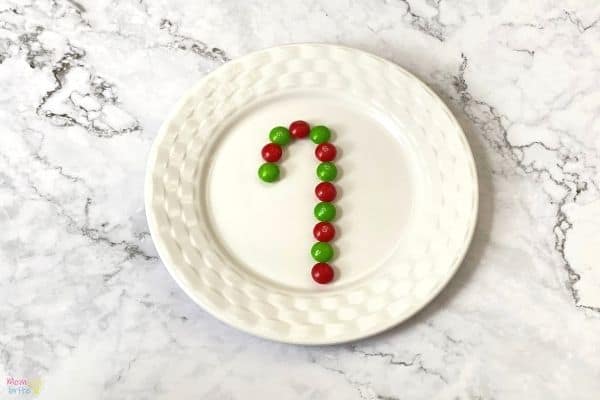 2. Carefully pour the warm water into the plate until it just covers the bottom of the Skittles.
3. Step back and watch the Skittles magic happen!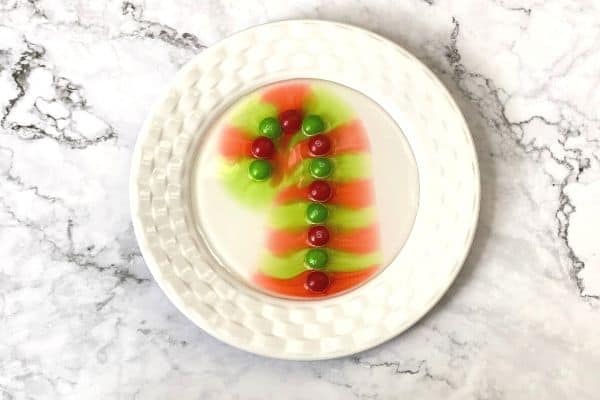 No matter how many times we do this experiment, we are always amazed at how the colors bleed out away from the Skittles. It's just so pretty! And the red and green colors are perfect for the holiday season.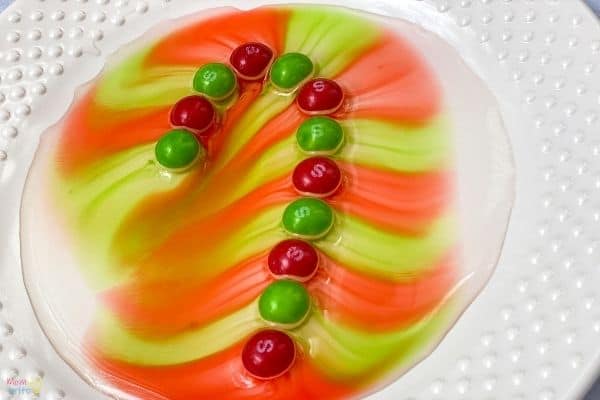 You do have to be careful not to touch the plate while the colors are spreading out. Moving the plate might cause the colors to start to mix and you lose the cool effect.
We made a candy cane for this Skittles experiment, but feel free to explore other Christmas items! For example, you can use the red and green Skittles to make a wreath with red berries.
Science Behind the Skittle in Water Experiment
As we learned in the original Skittles experiment, the different chemical properties of the Skittles cause stratification. In layman's terms, stratification creates barriers between the different colors because they contain different properties.
That's why when the colors bleed into the water, they do not mix. However, if the water experiences turbulence (you shaking it), then the barriers will be broken and the colors will blend together.
Even though the concept of stratification may be difficult to grasp for the kids right now, they will remember this experiment when they are older and learning about stratification in their science class. I always view learning as slowly dripping knowledge in their brains and all the STEM activities that we do just help fill the "bucket"!
---
FOR MORE WINTER STEM EXPERIMENTS, CHECK OUT: