Learning at home does not have to be expensive. Here are the best free educational websites for kids that will motivate your kids to pursue their interests and continue learning.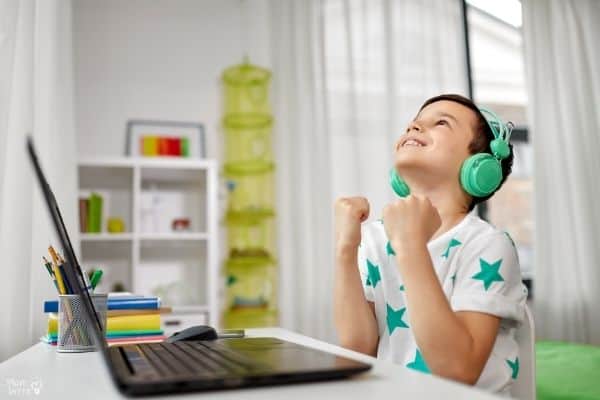 Learning at home or homeschooling does not have to be expensive. There are many amazing free learning and educational websites for kids out there that will inspire children of all ages.
I'll be sharing 24 websites that will be sure to help children in a wide number of ways. Even though you want to limit screen time to ensure that your kids' eyes get a rest, sticking to these websites will ensure that your kids' time on the computer or tablet is a productive one.
Let's take a look at some of the best free educational websites for kids.
24 Free Educational Websites for Kids
When it comes to teaching children about nature, science, animals, and geography you can't really go wrong with National Geographic Kids. Children can play games, watch videos, take quizzes, and much more! It's a treasure trove of information and perfect for children of all ages.
Exploratorium is best suited for older children although it does have some features like storytime science suitable for younger children as well. Many of the activities are science-focused so if your child is a budding-scientist they'll enjoy exploring the videos, craft activities, and more. Children with a strong interest in STEM subjects are sure to find it a valuable resource as well.
From our friends across the pond, Cbeebies is a children's game and activity website from the BBC. It's aimed at younger children around the ages of 3 – 6 and offers games, puzzles, videos, coloring, and more. Much of the activities/ features on the website have an educational focus but they're delivered in a colorful, fun way perfect for young children.
The Nasa Kids' Club website will send children to outer space! Okay not really but offers plenty of space-themed fun. Children can enjoy games and puzzles and learn more about the world beyond the stars. Educational, fun, and free it's a great resource for children and breaks down more complex subjects so they're easier to understand.
Finding a good website for children to play games can be quite a challenge. But Fun Brain is the perfect free learning and educational website for kids. It has a wide range of different games with many focusing on words, reading, and spelling. There is even a Math Zone with a wide assortment of different games for children to play.
This is another website that is better suited for older children and it is a valuable online educational resource. There are numerous punchy articles, guides, and blogs that cover a range of subjects. Children or parents will need to make a free account in order to access all the blogs/ articles though.
Cool Math aims to do what many people would say is impossible, it wants to make maths cool! Children can enjoy a wide range of different games and activities and all areas of math are covered including simple things like multiplications to more complex areas like algebra. It's ideal for children who need extra help and support for maths.
Better suited for older children How Stuff Works is a very unusual website that aims to bring answers to those questions we just ponder sometimes. Animals, science, tech, culture, and more are all covered. If your child is a little older and looking for a good educational website How Stuff Works is certainly worth visiting.
Starfall is quite the veteran when it comes to kids' educational websites! It offers a number of games and activities and there is plenty to keep people busy. To access everything though parents will need to sign up and make an account.
PBS is home to many kid's favorite TV shows and PBS Kids offers some excellent activities for children like videos, sing-alongs, and even puzzles. There is also a parents section that you can use to learn more about what PBS is working on for children and you can even access digital resources to help with teaching.
BBC Bitesize is a children's educational online resource in the UK. It provides a great variety of activities and informative blogs, guides, and much more. All the main subjects are catered to which will make it a valuable educational website to use. However, games won't be available to people outside the UK. It's still worth visiting but is best suited to older children.
There are plenty of amazing activities for children to enjoy on the Boston Children's Museum website. Features include online videos, exhibitions, crafts, and much more. Children will be able to learn more about art, history, nature, animals, and more. If you're looking for activities to do as a family at home then this website is well worth visiting.
Coding is becoming a fast favorite with children these days and Scratch is a free educational website aimed at kids and teenagers. The site is aimed at 8 to 16-year-olds but plenty of younger children have used Scratch to help them build basic computer programs. A parent will need to sign-up to the website to access all the features but it is free.
Well, this is a bit of an unusual pick since Google Earth isn't strictly a learning or educational website for kids. However, it can still be used as one and is a great way to teach children about different countries and they can even virtually travel the globe. It's a great educational website and a valuable way to teach children more about the world.
Young children (and even some older ones) love Disney and the Disney Junior Games website offers some great games and activities for children to try. Many of the games have an educational focus and you can also download coloring sheets and play videos.
Children can learn more about math, science, languages, computer skills, and more with this website. There are designated sections for kids and parents to use and kids can play a great variety of games to help them develop their skills, keep themselves entertained, and much more. One good point about this website is that the games also give a grade rating so kids can be sure they are playing a suitable game.
Seussville is a bit of a niche-pick but will certainly be a great website to visit if your child loves the books of Dr. Seuss. Children will be able to watch cartoons, play games, learn more about the Dr. Seuss books, and discover in-depth information about their favorite characters. While it's better suited for children who are already familiar with Dr. Seuss's characters it's also a great way to introduce children to the world of Dr. Seuss.
Math World is developed by E-Learning For Kids but is a separate math-focused website that challenges children with traversing a map. The map features a variety of fun games that look at all areas of maths including addition, subtraction, multiplications, shapes, decimals, and much more.
Science Bob is as I'm sure you can guess a science-focused website and it offers a lot of information about all areas of science. Older children will even be able to find experiments to do at home! Although I think it's best you do these as a family or at least supervise. Children can also watch informative videos and can get help with school science fair ideas.
Young children will love exploring the Sesame Street website! They can play games, watch videos, and even download art activities. From developing their creativity to helping children work on their reading, spelling, maths, and even music this website is a must-visit for younger children and any Sesame Street fans.
The Fisher-Price Play website is a great way to access learning and educational resources like coloring sheets. Many of the coloring sheets available are designed to not just help children with their art and creativity but also their spelling and English. You'll need a printer to really utilize these resources though.
Covering Kindergarten to Grade 7 this website features plenty of activities to keep children entertained. You can also access a wide range of lesson subjects including all areas of science. Games, videos, quizzes, and much more are available for free making it well worth visiting.
DOGO News is another unusual pick. It isn't like many of the other websites on this list there are no games or activities. But it's still a valuable website for learning, it's a children's news website and you can even filter posts based on different grade levels. Children will be able to learn more about recent events in a friendly more appropriate manner with this website making it very educational and insightful.
Many children struggle with their spelling and vocabulary but Spelling City offers a number of great games and printable activities to help. The games will be sure to keep children entertained and are free to access. Spelling City offers a premium membership but there is plenty of fun, free educational activities that children can utilize right away.