This post may contain affiliate links. That means if you click and buy, I may receive a small commission (at zero cost to you). Please see my full disclosure policy for details.
You may start the school year in the fall along with the public schools. Or you may start in the summer and homeschool all year round.
Whenever you decide to start the new year of homeschooling with your kids, you want to make the first day of homeschooling special with some fun traditions!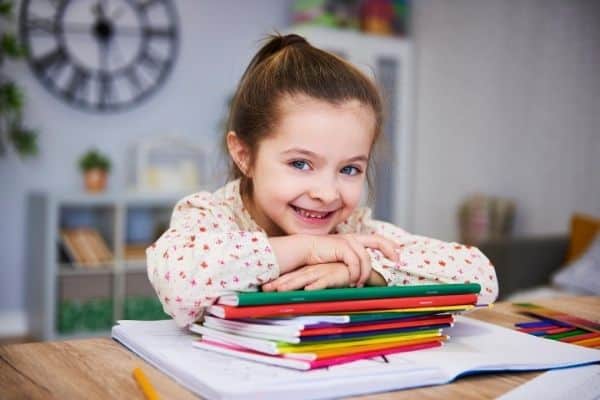 Starting homeschooling, especially if it's your first year, it's such an exciting time. To make the first day of homeschooling memorable, here are 15 back-to-homeschool ideas that will make the start of homeschool a blast!
Fun First Day of Homeschool Ideas
1. Have a Special Breakfast
Start the first day by surprising your kids with their favorite breakfast foods! Whether it be something sweet like donuts or something savory like bacon strips, your little ones' tummies will be happy and full and ready to start the school year.
Have a favorite breakfast spot? Go out for breakfast! Or if you dare, bring breakfast in a tray and let your kids have breakfast in bed in their pajamas.
If your kids are into cooking, you can also have them participate in making breakfast.
2. Take the First Day of School Photos
I love taking the first day of school pictures. It's so fun comparing them to the last day of school pictures and see how much your kids have grown.
Ask your kids what theme they would like for their first day of school photos. They can decorate their own signs or you can make one for them with the themes of their choice.
For example, if your kids are into Star Wars, throw a picture of Yoda and BB-8 on the sign. And let your kid pose with the sign in one hand and a lightsaber in another. Why not?
Or if you want to keep it simple, here are some free first day of school signs you can download. I included one with just words and no design in there in case your kids want to decorate their own.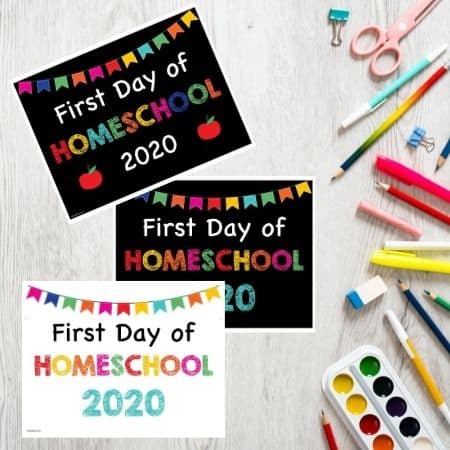 3. Go on a Bike Ride
Take your kids on a bike ride in the morning before school starts. It's a great way for your kids to get some exercise in and expend some of their energy before they start learning.
Plus, this way your kids get to say they rode their bikes to school.
4. Decorate the Learning Room
One of the benefits of homeschooling is that you and your kids can customize the schoolroom. You can imitate a traditional school's decoration with educational posters and a giant wall map. Or you can fill the walls with dinosaurs or princesses because that's what will get your kids excited about learning.
Another idea is to let your kids be creative and decorate the room to their liking! Instead of buying posters, you can have your kids make the posters. Give your kid a say in how they want their schoolroom to look like will empower them and bring about their creativity and imagination.
5. Decorate Binders, Folders, and School Supplies
Get your kids more excited about learning by letting them decorate their school supplies! Bring out lots of stickers, markers, rhinestones, etc. and let your kids make their school things their own.
6. Throw a Homeschool Christmas
Why wait until December for Christmas? Celebrate homeschool "Christmas" on the first day by giving your children their homeschool materials as presents!
Wrap up the new homeschool materials and place them in the learning room. Your kids will be so excited to unwrap all their presents and start using them right away.
YOU MAY LIKE: 15 BEST BOOK SUBSCRIPTIONS AND BOOK BOXES FOR KIDS
7. Go on a Scavenger Hunt
Kids love scavenger hunts. Hide your kids' school supplies the night before. Then it's up to your how easy or difficult you want to make the treasure hunt.
For something quick, you can simply list all the school supplies and have your kids check off the items as they find them.
You can do a pirate-themed scavenger hunt and draw a map with X's marking the hidden treasures.
Other fun ideas include creating riddles for each item and write riddles on index cards. Your kids will have to solve the riddles to know what they are looking for!
8. Fill Out an All About Me Worksheet
All about me worksheets are great for the first day back to school. Not only might you learn more about your child during the process, but the worksheets also make fun keepsakes.
At the end of the year, you can look back at these worksheets and see how your child's answers have changed, as well as their handwriting!
Here is a free all about me printable to start off your homeschool year!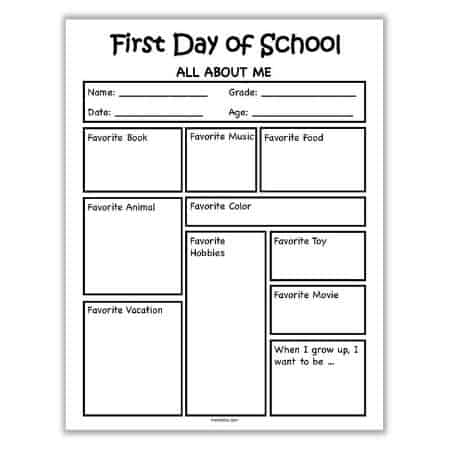 9. Play a "Would You Rather" Game
Along with the all about me worksheet, you can play the "Would You Rather" game with your kids. You give your child two options and ask him which one he prefers. You'll be surprised by your kid's answers!
For example, you can ask a simple question like do you like sweet food or salty food. Or kick the questions up a level and ask would you rather be the biggest animal on the land or the biggest fish in the sea. Then ask why.
I suggest writing the questions and answers down and play the game again at the end of the year. It'll be interesting to see if the answers change!
10. Go on a Field Trip
Your kids will be super excited to start the school year with a fun outing! Going a field trip is a great way to experience a stress-free first day of homeschooling.
Check your local museums, art galleries, historic sites, national parks, or aquariums. There is learning to be had anywhere you go.
I know taking a field trip might be difficult right now with COVID-19. Here is a list of free virtual field trips you can take with your kids so your kids can experience the world right in the comfort of your home.
11. Create a Homeschooling Schedule with Your Kids
Presenting your kids with a rigid schedule and tell them to follow it sounds pretty daunting. Instead of making your kids follow a schedule that you created, why not include them in the decision making?
Give your kids a list of options that they can choose from, then they can fill out on what days and times they prefer to do those subjects. If your kids have a hand in making the schedule, they will be a lot more willing to follow it.
12. Enjoy a Special Lunch
I know you might already have a special breakfast planned for your kids, but why not make lunch special as well?
If you didn't go out for breakfast, perhaps head out to your kids' favorite restaurant for lunch instead. You can also go on a picnic to avoid the crowds. Or have a DIY lunch like make-your-own pizza or tacos. Maybe switch things up and have more breakfast foods for lunch!
13. Make Special Treats or Snacks
Baking with my kids is one of my favorite things to do. Teach your kids valuable life skills by picking out a recipe together and have your kids help measure out all the ingredients.
My kids love rolling the dough into balls for cookies or scooping the flour mixture in the tin for muffins. Enjoy the yummy treats together after they come out of the oven to create wonderful memories.
14. Design a Homeschool Vision Board
A vision board allows you and the kids to keep the big picture in mind. What do you and your kids want to accomplish this school year?
Vision boards help keep important things at the forefront of our minds. They are visual reminders of homeschool goals, inspirations, and ideas.
For younger kids, you can have them draw on the vision board. Another idea is to cut out pictures from magazines and glue or pin them on the vision board.
15. Host a Back to School Party
Your kids might not have seen their friends for a month or two during summer break. Invite their friends over for a back to school party with games and treats to break the ice!
With the pandemic still on the horizon, gathering in person may not be a possible option. But there's no reason why you shouldn't hold a back to school party online! Not only will it make your kids excited, but you'll also strengthen your bond with your support group.
YOU MAY LIKE: SOCIAL DISTANCING WITHAN ONLY CHILD
Conclusion
If you are new to homeschooling, I want to encourage you to relax. Don't try to imitate a traditional school and stress out when things go off schedule. The beauty of homeschooling is that you get to be creative and teach your child at your own pace and style.
So if you love all the ideas above and couldn't fit all the fun things on the first day of homeschool, do a "first week of homeschool" instead! That will really get your kids excited about learning at home.
What traditions or fun things do you do with your kids on the first day of school?