The crazy hot Arizona summer has finally chilled down the last week, and we are definitely taking advantage of the nice weather! Since we homeschooled all summer, we are taking more days off to go outside and explore nature with the kids.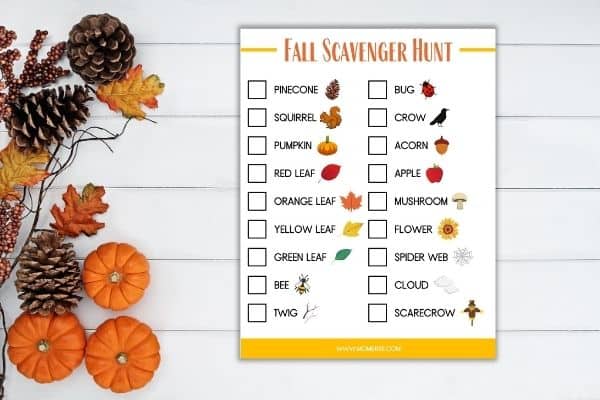 I created this Fall Scavenger Hunt to give the kids specific things to look for when we take a walk to the park or around the neighborhood. You can work together as a team to find all the items on the scavenger hunt, or you can print multiple copies if each kid prefers to do the activity individually.
How to Use the Fall Scavenger Hunt
Scavenger hunts are great for your kids to exercise the body and mind. With numerous items to search for on the Fall Scavenger Hunt printable, your kids will need to get moving to check off the entire list.
As mentioned above, you can have the kids search for the items individually, or you can have all the kids (or even adults!) participate as a team. We personally prefer to work together as a group to help teach kids the value of teamwork.
If you are doing this scavenger hunt as part of a group lesson, the activity is also great for social interaction. It serves as an ice breaker with kids who are not as familiar with each other and allow them to bond.
On the other end of the spectrum, you can have the kids compete with each other to see who can find all the items on the list first.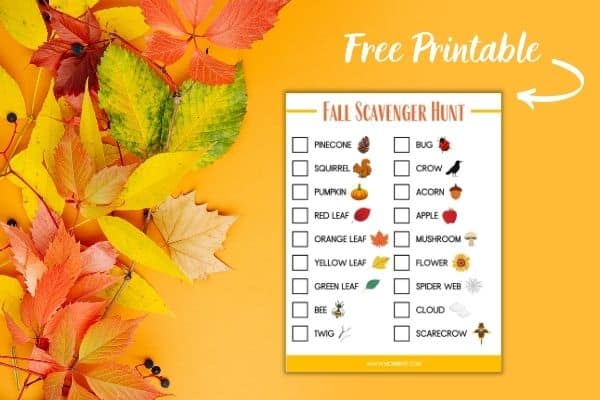 I recommend printing the Fall Scavenger Hunt on laminate it or put it into a page protector to make it last. If you use dry-erase markers for the checkmarks, then you can just wipe them off with a tissue later and reuse the scavenger hunt another day.
Make each item on the scavenger hunt a fun topic to discuss. For example, you can ask your kids the color of the item, if they like it, where does it usually appear, etc. This would allow the kids to remember the name of the item and all the vocabularies used to describe it.
Take it with you hiking, to a pumpkin patch, an apple orchard, or anytime you are out!
For more fun fall activities for your kids, check out: