Happy Turkey Day! Celebrate the holidays with a fun Thanksgiving game printable. The Roll a Turkey Dice Game is a simple counting game for kids and a great game to play with the family.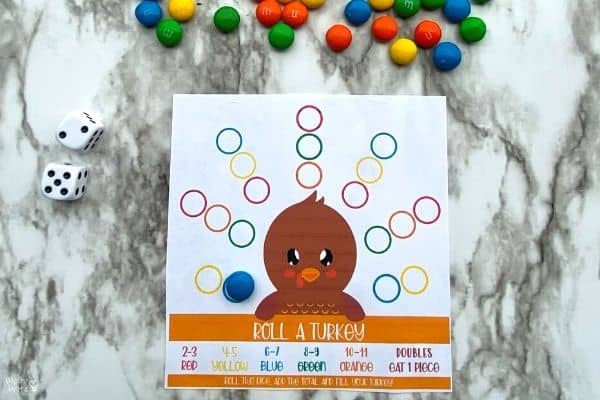 As a child, Thanksgiving was never a holiday that I was overly excited about. I enjoyed the food and having a break from school but there wasn't the anticipation like there was with other holidays.
What did make it fun, though, was the games that were set up for us kids to play. For a few weeks before, and of course, the day of Thanksgiving was full of fun games with a turkey theme! Our favorites were just like this Roll A Turkey Counting Game!
Turkey Counting Game
The turkey theme is one exciting aspect of this game but so is the fact that it is played with chocolate candies! This Roll A Turkey game would be a blast in the classroom, at home, or even at a Thanksgiving party!
The gist of the game is that a baby turkey is eager to get its tail feathers, and you are going to help it grow its beautiful plum! Your kids will love how adorable the baby turkey is and the vivid colors on the game boards.
You don't need much to set up this game for your kids. The printable set comes with 3 game boards. The first page has the instruction sheet and a game board, and the second page has 2 game boards. If you have more children playing you can print extra of the game boards until you have enough for each child to have their own. Each child, or pair, needs two dice also, as well as M&Ms.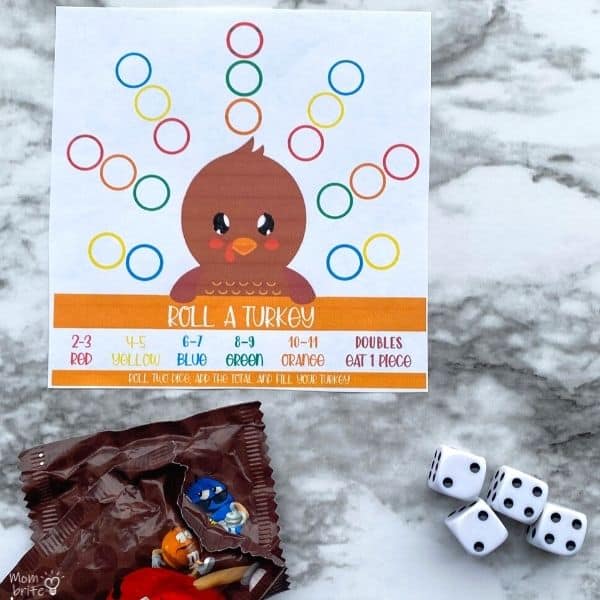 After your turkey game boards are printed, you can cut the two apart from each other. If you would like to laminate, this would be the time. I like to laminate games and printable activities for preschoolers that I know my children are going to play with over and over, this way the game is protected from crumples, rips, and pens. Laminating is completely optional, though.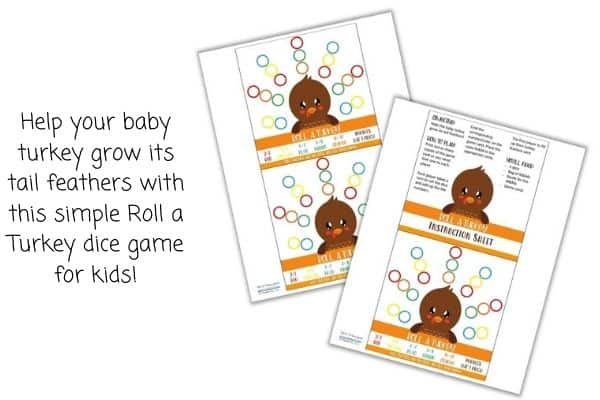 Set up each child with their necessary game pieces and game board and they are ready to play.
Each child will roll the dice. You can have them take turns or provide them with their own set of dice. On the game board, there is a guide, and it states the following:
2-3: Red
4-5: Yellow
6-7: Blue
8-9: Green
10-11: Orange
Doubles: Eat 1 Piece
Once the dice are rolled, the child will count how many dots were rolled. Then refer to the guide to see which color on the turkey feathers will be covered up by a chocolate candy. If taking turns, it is then the next person's turn.
This continues until one person fills up all of the colorful circles, turkey feathers. At this time they are the winner.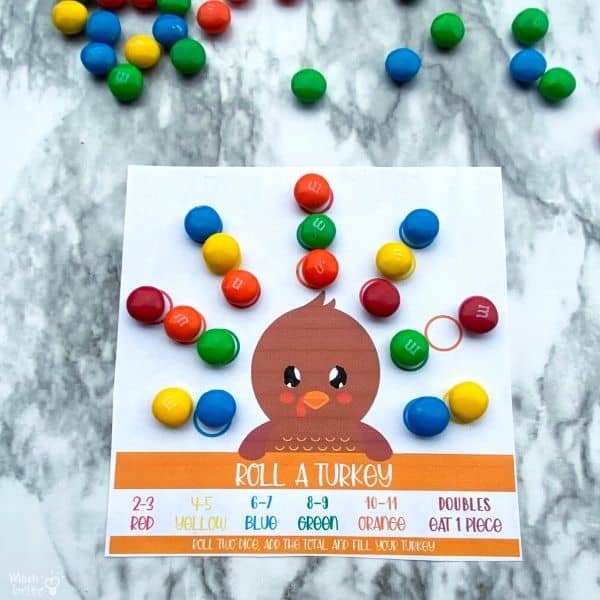 Simple Counting Printable
This Thanksgiving dice game is especially great for children who may not enjoy practicing counting. Most children won't even realize that they are learning or practicing an important skill. They will think they are truly just playing a game! In reality, though, they are learning quite a bit.

The double dice part of the game encourages children to count higher numbers or even use simple addition skills.

Picking up the M&M's and placing them on the turkey feathers is helping to strengthen fine motor skills, which are crucial for tasks such as tying shoes, feeding, and pencil grasp.
Another benefit is that children can strengthen their independence. This is a game that children can play on their own once they are shown how.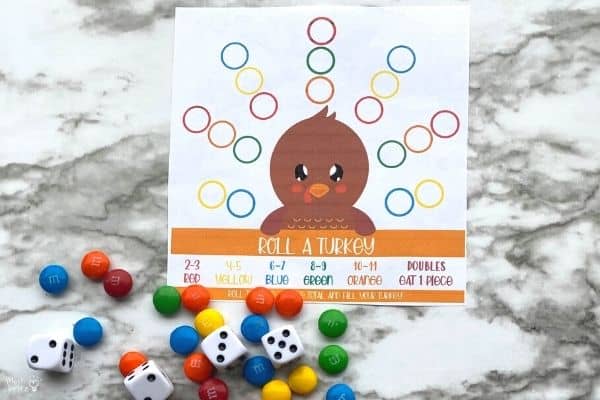 Additional Roll A Turkey Dice Game Ideas:
– If you prefer not to use candy for this game, you could easily use pom-poms. You could also use play dough balls, if the game board is laminated, which would add in extra fine motor strengthening.

– Instead of taking turns, you can give each child their own dice and ask them to race against each other. Along the same lines, if only one child is playing, time them. In the second game, they can try to beat their first time. It's a challenge!

– If you don't have dice, you can use playing cards or UNO cards. Filter the cards so that only the number cards are in the stack and only use numbers 1-6. The child will pick two of the number cards and add them together to find out which color to cover.

– Get a scrap piece of paper and ask the child(ren) to write down the equations that they roll. If the dice lands on 5 & 6, ask them to write down 5+6=11.

– For younger children who may not be ready for counting, you could use this game board as a color identification game. Call out one of the colors and ask the child to cover that colored circle on a feather.
If you like this Roll a Turkey Dice Game, make sure you visit the Mombrite shop for more fun and educational games!
---