Here are the best toys and gifts for 4-year-old boys that will help you pick the perfect gift for your little one's birthday, Christmas, and other special occasions.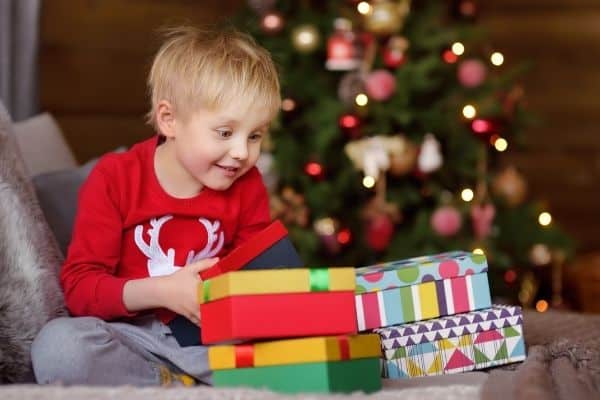 Every child loves getting a new toy, but there's no denying that finding the best gifts for 4-year-old boys can be difficult. When a child hits 4, they'll be able to enjoy more complex and educational toys. This is great news when it comes to buying gifts.
However, this can make it tricky to find something because there are so many options! Whether it's for their birthday, Christmas, or just as a gift for good behavior, it can't be denied that parents can sometimes have quite the challenge when it comes to choosing the best present.
I'll be counting down 8 of the best gifts for 4-year-old boys. I've chosen gifts that have both entertainment and educational value! As well as looking at other factors like price, health and safety, and much more. So, if you're looking for a gift for your little boy, read-on!
8 Best Gifts for 4 Year Old Boys
1. Shifu Orboot Augmented Reality Interactive Globe
A globe might seem like an odd present for a 4-year-old boy but this is no ordinary globe! The Shifu Orboot Augmented Reality Interactive Globe combines new technology with an old-classic to create something truly amazing.
You use the Orboot App to read the globe and your child can go around the world from the comfort of their bedroom! It includes puzzles, games, videos, and more. It also comes with a special passport, guidebook, and stickers.
Finding a gift for a 4-year-old boy that can be both educational and fun is quite the challenge but this interactive globe certainly ticks all the boxes. However, you will need a compatible device to run the App although it does work with both IOS (Apple) and Android devices including both smartphones and tablet computers.
Pros
Packed with games, puzzles, stories and more
Will be sure to provide hour of entertainment
Very educational
Guidebook, passport, and stickers are fun extras
Cons
Will require a compatible device to run the app
May be a little to complicated for some children
2. Playfoam Combo
When it comes to choosing a gift for 4-year-old boys you really can't go wrong with the Playfoam Combo. Now I know what you might be thinking this sounds like it could be quite a messy gift but that isn't the case.
The foam doesn't dry out or stick which means it is the perfect clean and creative way for any boy to express themselves. Toys that encourage creativity and building are ideal for 4-year-old boys and they'll be able to easily use this foam to create shapes, buildings, and much more.
Shaping it is easy and so is squashing it down to re-use it. Playfoam is also non-toxic, gluten-free, and nut-free so very safe to use. The Playfoam Combo set also comes with a user guide to help children get started when it comes to crafting as well. But I think most 4-year-old boys will have plenty of ideas without it.
Pros
A great way to encourage creativity
Simple, clean and easy to use
Non-toxic, gluten free, and nut free
Cons
Might not excite every child rightway
Needs to be stored properly to ensure it doesn't get dirty
3. Magna-Tiles
Children love Lego, but some 4-year-old boys may find it difficult to manipulate with their little hands. However, Magna-Tiles are a great alternative and are another amazing example of educational and creative toys.
Magna-Tiles use magnets to slot together so boys can easily use them to build shapes and structures, whatever they can think of really. They are also 100% non-toxic and made from high-quality ABS plastic.
It might not seem like it but these tiles have actually been designed to help promote both maths and science. They can teach children about 3-dimensional shapes and help promote creative thinking. In many ways, Magna-Tiles are a STEM toy and can teach children about many different things.
Pros
Very educational
Helps promote creative thinking
Colorful and fun Lego alternative
STEM-focused
Cons
Pieces could easily go missing if not properly stored
4. Wooden Puzzles
There are certainly many different gifts suitable for 4-year-old boys but let's look at something a little more traditional, shall we? These Wooden Puzzles might not seem as exciting as some of the toys on this list but trust me young children will love them.
You get 4 colorful jigsaws in the set and each has 24 pieces. This is the perfect amount for 4-year-olds, it's not too much but also not too few it hits the perfect sweet spot to keep children challenged and entertained.
Jigsaws are great for improving hand-eye coordination in toddlers but they have many other benefits as well. For example, they can improve fine motor skills, and help strengthen a child's problem-solving abilities as well. So, if you're looking for something a little more lowkey these jigsaws would make a great gift for a 4-year-old boy.
Pros
Colorful and timeless
4 jigsaws are included
Very educational
Can help improve problem solving skills, hand-eye coordination and more
Cons
Missing pieces are always a potential problem
Might not excite every child right away
5. Wooden Pattern Blocks
Let's stick with our wooden theme with these Wooden Pattern Blocks. They might not seem like the most exciting gift for a 4-year-old boy but looks can be deceiving! These blocks are a toy, puzzle, and game all rolled into one.
The set includes 36 wooden pieces and 60 pattern cards and children can use the cards to get inspiration for building or to play games with friends or siblings. One great game is to take a card and then see who can build the pattern first, even Mom and Dad can play along.
These Wooden Pattern Blocks have many amazing benefits. They help improve creative thinking, can develop spatial awareness, help improve color/shape recognition, and even improve hand-eye coordination. Simple and surprisingly educational these blocks would make a great gift.
Pros
Very educational 
A great gift to play with friends, siblings, and parents
Simple and fun
Cons
Always the risk of pieces going missing
6. Dinosaurs World Activity Set
What 4-year-old boy doesn't love dinosaurs? They are an always-reliable theme when it comes to choosing a gift and this Dinosaurs World Activity Set is a great value package. It is also surprisingly educational as well.
The set includes 10 dinosaurs including the always popular T-Rex, Triceratops, and Stegosaurus. You also get 6 trees and an activity play rug, so every dino will have a place to play. The rug is also made from soft fabric so will always be comfortable even during longer play sessions.
It can also easily be folded away when not needed and at 31.5'' x 36'' in length it offers plenty of space. Colorful, fun, and amazing value this activity set is perfect for any young boy and can even be used to help teach them about the history of the dinosaurs as well.
Pros
Dinosaurs are a favorite of young boys
Great value with 10 separate dinosaur toys
Play rug is a great extra
Cons
Will require enough space for the play rug
7. Take Apart Toys Construction Truck
Let's finish up our look into the best gifts for 4-year-old boys with the Take Apart Toys Construction Truck set. This toy is sure to encourage creativity, problem-solving skills and it could even help young boys develop their science and maths skills as well.
Children are tasked with building a construction truck with their very own mini-electric drill. But that is just the start children can convert the truck in a number of ways to make it unique. The electric drill can then even be converted into a remote control as well.
The construction truck can be turned into a crane or cement truck with just a few additions or children can use the pieces to make something all of their own creation. With step-by-step instructions, children will be sure to have fun building their own toys.
Plus, with the remote control, they can actually drive it around as well and play realistic truck sounds. Be aware that you will need 4x AA batteries to use the drill and remote control.
Pros
Educational and fun
Encourages creative thinking, problem solving and more.
Plenty of room for customization
Cons
Could be a little to complicated for some children
There is always the risk of pieces going missing
8. Sports Ball Set
When it comes to the best gifts for 4-year-old boys can you really go wrong with sports? The majority of young boys will love one sport or another and this Sports Ball Set gives you 4 high-quality balls perfect for all kinds of games.
You get a soccer ball, basketball, football, and a general playground ball. All balls are 5 inches apart from the football which is slightly larger at 6.5 inches. If your child loves playing outdoors then this set is the perfect gift.
The set even comes with its own high-quality pump as well. It's important for young children to have time outdoors and playing sports or just a simple game of catch with these balls will help them stay fit and active.
Pros
Great outdoor gift
Will help children stay fit and active
Pump is included
Cons
Can't really be used indoors
Won't really excite children who aren't into sports
Things To Consider When Buying A Gift for 4-Year-Old Boys
So, that finishes up my look at some of the best toys and gifts for 4-year-old boys. However, any parent will know that even when you have some ideas choosing the right gift can still be tricky. That is why rather than just listing what I think are some of the best gifts I have also compiled some of the important things you need to consider.
You can think of this as a frequently asked questions portion to help you narrow down making a decision. Any of these toys/ gifts would make a great choice but it's important when buying a present that you are sure it's something your child will actually like. So, without further ado let's look at what you should consider in more detail.
What Are Your Child's Interests?
This is one of the most difficult parts to get right when it comes to buying a gift/ present for a 4-year-old boy. You'll know what your child's interests are but finding a suitable gift won't always be simple and it's easier than you might think to get something your child won't actually like.
STEM-themed toys have some great benefits and are quite popular with parents. But before getting one you need to consider whether it's something your child will be interested in and actually like.
The best advice is to play it safe when it comes to buying a gift. This is especially good advice when it comes to birthdays or Christmas. For example, if your child likes puzzles then the Wooden Puzzles would make a great gift.
What's Your Budget?
Any parent will know just how expensive bringing up a child can be. And toys can certainly be pricey but they do provide many great benefits and children love them so it's all worth it isn't it? You just need to ensure you are buying something suitable.
And the price is very important when it comes to doing this. The good news is there are a lot of toys available even for smaller budgets. Yes, it might take a bit more searching to find something but there are plenty of options out there.
Health and Safety Considerations
So, let's finish up our look at the best gifts for 4 year old boys with the most important point to think about. Health and safety are very important when it comes to buying a present, while 4 year olds will have a basic understanding you still need to be very careful when choosing a toy.
There are numerous health and safety concerns to consider and while all the toys on this list have been rated as appropriate for children aged 4 and up by their manufacturers you still need to consider other potential issues. For example, allergies to certain materials or small parts that may be choking hazards.
And remember even if your chosen toy is deemed safe, some gifts will likely require adult supervision to ensure children are playing with them safely. This is especially true when it comes to gifts with small parts.