Four-year-olds are curious learners. They love to explore, and they learn through playing.
If you feel like you're running out of ideas to feed the hungry minds of your little learners, don't fret! Through educational games for four-year-olds, you can teach your preschoolers important skills like critical thinking, team play, cause and effect, and spatial recognition.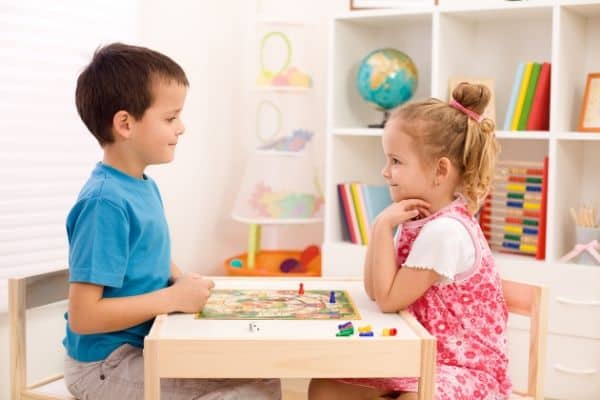 Don't miss out on your preschooler's natural love for learning – teach them essential skills the fun way with these 11 best board games for four-year-olds!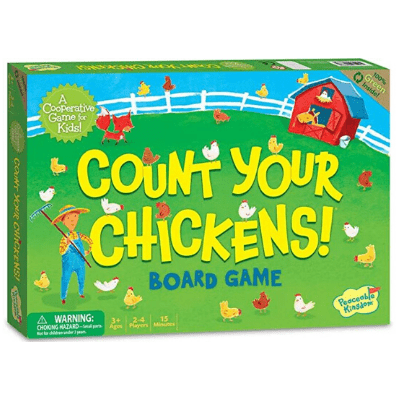 Now that your little learner is starting to understand team play, you can introduce them to the fun of team effort with the Count Your Chickens game.
Considered as one of the best board games for preschoolers, Count Your Chickens improves your child's counting skills, and understanding of team play dynamics. The game aims for everyone to feel like a winner after every game.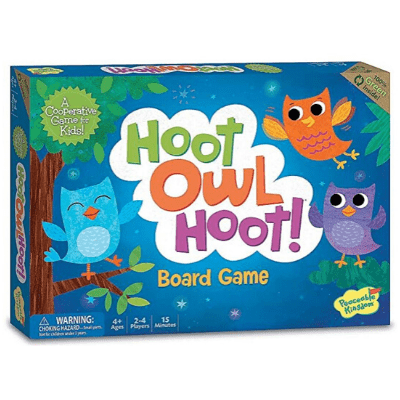 The best educational board games for preschoolers tap into a 4-year-old's love for team play and feeling of fulfillment. The Hoot Owl Hoot is one of the best educational games for preschoolers.
This fun and cooperative game challenges youngsters to bring back the owls to the nest before the sun shines. Each player gets color cards they can use to gather owls back to the nest. The kids will learn how to strategize, solve problems as a team, and how to work with one another.
If you're looking for great family board games, give Pete the Cat a try. The board game encourages cooperative play, and everyone in the family can join. Team players will take turns doing tasks and actions that will help put a cupcake on Pete's birthday table.
Actions involved in the game include singing a song, naming a food, and naming an object that starts with the indicated letter. The actions and tasks are easy for kids to do. It's a great educational game that will encourage bonding between preschoolers and parents!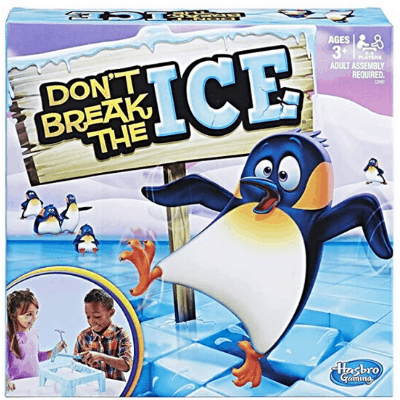 Help Philip the Penguin break some ice – but be careful not to make him fall! Don't Break the Ice is a 2-player board game for 4-year-olds that will harness your kids' problem-solving skills.
Players need to tap out ice blocks one by one, but there's a catch – Philip the Penguin should stay on top! The player who safely taps out blocks without making Philip fall will be declared the winner! Parents and kids can play this challenging game together!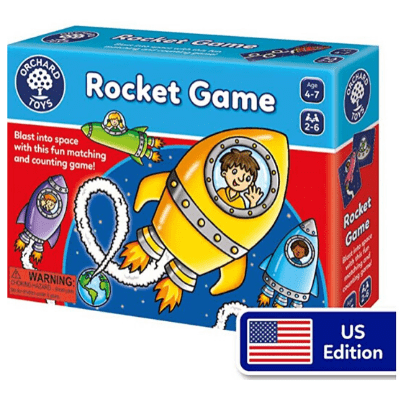 Blast into space with Orchard Toys' Rocket Game. Players get to join in an exciting competition of building loops to complete a vapor trail.
In this game, kids will learn counting, memory, and matching skills, and improve the way they observe. This out-of-this-world game features astronauts, aliens, meteors, and planets – it's a great game to encourage discussion about space!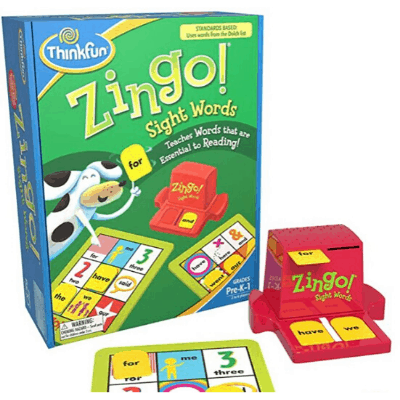 If you're looking for fun games for preschoolers that will also teach kids basic reading, Zingo is your game. The mechanics are simple – a Zinger will produce a set of words. If a player has that word in their card, they need to call out the word chip and place it on their cards. The first player who completes the card wins the game.
Zingo is a stress-free way of helping kids recognize and read basic English words. The game will also build your preschooler's confidence in saying out loud familiar words and phrases.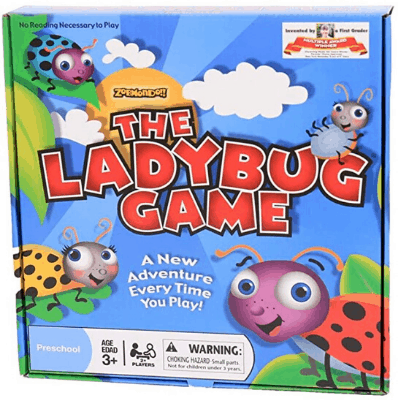 This entertaining board game invented by a first-grader will encourage fun interaction between parents and kids. The game focuses on helping four ladybugs find their way home. Parents are encouraged to read the background story of the game so kids will understand the game's objectives.
The Ladybug Game includes playing and learning cards that will teach kids reading and counting along the way. Features an adorable story, and eye-popping graphics that will keep your little learners engaged!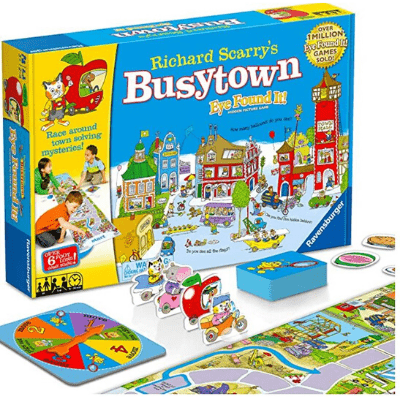 Journey together with Huckle Cat and Lowly Worm as they take on adventures, and find hidden objects in Busytown! This board game for preschoolers combines a race within Busytown, with a challenge to find objects along the way. The more objects the player finds, the faster they move. Get into the island before Pig Will and Pig Won't.
This exciting board game – which spans 6 feet long! – will challenge your kids' observation and problem-solving skills. Play this game as a family for extra fun!
Ready, set, cherry o! This classic board game teaches preschoolers basic counting the exciting way. Kids playing the Hi Ho Cherry O have one objective – be the first to pick out all cherries from their designated trees!
Players need to spin the spinner to determine how many cherries to pick out from their trees. If the spinner points to a dog, a spilled bucket, or a bird, players may lose cherries from their buckets.
Once a player's tree is all cleared out of cherries, they need to chant "Hi Ho Cherry O!" to win. This simple yet fun game has been a favorite of my daughter's since she was 3, but she is now playing it with better number recognition at 4.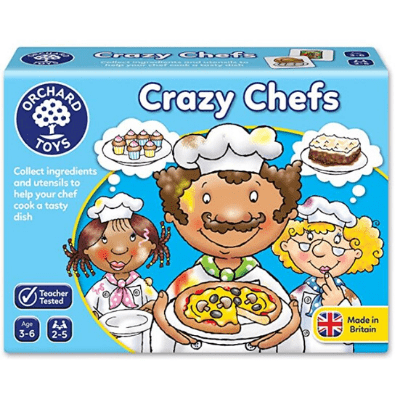 Learn about food and food preparation in this engaging family board game. Players can choose different food boards ranging from cupcakes to pizza! Kids will choose ingredients from the ingredient cards that match the ones in their food cards. After completing the ingredients, players will use the spinner to see who will cook and serve their dish first.
Crazy Chefs introduces kids to the processes that go into food preparation. Apart from learning all about preparing food, kids will also learn how to match pictures, and how to take turns!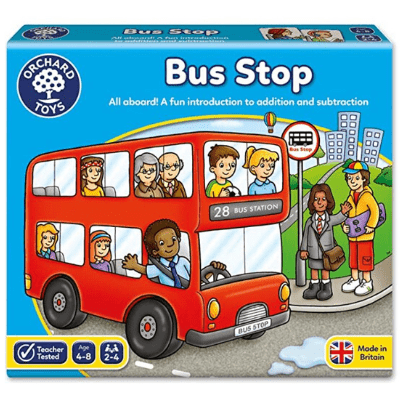 Teach preschoolers math with the Bus Stop board game. The game's objective – the one with the most passengers wins! Players spin the dice to know how many steps to take. Once they land on an "add" or a "subtract" square, they need to spin the spinner to determine how many passengers to count on or off the bus.
Arithmetic won't be too stressful with the Bus Stop board game!
Why Board Games Are Ideal for 4 Year Olds
At four years old, kids transition from independent play to associate and cooperative play. During this stage, kids begin to express interest in playing with other kids. This age is the perfect time to introduce teamwork, taking turns, and sharing.
Age-appropriate board games for four-year-olds often include cooperative play where preschoolers get the chance to practice sharing, taking turns, and playing with other kids.
Your four-year-old's cognitive and motor skills are developing rapidly. At 4, kids are naturally curious. Parents should not miss out on the learning opportunities that this curiosity brings. Around this age, moms and dads can help their kids improve their sensorimotor coordination, ability to process information, and fine-motor skills. What better way to teach youngsters all of these skills than through board games?
Playing board games with preschoolers can also boost their confidence and social skills – two critical skills to learn before kids start school.
Do you have little explorers who are curious with just about everything? Board games can help you open different learning and teaching opportunities! From helping players find assigned items, to doing challenges that will rescue a birthday party, board games offer activities that will satisfy your curious little learners.
How Board Games Prepare Kids for School
It's no surprise that board games are loaded with fun; but did you know that they can aid kids in early learning? If you're preparing your little one for school, consider incorporating the best board games for 4-year-olds into your routine.
Board games help prepare preschoolers for school by:
– Helping them follow instructions.
Preschooler board games include simple, easy-to-understand instructions that can train kids to follow instructions in real life.
-Teaching them how to share and take turns.
A crucial skill a child needs to learn before school is sharing and taking turns. Fun board games for four-year-olds often focus on encouraging cooperative play among kids.
– Getting them familiar with basic language and arithmetic.
Easy board games for four-year-olds also include basic language and math games!
– Prepping their language skills.
With the help of mom and dad, preschoolers can learn storytelling and reasoning through board games!
– Increasing their ability to focus.
Train your little learner to listen attentively to the teacher with the help of board games!
– Improving the way they observe.
Raise observant kids with board games that encourage concentration.
– Helping them learn how to interact with other kids.
Games for four-year-olds are cooperative play-focused. A great way to help kids positively interact with other children.
Board games are also fun, and stress-free. When kids are in a stress-free environment, they learn more!
Benefits of Playing Board Games With Your Kids
The family that plays board games together develops lasting memories together! Playing board games benefits families in multiple ways.
Board Games Strengthen the Bond Between Children and Parents
If you feel like your family's beginning to be technology-dependent, it's time to bring out the board game. Technology robs parents and kids the opportunity to talk to one another.
Screen-free board game moments provide moments where kids and parents can actually talk and have fun with one another.
It Makes Learning Come Naturally
Board games can actually help parents teach different life lessons to kids. Playing a board game can help kids grasp the concept of cause and effect. Losing in a board game can also train kids on how to navigate through loss and failure. Games can also develop a child's emotional and social skills.
The best thing about learning with the help of board games? Learning comes with no pressure. Kids tend to listen more, and understand better!
It Creates Lasting Memories
Creating lasting memories is important. You don't always need to spend thousands of bucks for Disneyland just to make memories that last. Simply spending time playing a board game can create lasting memories that will matter to your kids.
Board games are fun, educational, and they help create lasting memories. If you're prepping your kid for school, or if you simply want to strengthen your bond with your little explorer, try these 11 best games for preschoolers!