Your kids will love building an edible marshmallow igloo that doubles as a delicious snack after they are done with the STEM building challenge. This is a fun indoor activity for kids that you can do on cold winter days.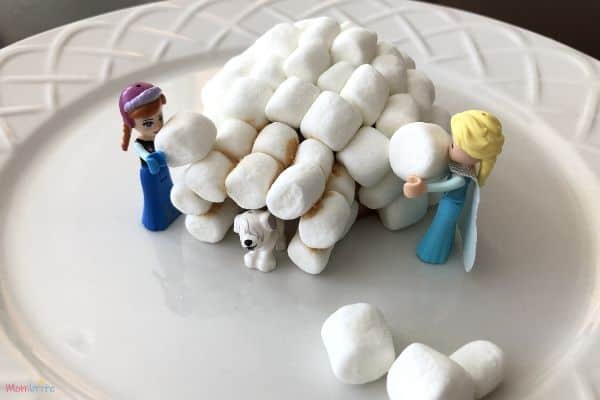 When you think about building anything with marshmallows, you probably picture trying to create a structure out of marshmallows and toothpicks. After all, that's how we built our marshmallow catapult, except with longer skewer sticks.
But since my kids barely ever have candy, they are way too excited over the opportunity to taste some marshmallows after our marshmallow igloo STEM activity. But eating marshmallows that have been stabbed by toothpicks and squished by little hands just does not sound appetizing.
Therefore, we made a marshmallow igloo that is 100% edible! Plus, we are using a piece of fruit as the base, so at least there is a healthy component in this sugary treat.
How to Make an Igloo with Marshmallows
Materials:
Lots of mini marshmallows
1 apple
Peanut butter
Instructions:
Cut the apple in half.
Cut off the bottom of the apple.

Core the apple if you plan to eat the apple afterward.
Slather a thin layer of peanut butter over the apple.

Start sticking marshmallows on the apple until the entire apple is covered except the flat portion (where you cut the bottom of the apple off).

Build the entrance of the igloo with marshmallows and peanut butter. I suggest building the two walls of the igloo and then slowly and carefully build the top, using peanut butter as the glue to hold everything together.

We tried to find some arctic friends to come and play with the igloo, but we couldn't find any polar bears or penguins. So a white little dog plus Elsa and Anna it is!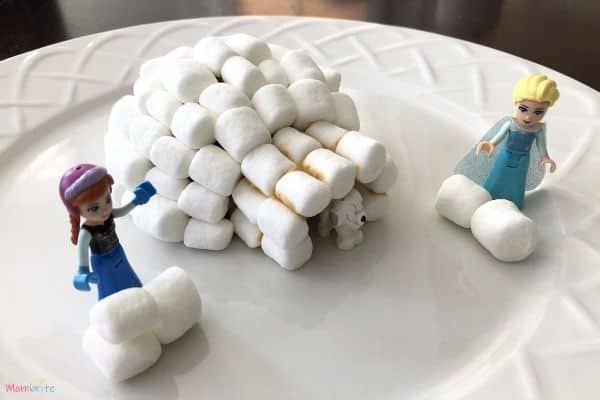 We arranged some extra marshmallows on the side so that it looks like Anna and Elsa are having a snowball fight. You can see that the white puppy fits right inside the igloo entrance. How adorable!
And of course, my kids loved eating the igloo afterward. I took off some of the marshmallows to prevent my kids from bouncing off the walls from too much sugar, but they got their fair share of the marshmallows. Since apple plus peanut butter has always been a favorite snack in our house, they were happy to polish that off the plate within minutes.
Final Thoughts on Making a Marshmallow Igloo Craft
The marshmallow igloo was a great STEM activity especially for my preschooler because you can't really go wrong with sticking marshmallows on an apple. She had a lot of fun slathering on the peanut butter and then covering the apple with marshmallows.
I hope your kid enjoyed the yummy marshmallow igloo!
For more marshmallow activities, check out these posts: