Your kids can only learn so much through worksheets. When it comes to logic and spatial reasoning skills, we often learn through life experience. However, how can we teach our kids these important skills at home?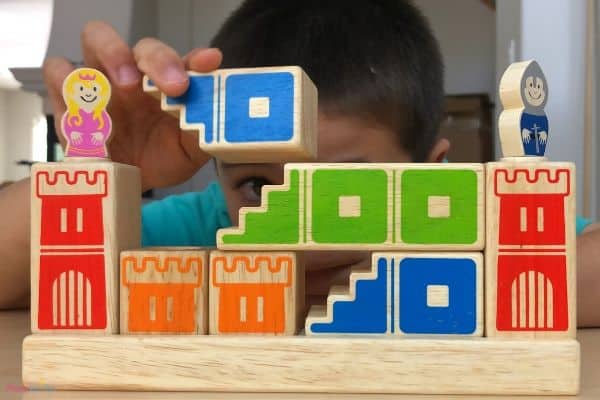 We are a big fan of gameschooling, and Camelot Jr is one of our favorite puzzle games to keep in our homeschool arsenal. It looks deceptively simple with only 8 wooden blocks, but when you try and beat the challenge, you quickly realize that less is more.
Overview of Camelot Jr
Camelot Jr is a unique puzzle game that will allow your kids to learn logic and problem-solving skills while having tons of fun. Using beautiful 3-D hardwood towers and stairs, your kids need to figure out how to create a path for the knight to reunite for his princess. How romantic!
The knight and princess cannot jump down or climb up walls, so only a specific combination of the towers and staircases will get the knight to his princess. The game comes with 48 challenges, including Starter, Junior, Expert, and Master levels. Therefore, Camelot Jr is a game that grows with your kids, and it's so amazing to watch your kids advance in levels.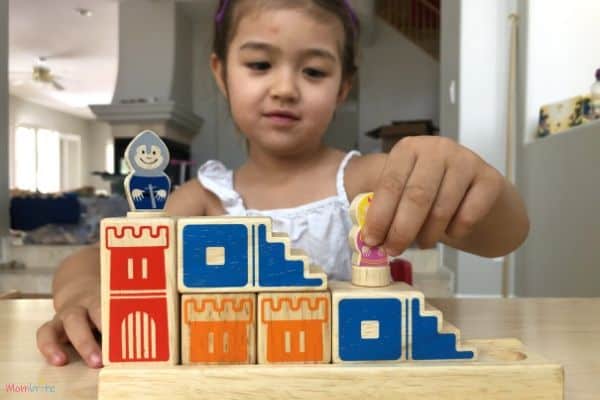 Features:
Suitable for ages 4+
Players: 1
48 Challenges, including Starter, Junior, Expert and Master levels
1 wooden game tray
8 wooden puzzle blocks
2 figurines
Booklet with challenges and solutions
Specifications:
Dimensions: 24 x 6 x 24 cm (LxWxH)
Brand: Smart Games
My Review
We have had Camelot Jr for 2 years now, and the entire family still loves it as much as the day we first opened the box.
To play the game, you first pick a level. My daughter is 4 and she is at the starter level, and my son is 6 and he has a good handle on the expert level challenges. Make sure you read the rules in the back of the booklet so you know how to properly place the wooden towers and stairs!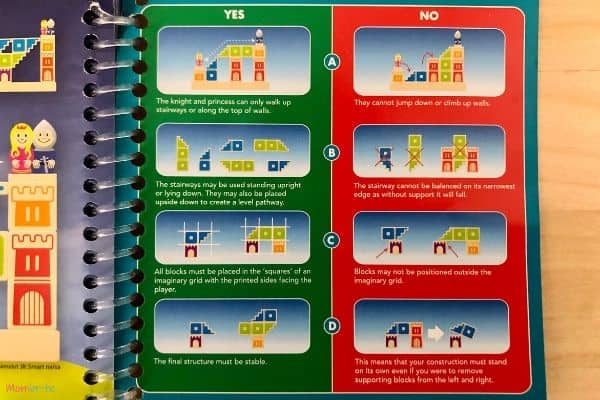 First, you set up the wooden puzzle blocks according to the challenge you selected. The solution is at the back of the page, so don't flip the page over unless you want to know the answer!
There are two types of challenges. The first one is more typical of a puzzle – you need to build a very efficient bridge with just a few blocks to connect the knight and the princess. You encounter these challenges at the easier levels.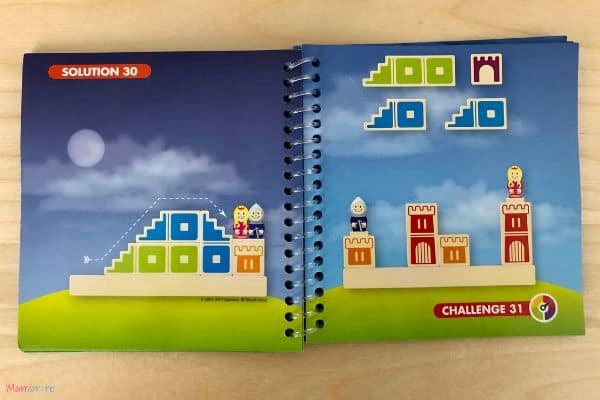 The second one is more complicated and requires more out-of-the-box thinking. For these challenges, you look like you have too many blocks, and you have to arrange the blocks in a way so that all of them are used without obstructing the pathway. You see these challenges at the harder levels.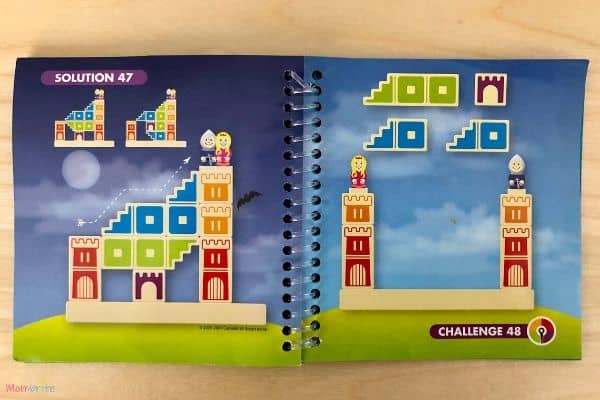 Camelot Jr is great for independent play since it's meant for one player. Both of my kids pick their own challenges, set them up, and try and figure out the solutions themselves. It's a true test of concentration and patience for the younger kids. So far, my kids have exceeded my expectations and could work on one challenge for a very long time without giving up.
And look at how happy they are when they beat the challenge!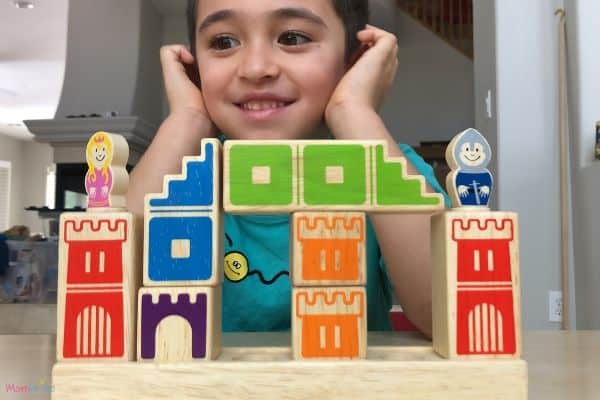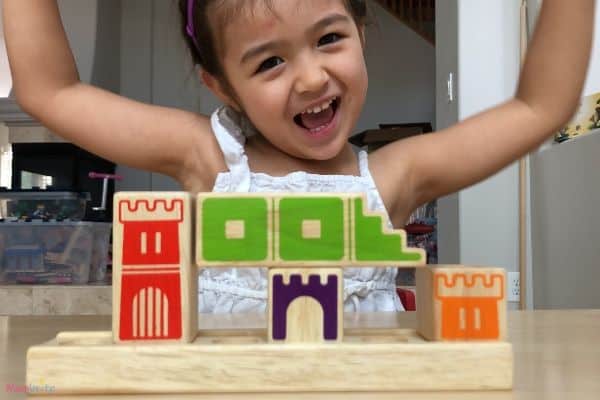 Note: The Camelot Jr from Timberdoodle is the updated one with two plastic figures instead of wooden ones we have. Also, Smart Games has decided to revise the booklet so that half of the time the princess saves the knight instead of the knight saving the princess the majority of the time.
Final Verdict on Camelot Jr
I cannot say anything bad about Camelot Jr. As a parent, I just think it's a brilliant game that truly challenges your kid's brain.
The design is solid and even after 2 years, the wooden puzzle blocks look pretty much the same as the day we got them. My kids also loved how the objective is to reunite the knight and the princess. Camelot Jr is like a romantic fairytale and a fun 3D puzzle rolled into one!
I highly recommend Camelot Jr to anyone! Even I enjoy doing the challenges and love it when my kids can figure out the answer before I do.
Camelot Jr is part of Timberdoodle's 2020 PreK Curriculum Kit and I believe it's one product you should definitely include for your homeschool. If you like SmartGames products, head over to read my reviews on Color Catch and Smart Farmer.
Also, check out my review on My Very First Book of Things to Spot at Home for another great homeschooling resource for preschoolers.