How many times do you read your child a book and wonder how much of what you are reading is actually going over his head? Especially with toddlers and preschoolers who are not quite verbal yet, it's difficult to tell whether they understand what you are reading.
Another issue you might be experiencing is that your kid may not want to sit for a book. They are full of energy and can't stop moving, so sometimes sitting down to read is quite a challenge.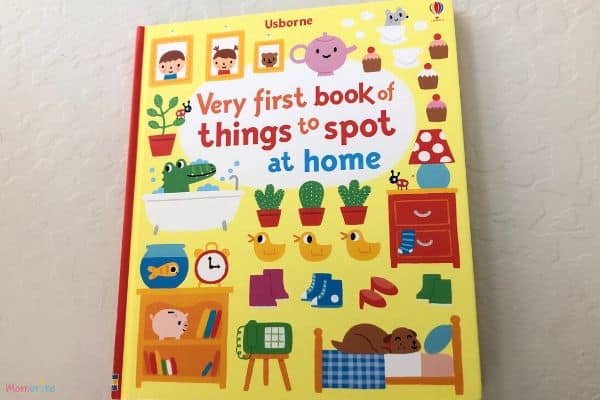 That's why books that encourage parent-child interaction are wonderful for toddlers and preschoolers. And Usborne's My Very First Book of Things to Spot at Home is one of the best.
Overview
My Very First Book of Things to Spot at Home is a bright, colorful, and cheerful book full of things to look for and talk about around the house. It has lots of prompts to help you keep your reader engaged.
For example, children can spot yellow ducks in the bathroom, a toy dinosaur in the bedroom, or even an animal that is sitting on the roof. The prompts will help your child learn to count, identify colors, learn new words, and develop pre-reading skills.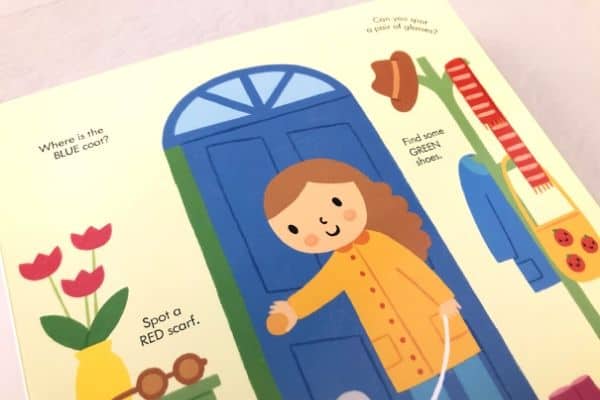 Features
Age: 18 months+
Size: 9 ¾ x 10 ⅛
Pages: 28
Author: Fiona Watt
Illustrator: Stephen Barker
Publisher: Usborne Books
My Review
My daughter is what you call a fidgety reader. She wants to read, but she just cannot stay still. Therefore, she needed interactive books that will keep her focused on the content.
My Very First Book of Things to Spot at Home did just that! We purchased the book when she was about 18 months old, and even though she couldn't answer all the prompts out loud, she could spot and point at the objects.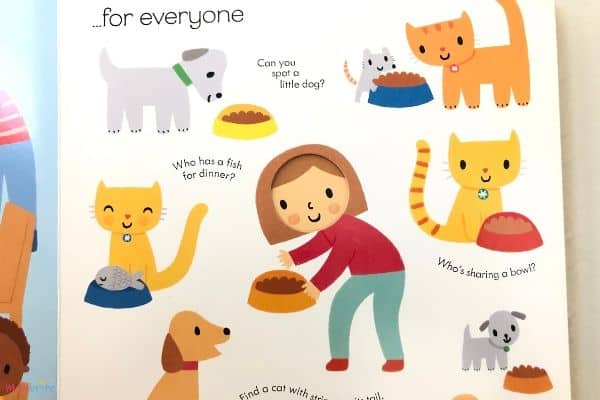 As she grew older, the book grew with her. She started pointing out and describing different things in the book. Her vocabulary also started to increase because the book prompts her to pick out objects with different colors, shapes, numbers, etc. I  love using this book to introduce positional words such as "above" and "belove" so that she could use these words to convey what she wants.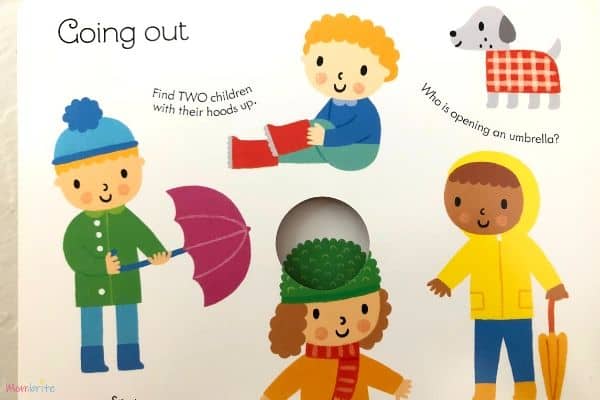 One of our favorite things to do is to make up our own prompt! There are so many cute illustrations that you can easily create your own questions. Then my daughter would make up the prompts and ask me to spot things she describes on the page. So fun!
My Very First Book of Things to Spot at Home also has these fun cutouts that give you a clue of the pages to come. You can get a glimpse of the illustration on the next page through a hole in the page. We use it to guess what we are going to see when we turn the page and how something might be a hat on one page and turns out to be a bush on the other.
The only negative I would say is that the pages are a tad thin for toddlers. Even though the book is for kids 18 months and up, you can't expect an 18-month-old to be careful with a book. Therefore, if you are not careful, the pages can get bent, ripped, or even drooled on.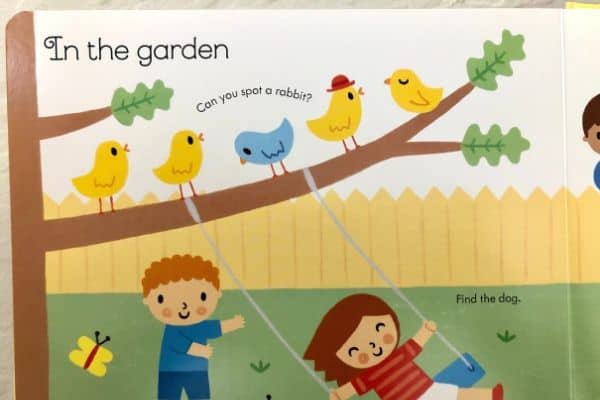 Final Verdict
My Very First Book of Things to Spot at Home is a wonderful book that encourages critical thinking and sparks your child's imagination. It's a great way for you to interact with your kids and ask questions to see how your child's mind thinks.
Most importantly, being able to read to your child strengthens the bond between you and your child. I highly recommend this book to all parents with toddlers and preschoolers. 
You can purchase your own copy at Timberdoodle along with other fun and educational Usborne books!
YOU MAY LIKE: