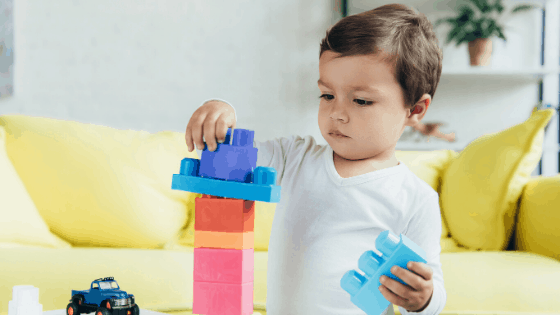 We all know how important it is to socialize our children. But, do you know that independent play for toddlers is essential to their development?
As parents, it's our instinct to try to fill our child's schedule with activities and play dates, but encouraging your child to play alone is crucial for their later development. If a child grows up with people surrounding them all the time, they won't learn how to function alone and could develop a range of disorders in later life.
The Benefits of Independent Play for Toddlers
There are many benefits of introducing independent play to your toddler, including:
Encourages Independence
When your children learn they can have fun on their own, they're less likely to rely on others for happiness and enrichment. Remember, children need a lot of care and attention, but as they get older, they'll realize they can't always have people by their side.
A child that's used to constant company and attention might be at risk for developing an attachment disorder, which will affect their later friendships, relationships, and career opportunities.
Imagination Breeds Creativity
It's common for children to experiment with their imagination at a young age, and many kids have an imaginary friend. Studies show that children with imaginary friends grow up to become creative adults, but that doesn't mean you can't inspire your own child's creativity.
A child's mind is a fascinating thing, and once a parent steps back and allows them to play independently, they'll unleash a world of superheroes, fairytales, and exciting adventures.
Improves Adaptability
If you're worrying that independent play will make your child uncomfortable in social situations, you couldn't be more wrong. Changing your child's play style means they're more adaptable to different situations.
It's also essential if you want to promote a calm environment. When children play together, things can get loud. Independent play can keep your child entertained and maintain your sanity! Letting your child see you spending some time alone will encourage them to appreciate their own alone time, and it can strengthen your bond.
Promotes Self-Soothing
There's some controversy about self-soothing, especially when it comes to babies. Few parents don't want to leave their babies alone, but teaching toddlers to self-soothe can be highly beneficial. Introspection is a useful skill for adults, and when a child self-soothes, it means they must look inside themselves to solve problems.
Prepares Your Toddler for School
The first day of pre-school is one of the most significant milestones your child will face, but you can make the transition easy for them. In the early formative years of their lives, you will be a central figure in your child's life – especially if you stay at home.
By finding ways to encourage independent play, they won't feel so alone when they begin school.
Encouraging Independent Play in Toddlers
If your toddler isn't used to independent play, then it can take time to encourage them to enjoy their own company. Some children are naturally more creative and will find ways to entertain themselves, but you might need to take some time to reinforce how fun independent play can be to your toddler.
Start Young – The earlier you introduce your child to independent play, the more adaptable they'll be. Toddlers are at an age when they're starting to explore and develop their personalities. Use this to your advantage.
Let Them Work it Out – It's only natural that as a caring parent, you want to ensure your child has fun with their new toy – but part of the fun is working out how to play with it! Stay with your child, but encourage them to play alone. You can gradually step away, and your toddler will be comfortable engaging in independent play.
Be Serious – You wouldn't like it if your child constantly interrupted you while you're working, would you? Playtime for children is a form of work for them, and they don't like unnecessary interruptions. Don't stop your toddler's playtime unless you have to.
Connect With Your Toddler – You don't need to smother your toddler all day, but you should take time to connect with them during caregiving activities. Ideal times are when you bathe your child and putting them to bed at night.
Share Their Interests – As babies mature, they'll start to develop their individuality. For example, one child might love Hello Kitty, while the other enjoys playing with building blocks. You must acknowledge your toddler's uniqueness and attempt to engage with them.
The Best Independent Play Activities
This post contains affiliate links. Please see my full disclosure policy for details.
The best thing about encouraging independent play in toddlers is there are so many ideas available. Whether you choose activities or toys, here's what we recommend.
Stickers
Sticker activity books are fantastic and can provide hours of fun for your toddler. You can create an activity book, or use an educational sticker book to aid your child's development.
Rip and Tear
Toddlers go through a curious stage, which makes them very destructive!
Luckily, someone thought of a brilliant solution. All you need is some paper and a container. Your child will love tearing bits of paper and putting them in the box, and you won't have to clear up!
Treasure Hunt
Toddlers enjoy treasure hunts too, and if you simplify them, yours will have a great time.
All you need to do is get some small boxes and places fun items in them. Make sure the items aren't dangerous for toddlers and encourage them to open the boxes. They might need some help at first, but they'll love finding the boxes and discovering the exciting things inside.
Costumes
Whether your toddler loves fairytales or superheroes, there's a costume out there. Dress-up encourages imaginative play, which your child can benefit from in the future.
The Top 5 Toys For Promoting Independent Play
With so many toys available, it's hard to know where to start. We've seen a lot of toys in our time, and these are the best choices for encouraging independent play in toddlers.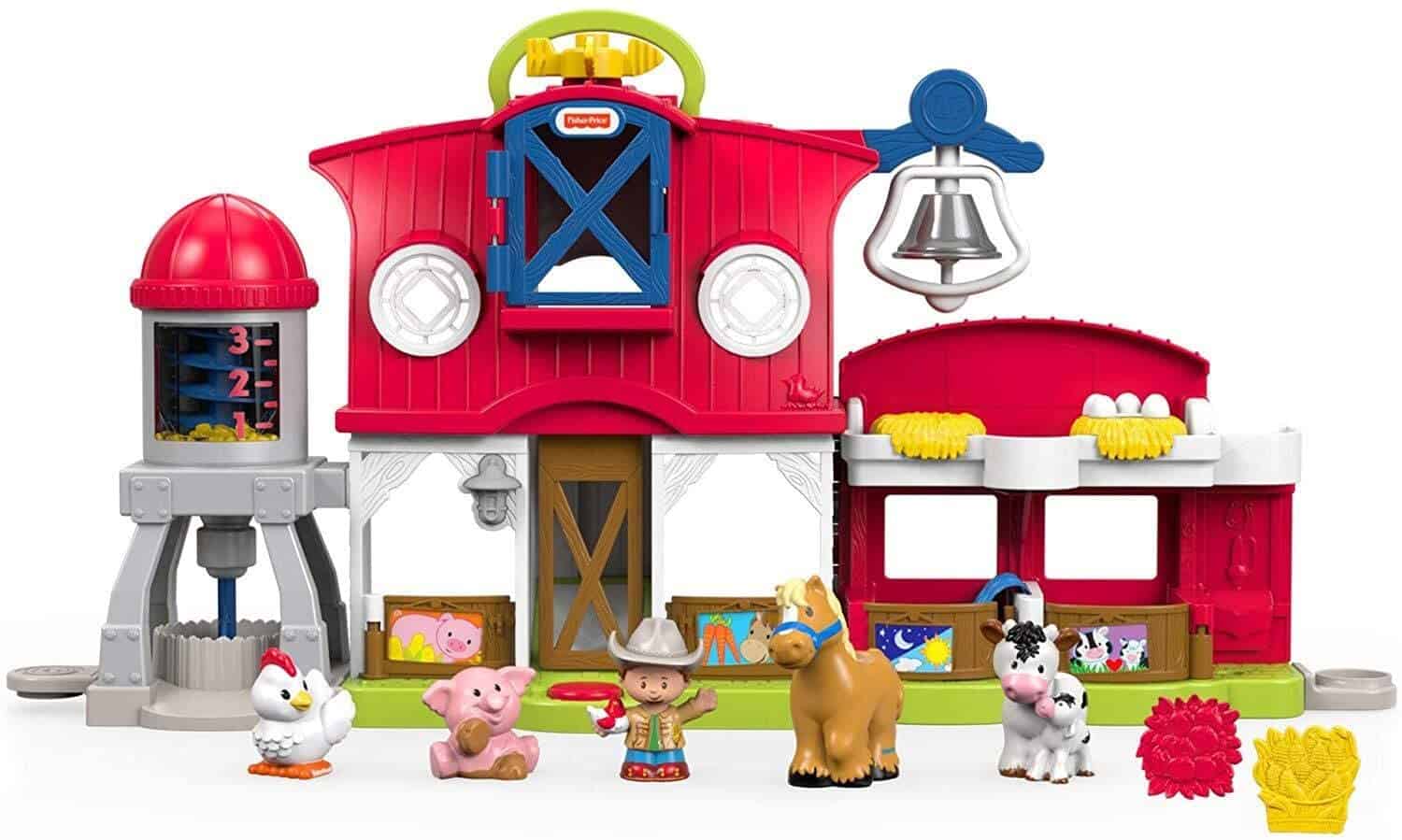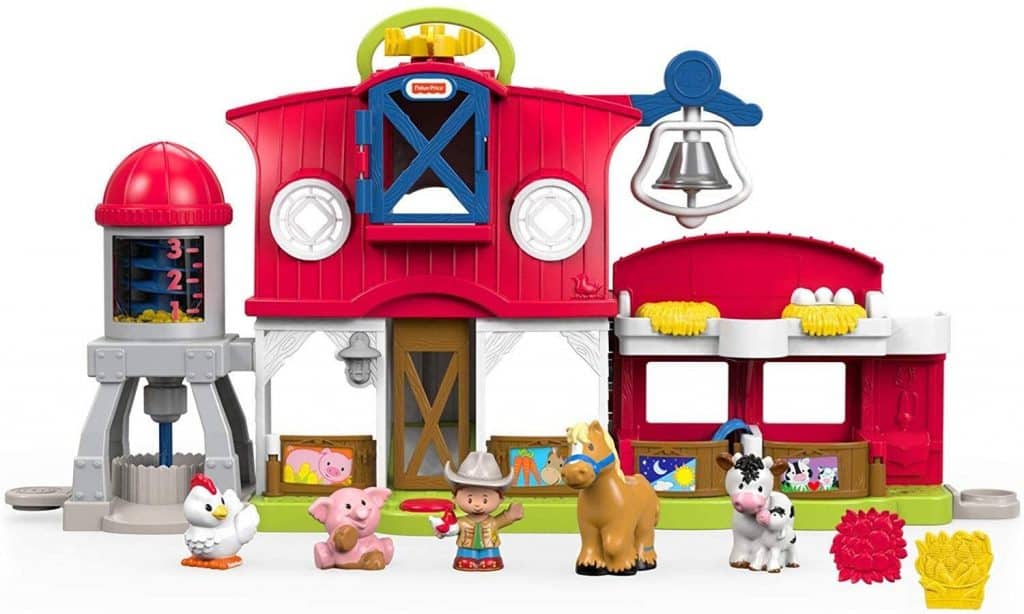 It's important to teach your child to have empathy for animals, and there's nothing better than letting them actively play with real animals. But if you don't have any pets, then the Fisher-Price Animal Farm could be the perfect solution. The farm comes with a range of animals and has fun sound effects to make the experience more realistic.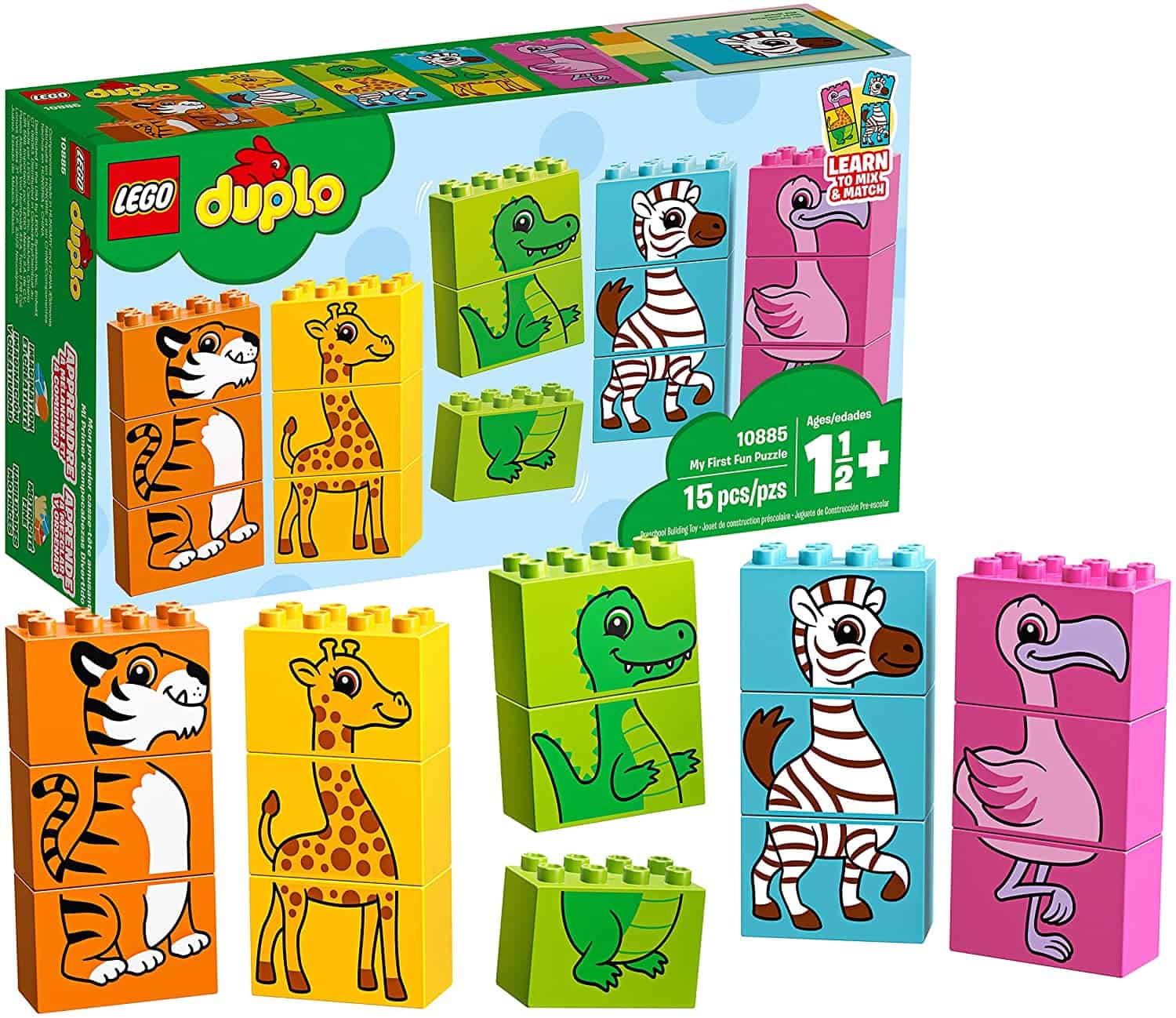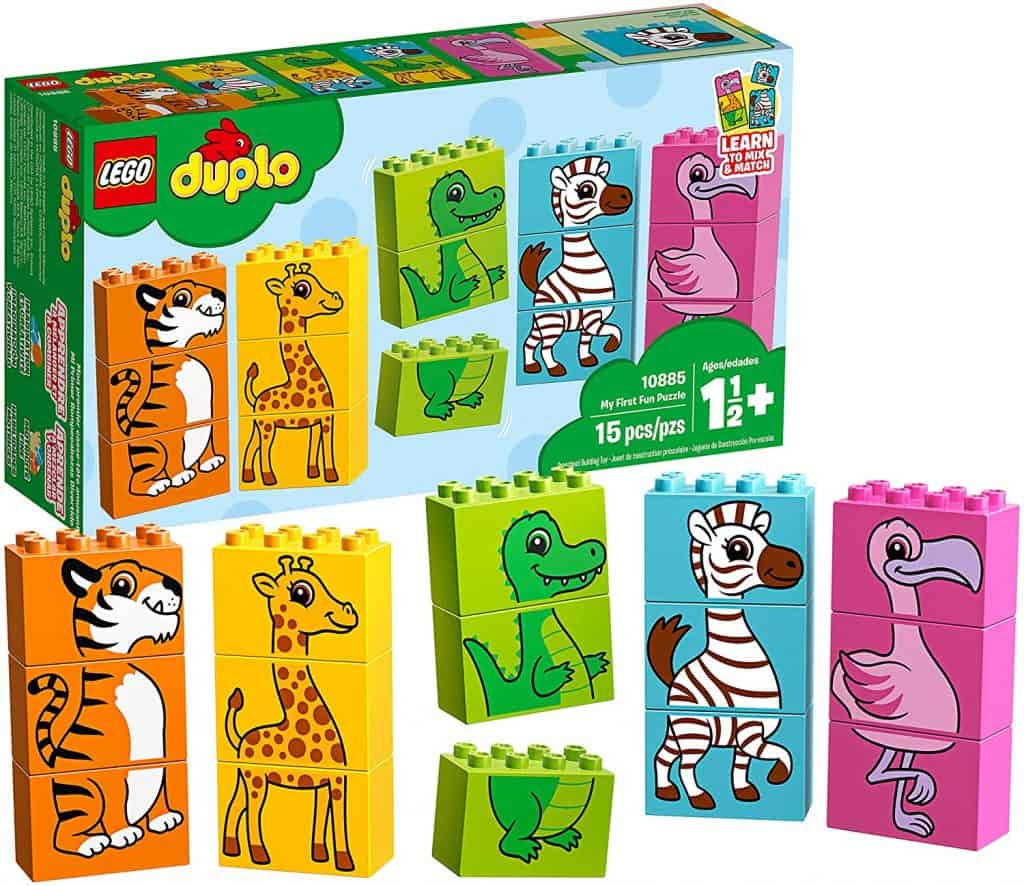 Lego is dangerous for curious toddlers, but Duplo is large enough that you can let them play independently.
Duplo has loads of fantastic kits, but we think My First Fun Puzzle is perfect for igniting your toddler's curiosity. The blocks are themed around animals, and your child has to put them together to complete each figure.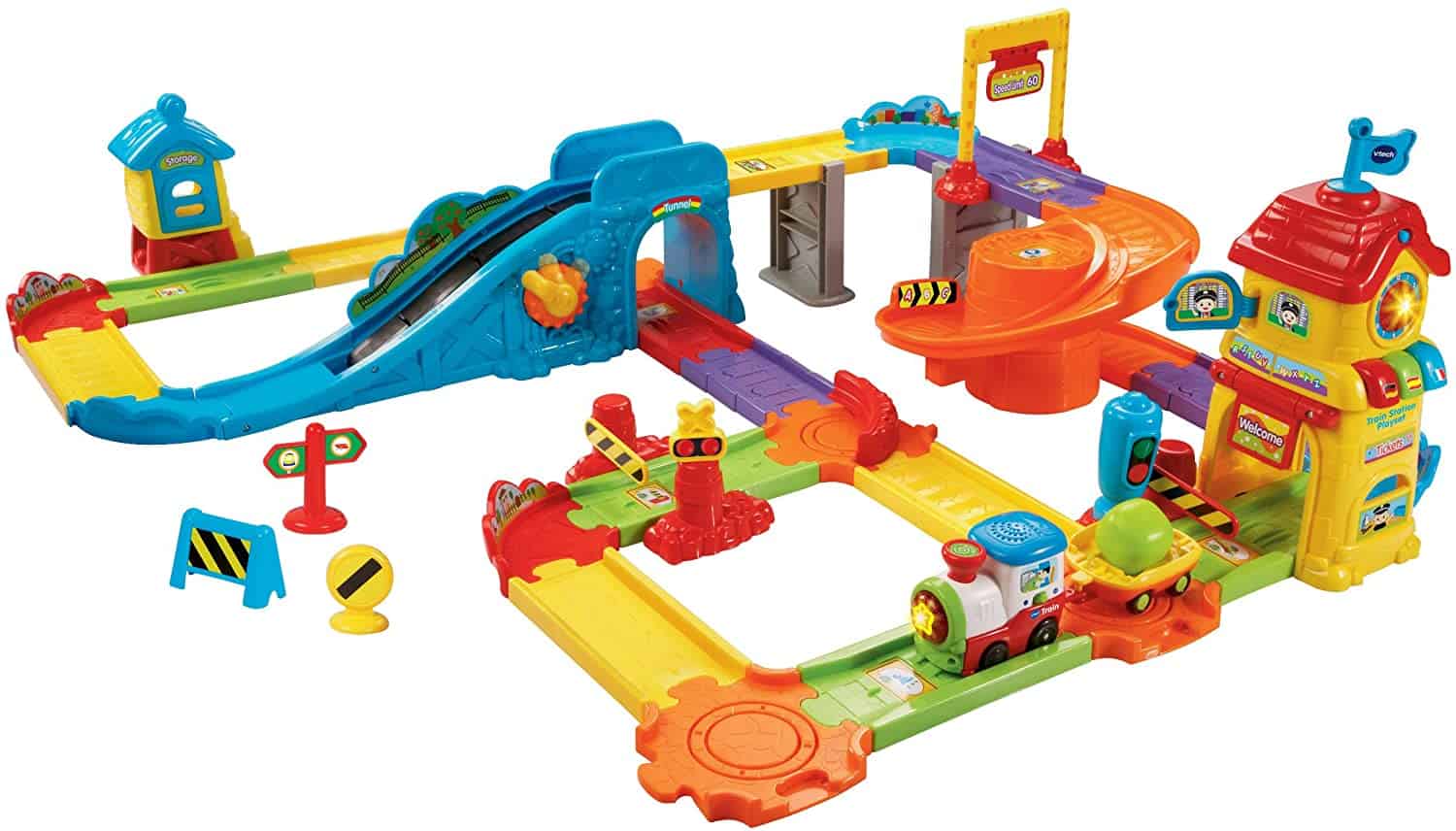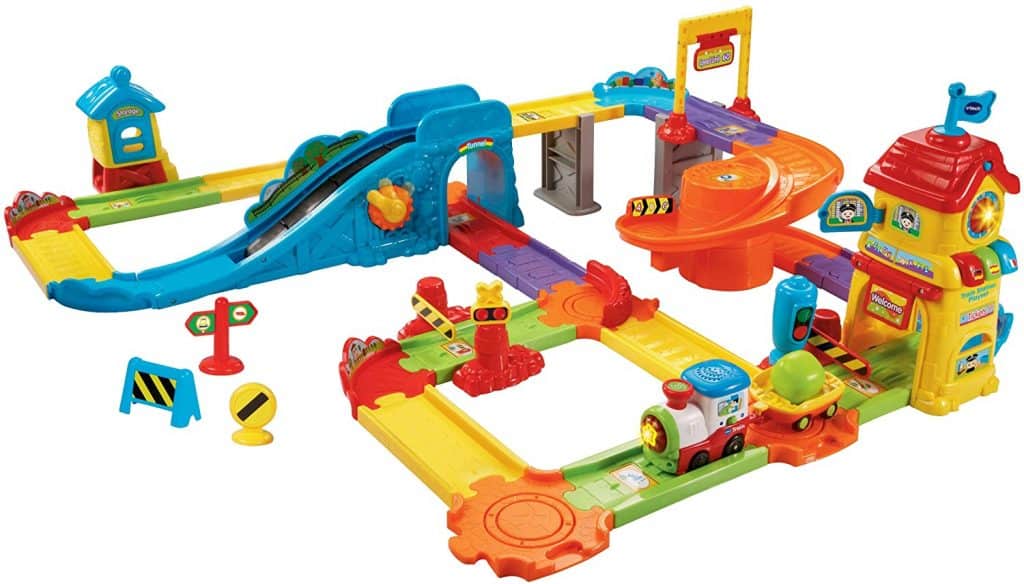 Younger toddlers might need some help with this set at first, but it's for ages between 12 months to 5 years old.
The interactive train station has so many features, and it's excellent for educational purposes. With time concepts, foreign languages, conveyor belts, and the opportunity to expand the tracks, this set will keep your toddler entertained for hours.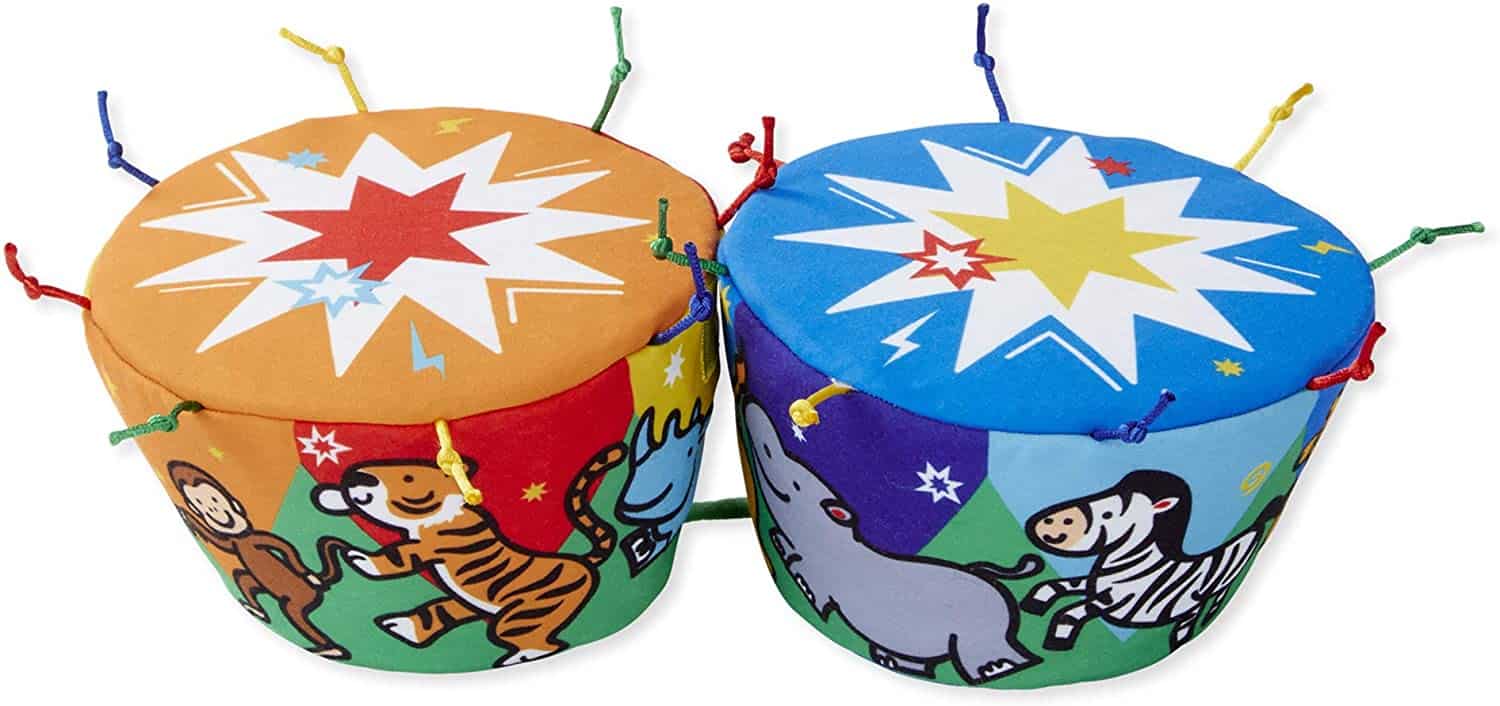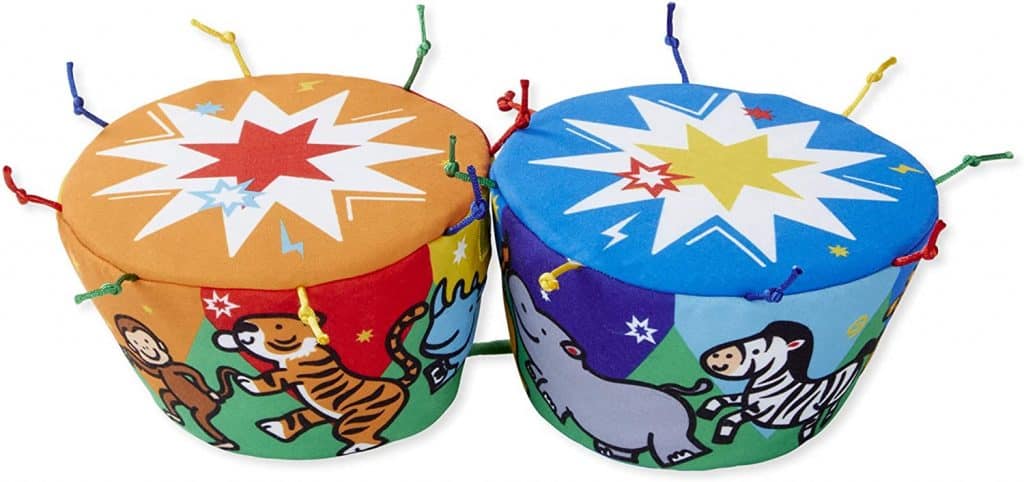 As far as bongo sets go, we think the Melissa & Doug K brand has gone above and beyond everything else. The cloth-covered bongos play songs so your child can add the percussion elements. You can also switch the bongo to drum mode or turn them off to give yourself some much-needed peace!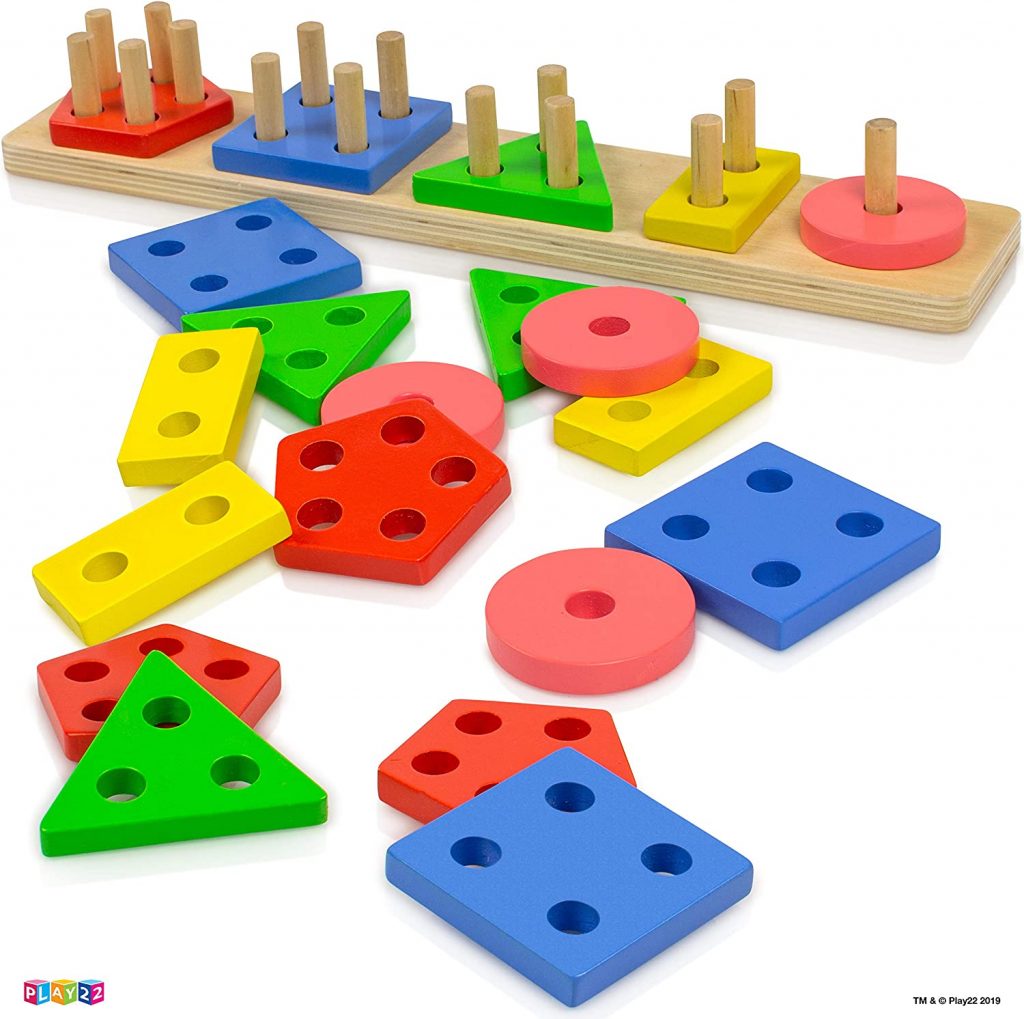 Play22's Shape Sorter is ideal for young toddlers, and it's a great way to encourage your child's educational development. The pack comes with a variety of shapes, and your child needs to stack up the shapes on the wooden block. You can leave your child alone and don't have to worry about them choking because the pieces are large.
The Bottom Line
So now you understand the importance of independent play for toddlers, it's time to begin the process of encouraging your child to engage in solo activities. By becoming more independent, your toddler will be less likely to struggle to adapt and be more comfortable in social situations.
Independent play is an easy addition to incorporate into your child's schedule, so start today and gain confidence that your little ones will become more creative and confident.