Here are the best board games and educational games for 2-year-olds that will keep your kids entertained and learning at the same time. They are perfect for family game nights!
My husband and I are board game geeks. There, I admit it. Whenever we could get a group of friends together, our favorite thing to do is play board games all night until the sun came up.
Alas, that was our lives before kids.
When our son turned 2 and was no longer all about construction vehicles and trains, we looked for educational toys for 2-year-olds. To our delight, we found a bunch of board games that even toddlers could play!
I know you have your doubts. Imagining your 2-year-old sitting down and playing a board game seems like mission impossible. But that's why whoever made these board games are GENIUSES! When you check out the games I have listed below, you will see why.
Playing games with your 2-year-old is so important for early childhood development. It teaches them a variety of skills, such as gross and fine motor, reasoning and logic, memory and cognition, hand-eye coordination, and much more. They also will learn how to follow the rules and social-emotional skills that are critical for when they go to school.
Most importantly, playing games and spending quality times with your 2-year-old will give your family a chance to bond and create wonderful memories for years to come. For fun and educational games to play with your 2-year-old, check out the list below.
1. Roll and Play Game
We have had the Roll and Play game since my son was 18 months old, and it remains a family favorite today (he is now 5!). The Roll and Play is hands down the best game you should have for your 2-year-old.
The rules are simple: You roll the big plush cube, select a card with the matching color, and follow the instructions on the card. There are 48 cards with 6 different categories and each one is a fun activity, such as "roar like a lion" or "find something green."
The Roll and Play game teaches children emotions, counting, body parts, color, animal sounds, and actions. It's the perfect game for a fidgety 2-year-old who has tons of energy because the activities will get everyone up and moving.
My children always have a blast playing this, and they can play it over and over again. It's no surprise that the Roll and Play has won several awards, including an Oppenheim Platinum Award and the Play Advances Language Award.
2. First Orchard Game
First Orchard is a great game for introducing your 2-year-old to the concept of teamwork. By working together, you will need to pick the fruits from the trees before the hungry raven reaches the end of the path.
We love the game because you either win together or lose together. It's very simple, so your 2-year-old will have no problem understanding the rules. The pieces are large and durable, so your toddler can easily handle them.
Overall, First Orchard is the perfect game for learning color matching, where fruits come from and the different types of fruits, and social skills such as taking turns.
3. The Sneaky, Snacky Squirrel Game
2-year-olds love to use tongs. I don't know why. Both of my kids loved using tongs to pick up small items instead of using their hands when they were toddlers.
And that's what makes The Sneaky Snacky Squirrel Game so fun! You spin the spinner, pick up the matching colored acorn with the Squirrel Squeezer, and carefully place it into your log. This game provides an excellent opportunity to improve hand-eye coordination and fine motor skills while learning colors and counting.
The game is easy to set up and put away and comes with high-quality components. As one of the Amazon reviewers said, "If you're on the fence, GET this game for your kiddos, you won't be sorry!!"
4. Bunny Bedtime The Make a Choice Game
Does your kid refuse to sleep? Are you tired of fighting the same old bedtime battle every single night?
The Bunny Bedtime game is excellent for establishing a bedtime routine with your 2-year-old. You roll a die and move the bunny on a path, where your kid can help the bunny make choices about her bedtime routine. What toy does she want to play with in the bathtub? Which pajama does she want to wear?
Not only does the game empower your child with all the decision-making, but it also teaches colors and shapes, problem-solving, and social-emotional skills.
Rather than struggling with bedtime, play this game instead as part of the bedtime routine. You can also start incorporating some of the choices the bunny needs to make for your child, like letting your 2-year-old pick which book to read or which toothbrush to brush his teeth.
Say goodbye to bedtime blues!
5. Here Fishy Fishy! Magnetic Fishing Game
If your 2-year-old can't sit still and needs something to do with his hands, Here, Fishy, Fishy! is the game for him!
After rolling the die, your kid will need to hook the fish with the corresponding color. If successful, then your kid gets a piece of the puzzle for his board. Once he collects all five pieces and completes the puzzle, he wins!
Each round doesn't take too long so you can finish a game before your kid runs off to do who-knows-what.
If your toddler is not yet ready to follow the rules, you can simply take turns fishing.
6. Seek-a-Boo Game
The first time I seen the Seek-a-Boo Game played was at my child's Montessori classroom. All the children were laughing and running around, trying to find the right cards.
Depending on your child's learning and developmental stage, you can use the cards as an introduction to animals, colors, foods, etc., and work your way up to the matching game. You can play with just one child or a group of children, so it's the perfect game to bust out on playdates.
The only downside is that the cards do bent easily (plus you are playing with 2-year-olds who don't fully comprehend the meaning of "gentle"), so you may want to laminate the cards for long term use.
7. Memory Caps
If your 2-year-old likes memory games but has not learned to be careful with the cards, then this Memory Caps game will save you a lot of frustration.
Instead of cards, you use wooden caps to hide the matching pieces (also made out of wood). Your child needs to flip over the caps to reveal what shapes are inside and find the matching pair before the others do.
I remember playing this game with my son when he was two years old at a friend's house. He was interested in it immediately because we are hiding things underneath the caps and all he wanted to do was flip the caps over to discover what was inside.
After explaining to him how to play, my friend and I were shocked at how great his memory was! Before we knew it, he found all the matching geometric shapes and beat us all at the game. Never underestimate your children!
8. Feed the Woozle Game
This hilarious game involves feeding the hungry Woozle with funny and gross treats like chocolate-covered flies, fuzzy donut, feathery tacos, frog-leg ice cream, broccoli lollipop, etc. Can you imagine your kids rolling on the floor laughing over these silly snacks?
Despite its goofy nature, Feed the Woozle is an educational game that grows with your kid. For your 2-year-old, you may want to start with just feeding the Woozle. As your kid gets the hang of the game, you can begin incorporating movements (hula dance, walk backward, etc.) while balancing the snacks on a spoon.
Not only goes the game teaches your kids to work together, but it also encourages motor skills, dexterity, and body awareness.
9. Hi Ho! Cherry-O Board Game
My husband had been begging me to get Hi Ho! Cherry-O for our kids as soon as he realized they could play board games. He has such great memories playing this game when he was young, and you know what? I am glad that he did.
Hi Ho! Cherry-O is very similar to The Sneaky, Snacky Squirrel Game described above. You spin the spinner, and players take turns picking cherries, blueberries, apples, and oranges from their trees to fill their baskets. You learn how to count, add, subtract, and match colors.
However, instead of using tongs, you use your fingers to pick up the fruits. That could be why the game is for children ages 3+. The fruits are tiny, so parental guidance is necessary to make sure your 2-year-old doesn't put them in her mouth.
My daughter, however, loved using her pincer grasp when she was 2 so this game was perfect for her. The pincer grasp is an essential fine motor development to master for your child to be able to hold a pencil or button a shirt later.
10. Monkey Around – The Wiggle & Giggle Game
If your 2-year-old is anything like mine, he is spending most of the day doing silly things anyhow. That's why he is going to love this game, where he will be hopping, balancing, and monkeying around!
Your kids will love carrying out the actions required on the "solo cards." However, what you will adore are the "Everybody" cards. These cards challenge you to complete the action with a partner, such as "pretend to feed your partner the banana." It's an excellent opportunity to teach your 2-year-old how to work together with someone else to finish a task.
Monkey Around is a quick game that promotes hand-eye coordination, gross motor skills, social-emotional skills, and language skills. Plus, it comes with a cute beanbag banana!
11. Lucky Ducks
I try to stay away from battery-powered games, but this one is a fun one. When you press the orange button, ducks will start "swimming" in circles. The bottom side of each duck has a colored shape. The winner is the first player to pick up three ducks with matching shapes.
My 2-year-old loved Lucky Ducks, even though matching the shapes was a little hard for her. She just enjoyed picking the ducks up while they were swimming in the circular pond. Then after she took off all the ducks, she would put them all back, and press the button again to start over. It wasn't until she was almost three that she started playing the game according to the rules.
I do have to warn you – this game is loud. The ducks will keep quacking until you turn it off, so if you want a quiet house, this might not be the game for you. That said, the kids love the quacking!
12. Snug as a Bug in a Rug
Eww, stinkbugs! Similar to the other Peaceable Kingdom games, Snug as a Bug in a Rug is a collaborative game that teaches your kids about how to work together to achieve the same goal.
This game can be as easy or as difficult as your little one wants it to be. Level 1 of this game is simple enough for a 2-year-old. You roll the die at the beginning of the game to decide which one attribute will all players use to match the bugs. Then by working together, you need to get all the bugs under the rug before the stink bugs arrive and stink up the place!
The quality of the game is top-notch, and the bugs are so cute. My kids like sliding the bugs under the rug, and I love watching my kids playing together (without fighting for once!).
13. Candyland
Good old Candyland. What kid hasn't played Candyland while growing up? One of our good friends gave my son this when he turned 2, and he has been playing it ever since.
Candyland is designed for non-readers so that even 2-year-olds can play it. You pick a card and move your gingerbread character pawn to the nearest stepping-stone that matches the color on the card.
Little kids can learn how to follow directions, take turns, and match colors while playing Candyland. My only caution is that if you have an energetic 2-year-old, he may not be able to sit still long enough to finish the game.
14. Zoo on the Loose
Kids love the concept of Zoo on the Loose – animals have escaped from the zoo, and they have to get the animals back in their places when the zookeeper shows up!
Zoo on the Loose is a wonderful game to teach your kids about different animals and their habitats. You start the game by exploring the mat, and that alone will help your kids learn about other animals at the zoo, how to spot and count butterflies and zookeepers.
Then your child gets to help the animals go on an adventure around your house. The directions on the cards will teach your child positional vocabulary, like "under" a chair or "in" the blue circle. Your kids will have a blast putting the animals in different places around the house!
15. Where's Bear?
Where's Bear is a straightforward game consisting of cardboard nesting boxes with illustrations of different rooms in the bear's house. One person closes his eyes while the other hides the bear in one of the "rooms." Then the person opens his eyes and try and find the bear.
You can give the person hints by telling him what's in the room. Where's Bear is great for building vocabularies about things around the house. You can also talk about what the bear could be doing in each room, like sleeping on the bed or sitting on the couch.
And if your 2-year-old like stacking blocks or boxes, then this is the perfect game for your kid! The boxes are sturdy and well-made, almost as if the game maker expects toddlers to knock down all boxes to find the bear. 🤔
16. Let's Feed The Very Hungry Caterpillar Game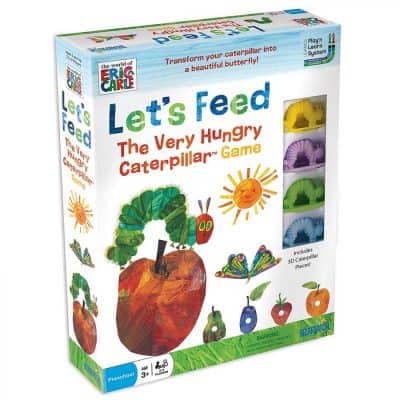 The one book we read every single night when my kids were babies and toddlers was The Very Hungry Caterpillar. This game is the perfect complement to the story!
You pick a card that tells you how many spaces you can move your caterpillar. When you land on a piece of fruit, then you collect a butterfly puzzle piece. The first person to collect all five butterfly pieces and reach the center of the board wins the game.
The butterfly puzzle pieces are interchangeable, so your butterfly is unique every time. Your kids can learn to count, their colors, and strategic thinking while playing. What a great way to bring the class children's book to life!
17. Acorn Soup
Do your little ones crowd around you in the kitchen while you try to cook? Mine loves to "help" out in the kitchen and learn what goes into their food.
Acorn Soup allows your 2-year-old to help the squirrel make his delicious soup. Pick a card, identify the ingredients, and count how many of each ingredient the soup needs.
Acorn Soup will get your kid's imagination going as he stirs and pretends to make the soup. You can use the cards and wooden ingredients to teach your kids new vocabularies. If you have a plush squirrel, you can have your kid pretend to feed it.