The best gifts for kids do not need to come from the toy store. Here is the ultimate non-toy gift guide for kids that will help you pick out a practical present that your kid will love.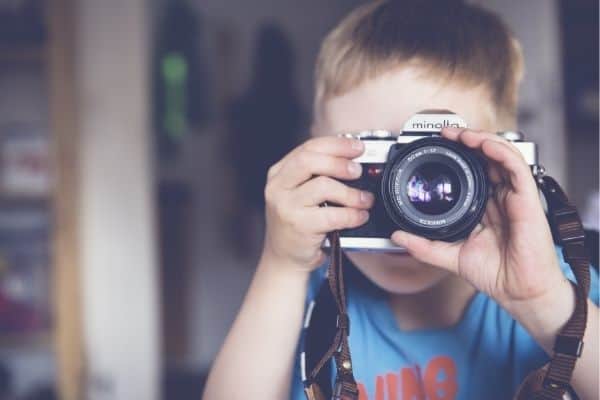 Do your kids have too many toys? Between holidays and birthdays, it can start to feel like our home is constantly being filled with new toys by the minute.
In an effort to give more meaningful gifts this year and reduce the number of toys in our home, I put together the perfect gift guide!
This year, say no to a household full of toys and instead choose gifts that are meaningful, useful, and educational! Here is the ultimate non-toy gift guide full of fun and practical gifts for the kids in your life. These would work for nearly any age or child, making them a great gift option for any kid.
The Best Non-Toy Gift Ideas for Kids
Pearhead Ceramic Piggy Bank
The Pearhead Ceramic Piggy Bank isn't a traditional toy but any child will be sure to love one. The piggy bank is available in a number of different designs and is a valuable way to teach children about money. It will also encourage children to save up and can even be used to help them with maths work as well.
KiwiCo Box
KiwiCo Boxes are a way to treat children to a surprise gift that will be sure to help stimulate their learning and growth. There are numerous different boxes available to suit different age ranges and interests. Many of the boxes have different themes from arts and crafts to STEM subjects and more. Boxes come with fun projects to work on, detailed guide books, comics, magazines, and more. 
You can check out a detailed review of the Kiwi Crate here.
Chefclub Kids
If your child is interested in cooking or you are looking to teach them yourself then the Chefclub Kids measuring cups will be very useful. These colorful cups will be sure to appeal to children and will make using ingredients much easier. The kit also comes with a high-quality cooking guidebook with a variety of different recipes.
Books
Yes, some children may not enjoy getting a book right away but they can definitely make brilliant gifts. Books are available to suit all ages and if you're having difficulty choosing one then you can always look at some famous children's authors like Roald Dahl or Jacqueline Wilson to give just a couple of examples. You could also opt for a book subscription box as well.
Voltenick Kids Camera
The Voltenick Kids Camera will give children a safe way to enjoy taking pictures. It's simple, fun, and easy to use and a great alternative to giving children a smartphone to use. The camera features dual lenses and a high-quality, responsive touch screen. It's even available in two colors pink and blue.
The 3 Minute Gratitude Journal for Kids
This isn't an ordinary journal! With each page children can list three things they are thankful for. It can simply be something that they enjoyed doing or a person they love spending time with. This unique journal is designed to help cultivate a stronger sense of gratitude for the little things in life. By filling out a page a day children will be sure to start out the day on the right note.
VTech KidiZoom Smartwatch DX2
Children of all ages love a gadget but parents these days will usually want to be careful with what their kids have access to. The VTech KidiZoom Smartwatch offers a great alternative. It's packed with features including AR games, video playback, a photograph/ image viewer, and more. It's also available in a wide range of colors and can be easily charged with a micro USB cable.
One Question a Day for Kids: A Three-Year Journal
This innovative journal challenges children with a question a day! By answering the question children can look back and see how they have developed as a person. It's also a great way to open up discussions together as a family and your child will be sure to treasure it in the future.
Osmo – Genius Starter Kit for iPad
Most children will love playing on the family iPad but you need to be sure they are using it safely. Osmo is a great way to do just that and the Genius Starter Kit gives you everything you need in a modern, stylish package. With the Osmo base children can play games, challenge themselves with interactive puzzles, and much more. There are numerous different things to do so children both young and old can enjoy it.
Microscope
A microscope is an amazing STEM toy and it even comes with a 52-piece accessory kit. With this high-quality microscope, children can learn more about science and will be sure to develop their STEM skills. You can even expand the set with a number of expansion sets as well so children can enjoy even more STEM activities.
Learning Resources Primary Science Learning Lab Set
This science learning set comes with a variety of high-quality pieces of lab equipment. But the real star of the show is the activity cards which give children a way to utilize the kit in a number of fun experiments. Children will be sure to develop their STEM skills in-regards to all areas of science.
YOU MAY LIKE: The Best STEM Toys for Kids
Insect Lore – BH Butterfly Growing Kit
The Insect Lore BH Butterfly Growing Kit is a very unique outdoor gift that children will be sure to love. Easy to set up and use with this kit children will be able to appreciate nature up close and can even feed the butterflies who take up residence. It's also a great way for children to develop their STEM skills and learn more about nature and insects.
From National Geographic Kids to Highlights for Children, there are so many different kids magazine subscriptions to choose from. Your kids will love getting their monthly subscriptions in the mailbox! Educational and fun in equal measure a magazine subscription can make a great gift.
Audible will give people a way to enjoy books in a whole new way! What's great about an Audible subscription is that it is something children of all ages can enjoy. If your child is struggling to read them Audible can be invaluable and even help them learn the basics of reading.
Cooking Class is a great way to teach children new skills. Many children will love to cook and with Cooking Class they can learn from a professional instructor online! There are numerous different class styles available as well including ones the whole family can enjoy doing together.
Experience Gifts
Take your kids to the museum, go hiking on a scenic trail, or plant a vegetable garden together. Whatever you decide to do, give your child the gift of family bonding and having fun with mommy and daddy. Unlike an expensive toy that your kids will play with for 5 minutes, experience gifts will remain in your child's memory forever. You can check out more experience gift ideas here.
---
Related Posts