Here are the best money board games that will teach your kids the value of money the fun way! Teach your kids financial literacy while bonding with them with a family game night!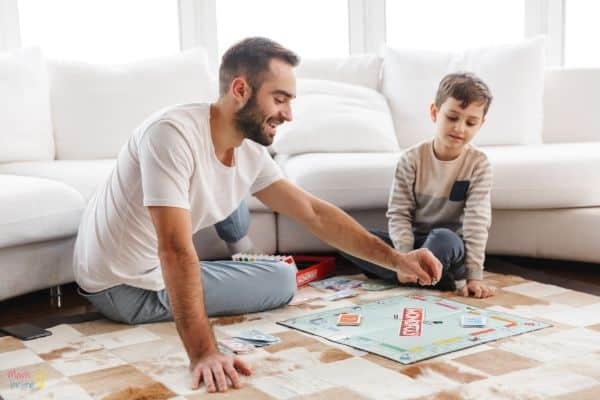 If you've ever sat down with your kids to try and teach them all about the value of money, you'll know what a frustrating experience it can be as they immediately switch off and beg to do something more fun. This is where the best money board games for kids can really prove invaluable.
Rather than breaking out the math worksheets or trying to have a discussion about the importance of saving that only sends them running for the hills, board games are a great way to teach them about money without them even realizing just how much they're learning.
Still, just because they don't realize it doesn't mean it won't be going in. Money board games like Buy it Right and Money Bags can help kids develop genuine money management skills and knowledge that will serve them well in the real world for years to come, helping them to make the kind of smart financial decisions that lead to greater happiness, success, and security.
The best part? Those essential skills are developed while you all spend quality time together enjoying a fun-filled family game night.
So far, so good, but with so many options out there, there's more to choosing the right money board game for your kids than first meets the eye. You need to find a game that's both suitable for their age range and teaches the kind of lessons you want them to learn in as fun and engaging a way as possible.
In this guide, I've rounded up the 10 best money board games for kids of all ages and abilities, helping you to find the one that's right for your future finance-savvy superstars.
Top 10 Money Board Games for Kids
1. Buy it Right
A 2-4 player game suitable for ages 6+, there's a lot to like about Buy it Right, a fun shopping game in which kids buy and sell items, setting prices for their goods, and learning how to make change.
My favorite aspect though is the realistic money that looks just like the stuff you'll have in your wallet. This is great for teaching them to identify coins and bills and is a much better game for this purpose than those that use brightly colored bills or obvious play money.
Meanwhile, the objective of the game – moving around the board buying items – is a fun and playful way to teach them about the value of money and how much things cost, and of course, counting change is a great way to teach basic math.
Speaking of the math side of things, Buy it Right does come with a calculator, but if you can always keep this out of the game to encourage your kids to sharpen their mental arithmetic skills.
Pros:
Realistic money teaches coin and bill recognition
Three levels of difficulty make it a great choice for kids of all ages and abilities
Bright colors and playful design makes the game more fun and appealing.
Cons:
Can take longer to play than other games.
2. Money Bags
If you're looking for the best money board game for kids to teach them about coin counting, Money Bags should definitely be on your radar.
A 2-4 player game for ages 7 and up, this best-selling math board game helps them to develop solid skills like adding and subtracting as they move around the colorful, cartoon-like game board to collect more money than the other players.
Money is earned by completing chores or flexing their entrepreneurial muscles by starting their own mini businesses such as a lemonade stand or lawn mowing service. This is a great way to teach them about where money comes from and inspire in them a good work ethic that will no doubt make all the difference later in life.
As well as simply improving their adding-up skills, the game uses realistic-looking money which can help them learn about how to combine different notes and bills to make the right amount.
Finally, if there's one thing we love the most about Money Bags, it's that it's tremendous fun. Kids love it when they collect more cash and their joy really makes this a worthwhile addition to family game night.
Pros:
Uses real looking coins and bills to teach money recognition
Short playtime ensures they don't lose focus easily
Can be adapted for younger players.
Con:
Some report that the game is a little too small, making it fiddly for younger kids.
3. Learning Advantage Managing My Allowance Money Game
For many kids, their first experience of managing their own money comes when they get their allowance, so what better way to teach valuable math and finance skills than by looking at something they're already very familiar with.
Managing My Allowance from Learning Advantage is a simple, family-friendly game for 2-4 players aged 8 and up, though there's no reason why some younger children can't enjoy it providing they play with mom or dad. 
The game board will be familiar to anyone who has ever played similar games like Monopoly or Game of Life. Players move around the board collecting their allowance and cash gifts (birthday money etc.) with the goal of saving enough money to go to college.
Along the way, they'll have to make important decisions about purchasing items, learn all about comparing prices and sale items, and practice counting change. With change counting fast becoming a lost skill in today's digital age, this is perhaps more important than ever.
Pros:
Uses paper bills and coins making it a great option for kids who learn better with practical tasks than through books
Real-life scenarios prepare kids for the real-world
Simple setup means you can get your game started in minutes.
Cons:
Only 1 copy of the paper tracking sheet is provided, so you'll need to make copies if you're playing this one regularly.
4. Junior Monopoly
With its cute, colorful characters, quick gameplay, and child-friendly property squares, Monopoly Junior certainly appeals more for entertainment purposes than educational ones, but that doesn't mean that it can't still be useful for teaching them valuable counting skills.
A great game to break out as a reward after they've been working hard on more taxing tasks, this simplified version of Monopoly differs from the classic adult version in several key ways.
First of all, the money is all in $1 increments, which makes this a great way to teach them basic adding and subtracting skills.
Secondly, players must either buy every square that they land on or pay rent to whoever already owns that square. While that takes away a lot of the strategy that is an integral part of the grown-up version, it also keeps things simple and makes the whole game move much faster, so you don't have to worry about this turning into one of those famous multi-hour Monopoly marathons!
Pros:
A fun, light-hearted take on classic Monopoly
Great for introducing kids to basic counting skills
Cons:
Doesn't give many opportunities for critical thinking and decision making.
5. The Allowance Game by Lakeshore Learning
If you like the idea of a game based around the good old-fashioned concept of the allowance but found the Manage My Allowance game we looked at earlier just doesn't do it for you, then may be this one will.
The Allowance Game has proved to be hugely popular with both parents and teachers as a fun, entertaining way to teach children aged 5-11 about the value of money.
2-4 players move around the large, brightly-colored board with the goal of being the first player to save up $20.
Though each player receives a $3 allowance every time they pass the "home" square, they're also presented with lots more opportunities to earn money by carrying out chores such as walking the neighbor's dog and cleaning out the garage.
As in real life, however, there are just as many ways to get rid of that hard-earned money such as taking a trip to the movies or buying ice cream, all of which can prove helpful in preparing them for the real world while still ensuring they have lots of fun around the game table.
Pros:
Very easy to learn
Teaches practical, real-world skills
Doesn't take long to play so they won't get bored easily.
Cons:
The money isn't as realistic as in other games which may be an issue if you were hoping to teach them about coin and bill recognition.
6. Pay day
Trying to find the best money board game for kids that still provides plenty of entertainment for parents? The classic game of Pay Day may be just what you're looking for.
One of the oldest games on our list, Pay Day has been around since the mid-70s, and though it's undergone multiple changes since then, the one thing that has remained the same about it is that it offers plenty of fun for the whole family.
The goal is simple:
Make it from one payday to the next without going broke, a challenge that mom and dad will likely be familiar with, and kids will benefit greatly from learning about long before they grow up and get jobs of their own.
As you and your family go through the month, you'll have to make smart choices about the way you spend your money, including shopping for bargains, paying bills, and yes, keeping a little aside for a rainy day.
Pros:
Can be adapted for shorter or longer games depending on how much time you have.
Suitable for 8+ but ideal for the whole family
Cons:
Includes elements of gambling (such as playing the lottery) which may be off-putting for some parents.
7. Exact Change
Although not technically a board game, Exact Change still deserves a special mention in this guide for the unique way that it helps young children to recognize the value of different coins and bills and developing their math prowess.
A basic card matching game, this one has won multiple awards for the way it so perfectly combines educational value with a very simple playing style.
Hands down the best money game for preschool and elementary school age, Exact Change game has often been described as being similar to UNO, meaning you can rest assured that it will prove as fun as it is educational.
Pros:
The large playing cards and clear, child-friendly pictures also make it great for visual learners
Low cost
Easy to learn.
Cons:
Too basic for older children
8. Sub Shop
No products found.
Our pick of the best budget-friendly money board game for kids, Sub Shop is exactly what it sounds like:
Players take on the role of sandwich artists working at a local neighborhood sub shop. The goal is to make the right sandwiches to satisfy the unique tastes of customers, earn money for selling those sandwiches, and collect tips.
At the end of the game, the player with the most money wins.
Though this one is admittedly more about food than finance, there's still a solid educational aspect to the game with young ones needing to add up their tips and count money. That's not to mention the value of learning about the satisfaction of getting paid for a job well done.
Pros:
Comes with both basic and advanced rules making it adaptable to children of all ages and abilities
Fun "Action" cards add a wonderful sense of hilarity and craziness to the game that will have them laughing
Very affordable price.
Cons:
Thin paper money can rip easily.
9. Big Money
There's likely come a time in every child's life when they'll reach that awkward age when games like Junior Monopoly just aren't fun anymore but the standard grown-up version is too complex to hold their attention, or when they start to dismiss games such as Exact Change as being just too babyish.
It's at that point that you'll do well to break out Big Money, a hugely entertaining board game that perfectly bridges the gap between games that are too simple for older children and those which remain a little too much for them.
Though suitable for players aged 8+, kids will still find this one enjoyable once they hit double digits as they roll the dice and invest their cash in all kinds of fantastic investments such as movie studios and football teams.
Though it isn't necessarily designed as an educational game, the mix of strategy, counting, and investing will be sure to teach them valuable skills.
Pros:
Just as much fun for adults as it is for children
Short game time keeps kids focused.
Cons:
Other games have better educational value.
10. Ice Cream Empire
It's a fact universally acknowledged that kids love ice cream, so what better way to coerce them into learning about math and money than by hiding those valuable lessons beneath a big ol' pile of the sweet stuff?
Great for encouraging their entrepreneurial spirit, Ice Cream Empire is, as you might have guessed, all about building up your own chain of ice cream stores, with the first player to successfully get 8 stores off the ground being declared the winner
What we like best about this game is that it really does offer something for kids of all ages.
Younger ones will love playing this one after a day of ice-cream based learning activities and will find it a fantastically fun way to develop their money-counting skills as well as learning about basic US geography.
Meanwhile, older children will learn valuable lessons about the fundamentals of business, the concept of supply and demand, and more. Who knows, it may even kickstart their creativity and inspire them to start a business empire of their own!
Pros:
Multiple educational uses
Very easy to set up
Easy for kids to play with no adult supervision required.
Cons:
Games typically take around an hour, which may be too long for younger players.
What to Look For When Choosing the Best Money Board Game for Kids
While any one of the top 10 games listed above would make a great addition to your home, choosing just one to introduce to your kids can still be a challenge if you don't know just what you're looking for.
Below, we've listed a few important factors you may want to consider to help you determine which one of the 10 games above (or any of the countless others out there) is best for you and your young ones.
Educational Content
One important question you'll want to ask yourself when choosing the best money board game for your kids is exactly what you want them to learn from their gaming experience.
If it's simply about one thing such as counting coins for example, then a game like Money Bags which focuses on that particular aspect will be perfect. If you want them to learn everything there is to learn about money management, then a great all-round game like Manage My Allowance may do better.
Age Appropriateness
While there's nothing in any of these games that are unsuitable for kids of any age, it is important to keep the age level in mind.
A game aged at pre-school kids like Exact Change, for example, may not do a great job at keeping your older kids engaged, while those aimed at the 8+ market maybe a little too much for your preschoolers.
Entertainment Value
One of the main reasons for buying a money-themed board game in the first place is to teach them valuable skills in a way that's fun and entertaining. So, while educational content may be important, don't underestimate what an enormous difference entertainment value can make.
After all, a game may be packed full of invaluable lessons about managing money in the real world, but if it bores your kids to tears in the space of five minutes, it's probably a waste of everyone's time, isn't it?
It's for this reason why we've generally gone for bright, colorful, and relatively simple games that aim to make learning about finances as fun as it can be, even for kids who don't tend to engage as well with more traditional learning methods.
---
MORE POSTS: