Independent brain training games for kids are an integral part of our homeschool. Not only do they teach kids logic, analytical thinking, strategy, and planning, but they are also great for some quiet time for the whole family.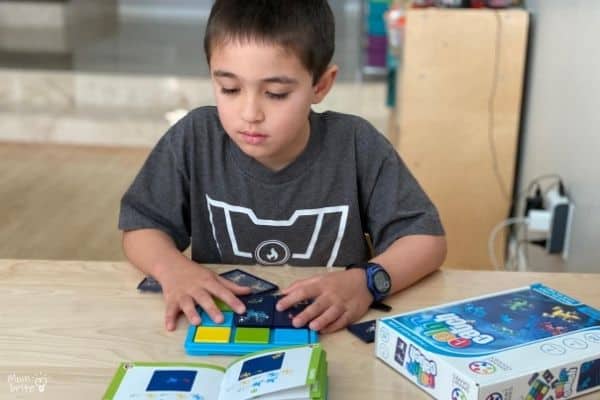 Color Catch by Smart Games is an award-winning multi-level logic game that will challenge kids to think outside the box. It's also travel-friendly and comes with a compact, portable travel case. Road trip, anyone?
Overview of Smart Games Color Catch
The premise of the Color Catch game is simple: help the animals catch their dinner … or not.
The game board contains 9 colored squares. You need to figure out how to arrange the 5 puzzle pieces with transparent frogs, salamanders, and bugs so that the color of the animals matches the criteria laid out in the challenge.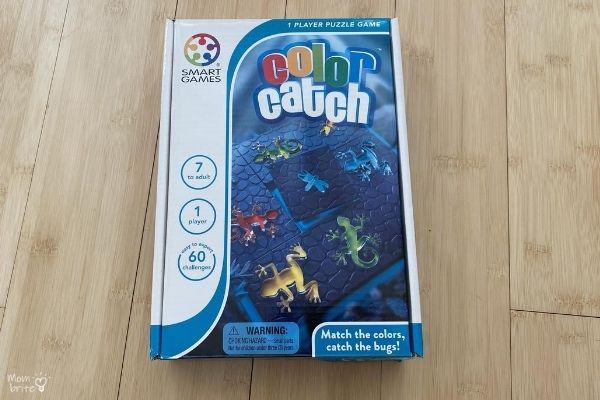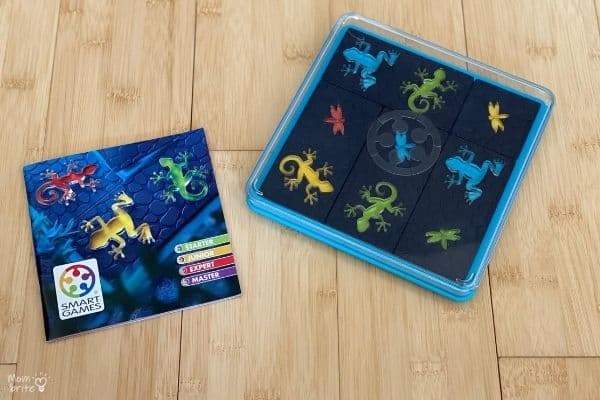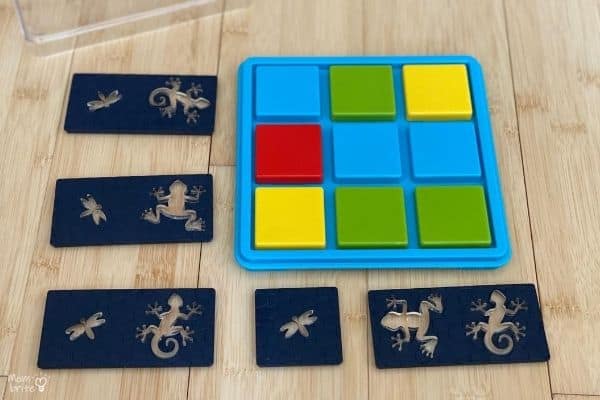 The booklet includes 60 challenges that are divided into 4 levels. The starter challenges give you a clue below the challenge to help you solve the puzzle. After the starter level, you are on your own.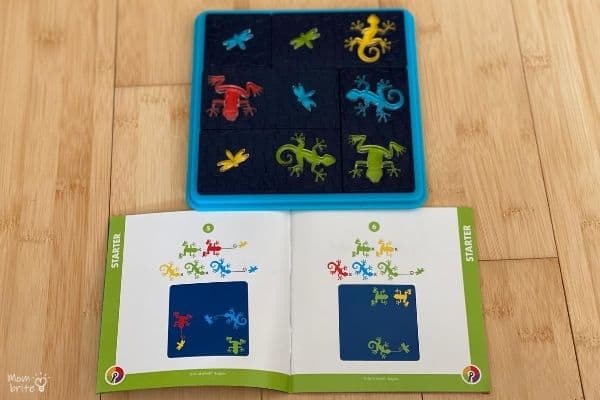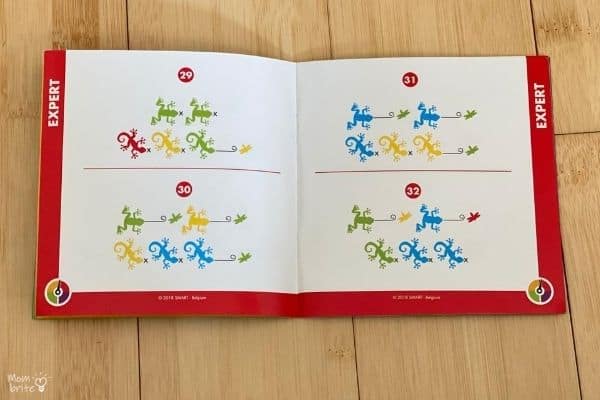 At the back of the booklet, you have all the solutions. You can use it to take a peek and give hints to your kid in case he gets stuck on the harder levels.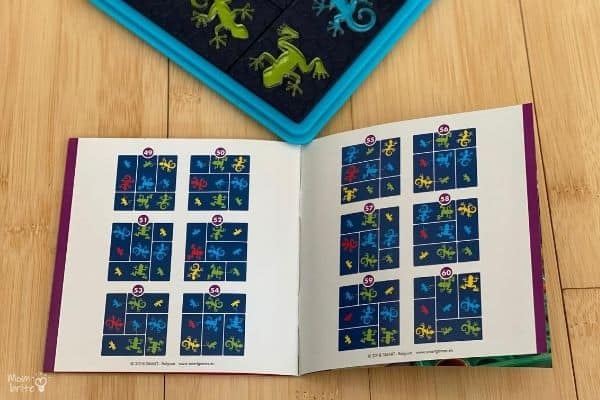 The portable case with lid allows your child to carry this game everywhere. You can bring it in the car or on the airplane, or even to the part for some outdoor homeschooling.
Features:
Suitable for ages 7 and up
Players: 1
60 Challenges, including Starter, Junior, Expert and Master levels
Portable game board with lid
5 puzzle pieces
Booklet with challenges and solutions
Specifications:
Dimensions: 9.45 x 6.69 x 1.77 cm (LxWxH)
Brand: Smart Games
My Review
We are a huge fan of Smart Games, and before Color Catch, our favorite was Camelot Jr. Color Catch is a completely different brain training game and my son now loves to play both.
Unlike Camelot Jr, it was more difficult to figure out the logic of how to approach the challenges. You have 3 salamanders, 2 frogs, and 4 bugs that all need to be a certain color and orientation on the game board, but some of the bugs and animals are connected in one game piece. Where to start?
It was extremely smart for Smart Games (ha) to include the hints in the starter level challenges. We tried to solve the first few challenges without looking at the hints and it took us forever to figure out where to place the pieces.
Then we let go of our egos and went through the entire starter level with the hints. By the time my son was doing the junior level challenges, he had figured out how to approach the game and was able to do them without the hints.
If you are worried that your kids will go through the challenges in Color Catch too quickly, don't. My son always go through a lot of trials and errors before getting to the solution. Even I need time to really concentrate and plan out the logic in my head before laying down the pieces, and often times I need a few tries before I could figure it out. And we are talking about junior level challenges!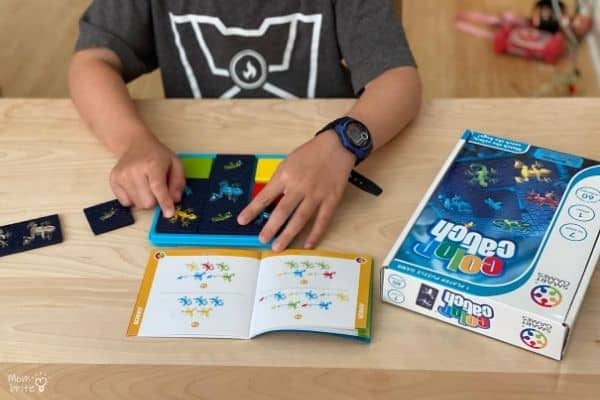 My son is not the best at independent play and always wants me to be next to him and paying attention to him. However, when he plays Color Catch, he is in his little own world. The amount of focus he has while playing the game is impressive, and he is so proud whenever he solves a puzzle all on his own.
Final Verdict on Color Catch
I am very grateful for Timberdoodle for introducing us and sending us Color Catch. It is an invaluable part of our homeschooling curriculum. I can almost hear the gears in my son's brain turn as he plays it!
Color Catch is part of Timberdoodle's Seventh-Grade Curriculum Kit along with other fun educational materials.
Also, check out these reviews of the awesome products on Timberdoodle: