This post may contain affiliate links. That means if you click and buy, I may receive a small commission (at zero cost to you). Please see my full disclosure policy for details.
Looking for the perfect superhero LEGO set for your kids? Here are the best LEGO Marvel sets that will get your kids excited about saving the world and defeating the bad guys!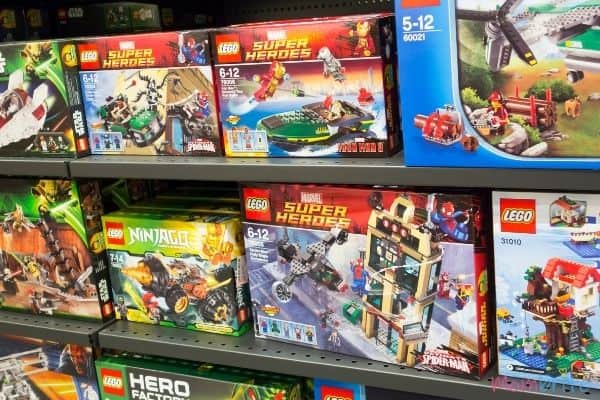 Start looking around for the best LEGO marvel sets, and one thing quickly becomes apparent:
There are absolutely tons of them!
From Spiderman LEGO sets to those modeled after The Avengers, Ant-Man, Wolverine, and everything in between, no matter which Marvel superheroes your young ones admire, you're bound to find something they'll love.
On the one hand, that's great news. It means you're pretty much spoiled for choice and never have to worry about coming home from the toy store empty-handed.
On the other hand, it means you could easily spend so long poring over all the options available to you that the toy store closes before you've even made your mind up about which one to buy.
Sound familiar? Don't worry, help is at hand.
Here, I've picked out 11 of the very best LEGO superhero sets around to help you pick out the perfect gift for your little hero.
11 Best LEGO Marvel Sets
1. LEGO Marvel Avengers Helicarrier
There are so many options to choose from when it comes to Avengers LEGO sets that we could have easily filled this entire guide with nothing but toys based on the adventures of Nick Fury's elite team of superhumans.
Indeed, we'll meet the likes of Iron Man, Captain America, and Captain Marvel later on in this guide, but for now, we couldn't resist making this LEGO Marvel Avengers Helicarrier Set our absolute top pick.
Suitable for ages 9+, this LEGO Marvel set contains a number of the ever-popular Minifigs in the form of their favorite Avengers characters including the aforementioned Iron Man and Captain Marvel along with Thor, Black Widow, War Machine, and even Nick Fury himself.
The set also contains the complete helicarrier plus cars and other superhero vehicles that will be familiar to any fan of the Marvel Movies franchise.
Suitable for: 9+
Number of Pieces: 1244
Size (L x W x H): 18.9″ x 14.88″ x 3.9″
2. LEGO Super Heroes Marvel Spider Mech Vs. Venom Building Kit
If your kids are big fans of Peter Parker's web-slinging alter-ego, there's no doubt they'll love the LEGO Super Heroes Marvel Spider Mech Vs. Venom Building Kit.
Our pick as one of the best Marvel Spiderman sets on the shelves right now, this comprehensive set comes complete with the obligatory minifigures of both Spidey and his sworn enemy Venom, as well as Ghost-Spider and Aunt May. But what our young ones love the most about this set are the plus-sized Spiderman and Venom mech toys.
These mech toys need to be built up first which can be a great way to get them utilizing their problem solving and engineering skills. This is perfect for kids who have already completed the 30-day LEGO STEM challenges and are looking for something new to do.
Once those mech toys have been built, they can enjoy putting their minifigures in the cockpits and role-playing all kinds of engaging scenes, including the one where Spiderman has to rescue poor Aunt May from Venom's evil clutches!
Suitable for: 8+
Number of Pieces: 604
Size (L x W x H): Spiderman Mech Figure (4″ x 5″ x 1″) / Venom Mech Figure (7″ x 8″ x 3″)
3. LEGO Super Heroes Mighty Micros: Wolverine Vs. Magneto Building Kit
Sadly, X-Men-themed LEGO sets seemed to be discontinued. Although that may be bad news for fans of Professor X.'s team of superheroes, we did find this exciting LEGO Super Heroes Mighty Micros: Wolverine Vs. Magneto Building Kit that's still very much a part of the LEGO/Marvel universe.
This X-Men set contains both Wolverine and Magneto minifigures with movable legs so that they can do battle on the ground as well as in their vehicles, with Wolverine's jet and Magento's car both included.
Suitable for: 5 – 12
Number of Pieces: 85
Size (L x W x H): 1.5″ x 1.4″ x 1.3″
4. LEGO Marvel Avengers Iron Man Helmet Set
If you're looking for the best LEGO Marvel sets for older children, then you really must give this stunning LEGO Marvel Avengers Iron Man Helmet Set a look.
Designed for ages 17+, this complex piece of kit may be a bit too much for younger children who are still getting used to building simple LEGO hearts and other small, fun things. But for teenagers looking to put their engineering skills to the test, then this incredible kit has a lot to offer.
Using a combination of 480 LEGO pieces and specially designed graphic stickers, this set will spark your kids' creativity as they make a highly detailed recreation of the famous Iron Man helmet.
Suitable for: 17+
Number of pieces: 480
Size (L x W x H): 7.5″ x 4″ x 4.5″
5. LEGO Superheroes Avengers Hydra Showdown
Didn't I tell you we'd be revisiting the whole Avengers team again? This time, it's in the form of one of the best Age of Ultron sets around right now, the LEGO Superheroes Avengers Hydra Showdown Set.
Unlike in our last pick, there's no Tony Stark here, but you do get minifigures of Thor, Hawkeye, and the dastardly Hydra Henchman, along with the popular Avengers 4×4 vehicle with a cockpit that the minifigures will fit into, a walkie-talkie holder, and rotating turret with double flick-and-fly missiles.
Suitable for: 6 – 12
Number of Pieces: 220
Size (L x W x H): 10.31″ x 7.52″ x 2.4″
6. LEGO Marvel Ant-Man Quantum Realm Explorers Building Set
No products found.
Likely the only time you won't mind having ants at your kitchen table is when the Marvel fans in your family are sitting down to put together this very cool LEGO Marvel Ant-Man Quantum Realm Explorers Building Set.
Suitable for ages 7 and up, this 200-piece set lets them play out scenes from the popular Ant-Man vs. The Wasp movie. They can also simply let their imaginations run wild as they have fun building up Ant-Man's quantum explorer vehicle, popping the Ant-Man minifigure into the cockpit, and enjoying creating their own scenes involving the other two minifigures, The Wasp and Ghost.
Suitable for: 7 – 12
Number of pieces: 200
Size (L x W x H): 5″ x 3″ x 2″
7. LEGO Super Heroes Daily Bugle Showdown
A super-sized Spiderman LEGO set for the super-serious Spiderman fan in your life, the LEGO Super Heroes Daily Bugle Showdown doesn't just contain everything you need to create Peter Parker's place of work but also includes a minifigure of his crime-fighting alter-ego.
That's not all. This bumper set also includes Nova, Dr. Doom, Beetle, and J. Jonah Jameson Minifigures, a jet, and multiple accessories, all of which can be used to fuel their imaginations for hours.
Suitable for: 6 – 12
Number of Pieces: 476
Size (L x W x H): 15.04″ x 2.78″ x 10.31″
8. LEGO Marvel Avengers Classic Captain America Mech Armor
If you're on the hunt for one of the best cheap Marvel LEGO sets so that you can get them a quality gift without going over budget, the LEGO Marvel Avengers Classic Captain America Mech Armor may be just what you're looking for.
Down at the more affordable end of the spectrum, this inexpensive set gives the superhero in your life everything they need to build the famous Captain America Mech Armour. They can then slide open the cockpit door, put their Captain America minifigure inside, and set about to conquer evil, save the world, and yes, replay their favorite scenes from The Avengers Movies.
A great, low-cost alternative to a full LEGO set, this 4″ tall toy boasts all the high quality you'd expect from the LEGO brand and proves to be appropriately challenging while still ensuring hours of superhero fun.
Suitable for: 7+
Number of pieces: 121
Size (L x W x H): 4″ x 3.5″ x 2″
9. LEGO Marvel Super Heroes Ravager Attack Set
If your young ones are fans of the adventures of Rocket Raccoon, Mantis, and Star-Lord they'll love the LEGO Marvel Super Heroes Ravager Attack Set.
Straight from the set of the smash hit movie Guardians of the Galaxy, this enjoyable LEGO playset makes a great gift idea for 6-year-old boys or simply for any child 6+ who loves LEGO superhero sets with a difference.
This one contains three minifigures of Racoon and Mantis along with Taserface, plus the M-Ship with a minifigure cockpit and a tree with a four-stud shooter. All of which will give your little ones a reasonable challenge in putting them together before they set off to save the galaxy in whatever adventures their imaginations can come up with.
Suitable for: 6+
Number of pieces: 197
Size (L x W x H): 4″ x 6″ x 2″
10. LEGO Superheroes Hulk Lab Smash
Another large-scale Avengers LEGO set, this LEGO Superheroes Hulk Lab Smash is so much fun even you'll want a turn after your kids are finished playing with it.
The 398-piece set lets them build up the evil A.I.M organization's secret lab where MODOK and Taskmaster are holding Thor hostage. Hulk and Falcon then set out to rescue their buddy and, of course, smash up everything in sight.
All of those characters are included as minifigures, and the set also contains accessories and a cool rotating laser cannon your little heros will love.
Suitable for: 6 – 12
Number of pieces: 398
Size (L x W x H): 9″ x 10″ x 16″
11. LEGO Marvel Spider-Man Spider-Jet vs Venom Mech
Last but by no means least, let's return to the never-ending battle between good and evil that is Spiderman vs. Venom with this LEGO Marvel Spider-Man Spider-Jet vs Venom Mech set.
Another top contender for the title of best Spiderman LEGO set, this one takes the same Venom Mech model we saw earlier (albeit an inch or two bigger), but this time puts it up against Spidey's supersonic awesome jet complete with a disc shooter and flick-and-fly missiles that your young ones will love sending all over the house.
Suitable for: 7+
Number of pieces: 397
Size (L x W x H): 8″ x 3″ x 14″
Things To Consider When Buying The Best LEGO Marvel Sets for Your Children
The 11 sets above are just the tip of the proverbial iceberg when it comes to choosing the best LEGO superhero sets. If you're not sure which one of these -or any of the countless other options available- to buy, then the following pointers may help you out.
Their Favorite Marvel Characters
The Avengers together and both Spiderman and Iron Man separately remain big hits with kids of all ages, but that doesn't necessarily mean they're your young one's favorites.
They may prefer Ant-Man, Guardians of The Galaxy, X-Men or something else entirely.
If you're not sure which set to get them and don't want to spoil the surprise by asking them for their favorite characters, a quick look at their other toys, games, or general Marvel merchandise should give you some idea.
Age Appropriateness
LEGO sets are designed for a certain age range which will give you some idea of how challenging that set is going to be.
If it's suitable for six-year-olds, for example, then it's likely going to be a bit overwhelming for your three-year-old but not quite so stimulating enough for your 11-12-year-old.
Number of Pieces
Sure, the more pieces a set has, the bigger the set and thus the better value for money, but in this instance bigger doesn't always mean better.
More pieces also mean more of a chance that a few of those pieces will go astray and since even one or two missing pieces can ruin a specially designed set like this entirely, it's important that large sets are cared for properly.
Final Thoughts on LEGO Marvel Sets
While the best LEGO Marvel sets make great gifts and a fun toy to let them blow off steam and play around with, they can also be so much more.
Putting the sets together requires problem-solving skills, analytical thinking, and the development of motor skills while casting those finished builds into their play scenes encourages creativity and sparks their imagination, making them a great choice of toy to help them learn, grow, and develop without even realizing they're doing it.
---
Related Posts