Check out this free printable 30 Day LEGO STEM Challenge calendar that will have your little LEGO lovers coming up with creative designs to solve the daily challenges!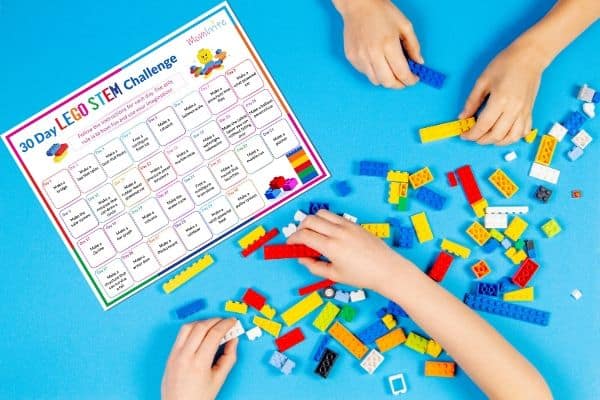 We put together a 30 Day LEGO STEM Challenge calendar. With all the LEGO fun we are having, we want to share what activities we have done and some new ones we plan to do soon!
LEGO provides the perfect medium for STEM education for kids. It takes a lot of problem-solving and analytical thinking skills to find solutions to engineering tasks such as building a LEGO boat that could hold the most pennies.
What's great about using LEGO for STEM activities is that there is no single right answer. There are multiple ways to solve the problem and my kids have proven over and over again that mommy's way is not necessarily the best way.
Therefore, you can do the STEM challenges over and over again. There is always room for improvement. For example, if you already built a balloon-powered LEGO car, can you build another design that would make the car go faster?
How to Use the Calendar:
You don't have to start on the first day of the month. You can start on any day and just start crossing things off. Or you can even use a random number generator to pick the challenge for the day. And if you have already done the challenge, think of a way to improve on your results.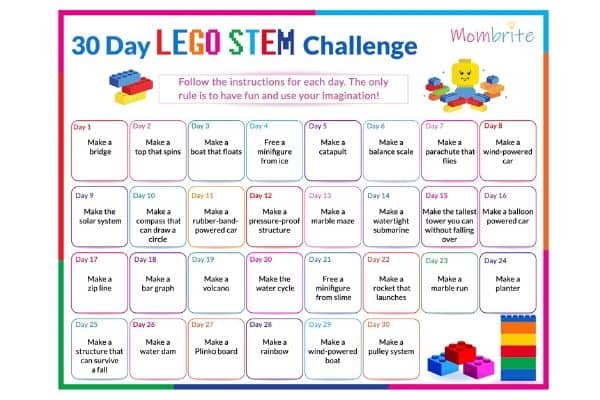 These challenges are very open-ended, so I suggest that you give your child guidance, but not the answer. Let them use their creativity!
Supplies Needed for the LEGO STEM Challenge calendar:
While you might need different supplies such as baking soda and vinegar for the LEGO volcano, the 3 listed above are the basics you should have for most activities. Throughout the years we have collected tons of LEGO bricks from different sets and we got a creative box to supplement.
My kids truly love these LEGO STEM challenges and I hope yours will too! Ready to see some gears turning … not only with the LEGO pieces but also in your kid's head!
Which challenge is your favorite one? Do you have any more STEM ideas using LEGO?
Please share in the comments below!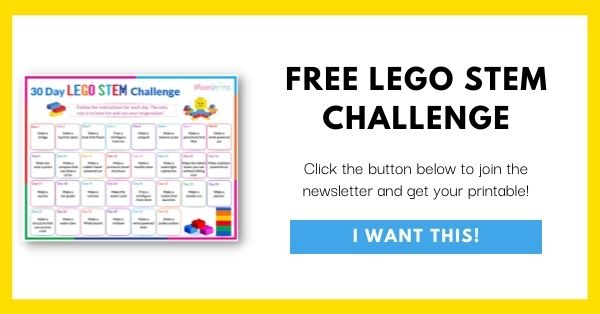 5 Fun LEGO STEM Activities for Kids
I have compiled 5 of the most popular LEGO STEM challenges in one ebook. For each activity, I clearly laid out the list of supplies, step-by-step instructions, the STEM concept behind the activity, and a list of experiments to try.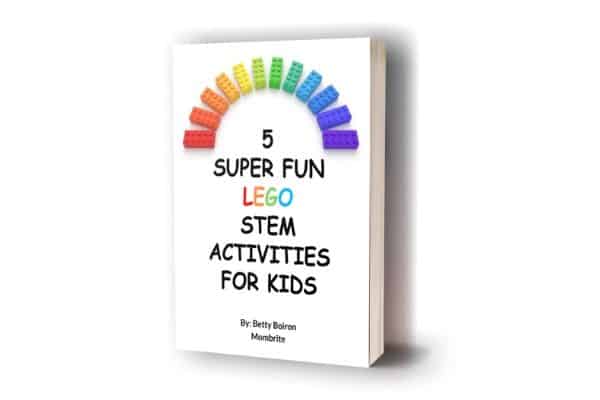 To learn more about the ebook, click here!