What's Christmas without ugly Christmas sweaters? Here is a fun ugly Christmas sweater craft that will get your kids' creative juices flowing!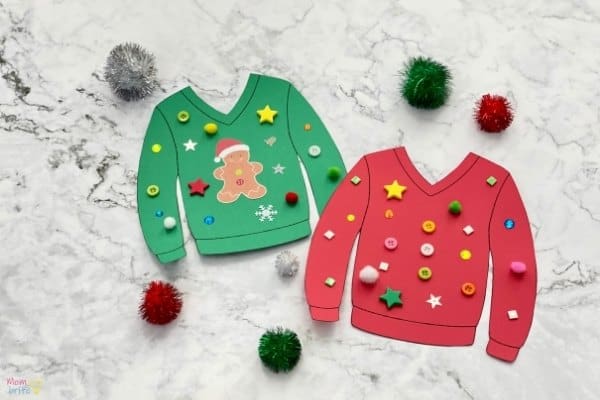 Oh my goodness, I still remember when I was in high school and I was wearing all kinds of ugly Christmas sweaters … thinking that they were fashionable! Oh, the horror!
Since then, ugly Christmas sweaters seem to have become a fun thing to wear during Christmas. People have ugly Christmas sweater parties and contests, and the uglier the better.
We are letting our kids in on this holiday trend with this ugly Christmas sweater craft! All you need is paper and pretty much anything you have around the house for decorating the sweater.
Let the fun begin!
History Behind the Ugly Christmas Sweater
Before you start decorating your ugly Christmas sweater craft, let's take some time to learn some interesting history behind the fashion statement.
The first ugly Christmas sweaters were also known as "Jingle Bell Sweaters" and were considered quite fashionable back in the 1950s. Then in the '80s and '90s, popular characters from TV shows like The Cosby Show wore sweaters with unique designs and patterns.
Then finally, in the 2000s, the first ugly holiday sweater party was held in Vancouver Canada and launched the fun tradition. The only rule is that guests at these holiday parties must wear a tacky sweater.
These days, ugly sweaters have become popular Christmas attire everywhere with many people donning them on Christmas Eve or Christmas Day! There is even a National Ugly Christmas Sweater Day on December 21.
How to Make the Ugly Christmas Sweater Craft
Materials:
Free ugly Chrismas sweater template with some cute Christmas graphics (click on the image at the bottom of the post to get the download)
Red or green cardstock paper
Things to decorate the sweater with! Examples include pom-poms, buttons, stickers, sequins, etc.
Glue
Scissors
Instructions:
1. Print out the free sweater template on red or green cardstock paper.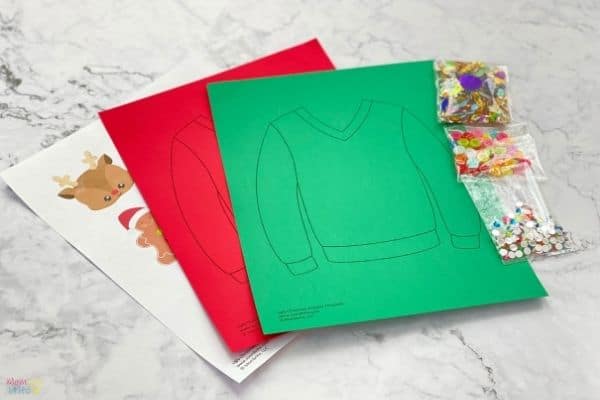 2. Cut out the sweater from the cardstock paper.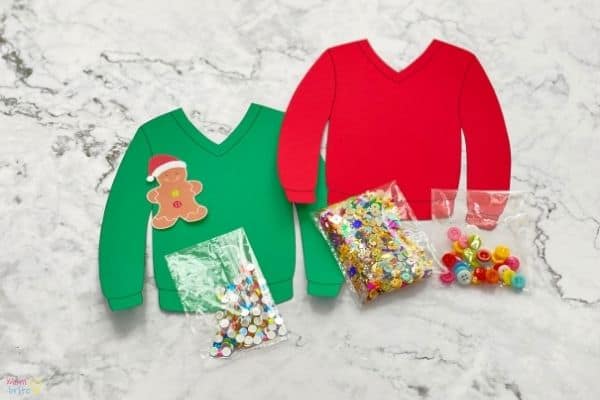 3. Decorate the sweater! The uglier the better!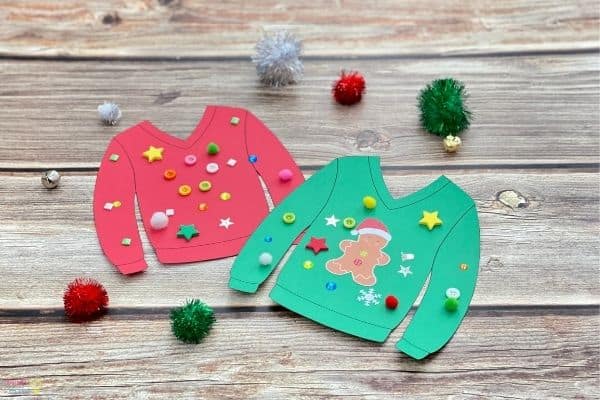 This winter craft is nice and easy for preschoolers and even toddlers. Just watch out that you don't use small pieces for small kids who are still putting things in their mouths.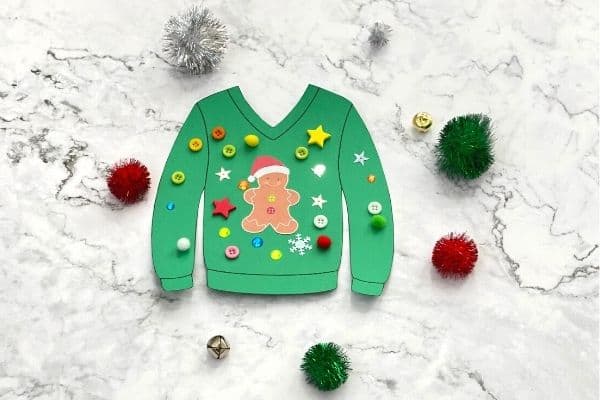 You can also help cut out the Christmas graphics included with the sweater template. My kids had fun cutting them out themselves and one sweater ended up with 5 of them glued to it!
My kids love crafts that give them the freedom to be creative. Even my elementary school kid wanted to decorate multiple ugly Christmas sweaters! By the time my 4 and 6 years olds got to their third sweaters, things got a little wild and they searched the house for anything that they can stick on the sweaters. Why not!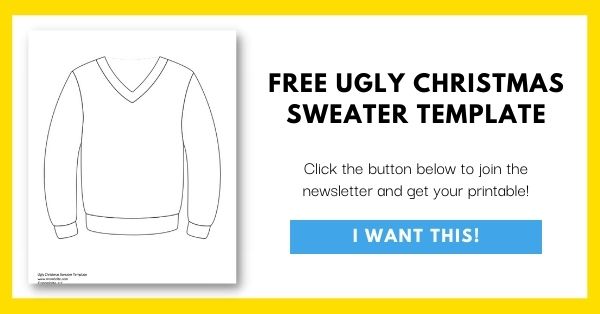 ---
FOR MORE WINTER CRAFTS, CHECK OUT: