This free printable Christmas light scavenger hunt is a fun way to spend time with your family this holiday season. Print it out and take a stroll or drive together to find all the items on the list.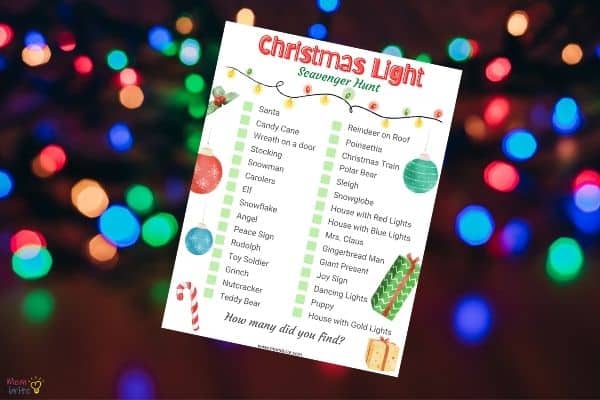 How many of you go all out during the holiday season and put tons of decorations up outdoors? For those of you who decorate your house and yard with tons of beautiful lights and decorations, I thank you. Without you, this Christmas Light Scavenger Hunt will not be possible!
Driving around looking at Christmas lights around the neighborhood is one of our favorite traditions during the holiday season. My kids, who are usually bouncing off the walls and can't sit still for one minute, can sit in rapture watching the twinkling lights.
Free Christmas Light Scavenger Hunt Printable
Give your kids a challenge and ask them to search for the different items on the Christmas Light Scavenger Hunt. They can do it in the car if you are driving around, or take it with them while walking from house to house.
Your kids can work as a team to spot all the decorations on the list, or they can work individually to see who can find the most items. There are so many to find!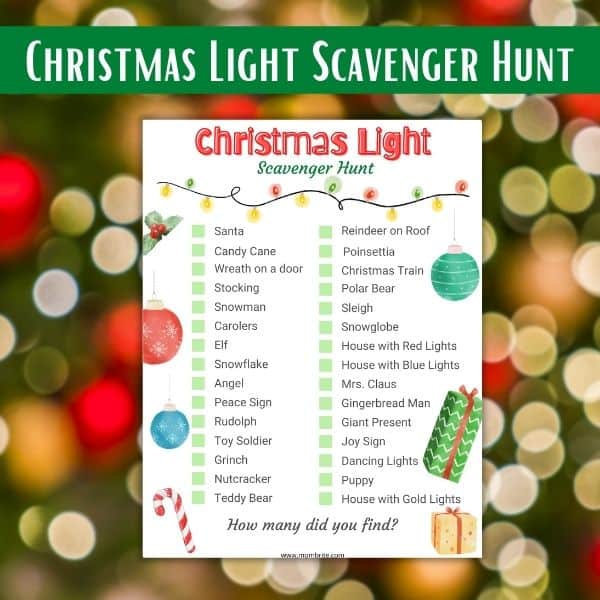 Make sure you bring a pencil or a pen with you so your kids can check off each box as they find things like a candy cane, snowflake, gingerbread man, and elf.
This Christmas Light Scavenger Hunt is also perfect to distract the kids while you are doing some holiday shopping. You can also print and play this game on playdates or classroom field trips – it's a great ice breaker!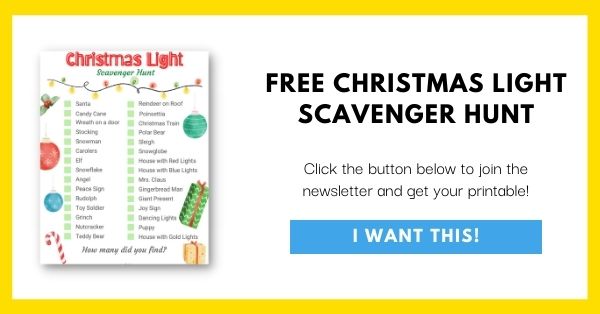 ---
For more fun Christmas activities, check out: