These Piggie and Elephant popsicle stick puppets are perfect for kids who love the Piggie and Elephant books. They are easy to make with things you probably already have at home, and they look just like your kid's favorite characters from the books!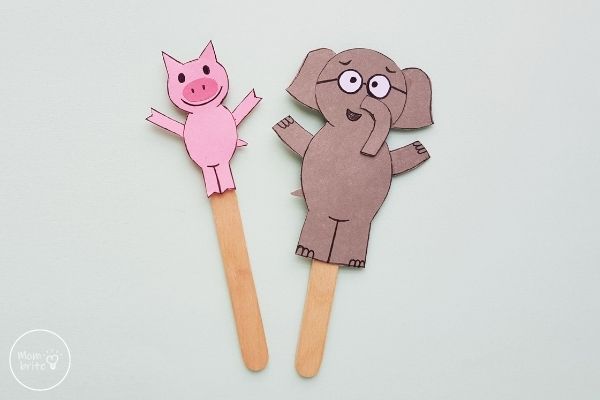 Piggie and Elephant books by Mo Willems have been my kid's favorite books for a long time now. I love them myself because they are such heart-warming books about the two best friends. We truly love all of the books, but if I HAVE to pick one book as my absolute favorite, I guess I will have to say I really Like Slop!
If you haven't heard of Piggie and Elephant books, I really encourage you to grab one from the local library and try one out! They are perfect for preschoolers, kindergarteners, and first graders. That said, I think kids of all ages will enjoy reading them because they are just so funny.
Your kids will have so much fun making these Piggie and Elephant popsicle stick puppets to go along with their favorite books. They are super easy to make with the free template, and your kids can decide what expressions to draw on the characters.
With so many books to choose from, you can make multiple of these Piggie and Elephant popsicle sticks with different arm positions and facial expressions. Gerald often looks worried, and Piggie seems to be happy most of the time.
Your kids can use these Piggie and Gerald puppets to put on a puppet show and act out the scenes in the books! One person can be the sweet Piggie while the other can be the caring Gerald. These puppets also double as bookmarks (we also made Piggie and Elephant Corner bookmarks if that is more your style).
Elephant and Piggie Craft
Supplies:
Grey and pink (2 different shades) construction papers
Popsicle sticks
Glue stick
Black marker or Sharpie
Pencil
Scissors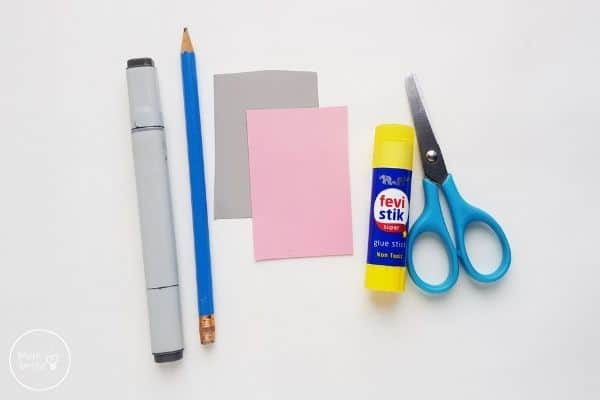 Instructions:
1. Print the Elephant and Piggie puppets template and cut all the template patterns out.
Trace all Piggie's template patterns on pink paper, with the nose cutout on the paper with the darker shade of pink.
Trace all of Gerald's template patterns on grey paper, with the glasses cutouts on white paper.
Carefully cut out all the pieces from construction paper.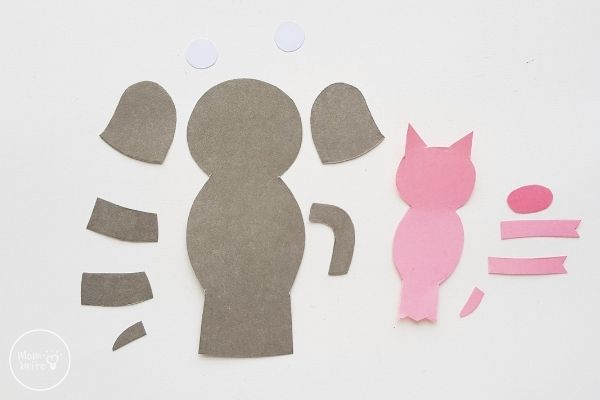 2. Glue the nose on Piggie's head and arms on both sides of the body.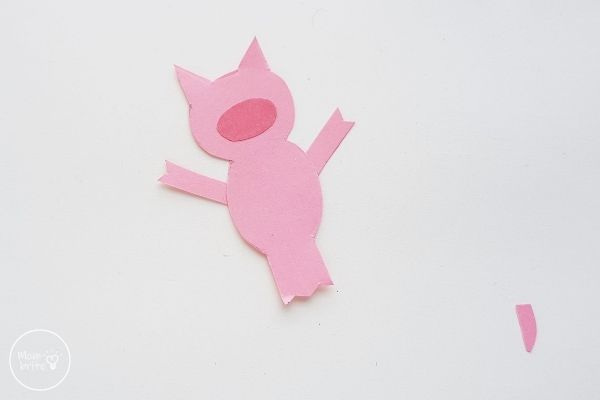 3. Glue the elephant ears on both side of Gerald's head.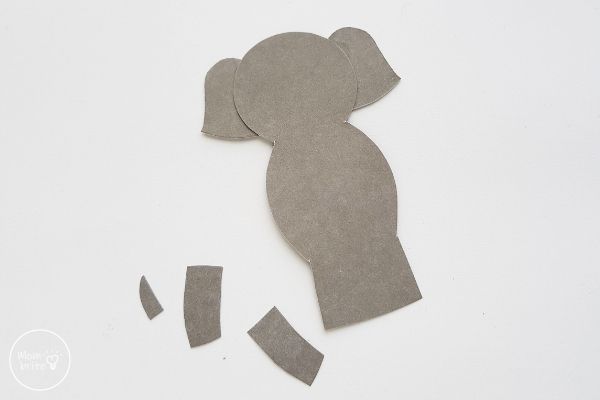 4. Glue the arms on both sides of Gerald's body. Glue the elephant trunk to the middle of the head.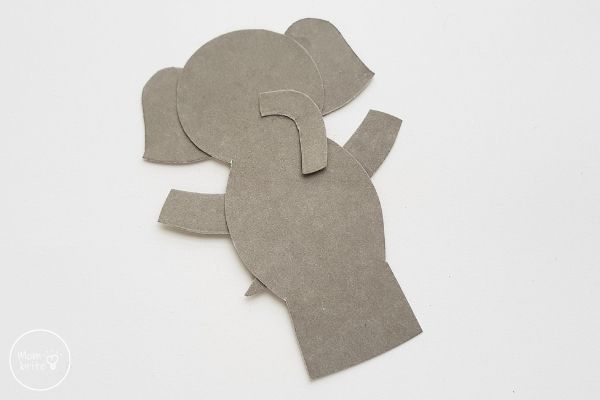 5. Glue Gerald's glasses (the two white circles) on the head, right above the trunk. Glue the tails on both characters.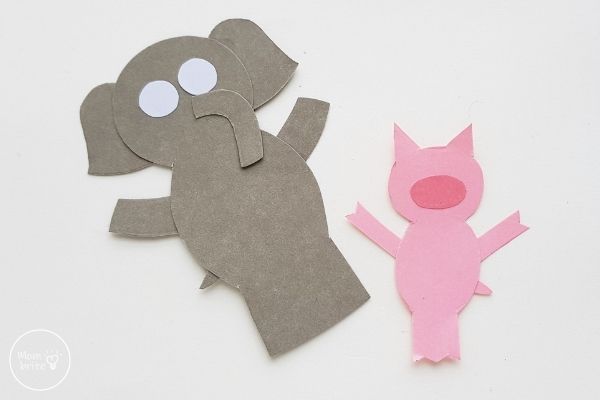 6. Using a black marker or Sharpie, draw both character's facial features. Make sure to outline the white circles to make the frame for Gerald's glasses.
To make the puppets more cartoonish like the book, make a thin black outline around all the edges. Add details such as both characters' legs and Gerald's nails.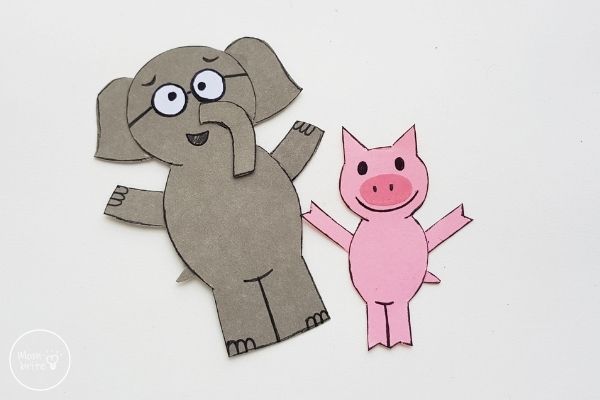 7. Glue a popsicle stick to the back of Piggie and Gerald and you are done! If you are having trouble with the paper characters staying on the popsicle stick, you may need to try hot glue or use tape instead.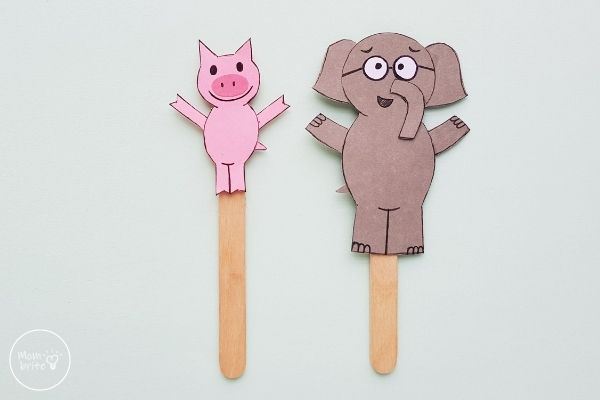 Aren't these two friends adorable? I am so glad that we found these books that I believe we can read and re-read for a lifetime. Perhaps we can even leave them for my kids' children!
I hope you like these Piggie and Elephant popsicle stick puppets! Make sure to check out the Gerald and Piggie corner bookmarks and learn how to fold an origami bookmark.
What is your or your kid's favorite Piggie and Elephant book?
---
Related Posts: