Night Zookeeper is a fantastic online language arts program that will help your children develop a love for reading and writing. This interactive program is perfect to motivate your reluctant writer with its kid-friendly design and highly engaging challenges and games.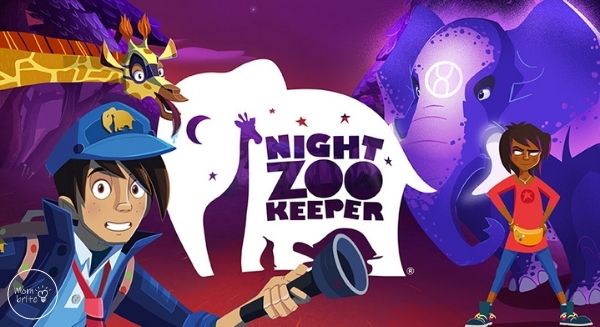 Do you have a kid who struggles with writing? My son used to fight me whenever I asked him to write even one simple sentence. Writing was definitely one of his least favorite subjects in our homeschooling curriculum, and I had to find another way to encourage and improve his creativity and writing skills.
I recently tried out the Night Zookeeper online language arts program with my 7-year-old son, and I was really impressed by the platform. It's a great way to learn how to write!
Your child will love the imaginative world they enter when they login to Night Zookeeper. The program includes a variety of different activities that include guided journaling, drawing pictures, playing games, and more. This is an excellent way for kids to explore their creativity while also learning valuable skills like spelling and reading comprehension.
Below you will find a detailed review of the Night Zookeeper online learning program so you can decide whether or not it's a good fit for your child's homeschool language arts curriculum.
What is Night Zookeeper?
Night Zookeeper is an award-winning online writing platform that helps boost children's literacy skills through fun and interactive lessons, challenges, and games.
To start, your child gets to draw and name their own avatar, which is his or her character in the game. This is a super fun way to get your kids engaged right away and invested in the writing journey of the character.
The story is that the evil Lord of Nulth and his army of robotic spiders, the Voids, are on a mission to take over the zoo. Your child is responsible for helping Will, the Night Zookeeper, and his friend Riya, find and rescue the zoo animals and grounds.
By completing puzzles and challenges and collecting rewards (light orbs), players can unlock covered portions of the zoo by powering the flashlight. The magical animals will also gain points and level up, which is necessary to fight the bad guys.
Night Zookeeper includes lessons on grammar, spelling, vocabulary, art, reading comprehension, and creative writing.
My Zoo
My Zoo is a map of all the animals in the zoo. When you start, the majority of the map is covered by a dark cloud so you can't see all of the zoo.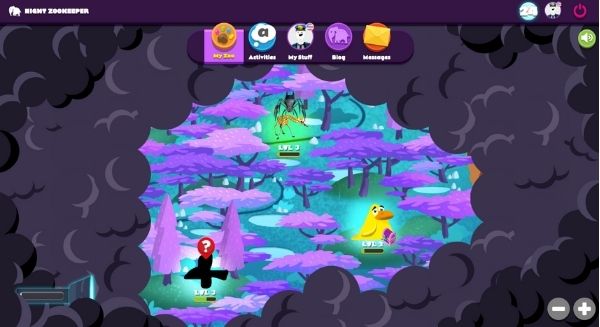 There is a flashlight on the bottom left of the screen. When the bar on the flashlight fills up, you can shine the light and clear the clouds on one portion of the zoo. That's when you can unlock a new animal.
You can draw your own animals, or even select an animal another player designed on Night Zookeeper.
Creative Writing Prompts
My personal favorite about Night Zookeeper is the writing challenges where the animals ask the zookeeper to help write a creative story about their adventures.
For example, when we first met the giraffes of Whispering Woods, the black bird that my son designed asked him to write a story about its visit with the giraffes. It also offers to help you get started with simple writing prompts in case your child has writer's block.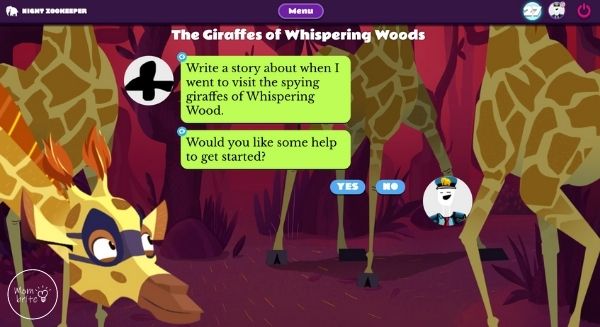 The Night Zookeeper program also makes sure all the sentences are grammatically correct. It provides suggestions on how you can correct the sentence structures if you do make a mistake.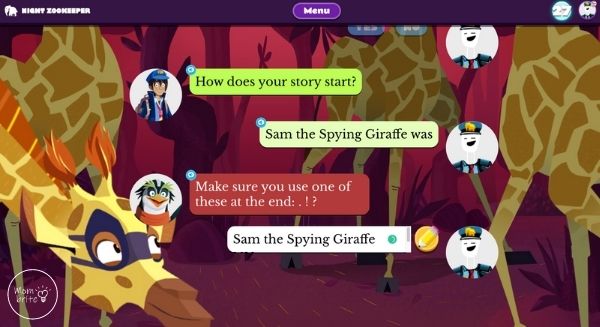 The questions continue until you tell the program that you have enough to write the story.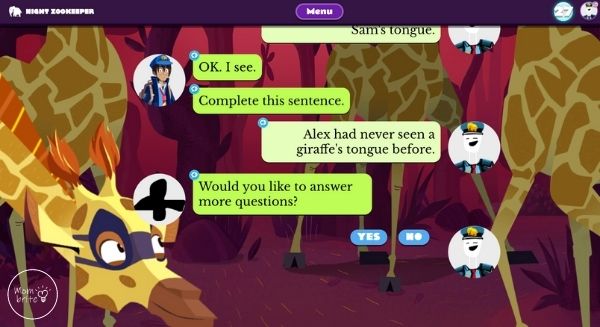 After you click "no" and confirm that you don't need any more questions to get started, the formal writing prompt pops up. It will tell you what the requirements are to complete the prompt, including what vocabulary words to include and how many minimum words you need to write.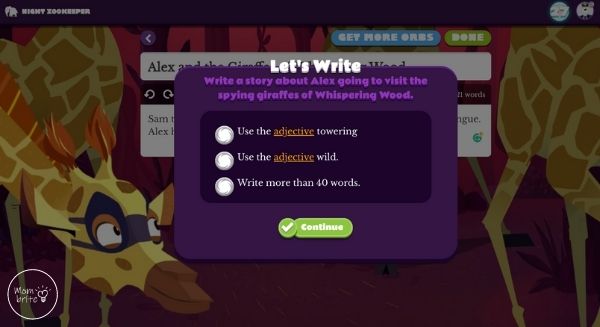 The text box then allows you to write your complete story. The first three sentences of this story are pulled from what my son had already written as part of the conversation with Will and his animals. Then all he has to do is use the words "towering" and "wild" and write a few more additional sentences to finish the writing challenge.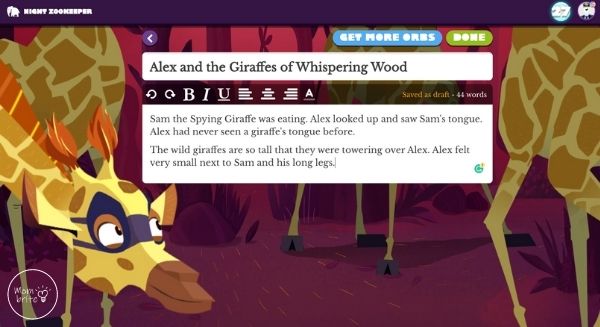 After you are done writing, hit the "DONE" button and submit your writing. You get a choice of whether or not you want to keep your writing private or share it with all Night Zookeepers.
If you decide to make your writing public, then other Zookeepers in the community will be able to read what you wrote under the Blog, respond with comments, and even send you orbs!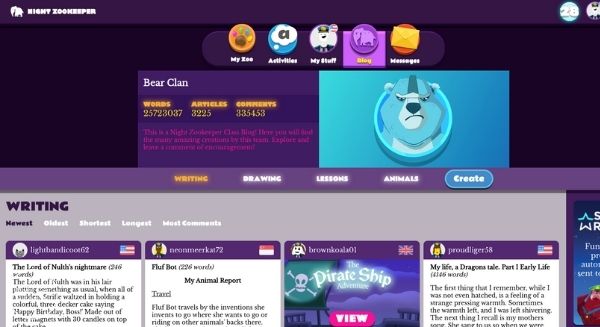 All the comments are moderated and all the writings are scanned prior to publishing. You can feel safe with your kids sharing and reading the blog posts and comments in the Night Zookeeper community.
Battle the Bad Guys
Watch out for surprise attacks by the Voids, or the evil robotic spiders! The battle against the Voids is structured similar to a Magic: The Gathering or Pokemon card game. Each creature has different ability levels and to defeat the spider, you will need to select the right creature with a high enough level.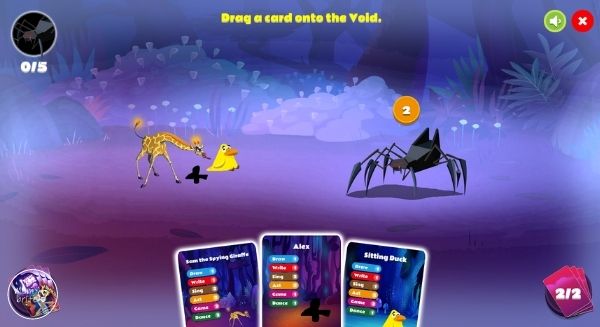 Of course, the battle is not just a simple card game! Before you can use additional cards, you need to answer questions such as identifying which word is the synonym of "caring."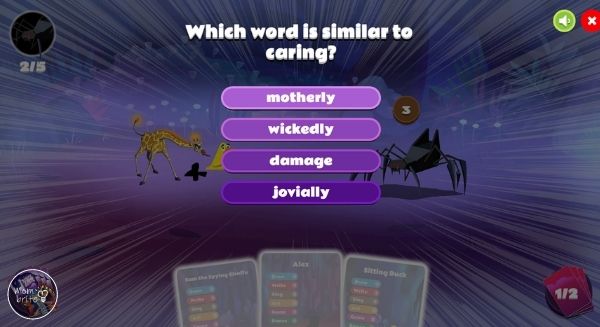 Interactive Activities
When you hit "Activities" in the main menu, you are taken to a screen where you can choose from:
TV+ lessons: Video lessons that touch on how to write different genres and ways to make your writing better, such as how to write dialogues or how to build tensions in your stories.
Writing: Additional writing prompts for additional writing practice, such as reports, poems, persuasive writing, biographies, etc.
Challenges: Short creative writing and grammar lessons with a few questions to test your child's understanding.
Games: Interactive spelling, grammar, and vocabulary games where kids compete with other players or play independently.
Projects: A place where kids can join project groups and help contribute to the different projects that are going on. For example, there is an Animal Crossing Fan Fiction project where kids can write about life on the Animal Crossing island.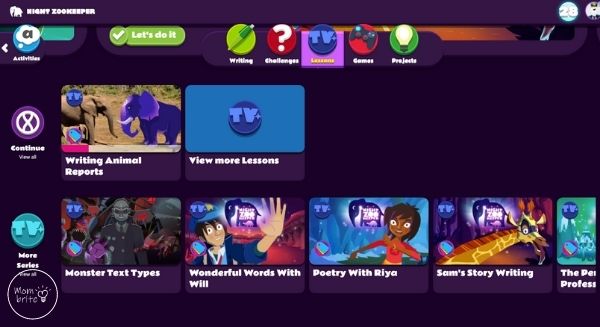 Here is an example of the Waterfall Word Jumble game: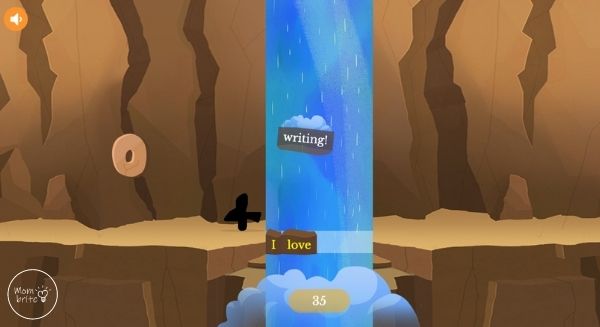 The word blocks would fall down the waterfall and you have to catch them and place them so that they bridge the gap between the ledges. As you continue through the game, the sentences get longer and more challenging.
Frequently Asked Questions about Night Zookeeper
Is Night Zookeeper a Full Curriculum?
Night Zookeeper covers the full language arts curriculum, but can also be used as a supplementary asset.
To get the best out of the program, children should use Night Zookeeper for a minimum of 30 minutes a week. This includes completing the writing challenges, watching instructional lessons, and playing grammar, spelling, and vocabulary games.
How Much Does Night Zookeeper Cost?
Night Zookeeper costs $118.99 per year for a single child subscription and $154.99 for 2-3 children. When you sign up, you get a free 7-day trial.
However, when you order from Mombrite using this link, you get 50% OFF the annual subscription! With this amazing deal, you only pay $59.99 per year for a single child subscription and $77.99 per year for 2-3 children.
What Makes Night Zookeeper Different Than Other Writing Programs?
Ability to share your writing with other players.
Personalized feedback from a dedicated team of tutors.
Weekly Lessons that incorporate interactive video elements and games to teach your children key skills.
Publishing opportunities and weekly competitions with real life prizes!
Free monthly educational printables
What Ages is Night Zookeeper For?
Night Zookeeper is recommended for children ages 6-12. When you join, you'll be able to input the age of your child in the parent dashboard.
The types and difficulty of the lessons and challenges will adjust depending on your children's age.
Is Night Zookeeper Right for My Child?
While Night Zookeeper is a wonderful writing program, there are a few things to be aware of:
The program does require your kids to know how to type. If your kid has not gone through a typing program such as typing.com and learned the basics of hand placement on the keyboard, you may want to do so before starting Night Zookeeper.
There is so much to do in the Night Zookeeper program that your child may be a little overwhelmed. Parental guidance may be necessary to help kids complete certain activities.
For my son, the lessons were more difficult than what was expected for his age and grade. Therefore, the lessons took longer to complete as he needed my assistance to finish the writing assignments.
Final Thoughts on Night Zookeeper
It's hard not to like Night Zookeeper. From drawing creatures to "conversing" with animals to combating robotic spiders, Night Zookeeper is an exciting and engaging writing program. You can use Night Zookeeper as part of your homeschool curriculum, but it also is great for distance learning.
Kids love playing video games, and Night Zookeeper manages to incorporate creative writing into a magical world where writing is necessary to level up. For kids like my son who resists writing, this program is a great way to inspire a lifelong love of writing.
I highly recommend giving Night Zookeeper a try to boost your kid's creative writing skills!
CLICK HERE TO GET 50% OFF NIGHT ZOOKEEPER!
---
Related Posts: