All About Reading Level 3 is a comprehensive reading program that makes it easy for homeschooling parents to teach and fun for the kids to learn. Here is my honest review of the curriculum.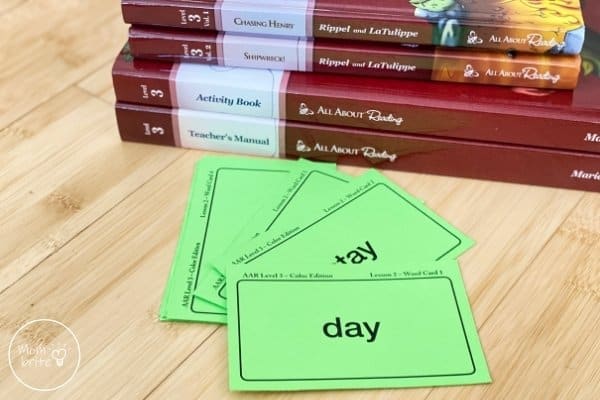 As the leader of a local homeschool group, one of the most common questions I hear parents ask is, "is there a comprehensive reading program that tells me exactly what to teach my kid?" My answer to them has always been All About Reading.
We have been using the All About Reading (AAR) program from the Pre-Reading to now Level 3 for my children. My 7 years old started with All About Reading Level 1 and 2 last year as a 1st grader and finished both within the year. We didn't take a break and dived right into 2nd grade with All About Reading Level 3 (AAR 3).
Overall, All About Reading has been such an easy program to follow from a homeschooling parent's perspective. The teacher's manual gives you step-by-step lesson plans that require minimal preparation so teaching your kid to read can be as stress-free as possible.
If you are looking for an open-and-go reading curriculum for your kid, I highly recommend All About Reading! Below you will find a detailed review of the All About Reading Level 3 program that will help you decide if it's the right one for your kid.
Overview of All About Reading Level 3
There are several options when purchasing the All About Reading Level 3 program. The most comprehensive package is the Deluxe package, which includes the Level 3 teacher's manual, student packet with the activity book, two readers, the reader divider cards, and the reading review box, plus letter tiles, magnets, tote bag, and the supplementary phonograms sounds app.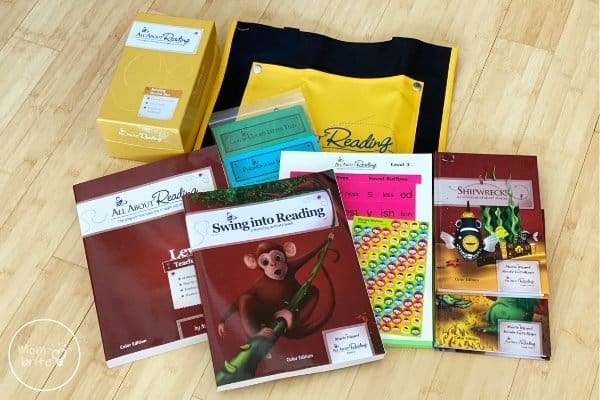 You can just purchase the teacher's manual, the student packet, and the two readers. However, I strongly recommend getting the letter tiles as they are very helpful in visually showing your kid how to sound out the words.
We purchased a large whiteboard and use the magnets that came with the package to stick the letter tiles on the whiteboard. You can see in the picture below how putting the vowel teams together in one tile, having all the vowels in red, and having the consonant teams all in one tile really help your kids learn and blend the sounds. It's not the same as simply writing out the letters on a piece of paper!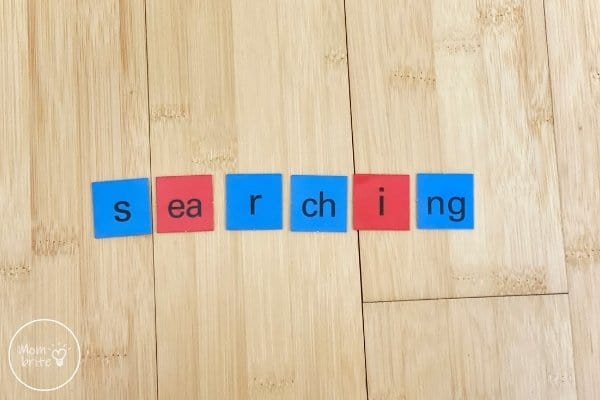 AAR Level 3 Teacher's Manual
Even if you have never learned phonics before like me, the AAR teacher's manual will make teaching phonics to your kids easy and painless. Each lesson starts with the objective, the supplies you need, and a preview of the new rules. You can read this section quickly before sitting down with your child to get an idea of everything you will cover in the lesson without feeling overwhelmed.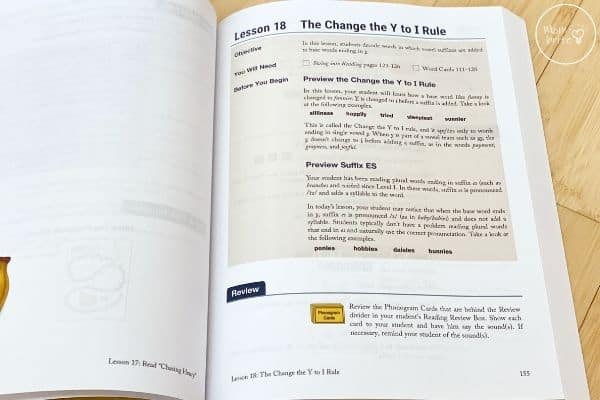 The lessons are laid out so that you can follow everything step by step. The teacher's manual will tell you exactly what you can say to your kid to explain to him or her the new concept, including different examples and thought-provoking questions. It will tell you what page in the activity book to turn to and what to do on those pages.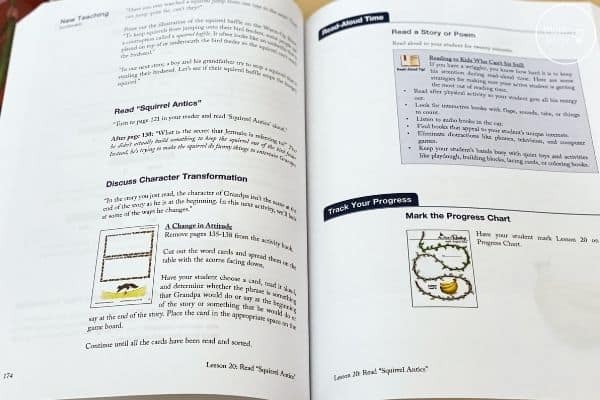 Remember the letter tiles we talked about earlier? The teacher's manual will help you set them up so you can walk your child through the new phonograms and vowel teams.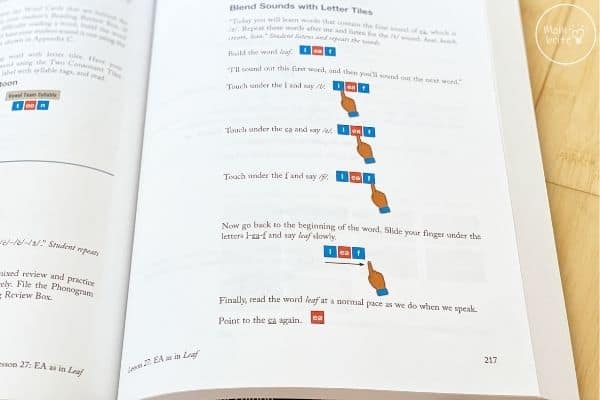 AAR Level 3 Swing into Reading Activity Book
Each AAR level has an activity book, and the Level 3 one is monkey-themed. It includes a progress chart to track your kid's progress, and my kids absolutely love it when they finish a lesson and can mark it on the chart with a sticker.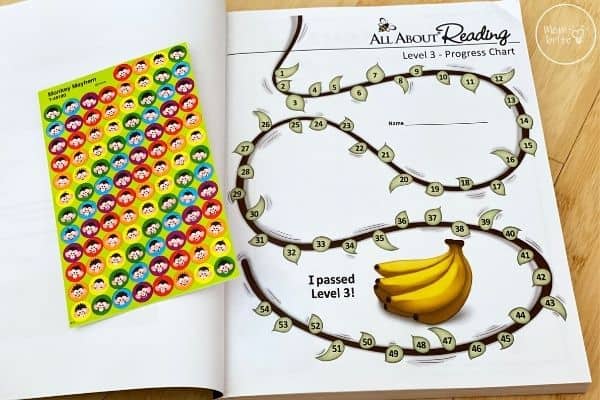 One of the best things about All About Reading programs is the interactive games and activities that make learning how to read super fun. Instead of simply going through the rules and memorizing new words, AAR's multi-sensory hands-on activities get your kids excited about practicing the new rules that they just learned.
For example, here is a spider web puzzle game. On the spider web picture, there are blocks containing different words. On the bottom, there are blocks for you to cut out to complete the spider web picture. But instead of using just the pictures to visually complete the puzzle, you need to use the words on the back of the picture blocks.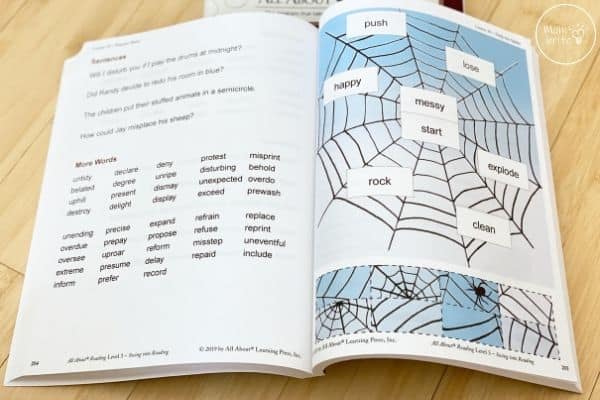 When you flip the page over, you can see that there are words that are synonyms to the words in the picture. For example, you would match the "cheerful" piece with the "happy" word block on the web.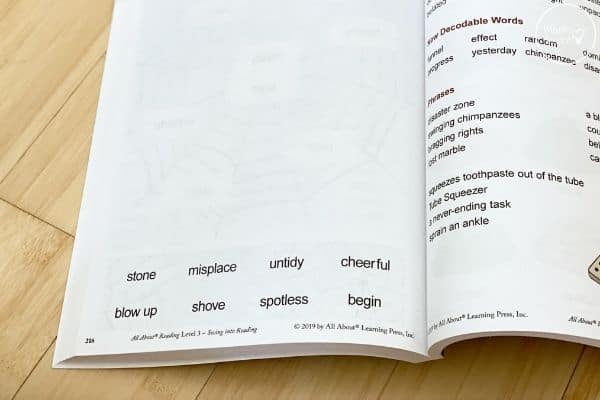 Instead of giving your children a list of words and telling them to match the words with the same meanings, All About Reading turned it into a puzzle game for your children to solve. Activities like this encourage kids to learn and make homeschooling a lot easier for parents.
That said, practice makes perfect, and there are only so many games you can play with your kids for one lesson. The AAR activity book does include more practice words, phrases, and sentences that will help drill the new rules in your child's brain. This is probably the most boring part of the AAR program, but if you feel like your child understands the concept fully, you can pick and choose a few words and skip most of the list.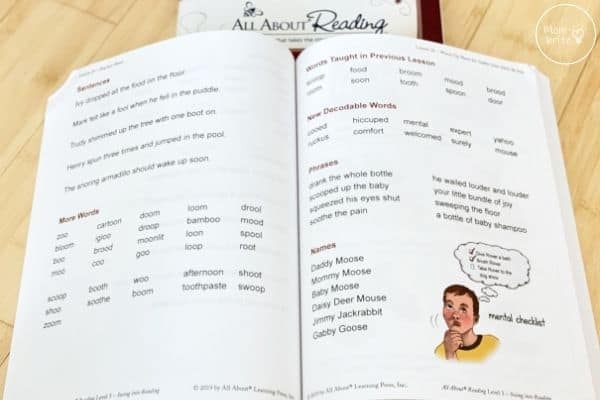 The activity book does also have a page that you should go over with your child before jumping to the reader. It contains words and phrases that will come up in the story, as well as one or two new vocabulary words you should go over with your children.
I really appreciate this sheet because instead of interrupting the story because my son wouldn't know certain words, I can prepare him ahead of time. This way, he could focus on reading with accuracy, proper speed, and meaningful expression instead of getting confused by unfamiliar words.
AAR Level 3 Readers
As with other All About Reading levels, AAR Level 3 readers come with beautifully drawn pictures and interesting stories. Unlike some of the other language arts programs we have tried, the stories in the readers are exciting to read. My son would surprise me and ask to re-read a story after he has gone through it the first time.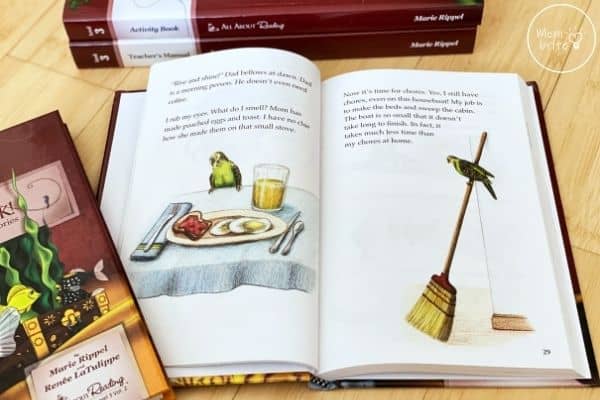 The stories get progressively harder to match your child's reading abilities. My son was struggling with reading easy chapter books prior to AAR Level 2, and when we finished AAR Level 2 he was able to read short chapter books. However, as we continue through AAR Level 3, I can see my son gaining confidence and reading harder and harder chapter books on his own.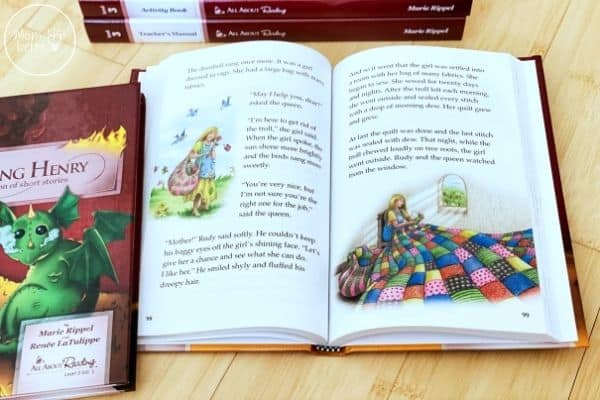 Review Box, Divider Cards, and Flashcards
The Deluxe package of All About Reading Level 3 does come with a review box and divider cards. The flashcards come with the student packet so even if you get the Student and Teacher materials Only option, you will still have the flashcards.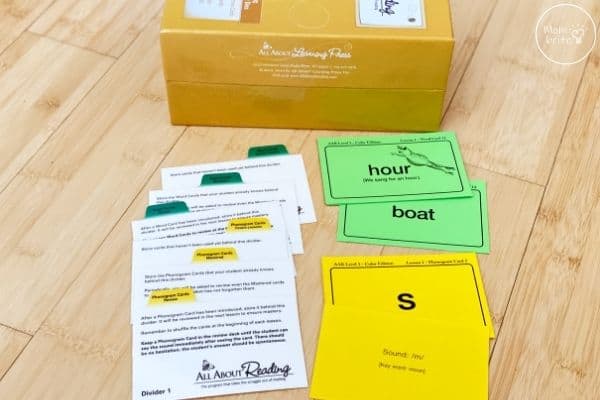 I have to admit, I don't use flashcards much. If you and your kids are not fans of flashcards, I would save the money and get the option without the review box and divider cards.
However, if you do like incorporating flashcards in your reading lessons, these flashcards are great. It contains the words taught in each lesson, and it also includes "leap words" (as indicated by the jumping frog on the card). The "leap words" are either sight words that don't follow the normal phonetic patterns or words that contain phonograms that are in future lessons.
Final Thoughts on All About Reading Level 3
I have recommended the All About Reading curriculum to many homeschool moms, and out of those who tried it, all of them loved it. One thing is for sure – AAR makes learning how to read fun for the kids.
My 5 years old daughter has finished the Pre-Reading program and now on AAR Level 1. I am excited to see her progress through Level 1 and 2 as her brother had done and become an independent reader.
My 7 years old son used to love math and hate reading. But after a year of All About Reading, he now much prefers to do reading than any other subject. We are going through All About Reading Level 3 at a good pace and I am so thrilled that soon he will be able to read the more difficult books he wants to read so badly by himself.
To learn more about All About Reading Level 3, make sure you head over to Timberdoodle for more detailed descriptions and reviews.
---
Related Posts: