Encourage your kids to learn through play by incorporating the Brain Builder Trio by FoxMind Games into your gameschooling collection! Here is an honest review of the three games in the set: Architecto, Equilibrio, and Perspecto.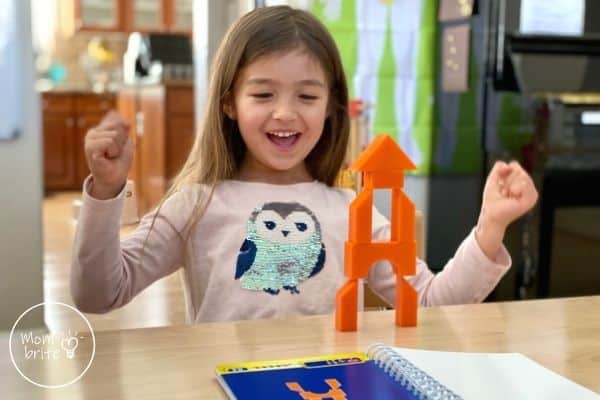 We are huge fans of gameschooling, and educational games are an integral part of our homeschooling curriculum. We are always on the hunt for the best games on the market that will help my kids learn through play!
The Brain Builder Trio by FoxMind Games on the surface looks like an easy game. With only 18 3D blocks to manipulate, you would think that the puzzles would be a breeze for kids who love LEGO or Magna-Tiles. But after doing just a few challenges, you soon discover that this game is a lot more challenging than it appears.
The Brain Builder Trio consists of three separate puzzle books: Equilibrio, Architecto, and Perspecto (also known as Cliko). All 3 games use the same set of GeoBlocks, and the object of all the games is to construct the illustrations shown in the challenges.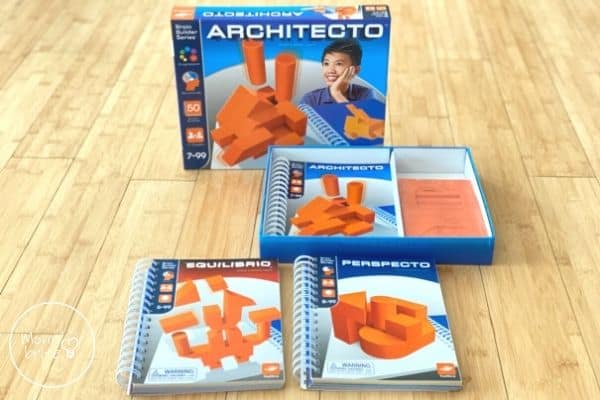 The 3 games, however, are very different. All of them will help improve your child's spatial proficiencies and logical analysis skills. Some of these STEM challenges will seem almost impossible to achieve. But with perseverance, patience, and careful planning (and maybe some help from mommy and daddy), your kids will be able to beat the challenges and feeling so proud of themselves and their accomplishments.
We played all 3 games in the Brain Builder series and honestly loved all three. They are very different from the games we usually play in our gameschooling collection, which consists of board games like Camelot Jr, Color Catch, and Smart Farmer. You can click on each one to read detailed reviews.
Below you will find comprehensive reviews on all three puzzle books and examples of the challenges.
Equilibrio
Out of all three games that came in the Brain Builder Trio, Equilibrio is my kids' favorite, and it's easy to see why. It requires your children to build structures illustrated in the puzzle book using the 3D blocks, and the key is that you have to balance all the blocks to complete the challenge.
Kids who like to play Jenga will love Equilibrio. It has the same thrill of balancing the blocks and keeping everything from crashing down.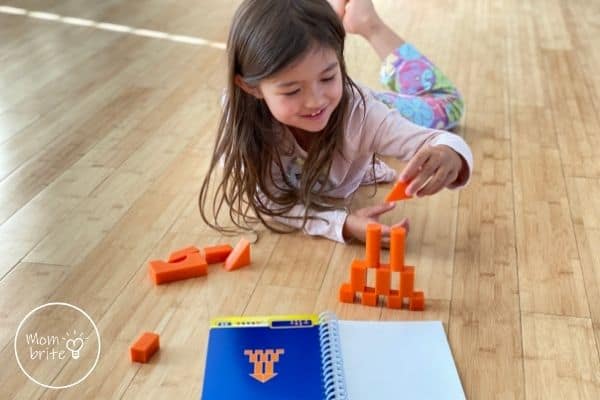 Recommended for kids 5 and up, Equilibrio is fun for preschoolers to adults. My 4 years old was able to do the first few challenges by herself, but then it started getting more difficult. Some puzzles require her to place two blocks at the same time to equally distribute the weights. Others require a precise balancing of a block on another with the contact point being the center of gravity.
As the levels get harder, patience is definitely necessary to successfully beat the challenge. Sometimes my kids would be done with the structure except for the piece at the very top, but that one piece would be the one to send everything tumbling down.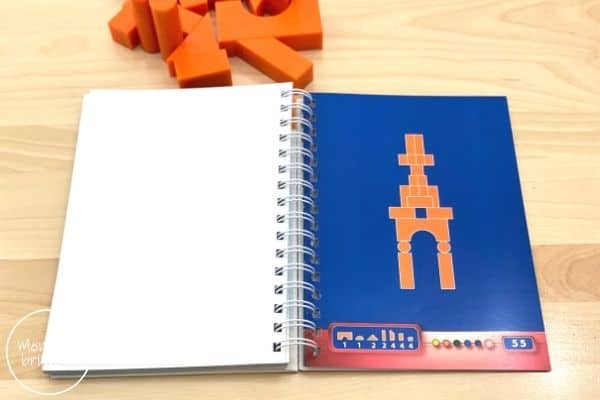 I love watching the focus in my kids' eyes when they play Equilibrio. And even though they do get frustrated when the blocks fall, they would keep trying and not give up. Best of all, when I try and complete a puzzle, my kids would give me advice about how a certain block would have to be positioned a certain way for the structure to remain stable. It's amazing how subconsciously they are learning about geometry and balance.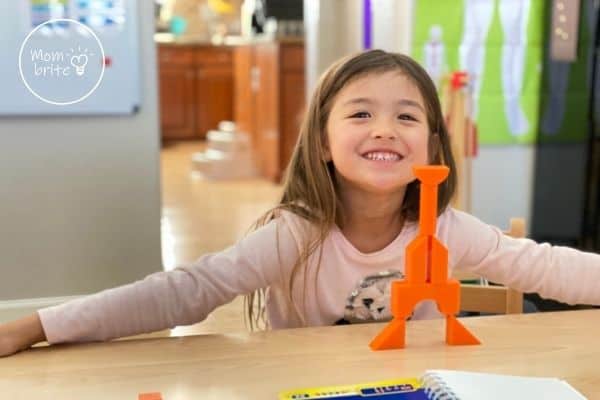 Architecto
Out of the 3 puzzle books, Architecto is probably the most deceptive one. You use the GeoBlocks to build three-dimensional structures – how hard could that be?
The challenging part of Architecto is that each challenge has a set of blocks that you must use listed at the bottom of each page. The challenge will tell you the type of blocks as well as the number of blocks required to build the model.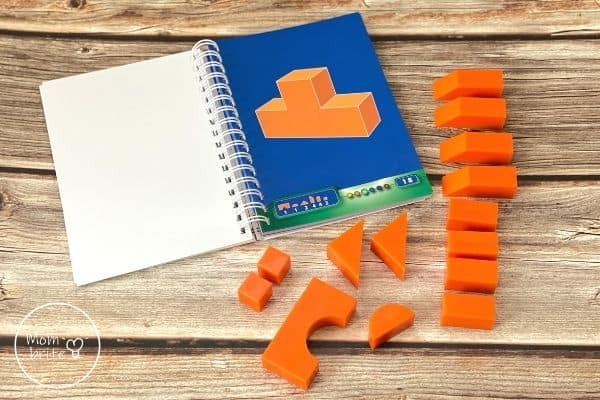 Now you have to figure out how to manipulate the blocks so that you can construct the structures. For example, using arch and semi-circle blocks seem counterintuitive when you are trying to build a structure with straight edges. So you have to figure out that the semi-circle goes into the arch block, and then you have to lay both of them on their sides as part of the second layer of this T-block structure.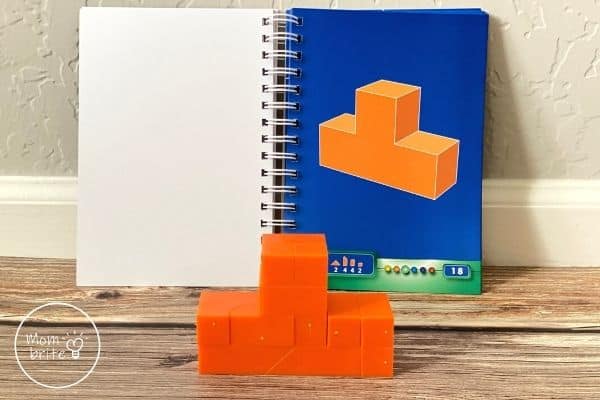 Recommended for ages 7 and up, Architecto is for sure more difficult than Equilibrio. It is the perfect game for kids who are aspiring to become future architects, designers, and engineers.
Perspecto (Cliko)
Last but not least, we have Perspecto. Similar to Architecto, Perspecto puzzles ask you to build 3D structures with the GeoBlocks. However, Pespecto will really challenge your child's spatial visualization as they attempt to reconstruct 3D structures based on 2D horizontal flat views.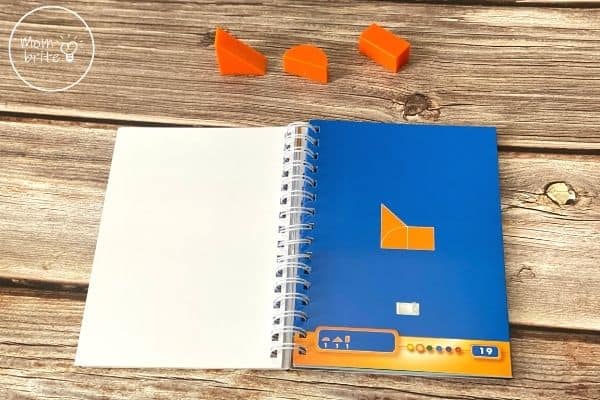 Instead of a three-dimensional illustration, you are now given a two-dimensional illustration. The camera on the page symbolizes that you are looking at a flat plane figure of a 3D structure, just like what you would see in a photograph.
Perspecto may be difficult for younger kids because the picture does not give you any depth. Your kids need to learn that a 3D shape looks different depending on your perspective, hence the name of the game. For example, a cylinder looks like a circle if you look at it from one side, but it looks like a rectangle if you look at it from another view.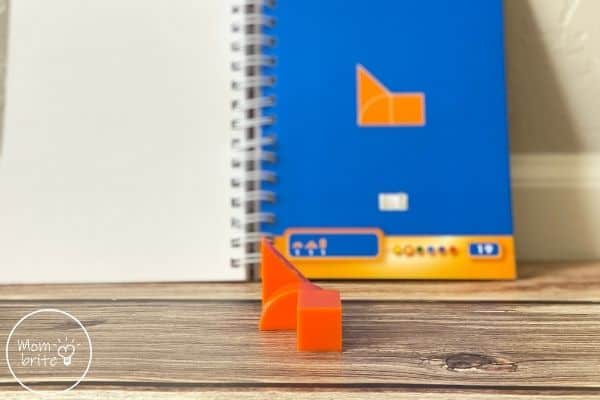 Similar to Architecto, each challenge gives you a set of blocks that you must use to build the structure. The challenges do get very difficult as you advance in levels. Thank goodness that there is a solution guide at the back of the book in case you get stuck!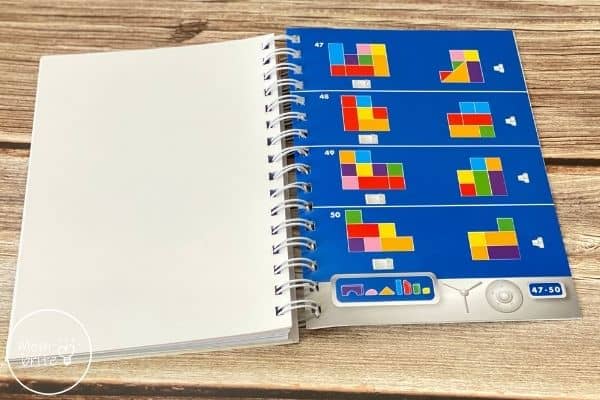 Perspecto is the most difficult out of the three books in the Brain Builder Trio (recommended for age 8 and up), so it's recommended that your child tackle it after he or she has a good grip on the other two. The concepts learned in Architecto and Equilibrio will help your child complete the puzzles in Perspecto.
Out of all three books, I personally like Perspecto the best. It not only teaches your kids 2D and 3D geometric shapes, but it also leads to discussions about having different points of view in life.
Final Thoughts on the Brain Builder Trio
All three books in the Brain Builder Trio are wonderful STEM games that will motivate your kids to explore 3D blocks as they have never done before. It's amazing how much they can learn independently from using just 18 blocks. Even though the price may be a little high, the Brain Builder Trio is hours upon hours of educational fun. Plus, it's still much cheaper than LEGO and Magna-Tile sets!
I highly recommend the Brain Builder Trio to any homeschooling parent who wants their kids to learn through play. My kids pull out the puzzle books and GeoBlocks whenever there is a break in our homeschool routine because they just love the puzzles.
I also want to thank Timberdoodle for sending us the set for an honest review. Even though the Brain Builder Trio is part of Timberdoodle's fifth-grade curriculum kit, I would recommend getting it when your kid is 5 so he or she can get started on Equilibrio. It's truly a game that will keep your kids entertained and learning for years!
---
Related Posts: