You've Been Booed is a cute Halloween tradition. Leave a package of goodies around Halloween along with the You've Been Booed instructions for your neighbors or friends to start spreading the fun!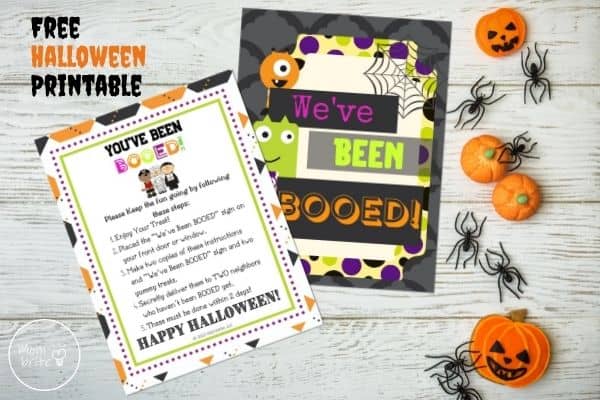 The month of October is such an exciting time for kids. The pumpkin patches are open with fun rides, carnival games, corn mazes, and of course, pumpkin picking. There are parties to attend and haunted houses to visit. And for most kids, nothing much tops the thrill of trick-or-treating!
I have to admit, I have not heard of the You've Been Booed game before I was a parent. That said, I was super happy to start this Halloween tradition with my kids! It's such a nice way to spread Halloween joy and cheer around the neighborhood, the school, and with friends. As an adult, you can even do this with coworkers!
Here is a set of adorable You've Been Booed signs that you can use to "Boo" someone for Halloween. If you do use these signs, please take a picture and tag me @mombrite so I can see the wonderful Boo baskets you put together and received from others!
You've Been Booed Instructions
If you never played this game before, here's how it works.
First, you put together a Halloween treat bag or basket for two of your neighbors or friends. You add the instruction card that tells them they have been "Booed" so that they know what to do next.
The You've Been Booed printable PDF includes step-by-step directions that explain how they are supposed to make two copies of the instruction cards and use them to boo two neighbors or friends who haven't already been "Booed." But if you want to be nice you can print the two additional cards for them and include it with your basket.
The person who receives the basket will put the "We've Been Booed" sign on their door or window so that others know to give their basket to someone else who hasn't received Halloween treats yet.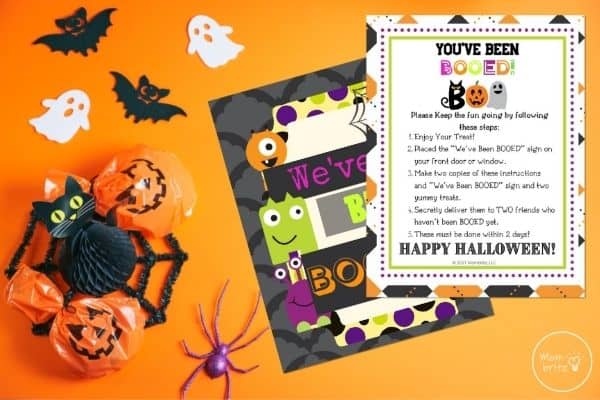 When you leave the basket with the card at someone's door, you are supposed to ring the doorbell and run away so that they don't know who left the basket. It's like playing ding dong ditch but with a nice surprise! Kids love this part because they feel the thrill of possibly getting caught.
Why do you need to run away? Keeping your identity a secret is part of the fun! Your neighbor wouldn't know who dropped off the basket, and therefore he or she wouldn't feel obligated to thank you. Instead, he or she can pay it forward by continuing the tradition with two other neighbors.
The point of the You've Been Booed is to spread Halloween cheer and kindness throughout the neighborhood. It's a wonderful opportunity to teach your kids about generosity and doing good deeds. In a way, the You've Been Booed tradition is like a chain letter but with Halloween goodies!
You've Been Booed Printable
The You've Been Booed PDF includes 3 pages:
Large We've Been Booed sign.
Small We've Been Booed sign and 3 You've Been Booed cards with instructions for neighbors.
Small We've Been Booed sign and 3 You've Been Booed cards with instructions for friends.
I wanted to include two sizes of the We've Been Booed signs for you to choose. If you are sticking it on a door, you may want to use the large sign. If you are doing the You've Been Booed game in a school and need to put the signs in small cubbies or mailboxes, then you have the option of using the small We've Been Booed sign.
There are 3 You've Been Booed cards because I always think it's nicer to include the two additional cards along with the one you place with your treats in the Boo basket. This way, your neighbors or friends don't need to run and make copies to continue the game. It also makes it more likely the game continues to spread throughout the neighborhood.
I created two versions of the You've Been Booed cards. One design is for neighbors, and one for friends. Both versions have similar instructions that read:
Enjoy Your Treat!
Placed the "We've Been BOOED" sign on your front door or window.
Make two copies of these instructions and "We've Been BOOED" sign and two yummy treats.
Secretly deliver them to TWO neighbors/friends who haven't been BOOED yet.
These must be done within 2 days!
I suggest doing this a week or two before Halloween to give your neighbors and friends enough time to put together their Boo baskets and pass on the tradition.
Scroll down to the bottom of the post to download the free printable!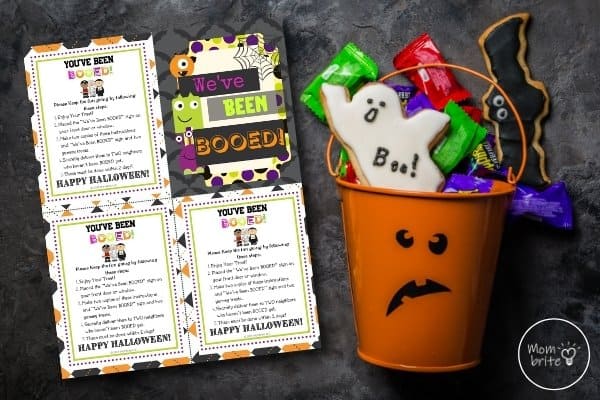 Halloween Boo Basket Ideas
When putting together your Boo basket, make sure you consider:
What's the temperature outside? If it's hot, you want to avoid treats like chocolate that could melt.
Are there a lot of bugs around your area? Make sure all the treats are covered so that your neighbor or friend doesn't open his or her door and find a mountain of ants.
Is your neighbor home? Your basket might sit outside for a few days if he or she is out of town. In this case, consider adding non-edible things to your basket instead.
The Boo basket should be simple and inexpensive. If you make the basket too extravagant and costly, then the chances that people continue the You've Been Booed tradition would be lower. Also consider all the members of the family when you put together the package so nobody feels left out!
Here are some Boo basket ideas:
Candy
Baked goods
Movie and popcorn
Pretzels and other salty snacks
Crayons or markers
Dog toys (don't forget our furry friends!)
Book and bookmark
Craft kit
Fresh veggies or fruits
Gift card
Wine (for adults only, of course!)
Self-care package (moms would definitely appreciate this)
Puzzles and games
Party favor toys
How to Download the You've Been Booed Printables
Now that you have your Boo basket ready to go, the only thing missing is the You've Been Booed cards and We've Been Booed sign! Fill out the form below to get the printables delivered to your inbox.
You can print them out on 8.5×11″ piece of paper. I do recommend printing them on white cardstock so they are more durable and hold up better in the basket.
Happy Halloween!
---
Related Posts: