Pumpkin bowling is a great way to upcycle plastic yogurt drink bottles. Have fun with your family this Halloween bowling with a small pumpkin and knocking down ghost pins!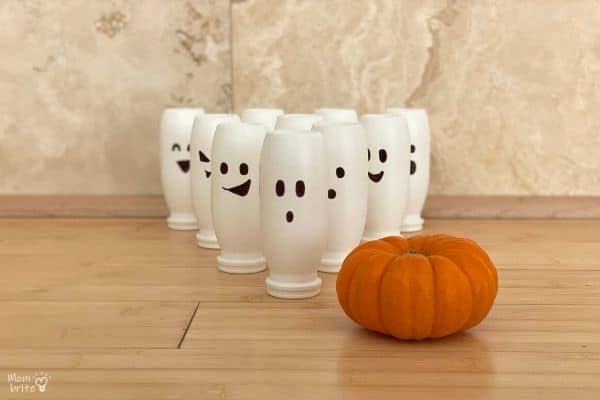 Sometimes the simplest activities are the most fun for the kids. And for this Halloween and fall season, we are using the pumpkin to not only decorate the house but also as a bowling ball!
Pumpkin bowling is a fun game that you can play at Halloween parties. Depending on the weather, you can play it indoors or outside. And it's not only for kids – even adults can enjoy trying to roll a pumpkin to knock down the pin. So it's a great time for the whole family.
The best part is, the only money you need to spend is to buy the pumpkin. The bowling pins can be made out of a variety of recyclable products. We used yogurt drink containers for ours, but you can also use soda bottles, water bottles, toilet paper rolls, or even milk cartons! You can also use a bigger pumpkin if you choose, but I just love the adorable little ones.
How to Play Pumpkin Bowling
Materials:
6-10 yogurt drink bottles, soda bottles, etc.
Black permanent marker
Mini pumpkin
Optional: White acrylic paint
Instructions:
1. Use the black permanent marker and draw ghost faces on the bottles.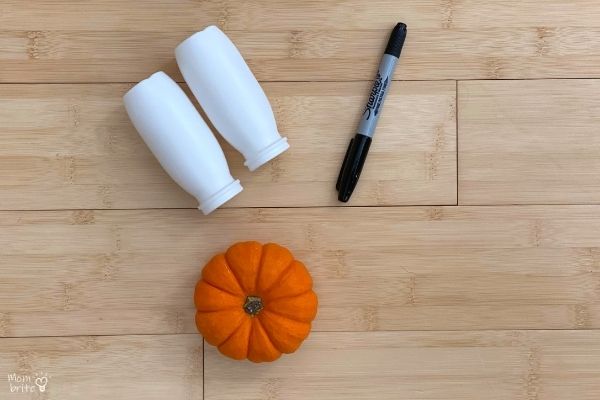 2. Set up the bottles in a triangle formation. You can do this horizontally (place them all on the ground) or vertically (stack them high).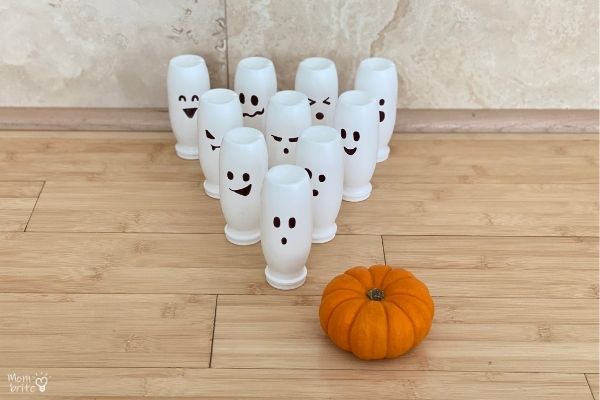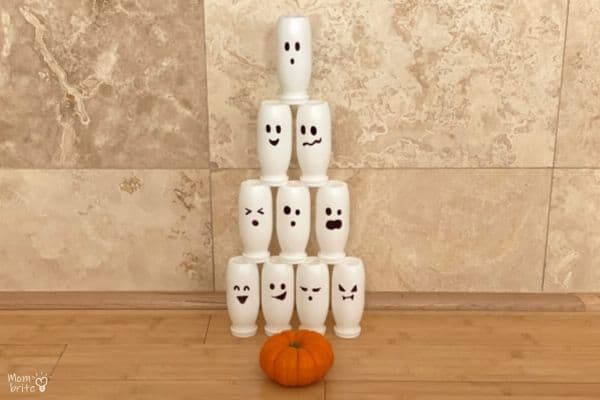 3. Use the mini pumpkin to knock down the ghost bowling pins!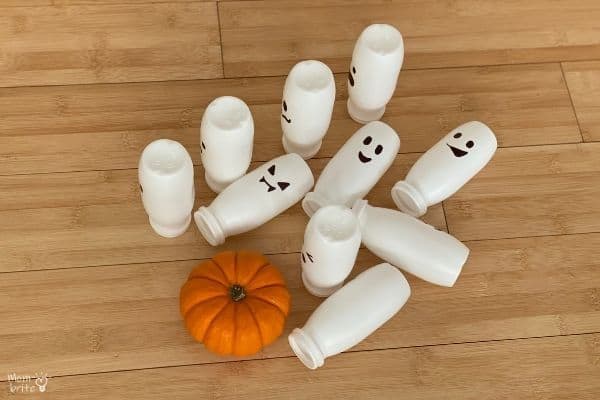 The set up for the pumpkin bowling game is easy, but knocking down the ghost bowling pins with a pumpkin as the bowling ball is not! My kids soon discovered that the small pumpkin does not roll straight like a round ball, and they had to account for the curve when they roll it.
The pumpkin also doesn't roll as well as a ball. If you don't put enough force behind it, it will just roll to the side and stop. But too much force might curve it too much!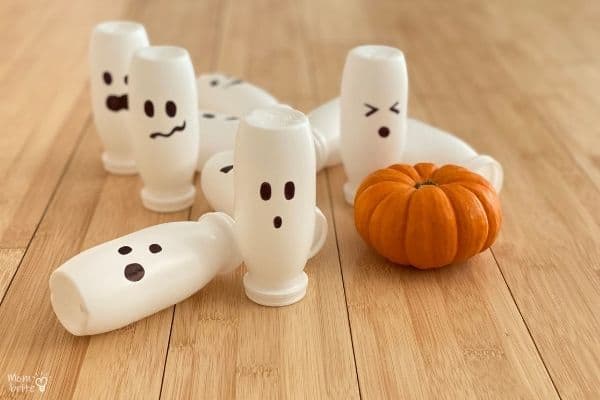 So there you go! A simple game to set up, but a fun and challenging game to play. The unevenness of the pumpkin's surface actually evens out the competition, so adults don't have much advantage over kids.
Whether you are playing pumpkin bowling at a Halloween party, or you are just doing it at home with your kids as a boredom buster, hope you have lots of fun!
For more simple Halloween activities, check out: