Teach your kids how to skip count with these free printable skip counting posters. The vivid design on these posters will encourage your kids to learn the basis of multiplication and division.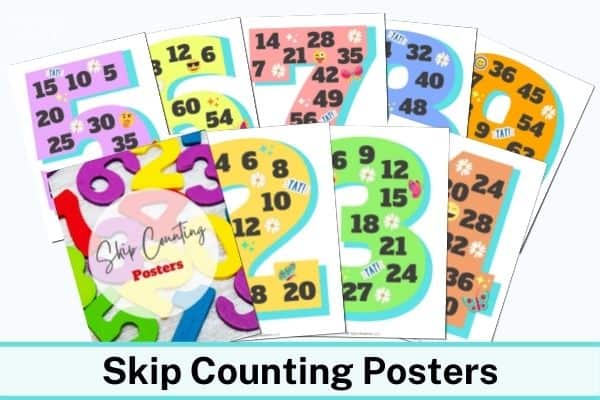 These bright and colorful skip counting posters are great if your kids are learning multiples. Skip counting helps kids recognize patterns in numbers and is the foundation of multiplication facts.
Kindergarteners, 1st graders, and 2nd graders will have so much fun practicing skip counting with these free printable skip counting posters. You can use them as an instructional tool or as an educational wall poster for your homeschool or classroom.
Skip Counting Posters
Whether you are a teacher, homeschooler, or parent, you will love these cute skip counting posters.
The free printable skip counting poster set contains the cover page as well as one poster for each of the numbers from two through nine.
All posters are filled with adorable illustrations, including flowers, emoji faces, butterflies, and a fun "YAY!" to encourage your kids to learn their multiples.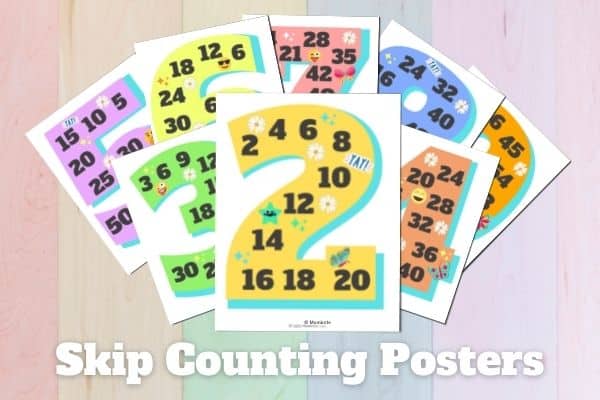 Skip Counting Posters: Fun Activities and Ideas
Teaching your kids how to skip count doesn't have to be painful or boring. Here are activities and ideas to make learning this important skill interesting:
Use a Calculator
Young kids have not yet been introduced to a calculator, so even your most basic calculator is exciting. Start with the number plus itself (Example: 3+3) and then continue to hit the equal (=) sign to add the number to the sum on the screen.
You can make skip counting a competitive game by having one kid use the calculator and the other doing the skip counting mentally. Race to see who can say the next number first.
This is also a fun exercise for your kids to do independently to check their own answers. I am going on a road trip in a couple of weeks and will be teaching my 2nd grader how to skip count 7 through 9 with this method!
Read Skip Counting Books
Do you have a bookworm at home? Teach your kids how to skip count by reading picture books filled with cute illustrations and engrossing storylines.
Use Manipulatives
If you have a multisensory learner, then your kid will love using different manipulatives like MathLink Cubes or Counting Bears to learn to skip count.
You can also look around for items at home to teach your kids, such as beans, paper clips, pom poms, or even twigs from your yard.
Play Skip Counting Hopscotch
Bring back the classic game of hopscotch and label the boxes with multiples. For example, the first box can be 2, then 4, next is 6, etc. This is a great way to get some exercise and spending time outside in the sun while learning math.
How to Download the Free Skip Counting Posters
Click on the photo below for instructions on how to download the free printable skip counting posters.
I recommend printing these posters on 8.5″x11″ cardstock and laminating them to make them more durable.
Note that any printables from Mombrite are for personal or classroom use only. If your friends or coworkers would like a copy of the skip counting posters, please direct them to this post so they can get their own copy.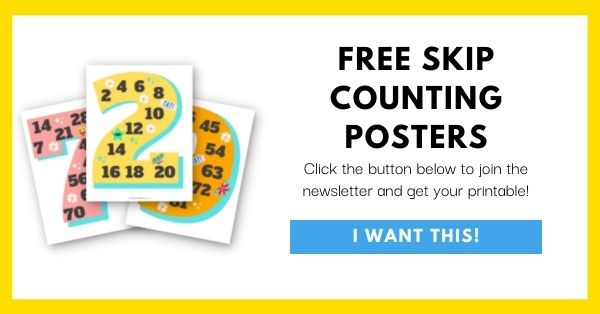 ---
Related Posts: