Battle Sheep is a fun and challenging strategy game that the whole family can enjoy. It's easy to set up and learn and with high-quality components, Battle Sheep will endure through lots of play!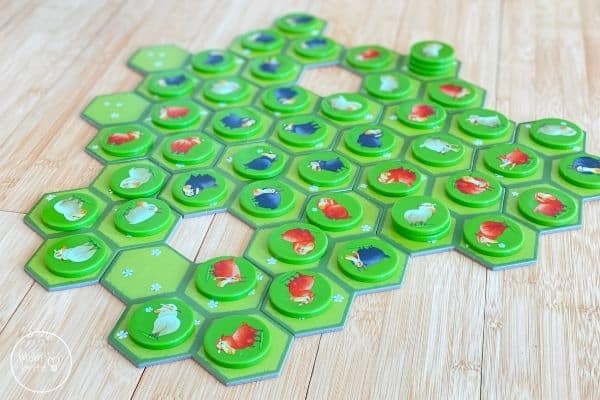 Strategy games have been a huge part of our homeschooling curriculum. Not only do they teach kids how to analyze and assess the current situation, but they also encourage them to think ahead.
We received Battle Sheep from Timberdoodle recently and we have been playing it every single day. What I love about this strategy board game is that it's simple enough for elementary school kids to play but challenging enough for adults so that we are all on an equal playing field.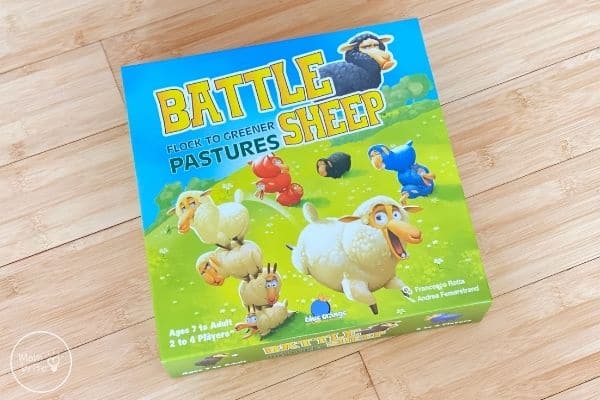 Below you will find a detailed review of the Battle Sheep game and why my kids want to play it every chance they get.
How to Play Battle Sheep
I have to give kudos to whoever came up with the name Battle Sheep. It's nice and short and catchy, and my kids have been running around the house screaming "BATTLE SHEEP!" whenever they want to play it.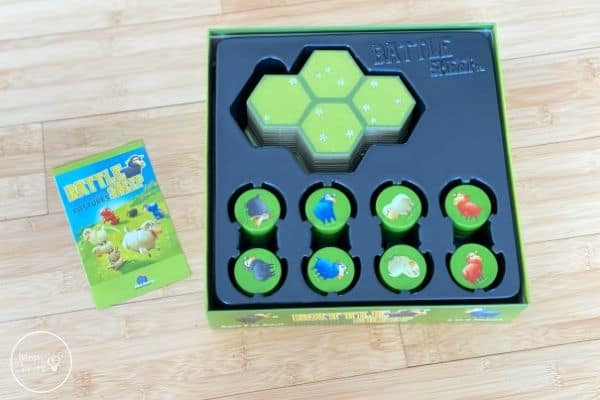 The game contains:
16 pasture boards
64 sheep tokens
An illustrated rulebook
One thing that I noticed right away is the quality of the pasture boards. They are not just cheap cardboard that will tear and come apart with use. Instead, they are made of laminated cardstock with what almost looks like leather on the bottom so that kids can't destroy them easily.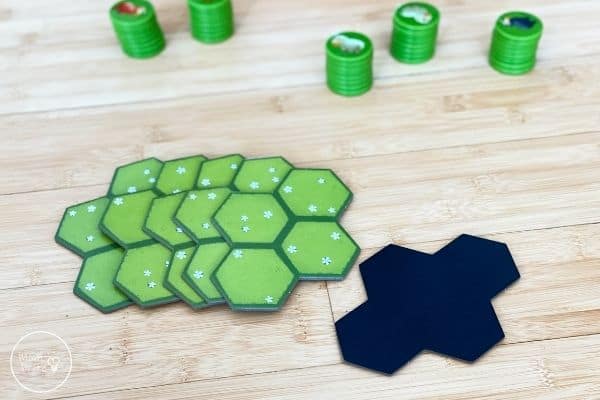 The sheep tokens are made of thick plastic that is made to last. My kids love looking at the different sheep drawings on the tokens because they are cute and silly.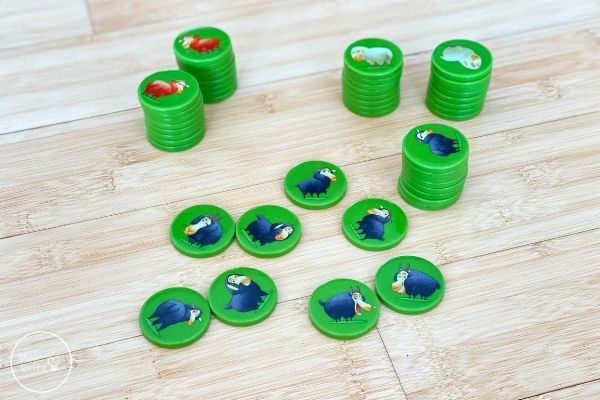 Battle Sheep Game Rules
To play Battle Sheep, each player takes 4 pasture boards (they are all the same). Then the players take turns putting down one board at a time, with at least one edge touching the boards that are previously placed on the table. If you have less than 4 players, you may not use up all the boards.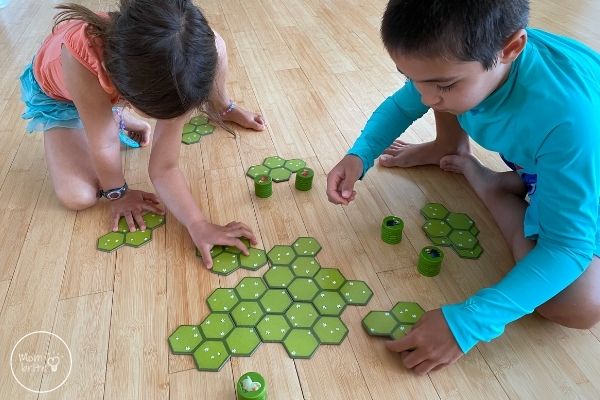 Since the players determine where the pasture boards go, the game board is different every time you play the game. This allows for different and unique game playing areas each time, and the strategies will change accordingly.
Next, the players take turns placing all their 16 tokens on one pasture. The pasture must be one of the pastures at the edge of the playing area. The only criticism I have of the game is that picking up and moving all 16 tokens is difficult for kids with small hands. Good thing the tokens are so durable because my kids keep dropping them on the floor!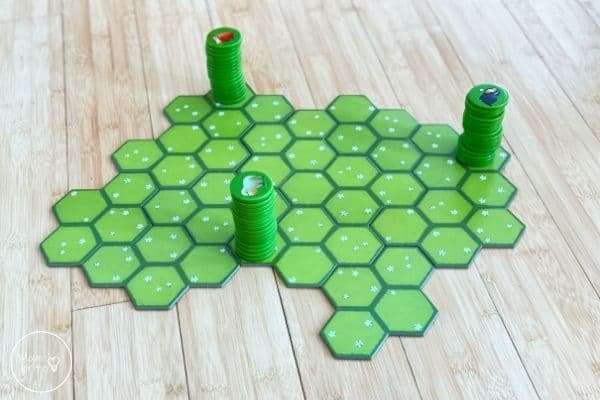 The gameplay is simple – split your stack of sheep and move your new stack as far as it can go in a straight line. Players take turns moving their sheep tokens until they run out of places to move the sheep.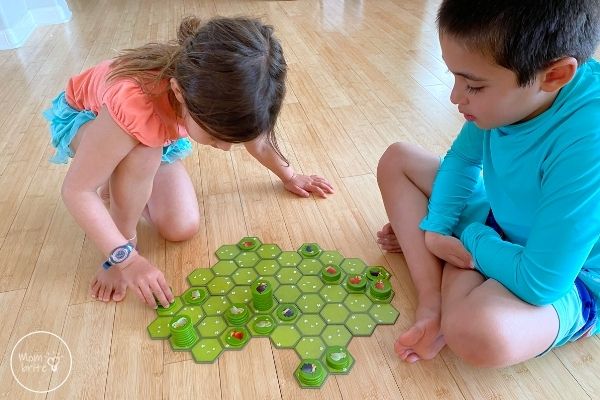 The player with the most pastures claimed wins! If there is a tie, then the player with the biggest herd wins.
I love watching my kids trying to out-strategize each other. To win, you have to think about the placement of the sheep stack, how many tokens to move when you split the stack, and how to block another player from moving.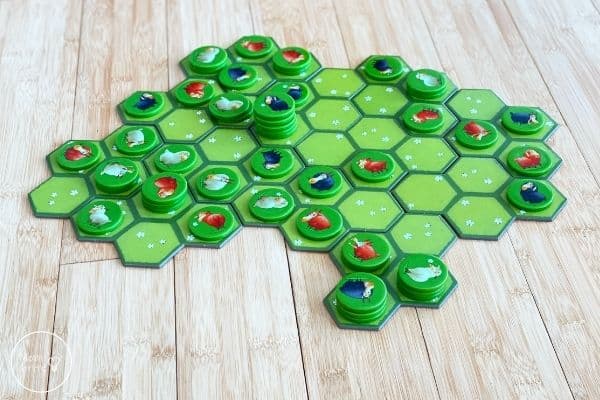 We also discovered that the pasture board arrangement can drastically change the gameplay. When we create holes in the game playing area, the gaps make it more challenging to move around the sheep stack. We also tried making a really long playing area versus a more symmetrical one and we had to completely rethink our strategy to win.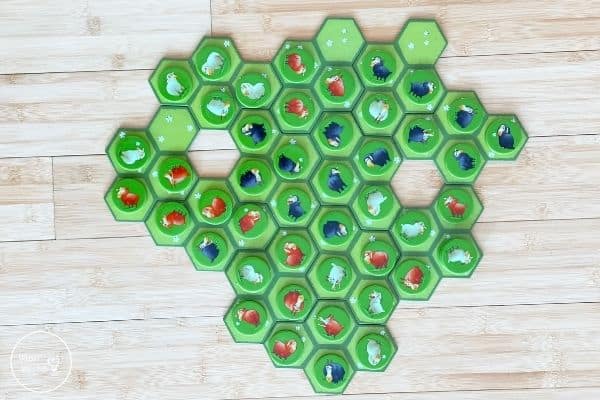 Final Thoughts on the Battle Sheep Strategy Game
Battle Sheep has quickly become one of our favorite family board games. It was easy to learn (even my 5 years old was able to jump in and play right away), yet requires tons of strategy to win.
My husband and I love strategy board games and have been playing them ever since we met. Playing simple board games with my kids has been fun, but after a couple of rounds, it gets a little boring for us adults. The beauty of Battle Sheep is that the games are unpredictable and takes a lot of strategic thinking to determine where to place the sheep tokens. If I don't pay attention, my 7 years old can easily block me and take over the pastures.
And if you are really up for a challenge, change up the pasture boards!
Battle Sheep is included in the 3rd grade curriculum kit on Timberdoodle. Make sure you check out the whole curriculum to see what other fun games you can include in your homeschooling and help your kids learn through play!
---
Related Posts: