What do you get a mom who has everything? A Mother's Day Questionnaire Printable is a unique Mother's Day gift that kids can fill out for their moms to keep forever.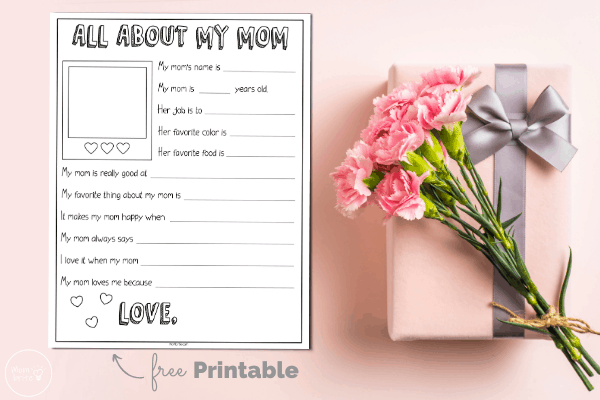 It's so fun to learn what is going on inside your kid's head. They view things in a completely different way than us.
For this Mother's Day, I created a free printable Mother's Day Questionnaire that you can give to your kids to answer using their own words. Their answers might surprise you!
This cute All About My Mom printable is also a coloring sheet. Your kids can use crayons or colored pencils to color in the letters and draw a picture of mom in the space provided. The drawings always turn out hilarious, especially when your kids are preschoolers or kindergarteners.
If you have multiple kids, it would be interesting to compare their answers to these Mother's Day interview questions. One kid might think you're really good at cooking, while another might think you're really good at playing tag.
It would also be fun to have your kids fill out this Mother's Day Questionnaire every year and show your kids what they filled out as a preschooler when they are older. It's a Mother's Day gift idea that keeps on giving!
Mother's Day Questionnaire Printable
I kept the questions for this Mother's Day interview keepsake nice and simple so that even preschoolers can fill it out. You may have to help out with the spelling and writing for kids who are still working on their literacy and pencil skills. However, make sure you leave the questions open-ended and let them come up with the answers on their own.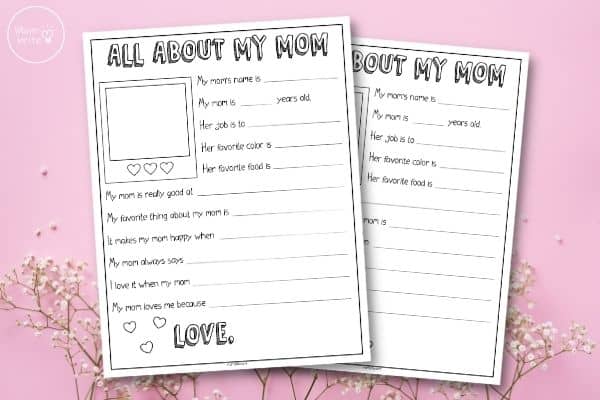 If you're a mom and want your kids to fill out this All About My Mom printable for Mother's Day, feel free to send this post to someone who can help your kids write their answers. Perhaps your husband, a grandparent, or a good friend.
If you have a toddler who can't write yet, you can use this Mother's Day Questionnaire as a template for a fun interview! Ask your toddler these questions and record his or her responses on your phone. I guarantee you will find some answers hilarious while others surprising! And what a wonderful keepsake to have for when your little one gets older.
I suggest that you either laminate the printable to make sure it doesn't get dirty or ripped, or you can also frame it for all to enjoy. It would make an adorable Mother's Day decoration that everyone can read when they come visit. And if your kids give you flowers for Mother's Day as well, then you can put the flowers in a vase and display the interview plus the flowers together!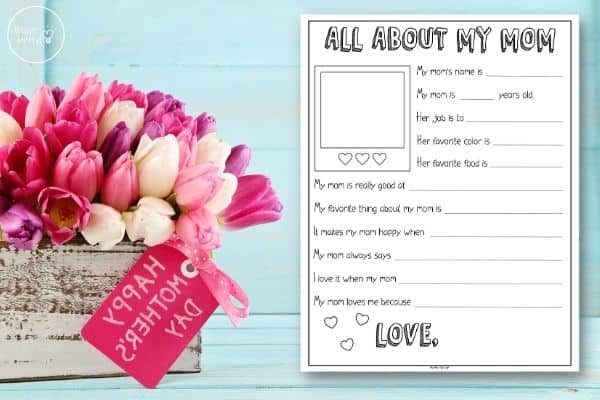 How to Download the All About My Mom Printable
To grab your free Mother's Day Interview printable, simply fill out the form below and the PDF file will be delivered to your inbox. Take a picture or comment below and let me know what kind of responses you get!
---
Related Posts: