These 12 free printable heart templates and coloring pages come in a variety of styles and are perfect for craft, homemade gifts, home decor, and DIY projects.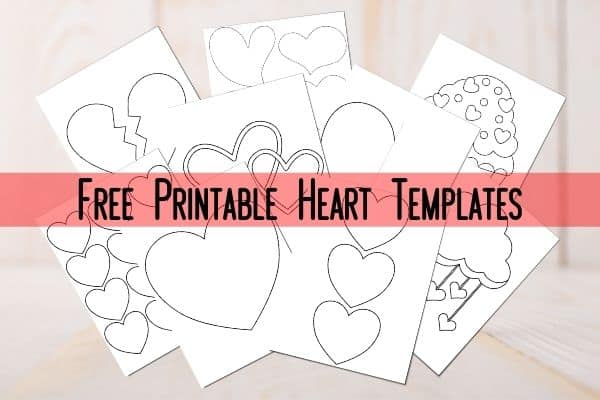 Do you have kids who love crafts? Or are you looking for a project to engage your kids in doing something creative? If so, you are in luck! Here are the best heart templates with bonus coloring pages that will help you save money on your projects and allow you to make anything to do with hearts!
These hearts can work great while decorating birthday cards, Christmas cards, thank you cards, Valentine's Day crafts, or Mother's Day crafts. You can also use these heart stencils to decorate walls.
There are endless possibilities with these free printable heart cut outs. I listed all the heart templates included in the downdable PDF below. You can pick and choose which one you like to use as a pattern for your craft.
Free Heart Templates
Large Heart Template
This large heart template can be used for so many things. It can be used as a stencil for kids to practice their scissor skills and cutting smooth edges. You can also use this template to make heart string art or a beautiful fingerprint tree.
This large heart cut out covers almost a full 8.5″x11″ printer page. You can use your printer's scale option if you would like it slightly smaller.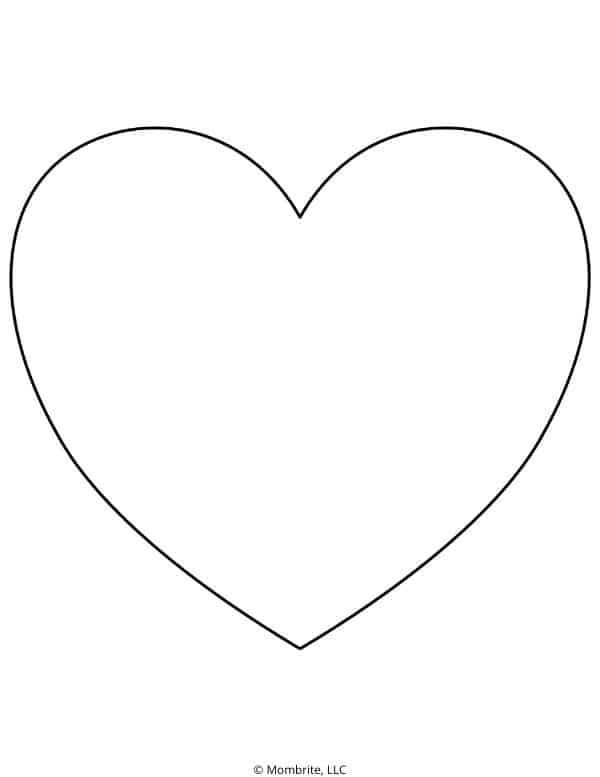 Three Heart Template
This three heart template is perfect if you want a medium-sized heart template for your project.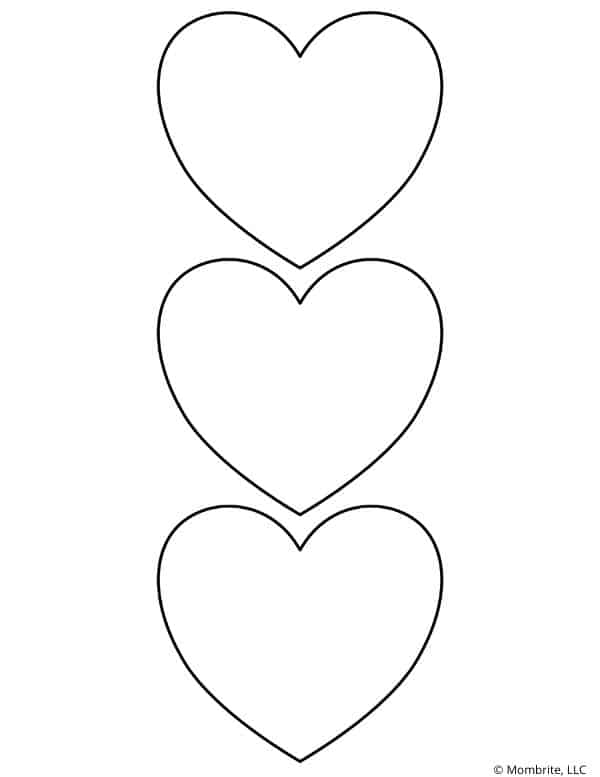 Small Hearts Template
These small and cute heart shapes can be used for projects where you need a bunch of little hearts at a time. An example would be the 3D heart flower card, where you use multiple small heart cutouts to make the flower petals.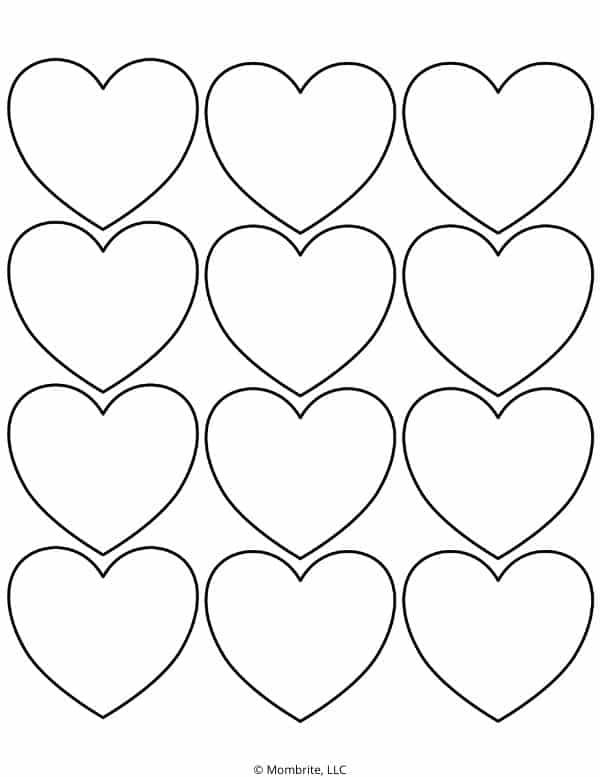 Printable Small Red Hearts
A small red heart template can be used for Valentine's Day crafts and activities. As these hearts are already colored, you just need to print them out with a colored printer, cut them out, and they are ready to go. You can use them for wall decoration or Valentine's Day or Mother's Day cards and crafts.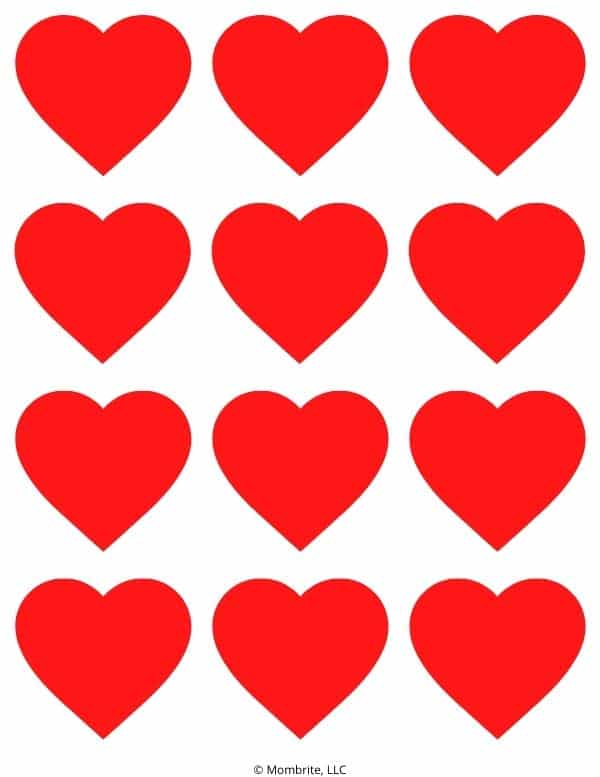 Cupid Arrow Heart Template
This Cupid arrow through two hearts template is the perfect Valentine heart template for that special someone in your life. Your kids can also use it as a coloring page while learning the story of Cupid. A fun art idea would be to draw what your child thinks Cupid looks like!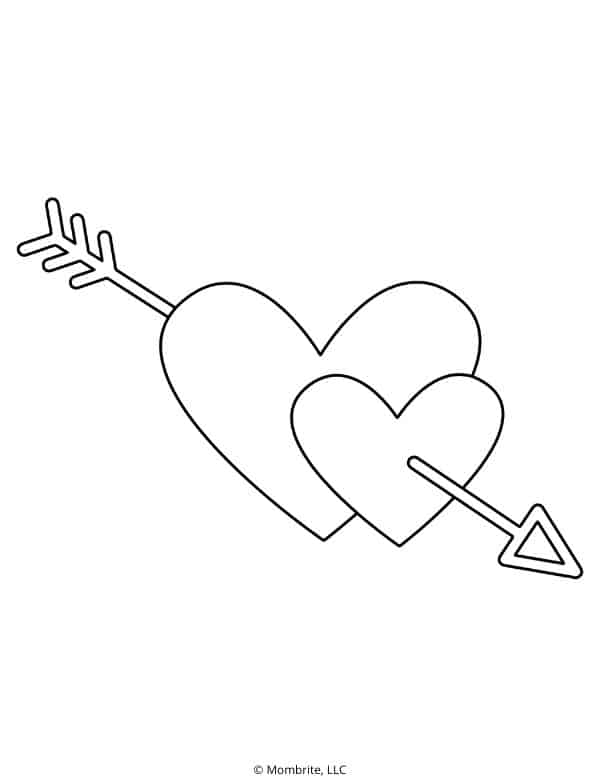 Inset Double Heart Template
These two hearts are connected as if they are holding hands. You can use it to show love and affection between two adults, or parent and child.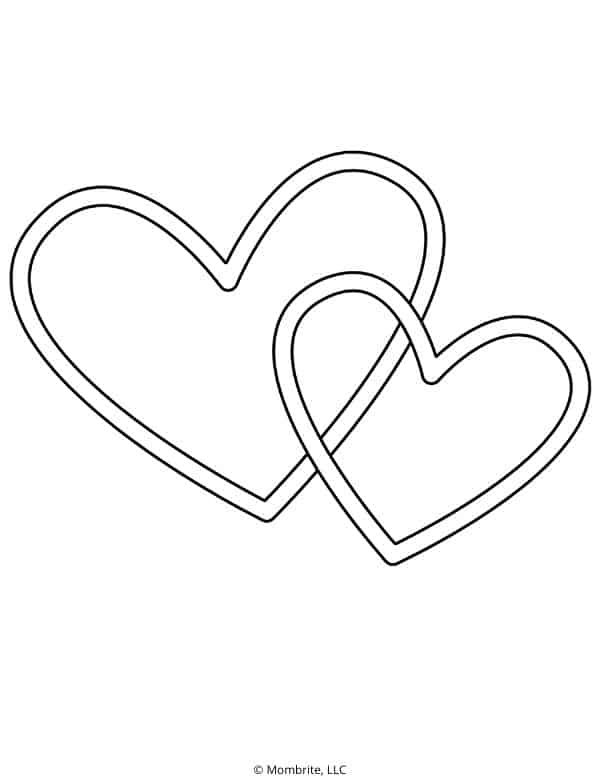 Curved Heart Shape Template
Sometimes perfectly symmetrical hearts are too boring for your DIY project. Here are several curved heart shapes to choose from. Pick one that matches your personality!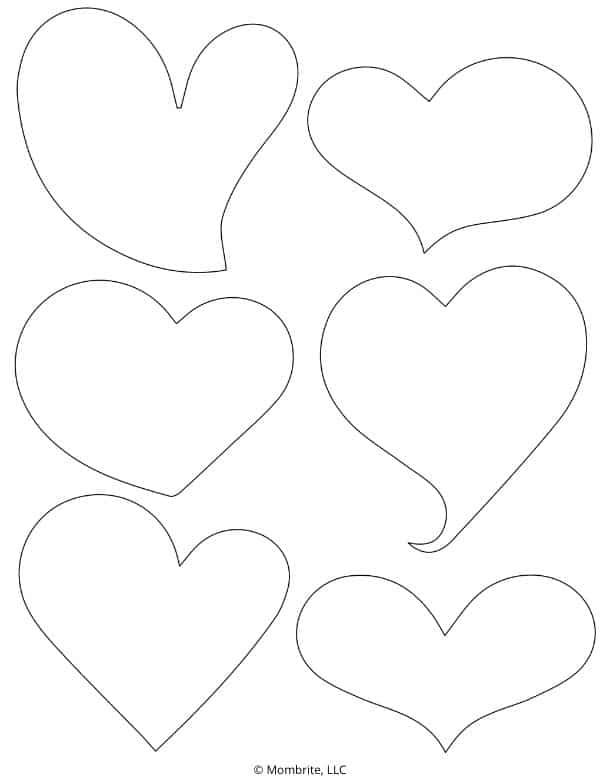 Broken Heart Template
This broken heart template printable can be used in multiple ways. You can cut out the shape and hand one half to your best friend. When you put the two pieces together, they make one complete heart.
However, you can also use it to demonstrate your sadness and your broken heart. To show your loved one that you are sorry, you can use this broken heart template in crafting an apology card.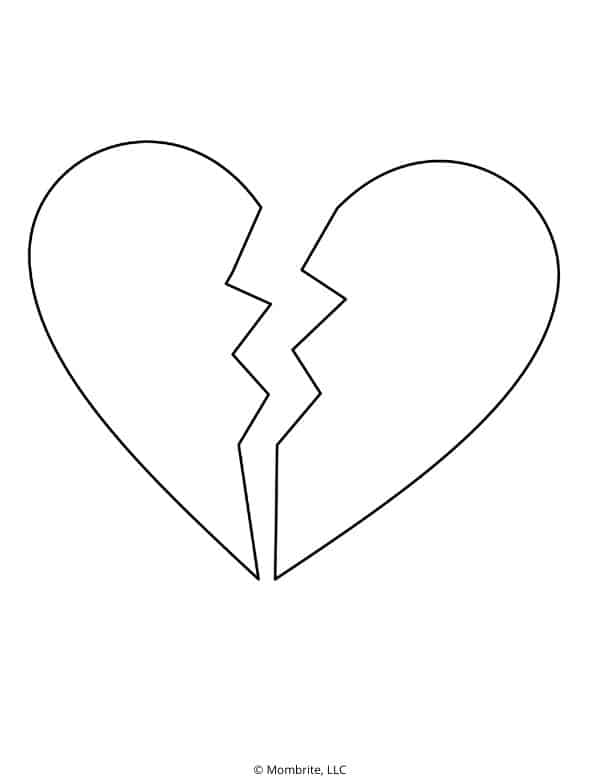 Heart Template for Writing
My daughter loves to write to her penpal, but she needs lines to keep her sentences from falling off the page. This heart template with lines for writing is great for letters and notes to loved ones. Simply cut out the heart after you finish writing and give the sweet note to friends and family!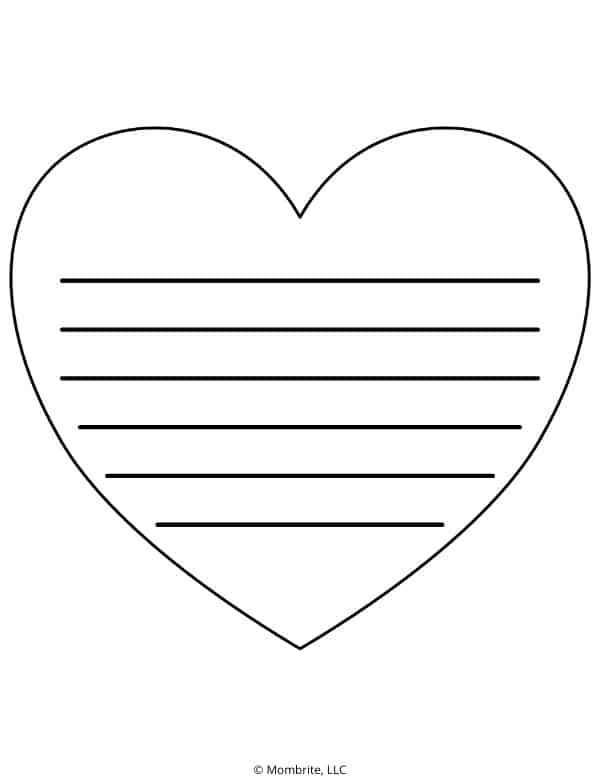 Half Heart Template
Sometimes it's easier to fold a piece of paper in half and cut out half of the heart so that when you unfold the paper, you have a perfectly symmetrical heart. Your preschoolers and kindergarteners will love this easy paper cutting method to create their hearts.
You can also use this template by asking your child to complete the other half of the heart. It's a fun way to learn symmetry.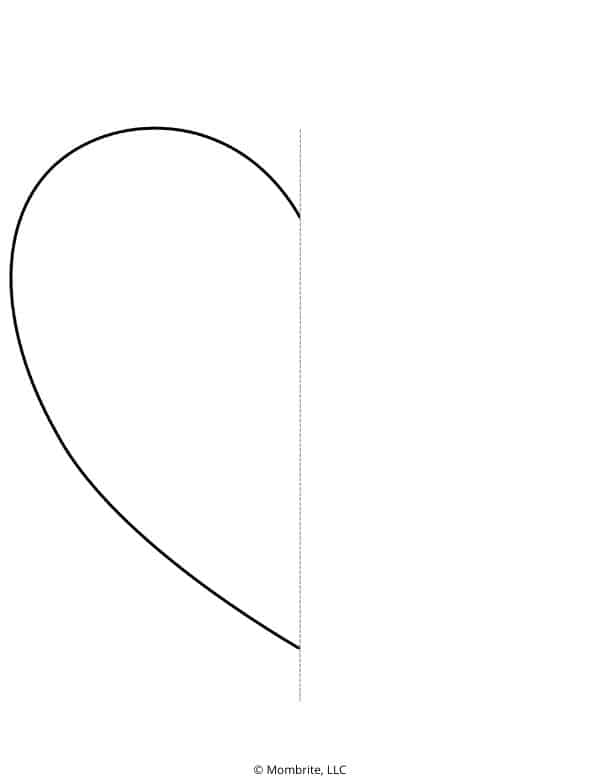 Printable Heart Coloring Pages
Make your kid's imagination come alive with these free printable heart coloring pages. These coloring pages are free to download for you and your kid. Print as many you need and let your kid's creativity explode on paper.
Raining Heart Coloring Page
Rainy days don't have to be gloomy! This raining heart coloring sheet is great for kids who love the rain and jumping in puddles.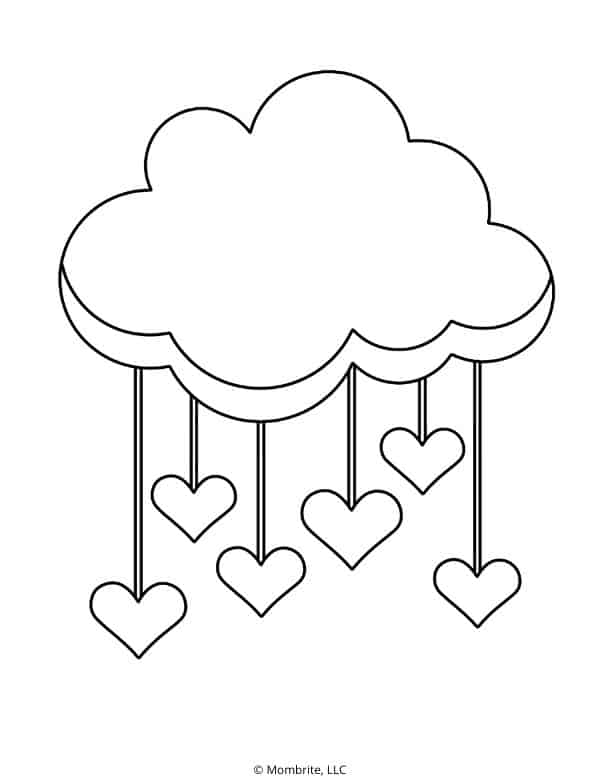 Cupcake with Heart Sprinkles Coloring Page
Kids love cupcakes, and this one with heart sprinkles is perfect for Valentine's Day. After coloring the cupcake, your kid can give the coloring sheet to his or her best friend.
Fun Heart Crafts and Activities for Kids
Whether it's for a Valentine's Day party, a themed birthday party, or an afternoon of fun and games, these activities are great for kids of all ages.
Heart crafts and games are typically enjoyed around Valentine's Day, but any of these low-budget activities can be adapted to suit groups of any size, making them great activities to do at parties and in classrooms.
Valentine's Day can be a great occasion for kids to show their creativity and have some good old-fashioned fun. Beyond the traditional homemade Valentine's cards, kids can use hearts to make crafts and to play simple games. Start by showing kids how to cut out an easy, symmetrical heart from construction paper, and let the fun begin!
Heart Crafts
Q-Tip Painted Heart Art
This craft is very easy for children to do with minimal supervision and would be a great activity to do at a party. All you need is Q-tips or cotton swabs, acrylic paint, and a heart template of your choosing. With younger kids, I recommend printing out the large heart template, as that gives the kids more room to paint.
You can check out a helpful tutorial on Q-tip painted heart art here.
Heart Animals
Help your children cut out a handful of hearts using the medium heart and small heart template. Give the paper hearts to your kids and ask them to create animals out of the heart.
For example, for a heart mouse craft, they can use two small hearts as the ears and a medium heart as the head. They can even cut out even smaller hearts to use as the inner ears. Then just glue the pieces together to assemble the heart mouse. Use a black marker to draw the eyes, nose, and whiskers on the mouse.
For Valentine's Day, they can even use these animal crafts as valentines for their friends. Encourage your kids to write a message on the back of the craft or the body of the heart animal.
Heart Bookmarks
Cut a rectangular piece out of cardstock. Have your children arrange small hearts on the cardstock and glue them in place. Now you have a simple but sweet bookmark that they can use while reading their favorite books.
If you want even smaller hearts than the small heart template provided, type in a value less than 100 in the "scale" box under printing options. You can shrink the hearts to whatever size is needed.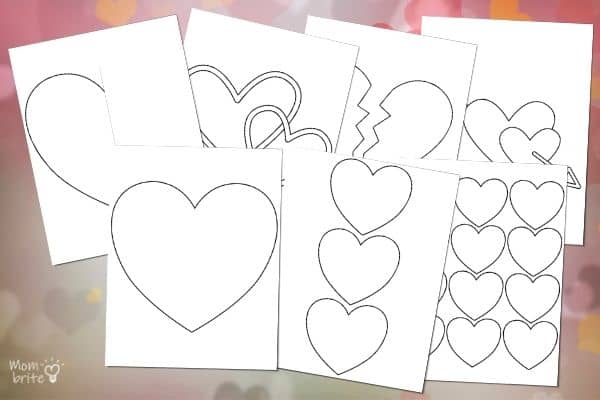 Heart Games
Flying Hearts
Cut out three dozen hearts about the size of a child's hand from pink and red paper. You can do this easily by printing the medium heart template on the colored paper. Place all the hearts into the center of a light blanket or sheet and ask the group of children to hold onto all sides of the blanket.
Gently toss the hearts up and down, moving the blanket in a parachute motion. When "Hearts High!" is shouted, the children toss the blanket into the air, making the hearts fly. The child who picks up the most hearts wins the game.
Broken Heart Puzzles
Give the children a variety of sizes of hearts cut out of the same colored paper. Ask them to cut the hearts in half in straight lines, zig-zags, waves, or jagged lines. Put all the heart pieces into a container and shake them up. Have the children fix the hearts by matching the two halves of each heart back together again.
For a learning challenge, write numbers on one half of the heart and write the corresponding number word on the other half before cutting. The children then have to match both the cutting pattern and the two forms of numbers.
How to Download the Printable Heart Templates and Coloring Pages
To download the free printable heart templates and coloring pages, simply fill out the form below. All the templates displayed above will be emailed to you in one PDF file.
I hope your kid not only enjoy all the crafts and activities made possible by the heart templates but also the cute heart-themed coloring pages. If you have any particular heart shape you need for a craft, feel free to reach out to me. I will do my best to create it for you!
---
Related Post