This post may contain affiliate links. That means if you click and buy, I may receive a small commission (at zero cost to you). Please see my full disclosure policy for details.
This sweet Valentine's Day handprint craft is so fun for your toddler or preschooler to make. They will love coloring the fingerprint heart by pressing their fingers on the colorful stamp pads.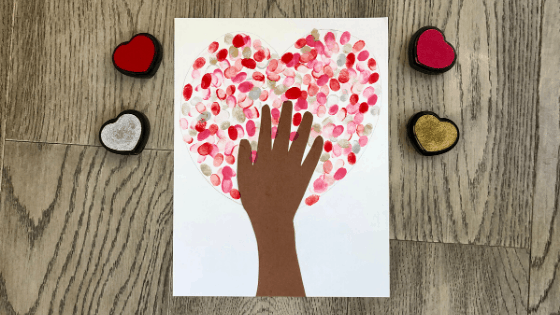 There are handprint crafts. There are fingerprint artworks. Both are great for keepsakes because you capture how little your kids are when they are young.
So why not create an artwork that includes both a handprint and fingerprints?
I like to call this craft "Hand on Heart Tree" because it looks like your child is placing his or her hand on your heart. Needless to say, this craft is perfect for Valentine's Day!
How to Make the Hand on Heart Tree
Materials:
White cardstock paper
Brown construction paper
Ink pads
Glue stick
Pencil
Scissors
Eraser
Directions:
1. Place your kid's hand on the brown construction paper and trace his or her hand and half of his or her upper arm. You want to include the arm because it will be the tree trunk while the fingers are the branches.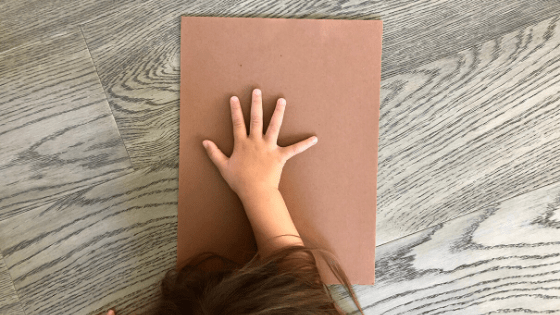 2. Use the scissors to cut out the traced hand and arm.
3. Glue the hand-shaped construction paper on the white cardstock paper.
4. Use the pencil to LIGHTLY draw a heart around the construction paper in the shape of a heart. *TIP: You want to try and draw as lightly as possible so you can erase the outline of the heart later.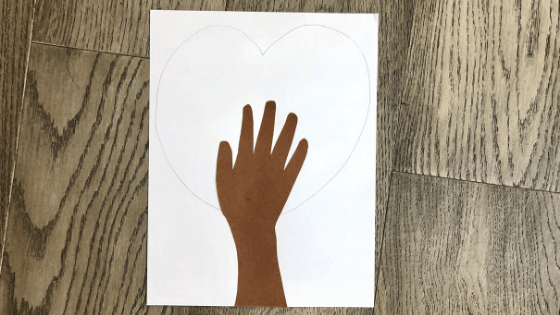 5. Have your child press her index finger on the ink pad and stamp the tip of her finger on the cardstock paper inside the heart outline.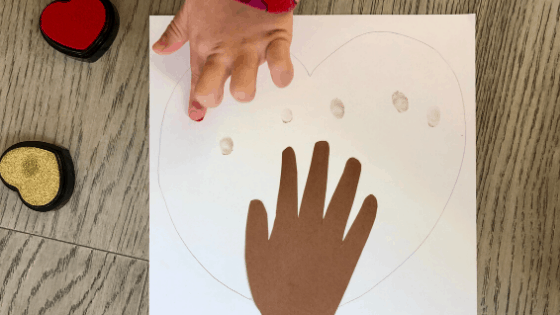 If you have multiple stamp pads, try making fingerprints with different colors.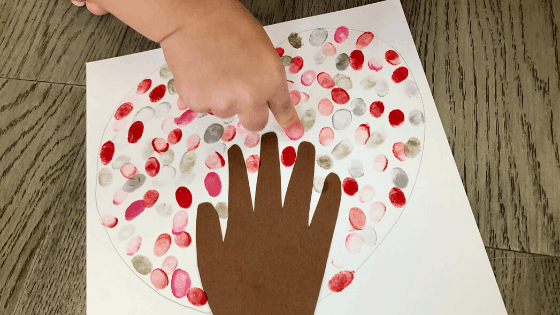 6. Continue until the heart is filled with your child's fingerprints.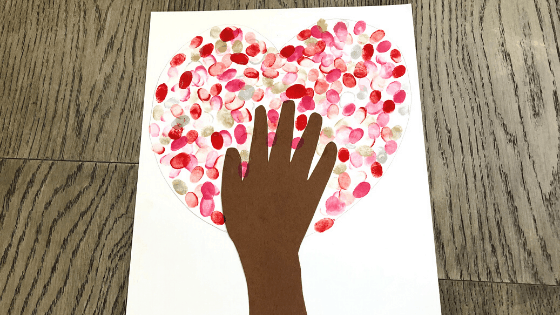 7. Erase the outline of the heart with an eraser.
8. (Optional) Write your child's name and date on the paper.
Final Thoughts on the Handprint Heart Tree
There are several options for this craft. You can:
Draw your child's hand right on the cardstock paper and paint it brown instead of using construction paper. I would only recommend this for older kids since painting with a brush might get messy with younger kids.
You don't have to draw the heart. You can let your kid freestyle and let them create the "leaves" of the tree in whatever shape he or she wants.
Depending on the occasion or holiday, you can vary the colors of the ink pad. For example, you can use orange, red, and yellow ink pads for an autumn tree.
I hope you and your kid had lots of fun with this art! For more painting ideas and Valentine's Day crafts, check out: