Create the perfect love-themed snack for your child with this Valentine's Day Naan Bread Pizza! It's easy to make for kids of all ages and they will enjoy eating their own creations afterward.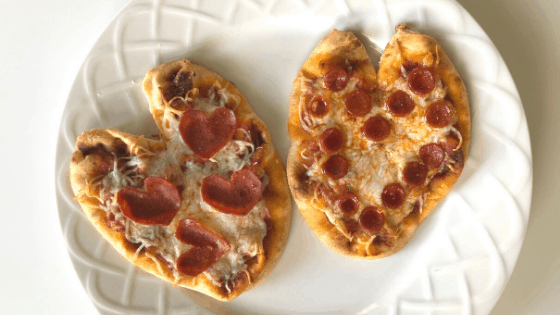 Not all Valentine's Day food has to be sweet (well, in the taste bud sense anyway).
Today, we are making Valentine's Day naan bread pizza. We have been making naan bread pizzas for a long time now. They are so quick and straightforward to make that they have become my backup recipe for times when we are short on time.
To make the naan bread pizza for Valentine's Day, all you need is some knife skills to cut the ingredients into heart shapes. It's simple, but the kids definitely get a kick out of it!
How to Make Naan Bread Pizza for Valentine's Day
Ingredients:
1 package of naan bread (we used mini ones, but you can use the regular sized ones as well)
1 jar of pizza sauce
1 package of shredded mozzarella cheese
1 package of pepperoni (we used the pepperoni minis and the regular pepperonis just for fun, but you only need one type)
Knife
Baking sheet
Baking mat (optional)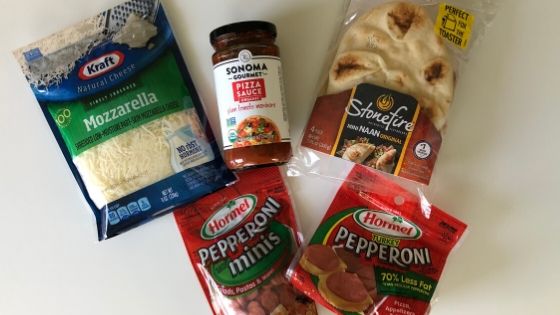 Directions:
1. Heat the oven to 350 degrees.
2. Use a knife and cut a triangle at the top center of the naan bread. This will make the naan bread into a heart. Feel free to trim as necessary.
3. Use the knife and cut hearts out of the pepperoni slices if you are using the regular-sized pepperonis. You can also use heart-shaped cookie cutters, but we didn't have one small enough.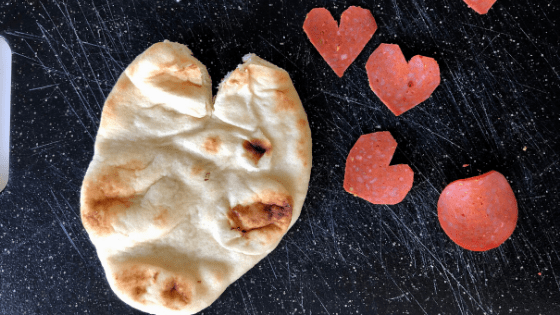 4. Spread pizza sauce on the bread.
5. Sprinkle with cheese.
6. Place the pepperonis on top. For the pepperoni minis, we followed the shape of the naan bread and formed a heart.
7. Place the baking mat (if using) on top of the baking sheet. Put the pizza on top of the baking mat or baking sheet.
8. Bake in the preheated oven until the cheese is melted, about 5-8 minutes.
9. Enjoy with your kids!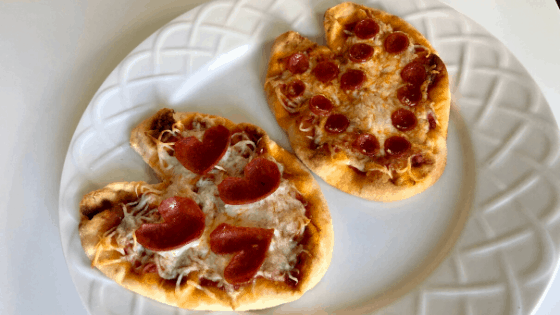 Final Thoughts on Valentine's Day Naan Bread Pizza
Naan bread pizzas, in general, are a lifesaver for days when you are too tired or don't have the time to make dinner. They are easy and delicious, and you can even make it with your kids.
For more ideas to celebrate Valentine's Day, check out these posts: