A mess-free activity that your preschooler will enjoy does exist! Try this painting with balls heart art project for different holidays, or even just on a rainy day!
This post contains affiliate links. Please see my full disclosure policy for details.
Does the thought of doing art projects at home with your kid scare you? I completely understand. Somehow, the paint gets EVERYWHERE, including the wall, the furniture, and even the dog.
So when I first learned about how your little ones can paint with balls in a box as one of the many fun projects included in our Kiwi Crate, I was super excited! If you have an artist like my daughter, you will love to see her create and play with paint without worrying about cleaning up afterward.
With Valentine's Day coming up, we decide to paint on a heart. And if you place the heart on a piece of rectangular paper, you get two pieces of artwork: a painted heart, and painting with paint all around a heart.
Let me show you how we did it!
How to Paint with Balls in a Box
Materials:
Directions:
Fold a piece of construction paper in half.
Draw a half-heart shape along the folded edge of the paper.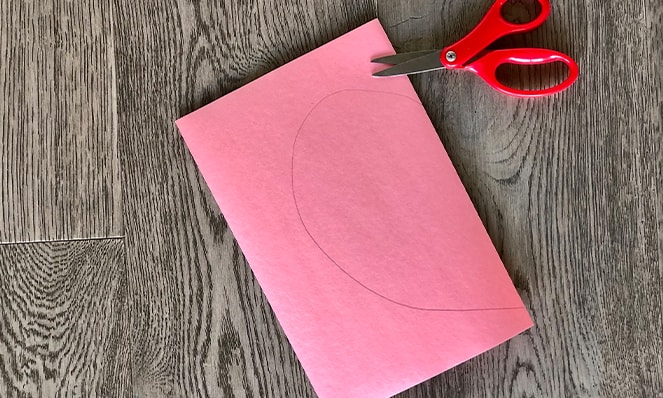 Cut the heart out.
Use painter's tape to secure the heart on another piece of construction paper.
Use painter's tape to secure the construction papers on a baking pan.
Squeeze some paint either directly onto the paper or to the side of the paper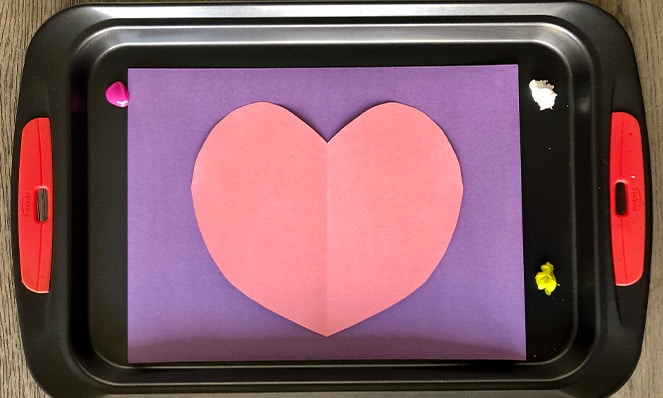 Add ball(s) to the pan and roll the ball(s) around until your kid is satisfied with his or her beautiful work of art.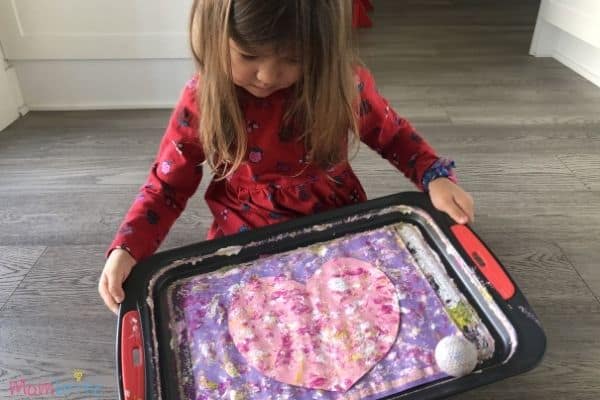 Let the paint dry and carefully remove the construction papers from the baking pan.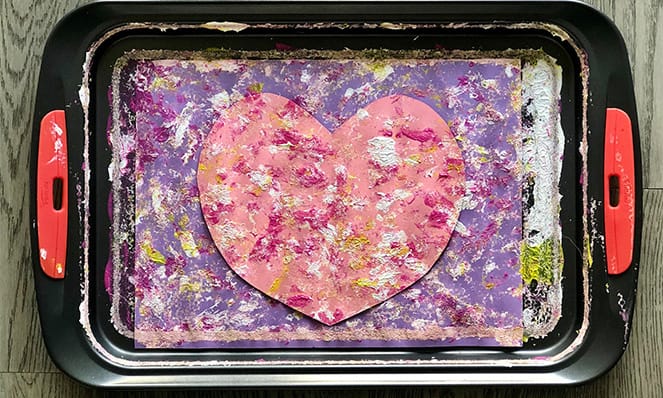 Gently remove the heart.
Display the artwork any way you like!
Variations of Heart Painting with Balls
There are many ways you can experiment and be creative with this project. For example, you can try different types of balls. Some fun ideas include:
Ping pong balls
Whiffle balls
Bouncy balls
Styrofoam balls
Pom-poms
Wooden balls
Water beads
Koosh balls
As for the baking pan, I used a cookie sheet because I want to have my kid practice her fine motor skills. The golf ball we used did roll off the cookie sheet three times during the painting process, and mommy had to chase after the ball before it left a trail of paint on the floor. However, she gained a lot more control over the cookie sheet and the ball as she continued to paint. Success!
You can certainly use a deeper baking pan like a cake pan or casserole dish if you have a younger kid or don't want to run the risk of paint coloring your floor. You can always use a cardboard box. If you are like me, I am never short of cardboard boxes, thanks to plenty of Amazon Prime deliveries. 😝
The other way you can paint is to squeeze the different colored paints into muffin tins or other small containers. Then you can dip the balls in the paint before dropping them into the box.
Final Thoughts on the Heart Painting Art
Since this activity is so easy to set up and clean up, you can always try different shapes and/or colors for various holidays. For example, you can do red, blue, and white for July 4th on a rectangular piece of paper. You can do red and green on a paper shaped like a Christmas ornament.
Have lots of fun! Maybe you can even get a sip of coffee in while your kid is rolling the balls around. Ah, life of a mom.