This post may contain affiliate links. That means if you click and buy, I may receive a small commission (at zero cost to you). Please see my full disclosure policy for details.
Gumball machine ornaments are one of our favorite things to hang up on the Christmas tree. They just bring back such good memories of being a kid, and the excitement of putting in a quarter and guessing which color gumball you would end up getting.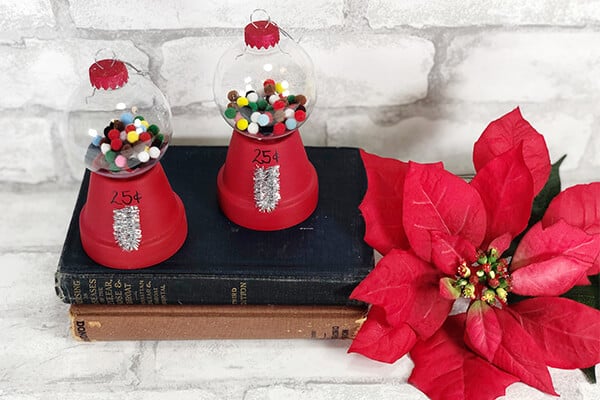 This DIY dollar store gumball machine ornament craft is a great Christmas craft to do with your kids. Not only is it afforable because you can grab most of what you need from Dollar Tree, but you also probably have a lot of the materials at home already.
If you are on a tight Christmas budget, this homemade gumball machine ornament is the perfect hostess, teacher, or neighbor gift for this holiday season.
How to Make the Gumball Machine Ornament
Materials:
Clay flowerpots, 2 ½" (three for a dollar at Dollar Tree)
Plastic ornaments (two for a dollar at Dollar Tree)
Chenille stems, silver tinsel
Mini pom-poms, assorted colors
Red acrylic craft paint
Paintbrush
Permanent marker, black
Glue gun and glue sticks (low temp)
Scissors
Ruler
Pencil
Instructions:
1. Gather all supplies. Remove the metal cap from the plastic ornament. Paint clay pot and metal cap with red acrylic craft paint. Apply a second coat, if necessary, and then set aside to dry.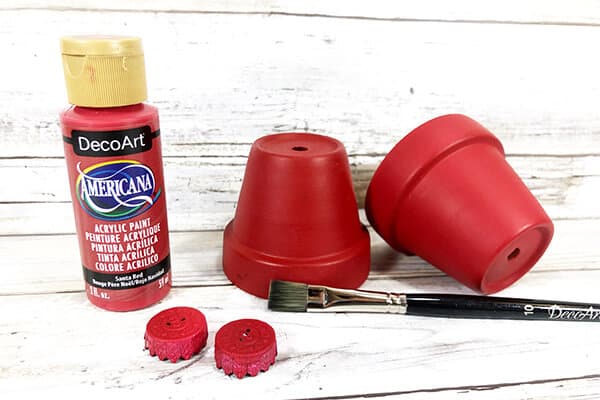 2. Fill the plastic ornament with mini pom-poms in assorted colors to represent the gumballs. Let your kids pick out the colors they want to include, or just let them dump a whole bunch in the ornament!
3. Place the metal cap back onto the plastic ornament. Attach filled plastic ornament onto the bottom of the painted clay flowerpot base with a low temp glue gun and glue sticks. Note: Since the ornament is plastic a low temp glue gun works best.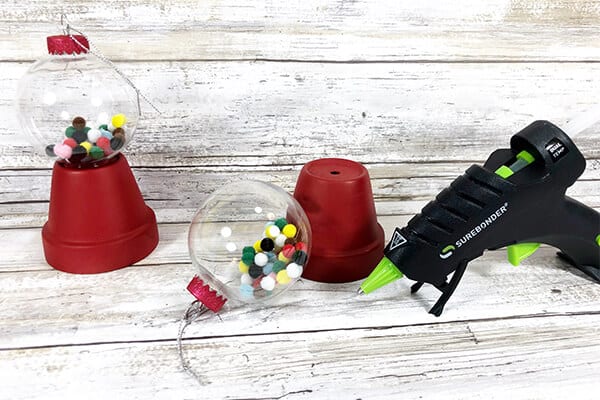 4. Measure a two-inch length of silver tinsel chenille stem and cut with scissors. Fold in half and attach to the front of the gumball machine base with a glue gun and glue sticks.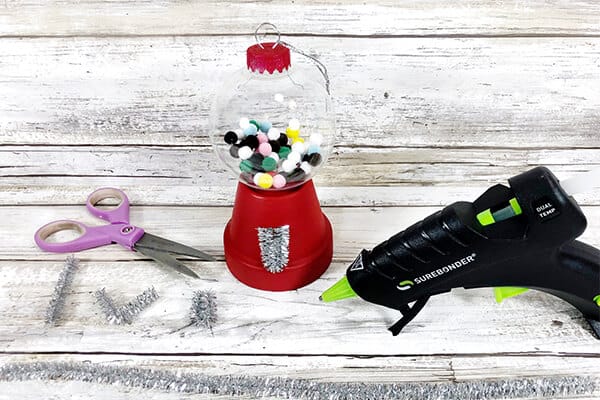 5. To finish, write 25₵ above the silver tinsel chenille stem with a black permanent marker. You can use the cord hanger that comes with the plastic ornament or add a skinny ribbon hanger of your choice.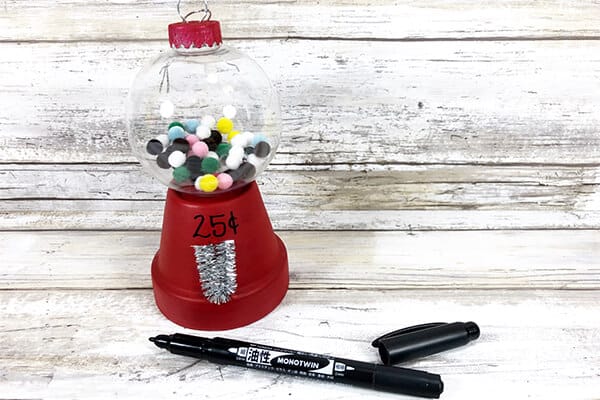 You can change up the pom-poms and paint colors to create a custom ornament to share with family. This DIY gumball ornament is an awesome craft project to do with your kids during the holidays.
If you prefer to not use the clay flower cups, you can always switch them out with mini red solo cups. This may be a good option if you are working with younger kids. The mini solo cups are a lot lighter and easier for the kids to handle. Plus, you won't get a heart attack every time they drop the cups!
---
FOR MORE CHRISTMAS ORNAMENTS, CHECK OUT: