A great LEGO table can help organize all the LEGO blocks and get them off the floor. Here are the 11 best LEGO tables that both you and your kids will love.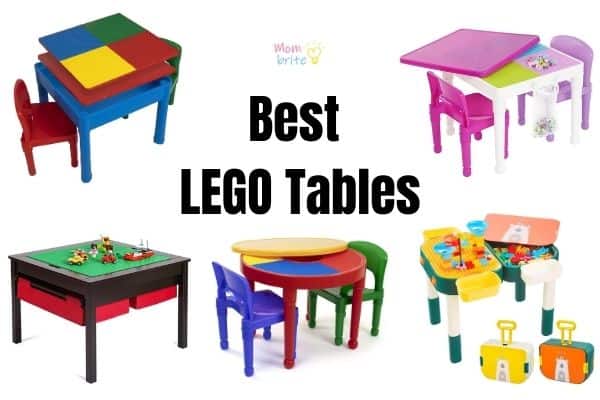 If your young ones love nothing more than to get creative with their building blocks, you'll no doubt appreciate what a big difference the best LEGO tables can make to their play space.
Kids love the building block surfaces that these tables offer, meaning they can build their creations right into the surface, not to mention the included block buckets that help them to organize and easily access their favorite blocks.
Meanwhile, moms and dads love the fact that most LEGO tables have storage spaces that help keep all their blocks in one space, meaning you rarely have to worry about stepping on a rogue LEGO that somehow got scattered halfway across the room.
So yes, they're a great idea, but with a whole host of LEGO tables available in just about every shape and size imaginable, knowing which one to buy for your budding builders isn't always an easy decision to make.
That's why we tried out scores of the year's best-selling tables, whittling them down to the top 11 picks you'll find below.
11 Best LEGO Tables
1. UTEX 2-in-1 Kids Construction Play Table
With its solid, real-wood construction and remarkably high build quality, the UTEX 2-in-1 Kids Construction Play Table is a highly durable LEGO table that's built to last.
The stylish look of the wood also adds a certain aesthetic appeal, and you can pick between three different color combinations. That means this play table will make an attractive addition to their playroom.
As far as the LEGO-building capabilities, this LEGO table is compatible with both LEGO Duplo and regular-sized LEGO blocks. It has two large drawers for all of their blocks and a large 25.6″ x 25.6″ brick board playing surface that works with their favorite LEGO sets.
When your kids are done building, the tabletop can be flipped over to make an ideal desk for STEM projects, arts and crafts, and more.
2. Humble Crew 2-in-1 Activity Table
If there's one thing we love most about the Humble Crew 2-in-1 Activity Table it's all the brilliant, bright colors.
The circular 23″ x 23″ tabletop is portioned off into four equal sections of different colors, all of which can be used with LEGO and DUPLO blocks.
The colors don't just make this a fun activity table that kids will love spending their time at, but it also encourages group-play, with each section offering plenty of space for up to four kids to play at.
Unfortunately, it only comes with two chairs, so if you are going to have four little ones sitting around it then you'll either need to find more seats or encourage them to stand.
Either way, you'll find this LEGO table a breeze to assemble, with a lightweight design that makes it easy to pick up and pack away once playtime is over.
3. Kids Activity & Building Blocks Table
We'll admit it, this one is a bit of a stretch as the Kids Activity & Building Blocks Table from CIRO isn't actually compatible with classic LEGO bricks.
Instead, it's designed for the larger DUPLO bricks that are often better suited for younger brick builders.
Still, since DUPLO is a LEGO brand, we decided it's technically allowed in this guide. Besides, it has so much to offer that we'd be doing you a disservice if we didn't bring it to your attention.
The best LEGO table for toddlers, the Kids Activity & Building Blocks Table boasts a fairly large 23″ x 23″ tabletop surface, giving them plenty of room to play and create. The set also comes with four brick buckets, internal storage, and even 60 building blocks to play with.
The best part? It folds away on itself and can be easily stored when out of use, meaning you don't have to worry about this one taking up too much room in their play area.
4. YouHi Kids Activity Table
While the last option may be a better fit for tots, if you're looking for the best LEGO table for older children then you may be better off with the YouHi Kids Activity Table.
Another solid-wood option, this one is so well made and well designed that it could easily double up as your living room coffee table if your children ever grow out of their LEGO phase.
Until then, there's a large 33″ x 17.25″ LEGO-compatible playing surface for them to enjoy creating their favorite builds, although they might need mom or dad's help to lift off the heavy table lid first.
Elsewhere, the bottom storage shelf can be an excellent place to store their brick buckets or other toys, making this LEGO activity table a top choice for small rooms where space is at a premium.
5. Play Platoon Kids Activity Table Set
Like the Humble Crew option we looked at earlier, the Play Platoon Kids Activity Table Set splits the brick-building table surface into four equal parts of different colors, making this a great option for group-based LEGO STEM activities.
The big difference is that this 5 in 1 activity table set is squared rather than rounded, giving us a 20″ x 20″ surface to ensure that they've got all the space they need to let their imaginations run wild.
We also love that along with the standard building block surface and regular arts and crafts tabletop, this one can also be converted into a table for sensory play, and we all know how beneficial that can be for our children's development.
6. Kidkraft 2-in-1 Activity Table
Didn't we tell you that the best LEGO tables come in all shapes and sizes?
Measuring 28.5″ x 23.5″ x 3.25″, this Kidkraft 2-in-1 Activity Table may not be the tallest table around, but its perfectly pint-sized height makes it a great choice for small children while the wide surface area gives them lots of room to build.
The table can be easily flipped over and used with the full 30-piece train set which comes as a nice little bonus. The set also comes with 200 LEGO-compatible blocks. Please note that the plates on the table as well as the blocks are not official LEGO products, and users have reported compatibility issues with brand-name LEGO blocks.
7. Humble Crew Kids 2-in-1 Activity Table Set
If you're looking for the best table for girls who love to build with LEGO, then you really have to take a look at this one.
The Humble Crew Kids 2-in-1 Activity Table Set includes many of the features that made other tables on this list such as bestsellers, including an easy snap-together assembly process that belies the sturdiness and durability of the table.
It's different than the Humble Crew Kids table mentioned above because it is square instead of round. It also includes two chairs and two brick bags on either side of the table, making it easy to keep all of their LEGO bricks together so that they don't end up all over the floor.
All that aside, the real selling point of this LEGO table is the adorable pink, purple, and white design that your little LEGO-building Princess is sure to love.
8. GobiDex 7 in 1 Multi Kids Activity Table Set
Again, we're cheating ever-so-slightly with this one by extending the definition of a LEGO table to include those that are compatible with DUPLO building blocks. This one comes with such a special design that it has earned its worth on this list of the best LEGO tables for kids.
The GobiDex 7 in 1 Multi Kids Activity Table Set features a sizable 20.8″ x 20.8″ playing surface, with the DUPLO building block tabletop divided into four colors.
And if they're not in the mood for DUPLO? The 5-in-1 setup means the table can be quickly converted for sand play, water activities, learning, or arts and crafts.
All that aside, the highlight for us is the fact that this learning table can extend from 16.53″ in height to 19.2″ inches, meaning your little ones will still be able to play comfortably even as they grow.
9. PlayBuild Kids 4-in-1 Play & Build Table Set
The PlayBuild Kids 4-in-1 Play & Build Table Set is an ideal table for creative kids who love to learn, create, and explore.
The large surface area with brick boards is divided into four sections, two of which are compatible with DUPLO blocks and two with classic LEGO bricks. This makes this LEGO table a great choice if you have block-builders of different ages in your family, or if you think your little DUPLO creator may eventually graduate to big-kid LEGO.
The tabletop surface can easily slide away to reveal a deep tray-like table which can either be used to store their building blocks or filled with water or sand for all kinds of fun learning activities.
10. Milliard Kids 3-in-1 Play Table and Chair Set
With a lot of storage in a small profile, the Milliard Kids 3-in-1 Play Table and Chair Set offer a variety of play options. The tabletop piece has a plain side for snack time and homework time, a train side for your Thomas the Train fans, and of course, a LEGO side that is compatible with regular-sized LEGO and Duplo blocks.
The table is made out of quality composite wood with a two-tone scratch-resistant finish that is built to last. As someone who struggles to organize all the LEGO blocks in my house, the sectioned baskets are wonderful to sort the different LEGO pieces.
Assembly may be difficult due to hard-to-follow instructions in the manual. But once the table and chair set is put together, your kids can enjoy it for years.
11. El Toro Creative Large Foldable Building Block Table
If your family travels a lot, this El Toro foldable table may be just what you need to keep the kids busy in the car. The legs that fold underneath the tabletop and the two handles on two sides make moving and storing the table a breeze.
The table comes with two canvas bags with metal zippers that hold extra LEGO blocks for convenient storage. There is also a clip that holds the instruction booklet vertically in front of you so that you can refer to it easily.
The normal size of the El Toro table is 22″ x 22″ x 9″, but you can also purchase the small size that measures 22″ x 12″ x 9″. For younger kids, there is also the Duplo sized option that has the same dimensions as the normal size table, but the grid surfaces are compatible with LEGO Duplo.
Buyer's Guide: What to Look For When Choosing the Best LEGO Table
Been through our top 11 picks and still can't decide which is the best LEGO table to buy for your children? The following key pointers may help to make a fully informed purchasing decision.
LEGO and/or DUPLO
While most building block tables are compatible with the classic LEGO bricks we all know and love, some only support the larger DUPLO building blocks.
As such, it's important to check that the table you're thinking of buying is compatible with the kind of building bricks your kids love playing with.
Play Surface Area
We've referenced the size of the tabletop surface area multiple times in this guide simply because we consider it to be such an important factor. After all, the larger the play surface, the more room they have to let their imaginations run free.
Storage Space
As we mentioned in our introduction, the one thing parents tend to love most about LEGO tables is that they offer plenty of storage space to keep their bricks together when not in use. This means you're less likely to experience the agony of stepping on a brick that got dropped on the floor and, of course, helps you keep a tidy home.
Not all tables offer the same amount of storage space, so it's always worth checking if the one you're thinking of offers enough to house their LEGO collection.
Durability
Kids at play aren't exactly known for being delicate and gentle are they? So, although playing with LEGO isn't the most rambunctious of activities, it pays to look for a table that's solid, sturdy, and durable, ensuring it will continue to serve them well for a long time to come.
Multi-Purpose Options
If you're only concern is giving them something to play LEGO with, a 2-in-1 table that simply covers up the brick boards to function as a regular table for learning, or arts and crafts may be enough, though you may prefer one that can also be utilized for sand, water, and other sensory play activities.
Final Thought: Which is the Best LEGO Table to Buy
Though it's fair to say that any one of our top 11 picks would be a great choice for your child's playroom, the one you ultimately buy is likely to depend on some of the factors we just looked at in the above buyer's guide.
If your little ones are of an age where they're better suited to DUPLO than LEGO, then the Kids Activity & Building Blocks Table from CIRO not only comes with a large surface area and its own set of building blocks but can easily be folded away to save space when not in use.
If you're looking for the best multi-purpose table that can be used for lots of activities besides LEGO-building, the variety of options offered by the Play Platoon Kids Activity Table Set.
Yet if you're simply on the hunt for the best LEGO table money can buy, the premium quality construction, durability, and sizable playing surface make the UTEX 2-in-1 Kids Construction Play Table a clear winner.
---
Related Posts: