Need gift ideas for your little train lover? Here are 50+ awesome Thomas the Train gift ideas for birthdays and holidays!

This post contains affiliate links. Please see my full disclosure for details.
My son loves trains, and before the age of 5, trains are the only toys that can capture his attention for more than 5 minutes. And who is the best train of them all? THOMAS!
Thomas the Train, or the small locomotive with big aspirations, is not only #1 steam engine but also #1 in my son's wish-list. Over the years, we collected lots of Thomas-themed train sets, toys and accessories.
If you need Thomas the Train gift ideas for birthdays or holidays, I got you. Here are some of the best Thomas the Train gift ideas your kid will be sure to love.
1. Thomas & Friends Wooden Toy Train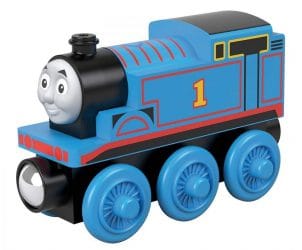 I call ours, "the toy that started it all." There were many trains before this one in my son's train collection, but ever since my son got this Thomas the Train wooden toy train, he wanted all things Thomas.
2. Thomas & Friends Wooden Racing Figure-8 Set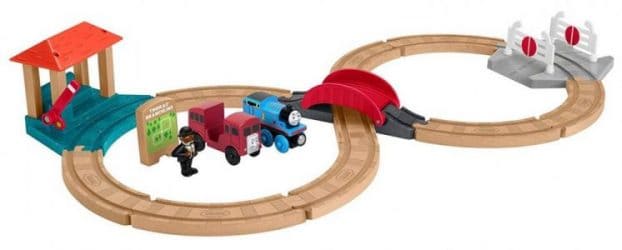 Can't have a wooden toy train without wooden tracks to go with it! This Wooden Racing Figure-8 Set includes Thomas, so you don't need to buy it separately!
3. Motorized Percy Engine


With the press of a button, motorized trains can go around the train track by itself. My son preferred these trains over the wooden ones after he reached about 2.5 years of age. We have many of Thomas's friends, including the motorized Percy engine.
4. Twisting Tornado Set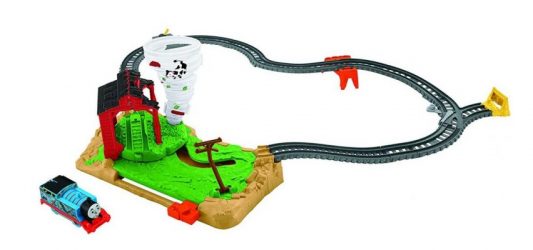 A tornado is on a path of destruction through the Island of Sodor, and it's chasing after Thomas! Your kids will love seeing Thomas take the ride of his life! The best part? This Twisting Tornado Set includes motorized Thomas!
5. Thomas & Friends MINIS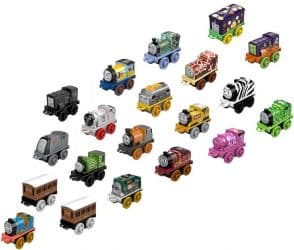 Thomas & Friends MINIS are the perfect travel toys for our little Thomas the Train fans!
6. Thomas & Friends MINIS, Motorized Raceway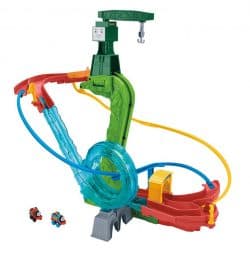 One of my son's friends have this MINIS motorized raceway, and my son asks to go to his house specifically to play with this toy. It's a roller coaster for the MINIS engines, so you get to see the MINIS climb up the vertical lift, speed down the tracks, and jump over the broken rail!
7. Thomas & Friends MINIS, Ahoy, Mateys! Pop-Up Playset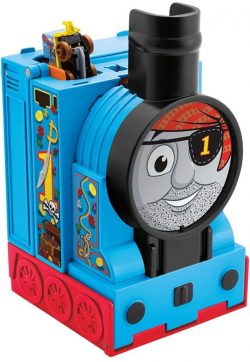 If you have a road trip or plane ride coming up with your toddlers, you need to get this Ahoy, Mateys! Pop-Up Playset. It's easy to fold and store, so it's perfect for taking on vacation with you and keeping your little one entertained.
8. Thomas & Friends Super Station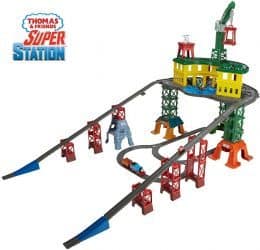 This Super Station is hands-down the best Thomas the Train toy because it is connectable to other sets! It comes with track adaptor pieces that allow you to connect to different types of tracks and playsets. Plus, the Super Station can hold over 100 engines and has multiple configurations so your kid will never get bored! It comes with Thomas & Friends TrackMaster Thomas, and his friends Thomas & Friends Adventures Percy, Thomas & Friends MINIS James, plastic Harold.
9. Thomas & Friends Sodor Adventures Mega Bloks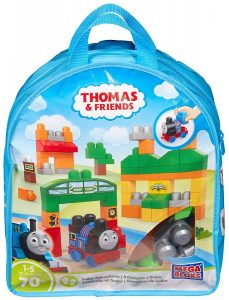 These large Mega Bloks are easy to hold for your toddler so even the littlest Thomas fans can visit the Island of Sodor!
10. Thomas & Friends Pop-Up Play Train Tent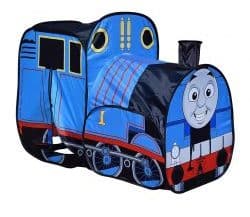 You and your kid can read, play hide-and-seek, and relax inside this pop-up play train tent.
11. Thomas & Friends Island of Sodor Playtable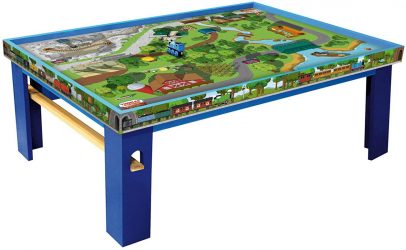 When you have a train-obsessed toddler, you need a train table for him to build his train tracks! This playtable features detailed illustrations of the Island of Sodor and racks on the side for storing the engines.
12. Thomas The Tank Engine Wood Puzzles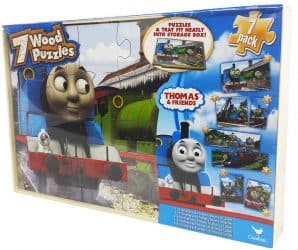 If your child loves puzzles, then this Thomas The Thank Engine wood puzzles set will occupy him for hours. It comes with seven puzzles, all made out of thick, high-quality cardboard.