Can you believe another year is almost over? Time sure passes fast when you are having fun!
Here's a free New Year's Eve scavenger hunt printable that will help keep your kids busy while waiting for the New Year's countdown. They will be tired from staying up past their normal bedtime, so it's important to have a fun activity to keep them entertained.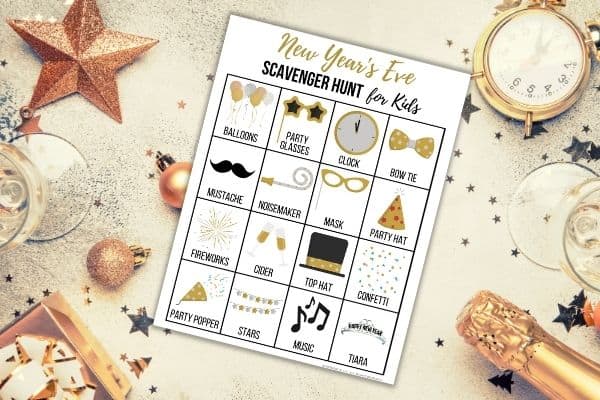 The nice thing about this scavenger hunt is that there are pictures of each item. So even your younger kids who can't read yet can participate without your help!
New Year's Even Scavenger Hunt for Kids Printable
My kids love scavenger hunts. We drove around for 2 hours doing the Christmas light scavenger hunt the week before Christmas, and they are itching for another one already. They love running around searching for all the things on the list and crossing them out.
The best thing about scavenger hunts is that they require zero prep, so you just need to print it out, grab a pencil, and you are good to go!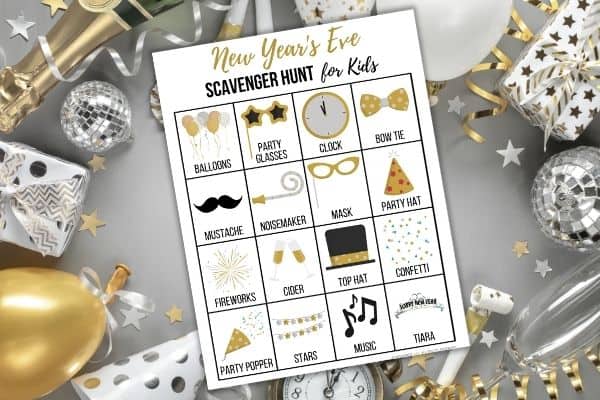 And if you don't have a noisemaker for New Year's Eve, make sure you check out how to make one here. Your kids will love decorating it and making lots of noise to bring in the new year!
---
YOU MAY LIKE: