This free printable Earth Day Scavenger Hunt is an exciting and engaging way to connect with your children and celebrate our beautiful Earth! This educational activity uses many of our senses and is great for kids of all ages.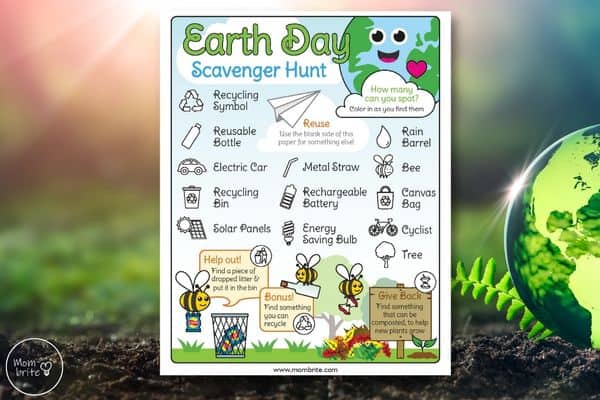 As the warm days of spring bring us closer to Earth Day, it's a great time to begin exploring and learning about how we can contribute towards preserving our planet. This can be done in an educational and fun way by taking your kids on an Earth Day outdoor scavenger hunt!
Exploring nature while looking for specific items not only shows your kids that you care deeply about the planet but helps them engage with their environment and appreciate its beauty even more.
With this easy and free Earth Day scavenger hunt printable, you will have everything you need to take your children outside for some quality mommy-and-me bonding time. This scavenger hunt can be easily adjusted to fit your needs for all abilities and children. Encourage the kids to add other things to the list to make the fun last longer!
This fun Earth Day activity also opens the door for lots of great conversations about many different topics on preserving our wonderful planet and its precious resources.
So don your hat and tie up those hiking boots – let's go find some cool Earth Day discoveries together!
What is Earth Day?
Earth Day is an annual event and nonprofit organization (https://www.earthday.org) dedicated to raising awareness about the importance of safeguarding the environment. There are often cleanups and educational events or demonstrations that are planned in celebration.
It began in the spring of 1970 when Senator Gaylord Nelson created Earth Day in hopes to build a larger environmental agenda. 20 million Americans demonstrated in different U.S. cities, and it worked! In December 1970, Congress authorized the creation of a new federal agency to tackle environmental issues, the U.S. Environmental Protection Agency. You can learn more about the history of the EPA here: https://www.epa.gov/history.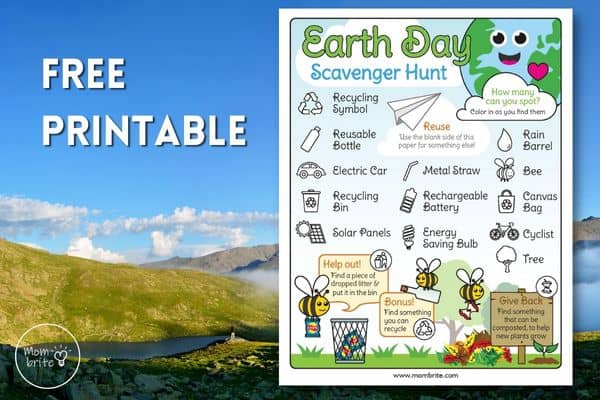 When is Earth Day?
Earth Day is celebrated annually on April 22nd as an opportunity to bring people together in appreciating and protecting our environment.
Earth Day Scavenger Hunt Ideas
In this free printable you will find an exciting Earth Day scavenger hunt pdf! Head outside with your children to find all of the items on the list (and you can add more things to it for an added challenge). Things like finding recycling symbols, different trash cans, solar panels, reusable products, energy-saving vehicles or bicycles, bees, trees, and more.
To begin, you just need a writing tool and the Earth Day scavenger hunt worksheet to keep track of what you see. You can set out on a walk or a drive around the neighborhood or go to a community park to hunt! If you live in a more secluded area, you can also hide items in your backyard and hold the scavenger hunt right in the comfort of your own home.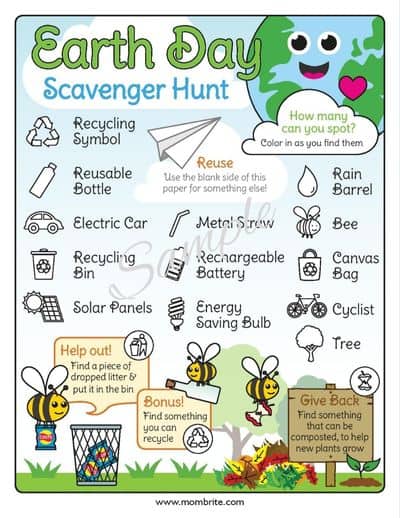 While on your scavenger hunt, you can also bring some garbage bags, gloves, and maybe even a trash picker tool. You and your children can help clean up as you go by finding trash and putting it in the appropriate cans or bags.
Picking up trash can even be a friendly competition among siblings! My kids enjoy competing against each other and what better way than a cleanup? Everyone wins!
Another fun thing to do would be to plant a new plant or tree together or work on a compost bin. You can also support our pollinators by planting a bee-friendly garden or building bee hotels. The activities can be endless! There are many more fun ideas listed here to celebrate spring in the garden as well, which can be directly tied to celebrating Earth Day.
Free Printable Earth Day Scavenger Hunt PDF
All in all, celebrating Earth Day can be a fun, engaging, and special experience. Today, Earth Day is widely recognized as the largest secular observance in the world.
You can make a positive difference in your community and for our planet by teaching your children the importance of caring about how our actions impact the earth. Whether it's what we eat, how we get around town, what materials we purchase, or what cleaning products we use, each decision we make has an impact. It is up to us to teach our children to make the right decisions to better protect our home and our planet.
Grab your free downloadable Earth Day scavenger hunt by clicking on the image below. Happy hunting!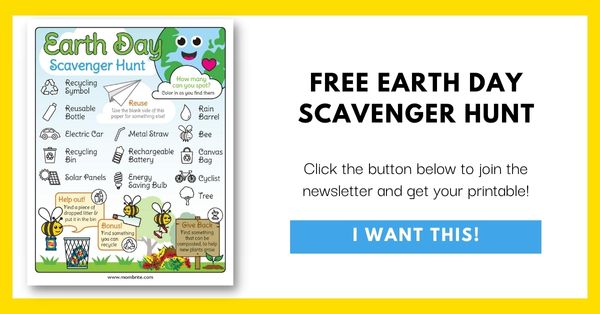 ---
YOU MAY LIKE: