The garden is a great place to learn about nature and spend time as a family. Here are fun gardening activities for kids that will keep them busy and happy!
Spring is in full force and summer weather is just starting to make its appearance. It's time to bring the fun outdoors and let your children learn all about how to grow pretty flowers and where their food comes from.
Whether you are growing a vegetable garden or sticking to potted plants, gardening with your kids provides many opportunities for you to teach your kids valuable lessons. Gardening allows them to take responsibility for the plants, create beautiful gardens with their imaginations, and learn the science behind the plants.
So grab your shovel and gardening tools and head out to your garden with your kids! Here are fun gardening activities for kids to get you started.
Garden Activities for Kids
Craft Garden Markers
Garden markers are useful when you have lots of different plants and need a way to identify them. Especially when you have plants that require different types of care, garden markers can make a big difference when it comes to keeping your plants alive. These are easy and fun craft projects for your kids and can be used in outdoor gardens as well as herb pots or flower gardens.
Garden Markers Spoons – You can purchase metal spoons for cheap at dollar stores or thrift stores. Simply paint and decorate them and stick them in the ground.
Popsicle Stick Garden Markers – If you have little ones at home, chances are you have popsicle sticks around somewhere in the house. Using just hot glue and popsicle sticks, you can make cute little signs that your kids can decorate with paint!
DIY Twig Garden Markers – These garden markers are as simple as it gets! All you need to do is explore nature and find some twigs to write on with a permanent marker. I bet your little ones wouldn't mind being responsible for this task!
Bead Garden Markers – Using alphabet letter beads is a great way to teach your little ones the alphabet. By threading the beads onto wires, this activity helps your kids practice their fine motor skills as well as teaching them how to spell different plant names.
Wooden Spoon Garden Markers – Simply buy some wooden spoons from a dollar store near you and let the kids paint the vegetables or fruits you want to plant on each spoon. If your kid knows how to write, you can even let him or her write the name of the plant on the spoon.
Mega Bloks Garden Markers – Your kids will love making garden markers out of their toy Mega Bloks! They can help clean and prepare the Mega Bloks, and then place them in the garden next to the corresponding vegetables or fruits.
Make Magical Fairy Gardens
A flower or plant pot can be transformed into a magical place where fairies and dinosaurs live (well, not in the same pot). Your kids will love building a house for their fairies or a forest for their prehistoric creatures!
Pixie Hollow Fairy Garden – If you have little girls, they would love creating this adorable fairy garden. Let them pick fairies of their choice and build a house for their fairies. Add some adorable animal friends for that extra hint of magic!
Fairy Garden Terrarium – Instead of using wooden houses, you can use a small garden pot plus popsicle sticks and stones for your fairy house. The tiny bench, the signs, the banner, and the wooden fence are such nice additions to the "front yard" and they are made from materials you probably already have in the house or in backyard.
Flower Pot Miniature Fairy Gardens – Why settle for a one-story fairy garden when you can build one with THREE stories! This creative mini living garden uses some engineering skills to stack different sized clay pots and saucers on top of each other to form a tiered fairy garden. This calls for more whimsical decorations, including tiny ladders for the fairies to climb from one tier to the other!
Mini-Flower Gardens – If you have toddlers, it might be better to stick to smaller pots and make these mini-flower gardens instead of the big fairy gardens. These mini-flower gardens focus more on the flowers with the fairy house or animal friends as decorations.
Miniature Dinosaur Garden – If your boys are too "manly" to create a fairy garden, they can make a dinosaur garden! Build a forest, oasis, and rock formations and bring your dinosaurs back to the historic times.
DIY Fairy Garden Door – Made from dollar store materials, this fairy garden door tutorial teaches you how to build a beautiful entrance with a collage of moss and stones.
Easy Painted Fairy Houses – Paint doors, windows, and even flowers and hearts on mini terra cotta pots to make adorable little fair houses you can put in your garden.
Plant Herb Gardens
If you love using herbs in your cooking, planting an herb garden with your kids is the perfect project for your family! Herbs grow fast, which is great for our impatient little ones. Plus, kids love harvesting what they have planted and seeing the herbs in their food.
How to Plant an Herb Garden with Kids – Go to your local store with your kids and pick out some herbs, a draining pot, and potting mix, and you are ready to go! Planting an herb garden with your kids may be easier than you think, especially with this helpful tutorial.
DIY Herb Garden Planter – Do you know that you can turn any container that will hold soil and your plants into a garden planter? You can have your kid pick out his container of choice and drill holes into the bottom of the container to create draining holes. Nice and easy!
Make Egg Carton Planters
Who knew egg cartons can be so useful? Using egg cartons to plant seeds is a great way to teach your kids where the plants come from. Plus, you can talk to your kids about reusing the egg cartons instead of throwing them in the trash and the impact of recycling on the environment.
How to Start Seeds in an Egg Carton – Instead of going to the local nursery and purchasing seedlings ready to plant, start the seedings yourself in an egg carton! Imagine how excited your kids will be when they see the little sprouts starting to emerge from the dirt!
Egg Herb Garden – Instead of putting dirt into the egg carton, you can save the empty eggshells and grow your seeds in them! Kids will love washing the eggshells and filling them up with soil. Eggshells provide your plants with calcium and help them grow stronger.
Winter Egg Carton Greenhouse – If you (or rather, your kids) can't wait and want to start planting in the colder months, you can by creating an egg carton greenhouse. Using plastic egg containers with lids is the key to heating the seeds up enough for them to germinate outside in the cool weather.
Learn about Composting
It's important to teach our kids not to waste food. By educating them about composting, or the process of recycling organic materials into a rich soil, kids can learn about the circle of life and the benefits of returning food back to earth.
Build a Compost Bin – You can make a compost bin using a simple plastic storage tub that you might have sitting around the garage. Composting is not as easy as throwing food into a tub and let it sit! Use these step-by-step instructions to show your toddler how to build a compost bin and explain why we should make compost at home.
Create a Worm Farm – Kids LOVE worms. Not only do worms are fun for the kids, but they also help create nutrient-rich soil. They are your best friends when it comes to composting. Teach your kids responsibility by having them feed the worms with fruit and veggie peels and scraps.
Make DIY Bird Feeders and Baths
There is something so happy and delightful about seeing birds in your garden. If you have a bird feeder in your garden, the birds seem to return again and again, and guess what? They bring friends! Your kids will love seeing birds flying and jumping about – they are like outdoor pets!
DIY Bird Feeder – Using just an empty water bottle, yawn, and twigs, you can make your own bird feeder! This craft is so simple that all you need to help with is cutting little holes in the bottle so your kids can stick the twigs through.
Bird Seed Hearts – This bird feeder is so easy that even your kid can make it (well, with some help from you). Plus, you can wrap them up and gift them as Valentine's or Mother's Day presents because they are in the shape of a heart!
Bird Bath Fairy Garden – How cute are birds when they take a bath? Since you don't get to see birds play in water too often, your kids will squeal with delight when they do. This bird bath is especially adorable since it's decorated as a fairy garden!
Build DIY Planters
LEGO planters – If your kids like LEGO, chances are you have tons lying around the house. Who knew you can use LEGO blocks to make cute and colorful planters? LEGO planters make a great project because they require your kids to use their creativity and critical thinking skills to build their planters.
Rainboot Planters – Kids grow out of their shoes way too fast. Especially in California, the kids probably use their rainboots a couple of times a year, and off they go to the "too small" stash. Put your kids' old rain boots to good use by using them as planters in your garden.
Tin Can Flower Garden – These colorful tins can planters can spruce up a chain-link fence or be used as a centerpiece for your patio table! Your kids will enjoy helping paint the tin cans different colors and using foam brushes to decorate
Pallet Planter Box – While the actual making of the planter using a pallet is not for kids, your kids can certainly enjoy decorating the planter box after it is finished. They can paint it any design their little hearts desire!
Play-doh Plants – Who here has lots of Play-doh in the house and cannot wait to get rid of them? ME! If your kids are a fan of Play-doh, chances are you have lots of perfectly good Play-doh cans heading for the recycling bin. Reuse them as flowerpots instead!
Woodland Animal Plastic Bottle Planters – A great way to upcycle plastic bottles, these woodland animal planters are fun to make for the kids. You can embellish the planters to customize them for different seasons.
Decorate the Garden
DIY Stepping Stones – Making decorative stepping stones for your garden is great for commemorating wonderful memories your family made together. Your kids will love gathering materials for the stepping stone and decorating it with what they found.
Bottle Cap Flowers – Have bottle caps laying around? This is the perfect craft to reuse bottle caps and turn them into flowers that you can "plant" in your garden. Your kids can help paint the bottle caps after you hot glue the bottle caps together.
Wooden Spoon Garden Craft – Wooden spoons are great to use as garden markers, but you can also decorate them with craft materials such as googly eyes, pipe cleaners, and felt and make them into adorable garden pals!
Grow Your Own Vegetables
Growing Carrot Tops in a Bottle Greenhouses – Create a greenhouse with a plastic juice bottle and watch carrot tops grow and sprout.
Grass Heads – Haha, I had a laugh at the name too. No worries, it has nothing to do with drugs. These grass heads are essentially homemade chia pets (chi-chi-chi chia!) that are super easy to make. Your child can enjoy cutting the hair (grass) of these grass heads over and over again!
Growing Loofah – You probably use loofa in the shower or even in the kitchen. Did you know that loofah is actually a gourd that is edible in its young form? Learn how you can grow loofah and turn them into sponges you can use for exfoliating your skin.
Grow Bean in a Jar – Using only cotton balls, you can germinate and grow a bean plant in a mason jar. Your kids will love watching the seeds go through the beginning stages of the plant life cycle before replanting them in soil. This simple gardening activity is perfect for toddlers and preschoolers.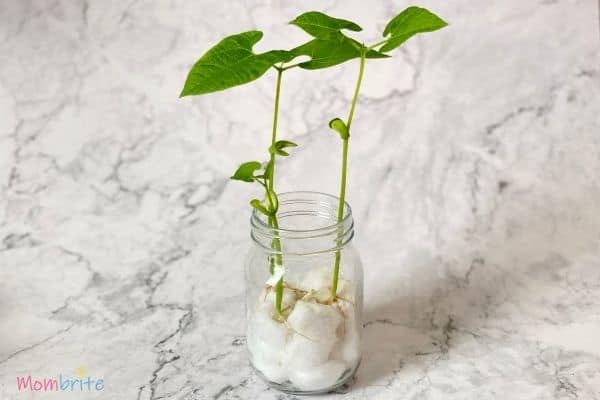 Read Gardening Books
Gardening books will help illustrate the basic gardening concepts to your kids as well as familiarize them with the different things you can plant in a garden. Read them before your gardening activities to get them interested and read them afterward to reinforce the topics you talked about during the gardening activities.
Final Thoughts on Gardening Activities for Kids
Gardening is such a wonderful way for your kids to learn about nature and where their food comes from. My kids love harvesting fruits and vegetables from our garden. Even though I doubt that our fruits and vegetables are better than the ones we purchase from grocery stores, my kids love eating them just because they had a hand in growing them.
Have fun outside in your garden with your kids!
What are your favorite plants to grow in your garden? Tell me below!