If you are new to homeschooling, you are probably eager to get started. Here are important things to consider while setting up your homeschool classroom at home that will help make your homeschooling journey a successful one.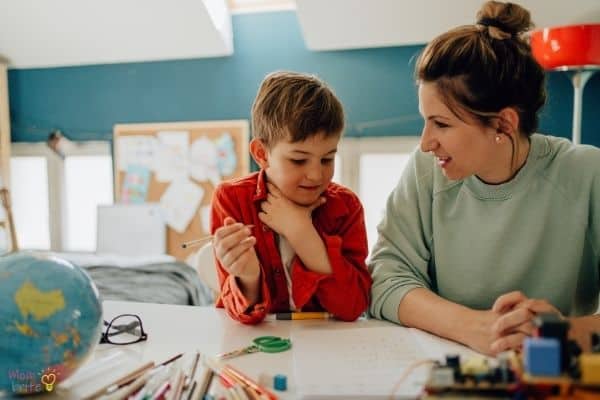 Before you found this post, you might have done a little research about homeschool classroom setup ideas on Pinterest. By looking at those picture-perfect homeschool spaces, you might have felt bummed about not being able to create the same in your house. That's because you might not have a huge budget to make an elaborate homeschool setup at home. 
In reality, you don't have to go over your budget to have a comfortable homeschool space. In this article, we will cover some essentials that you need to include in your homeschool setup at home. You can always find stuff that fits in your budget and upgrade it later once you have more financial stability. 
How to Set Up an Effective Homeschool Room
1. Proper Writing Surfaces and Comfortable Chairs
There are just some things you have to have in your homeschool classrooms. Chairs and writing surfaces are some of those homeschooling essentials that you definitely need. They make sure the most important part is taken care of, which is making sure that students are comfortable during the homeschooling sessions.
You already might have a couple of good chairs around the house. You can use those to create a nice homeschool setup along with small tables children can use to put their books on. These are the easiest things to set up for your homeschool classrooms and won't even take a lot out of your budget. 
If you don't have a spare room in your house to set up a homeschool classroom, you can also transform the dining room into a homeschool room. That's what we did!
The best part about that is you already have the dining table and chairs set in the room, ready to use for you and your kids. If you have multiple kids sitting at the same table and need something to keep them from getting distracted by each other, you can always separate the workspaces with a privacy shield.
2. Wall Space
Wall space is something that is surprisingly a really important part of homeschooling classrooms. Even if you think you won't need it, wall space should be considered while setting up a homeschooling classroom. And it's not just for the pictures you need to put around the classroom. 
When selecting which room to make your homeschool classroom, take into account the wall space in each room. If possible, make the room in your house with the most empty walls in the homeschooling room so you get enough wall space to hang your whiteboard, pictures, charts, etc.
3. Whiteboard
I wouldn't know what to do without the whiteboard we have in our homeschool set up at home. It's one of the classroom essentials that you won't regret having for sure. We use it every single day! Not to mention that kids learn much easier when they can see everything written right in front of them.
A whiteboard can be as expensive as you want it to be, but you can always pick the one that fits your budget and needs. If you are having trouble finding one that is the desired size and cost, you can also choose to create one instead of buying one for yourself. There are so many tutorials available online that will enable you to make one based on your exact homeschool classroom setup requirements.
4. Storage Space
If you are like me, you will find yourself swimming in homeschooling curriculums and workbooks for all subjects. That's why having a good storage space to keep all your supplies and books organized is super important. The last thing you want to do is struggle to find a workbook while your kid is just sitting there, waiting to learn. Therefore, when you are writing down a list of homeschool classroom essentials, storage solutions should be near the top of the list.
Storage space like cabinets, drawers, etc. can be pretty expensive, so you want to do your research before making a big purchase. I recommend looking at websites that sell Montessori classroom furniture.
Make sure to buy the essential things first and then upgrade once you have a better budget. A good thing about this homeschool classroom setup essential is that you can use it for a long time and for many different purposes.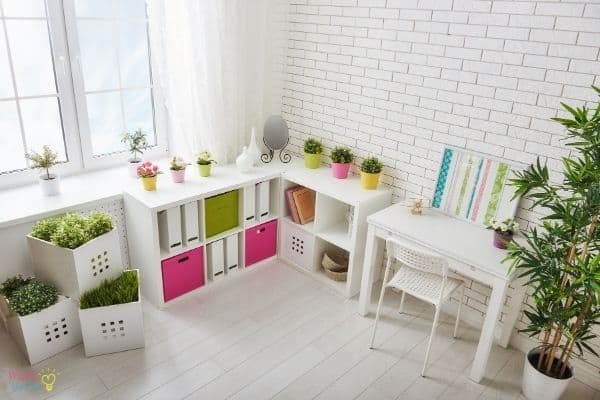 One of my favorite storage items in my homeschool room is the utility cart. We have one with 3 tiers that has all the markers, crayons, glue sticks, etc. in pen holders and hanging cup holders. You can roll it around the house to wherever you need to use the supplies.
5. Shelves
Shelving is considered home essential by many people, but it's one of those things that can also complete a homeschool classroom setup. Not to mention that shelves reduce the potential mess you might have on the ground and on the table and also give you extra room to store supplies. 
Shelves aren't that expensive – you can find some cheaper ones online or in furniture stores as well. You can even reuse the wood you already have at home and make some simple ones yourself. You can store supplies, put some artwork or use these shelves for any other purpose in your homeschool classrooms easily. 
6. School Curriculum and Supplies
School supplies might be the very first thing you think of when you are making a list of things to buy for your homeschool classroom setup. But in reality, you have to be really careful when it comes to school supplies. Instead of being too excited about getting homeschool supplies, consider your budget and requirements. 
You could get the basic supplies like pencils, notebooks, etc., but books shouldn't be bought so hastily. You need to take a proper look at the curriculum and plan your learning system before you buy books and such. School supplies should be prioritized so you don't end up stacking things you won't even need for your homeschool classroom setup.
As I mentioned above, I do have way too many curriculums and workbooks. My goal this year is not to purchase any more until we are completely done with the ones I have. However, I do want to note that if you feel like a certain curriculum is not for your kid, then just give it away or sell it. Otherwise, you just have stacks of books taking up valuable space.
7. Bulletin Boards
This isn't necessarily a homeschooling essential, but it's something you would love to have around. Bulletin boards give students the proper feeling of being in a classroom setting. These can also kind of be the last things you add to complete the classroom look in your house.
Homeschool classroom setup should have some space where you put important reminders and accomplishments made by your students. Bulletin boards are cheaper and can become such a nice part of your homeschool classroom setup. So if you have been trying to add some personality to your homeschool classroom, you can think about adding something as practical as a bulletin board. 
Final Thoughts on Homeschool Room Setup
Due to the pandemic that took over the entire world, homeschooling became the only way to continue education for your children while keeping them safe. Thus, more and more people are now considering homeschooling as their primary education option as well.
When you are creating a homeschooling setup at home for the very first time, you don't necessarily need to spend a lot and get the most luxurious stuff possible. You just have to make sure the essentials are there and then you can easily update after a while. 
In this article, we have talked about the things you would need to create a basic homeschool classroom set up in your house. These things will ensure smooth study sessions for your students and improve productivity as well. 
We hope that this reduces your stress while purchasing things for your homeschool classrooms. Make sure to have the basic things set up and then you can always enhance the classroom in the future! 
---
Related Posts