This wonderful collection of best weather books for kids will teach your kids all about the different types of weather and changing seasons.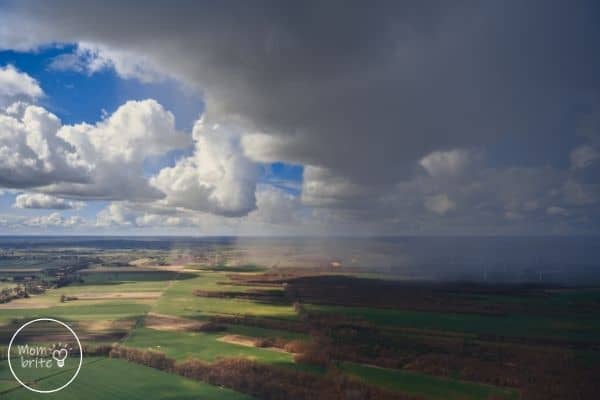 Kids are very intrigued by everything that surrounds them. The weather is something that the kids are curious about right from the get-go because the weather affects them every day.
Just like adults, kids want to know what the weather is going to be like, especially if they are heading to a fun day at a park or an outdoors field trip. We may need to alter our plans as the weather changes unexpectedly.
Why do tornadoes and hurricanes form? What makes a hurricane or blizzard so dangerous? Books about the weather can help kids understand more about the world around them and how it affects their everyday lives.
Here is a list of the best weather books for kids that will cover the weather and natural disasters we experience throughout the year as the seasons change. Kids will love reading all of the interesting facts and stories as they learn about meteorology and the weather patterns we experience.
Best Nonfiction Weather Books for Kids
All About Weather
With adorable images and easy-to-understand fun facts about the weather, it's no wonder that All About Weather is a highly rated weather book for kids.
This illustrated guide is a great first weather book for preschoolers or kindergarteners. Cuddle up with your little one and learn about how clouds form, why it rains, and so much more!
Weather and the Seasons
As with most DK books, Weather and the Seasons is full of vibrant and playful illustrations. The book also includes fun activities like making a weather wheel to track the weather every day.
Tornado!
Kids will love reading about what it's really like to be caught in a destructive tornado. Tornado! includes stunning, close-up photos of the violent weather phenomenon taken by scientists, storm-chasers, and amateurs that will amaze your kids.
National Geographic Pocket Guide to the Weather of North America
The pocket guide is a little book full of references on storms, cloud formations, forecasting tips, severe weather conditions, etc.
The book contains a lot of interesting facts and tips, which may be a little difficult to understand for younger kids. That said, it's a great guide to keep in the car so your kids can use the photographs and illustrations to predict the weather by looking outside.
The Fascinating Science Book for Kids
The Fascinating Science Book for Kids includes over 500 weird and wonderful science facts that will shock and wow your kids. We not only love the weather facts in this science book but also all the other interesting and exciting science topics as well.
National Geographic Little Kids First Big Book of Weather
I can't say enough about the National Geographic Little Kids First Big Books series. We wouldn't have survived a 36-hour road trip across the country without them because they occupied my son for the majority of the time in the car.
Everything weather is covered in this National Geographic Kids book about weather. Young children will learn every aspect of weather with simple text for beginner readers and more than 200 incredible photos.
Weather: A Look at How Things Works for Kids
From wacky and extreme weather to the everyday weather we experience, this book will help teach your kids why the weather sometimes seems to change on a dime.
The Big Book of Weather also includes 30 fun experiments to show the kids how weather works. The experiments are set up so you can walk your kids through the scientific method and approach them like a real scientist!
The Everything Kids' Weather Book
From the difference between types of clouds to how meteorologists predict the weather, The Everything Kids' Weather Book covers it all. The book also includes puzzles, games, and DIY weather experiments.
Extreme Weather
This interesting book will help teach kids about the extreme and crazy weather that we face in the world today. Record drought, heat, storms, and ocean levels are just a few of the topics.
Ultimate Weatherpedia
The Ultimate Weatherpedia is an easy-to-use reference book that will answer your child's wildest questions about the weather.
My First Book About Weather
Another fun and interesting book for little learners, My First Book About Weather introduces kids to meteorology, weather, and natural phenomena.
Note that even though the title is My First Book About Weather, the content is quite detailed and the recommended age is 8-11.
Meteorology Activity Book
The Meteorology Activity Book is full of engaging illustrated activities with simple explanations. Instead of just reading meteorology facts, the kids can learn by working on the activities.
Fly Guy Presents: Weather
My kids adore Fly Guy fiction books, so they were super excited to read the Fly Guy Presents non-fiction series. The Weather book is entertaining with humorous texts, and at the same time informative and full of weather facts.
Everything Weather
See just how wacky and wild the weather can be with this colorful and educational book from National Geographic.
Best Fiction Weather Books for Kids
Nerdy Babies: Weather
It's never too early to start reading about the weather to your baby! The Nerdy Babies: Weather book is a board book with adorable illustrations that will foster curiosity and inspire your toddlers to learn.
Hello, World! Weather
With bright, cheerful illustrations, Hello, World! Weather is a great book to read to your baby and toddler. Since it's for young kids, the book focuses more on appropriate clothing and activities for the weather outside.
Worm Weather
Worm Weather is a fun story about kids who decide to go splashing through the puddles and meet a nearby worm who relies on the weather just as much as the kids do.
WOW! Weather!
Wow! Weather is about a little boy who discovers amazing weather facts and shares them with his family.
Tap Tap Boom Boom
If you are looking for a fun book to read aloud to your toddler, you need to check out Tap Tap Boom Boom. Your 2-year-old will enjoy the onomatopoeic words and lovely rhymes as people race to get away from the storm.
When the Sky Roars
When the Sky Roars is a storybook that about Liam and his quest to find out why the sky gets dark and starts to roar. Be ready for lots of adventures and silliness!
Little Raindrop
Learn about the water cycle through the eyes of a little raindrop. This weather book is perfect for preschoolers and kindergarteners.
A Year with the Wind
Follow the wind through its journey through each month of the year.
The Weather Girls
Whew, these little girls are busy! The Weather Girls will teach your kids about the seasons through whimsical rhymes and colorful illustrations.
Snow
The winter is here and a young boy is eager to get outside and play in the snow. But he has to wait for his grandfather! Through a fun storyline, your kids will learn what to wear and things to do in cold weather conditions in Snow.
Make sure you also check out the other books in this series: Sun, Rain, and Storm.
Come On, Rain!
A little girl hopes for rain in the middle of slow, hot summer. You can feel their relief as the clouds start rolling in and the girl and her friends dance in the rain.
Oh Say Can You Say What's the Weather Today?
My kids love all the books in the Cat in the Hat's Learning Library, which includes Oh Say Can You Say What's the Weather Today?
The book reads like the classic Dr. Seuss books with fun illustrations and silly rhymes. Travel by hot air balloon with the Cat and company and learn about various weather phenomena.
The Meteorologist In Me
Join a little girl named Summer in her adventure to become a TV meteorologist in The Meteorologist In Me. Not only will your kids learn weather facts as she shares them with her family, but your kids will also be inspired to follow their dreams.
---
Related Posts: