Water bead stress balls are easy to make and great for relieving stress and anxiety for you and your kids. They are fun to squish and squeeze and your kids will enjoy hours of sensory play with these DIY stress balls.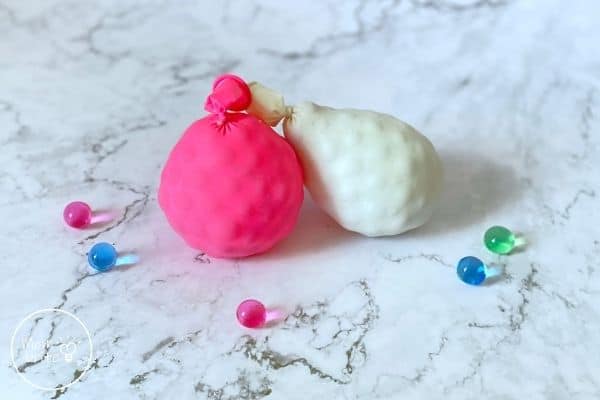 Water beads are so fun, and you can do so many things with them. We love watching them grow as the water beads hydrate in water and then using them in various projects such as making a rainbow water beads sensory bottle.
Recently I realized that my son fidgets a lot while we homeschool. It seems like he has to always pick up something with his hands or do something with his fingers, like tapping on the table. So I figured that we can make DIY stress balls and have him squeeze them to keep his hands busy while listening.
On top of helping your kid focus, these water bead stress balls are also great in relieving stress, mentally and physically. And honestly, they are just super fun to squeeze! You can feel the water beads moving around the balloon and even see the different colors if you use white or clear balloons.
And they are not just for kids! As a homeschool mom, I know that sometimes the world just feels like it's going to explode. Instead of stressing about all the chores and kids who don't necessarily want to homeschool that day, play with these squishy water bead stress balls instead!
Make Your Own Water Bead Stress Ball
Supplies:
Water
Container
Empty plastic bottle
Balloons (white or clear would be best)
Instructions:
Step 1: Prepare the Water Beads
Hydrate the water beads according to the instructions that came with your water beads.
For the water beads we used, the direction was to soak 1 teaspoon of dehydrated water beads in 3 cups of tap water. That would yield about 4 cups of hydrated water beads. Since we had multiple activities in mind for the water beads, we tripled the number of water beads and added 9 cups of tap water to make 12 cups of expanded water beads!
Step 2: Make the Water Bead Stress Ball
Pour water beads into the plastic water bottle. We used a small, 8 fl oz mini bottle and fill it all the way up. If you are using a soda bottle or the standard 16.9 fl oz water bottles, then you would want to fill them about halfway.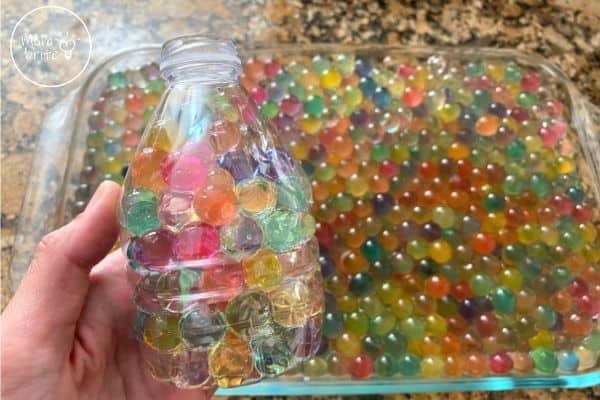 Blow up the balloon about half way. Use your fingers to hold the mouth of the balloon shut and keep the air inside.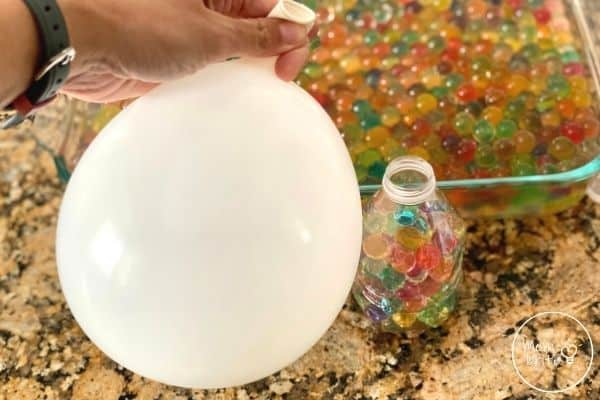 Carefully stretch the mouth of the balloon over the mouth of the water bottle. It's okay if some air escapes.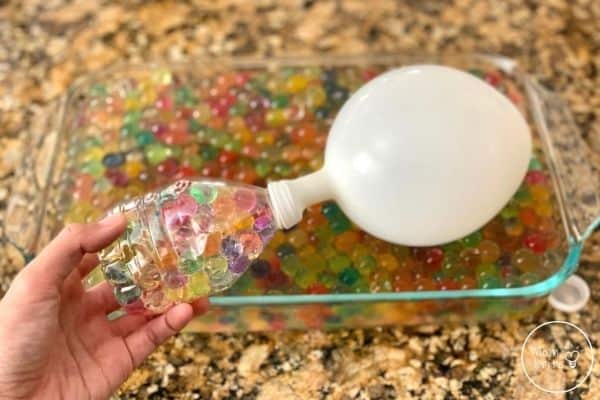 Turn the water bottle upside-down and pour the water beads into the balloon. After the water bottle is empty, separate the balloon from the bottle.
Squeeze the excess air out of the balloon and tie a knot.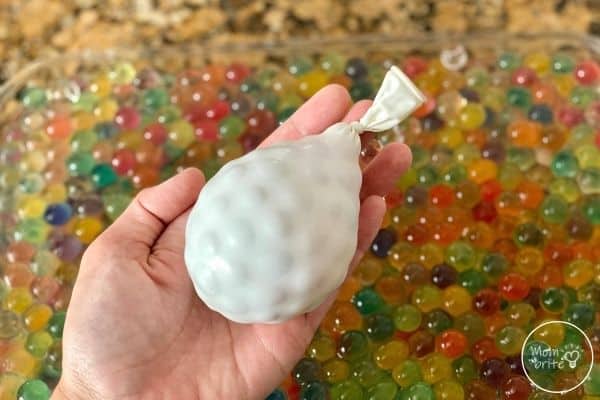 Your water bead stress ball is done! At first, all your kids will want to do is squeeze them as hard as possible and even twist and stretch them to see if the stress ball will break. My kids even stepped on the water bead stress ball to try and pop it. Don't worry, these balloon stress balls are pretty resistant!
If you used a white or clear balloon, you can see the different colors of the water bead through the balloon as you squeeze the stress ball tightly. These stress balls make a wonderful sensory experience for the little ones.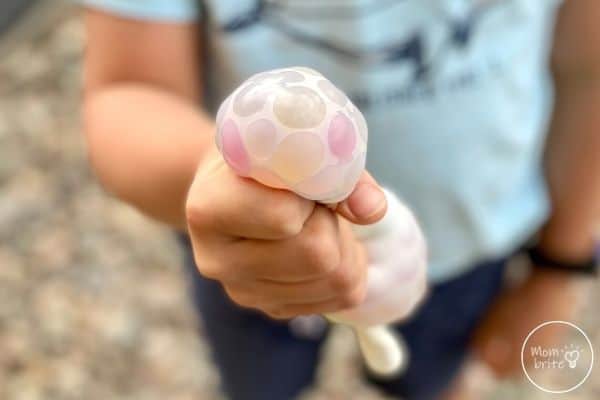 You can personalize the stress ball by drawing a face or writing your name on the balloon with a permanent marker. We ended up with multiple water bead stress balls because they are just so fun and easy to make!
I hope these water bead stress balls help you and your kids relieve anxiety in stressful times. They also make great DIY party favors for birthday parties or other celebrations. And remember that if you have a fidgety kid, you can give them these stress balls to release his or her pent-up energy and help him or her focus on schoolwork.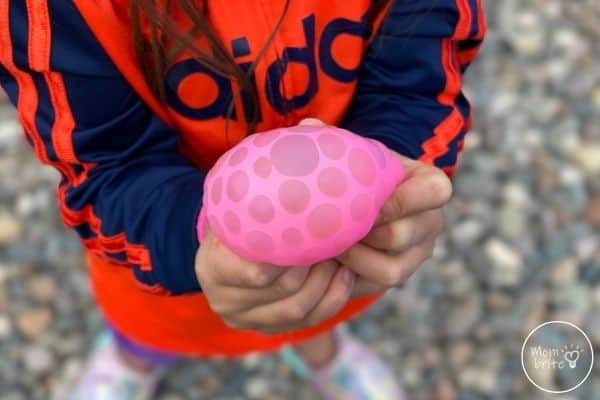 ---
Related Posts: