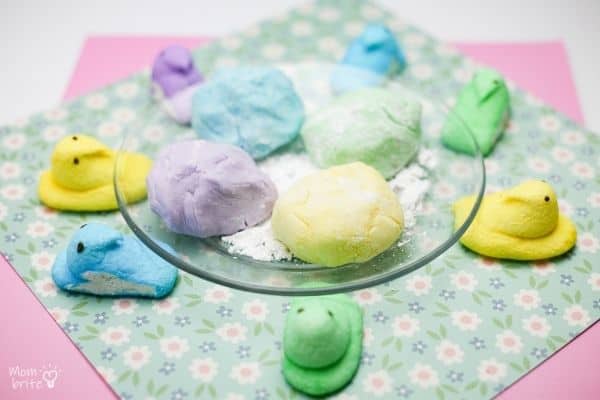 My kids love anything marshmallow. We have done so many fun STEM activities using marshmallows, including building geometric shapes with marshmallows and toothpicks and writing secret messages on marshmallows.
With Easter comes the most adorable marshmallows ever – Peeps! Both the bunny-shaped and chick-shaped Peeps are so cute, and they are the perfect material for Easter activities.
My kids don't really care to play with store-bought playdough, but they love making playdough at home! So instead of letting my kids eat lots of Peeps and get a sugar high that will surely destroy my house, we are using the Peeps to make playdough instead.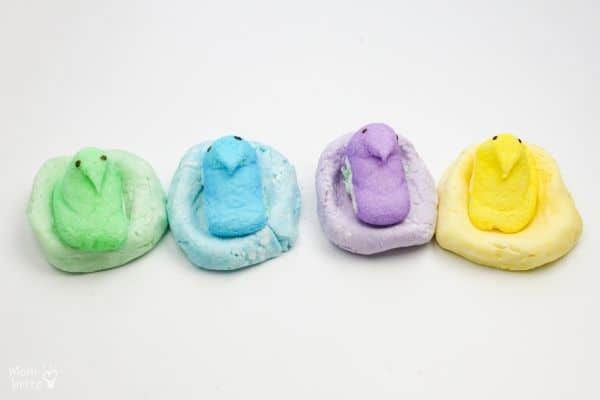 This 3 ingredient edible Peeps playdough recipe is the perfect Easter activity for toddlers, preschoolers, kindergartners, and even elementary school kids. It's so simple and only takes minutes to make. And using colorful Peeps to make playdough means you don't have to add additional coloring.
Your kids will love re-purposing the popular Easter sweets to make playdough!
How to Make Edible Peeps Playdough
Supplies:
4 Peeps (pick whatever color you prefer!)
Powdered sugar
Coconut oil
Measuring spoons
Optional: Food coloring
Instructions:
1. Combine 4 Peeps with 1 teaspoon of coconut oil in microwave-safe bowl.
2. Microwave on high for 10-15 seconds. The Peeps should start to expand. Make sure you watch the Peeps carefully because marshmallows get extremely sticky if you heat them too long. You can check out what happens to marshmallows in the microwave in this fun experiment.
3. Add 4 tablespoons of powdered sugar to the puffed up Peeps. If you want to add more color to the playdough, you can add a few drops of food coloring now. We prefer the soft pastel colors of the Peeps so we didn't add additional food coloring.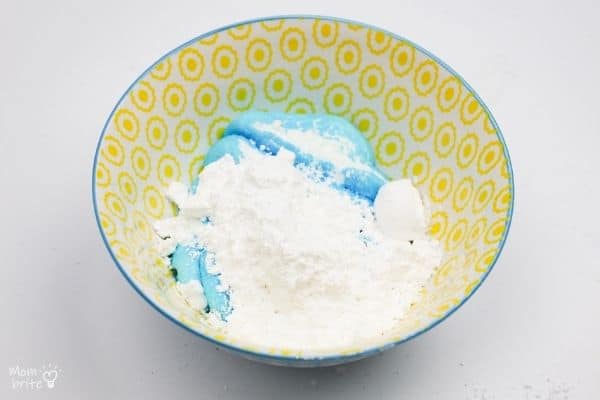 4. Stir and knead the marshmallow and powdered sugar until blended well. It will take approximately 2 minutes or so.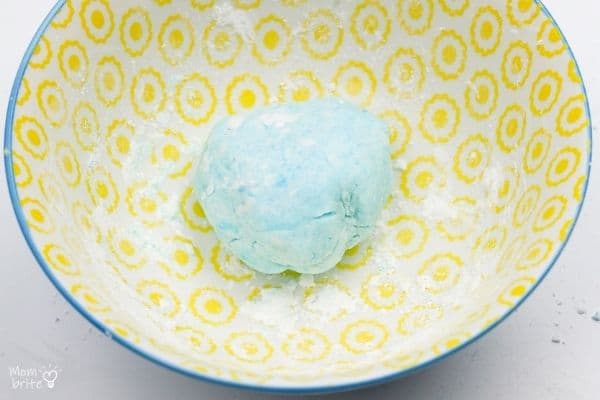 How easy was that? Your kids will love watching the Peeps get all poofy in the microwave and kneading the mixture into a smooth dough.
Now it's time to play with the Peeps playdough! The texture is softer than store-bought playdough, and you can use any of the molds and tools that you may have laying around the house to shape the playdough. Cookie cutters work great too!
The best part about this Peeps playdough is that it's edible. Even though I wouldn't encourage the kids to taste it after handling the playdough and playing with it, you also don't need to worry if some did get in their little mouths.
If you have different colored Peeps around the house, you can use them to make Peeps playdough in all the available colors. It would be interesting to combine two different colored Peeps in one bowl and see what happens when you mix them together.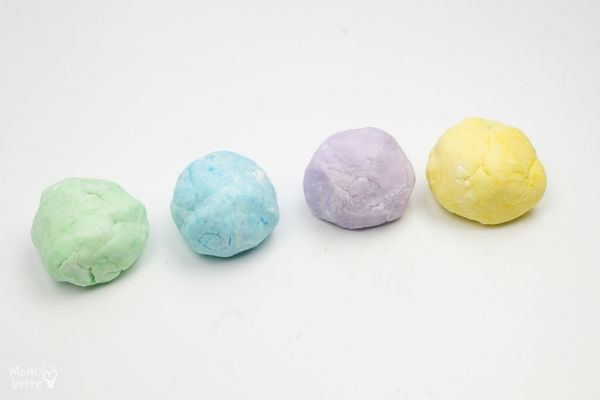 When you are done playing with the marshmallow playdough, you can store it in a plastic bag at room temperature for 3-4 days. Since the ingredients are edible, you don't want to store the playdough for too long. Perhaps just for Easter weekend!
Easy Edible Playdough Recipe
There are some tips to ensure your playdough is the right texture:
If your playdough is too sticky, add a little powdered sugar and knead it in.
If your playdough is too crumbly, add a little coconut oil and knead until it's smooth.
Once you microwave the Peeps for too long, there is no way to really salvage the marshmallow. You will have to start over.
---
Related Posts: