Need something quick to entertain the kids? The DIY pom pom shooter is both easy to make and fun to play.
Since it's such a simple project, the paper cup pom pom shooters are also great for birthday parties. Kids can shoot soft pom poms at targets or try and get the pom poms into baskets.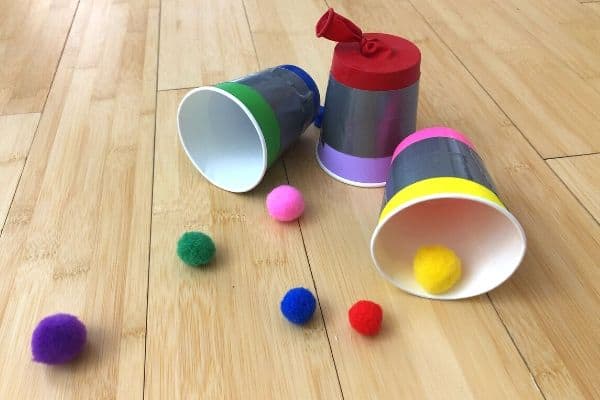 And you can shoot any small object in the paper cup balloon shooter! Try soft objects like marshmallows. You can even use this to shoot confetti for 4th of July celebration!
How to Make Paper Cup Pom Pom Shooters
This post contains affiliate links. Please see my full disclosure policy for details.
Materials:
Instructions:
Cut off the bottom of the cup.

Tie a knot at the end of your balloon.
Cut off the top of the balloon (not the end you blow into).

Stretch the balloon over the rim of the cup.

Secure the balloon to the cup with duct tape. You can try using colorful washi tapes to decorate the shooter but duct tape is stronger.

Put a pom pom in the shooter close to the knot.
Pull back the balloon knot.

Let it go and watch the pom pom fly!
Kids love toys that shoot, but there is always the question of safety. That's why this pom pom shooter is so great. Pom poms are soft so your little ones won't get hurt if there is an accidental friendly fire.
We placed a basket next to the wall and have the kids try to shoot pom poms into the basket. These shooters can really make the pom poms fly!
My daughter preferred shooting the pom poms straight up in the air and see where it landed.
Final Thoughts on the DIY Pom Pom Shooter
This pom pom shooter is great for the little kids to use their hand muscles and practice hand-eye coordination. And it promotes gross motor development as your kid will for sure run around the room, shooting at random objects and running after the pom poms!
And if you have a birthday party coming up but don't have any ideas for party favors, make these pom pom shooters and you are set! I guarantee you the kids will prefer these over the usual little toys you get in the goodie bags.
Have lots of fun launching the pom poms!
YOU MAY LIKE:
Did you and your kids enjoy this activity? If so, you can buy me a coffee to support the materials necessary to conduct all the fun kids activities!
---