Learn how to make your own homemade bubble wands that will keep your kids entertained for hours at home. They also make such fun DIY party favors!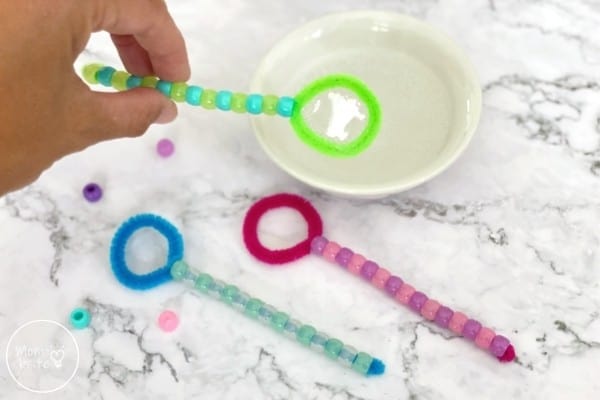 All kids love bubbles, and good thing too. Blowing bubbles is great for you!
Not only do blowing bubbles strength your lungs and diaphragm, it also helps your kid relax and destress. This is because to create bubbles, you need to inhale deeply and then exhale in a slow and controlled manner. Practicing such deep breathing mechanics does wonders for your lung function and capacity.
Instead of going out and buying bubble wands, you can make them yourself at home. All you need are pipe cleaners and beads! Making one takes only minutes. Your kids will love this bubble wand craft and then using the colorful wands afterward to blow lots of bubbles!
How to Make Easy DIY Bubble Wands
Materials:
Instructions:
1. Wrap the middle of a pipe cleaner around your finger to form a circle. Start twisting the two ends of the pipe cleaner together. You may want to start a little lower down the pipe cleaner to make a bigger circle.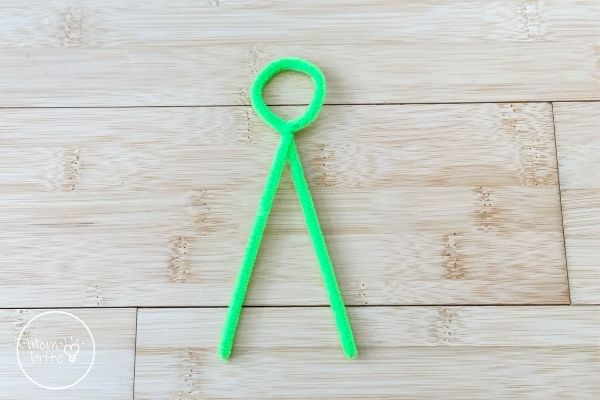 2. Continue twisting the two ends of the pipe cleaner until you finish the handle of the bubble wand.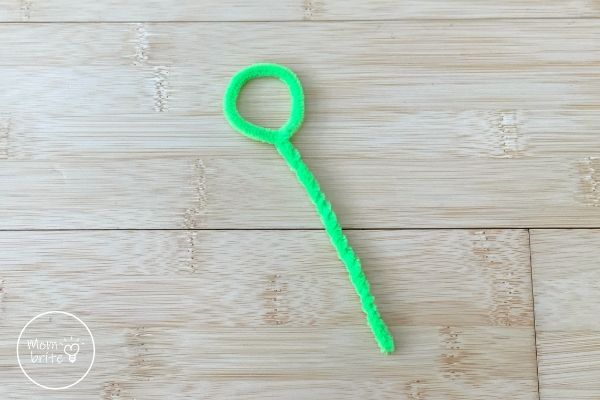 3. Start threading the bubble wand handle with colorful beads. You can use the same color beads, alternate different color beads, or forget patterns and go with random color beads.
Continue until the entire bubble wand handle is covered with beads. The beads will help the handle be more sturdy and harder to bend. You will have a small section of pipe cleaner at the end that is too short for a bead.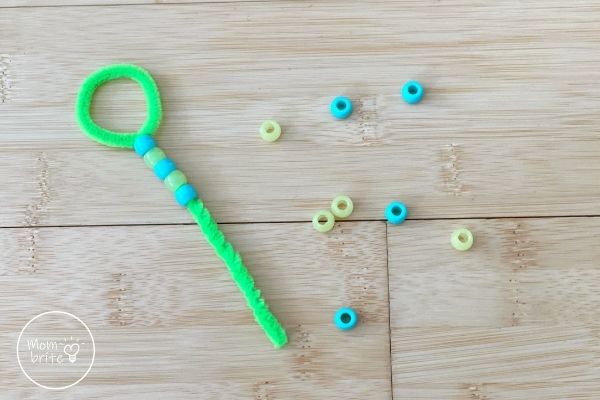 4. Fold the end of the pipe cleaner up and press it against the last bead of the handle to hold the all the beads in place.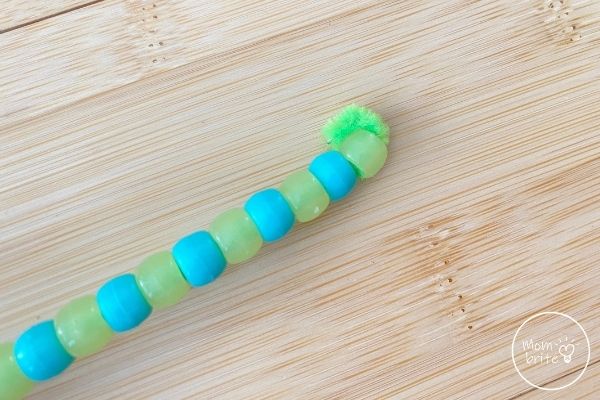 You are done making your own DIY bubble wand! Now make lots more and share the fun!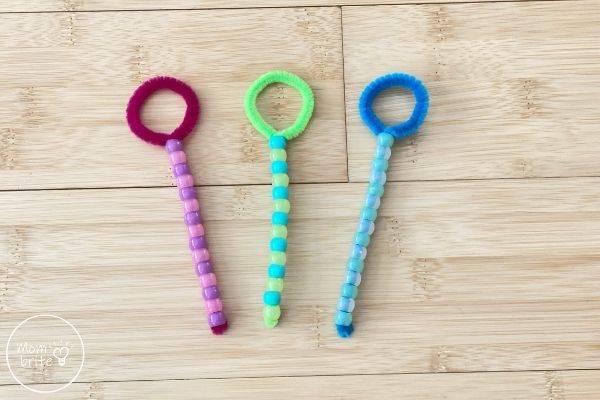 Since these bubble wands are so easy to make, you can make lots of them for birthday parties, class celebrations, and even ones to give to friends "just because." I love how your kids can express themselves through the colors they pick for the beads.
To make the bubble wands even more unique, you can make different geometric shapes out of the pipe cleaner instead of simply a circle hole. For example, you can make a triangular, rectangular, or even a diamond-shaped bubble wand. It's an excellent opportunity to teach your kids the basic geometric shapes, and perhaps even fun ones like a heart or a star.
Now I know what you are thinking – it's easy to make, it's pretty to look at, but does the bubble wand work? I poured the bubble solution into a small bowl and gave my kids the bubble wands to test them out. The verdict? Drum roll, please … they work fabulously!!!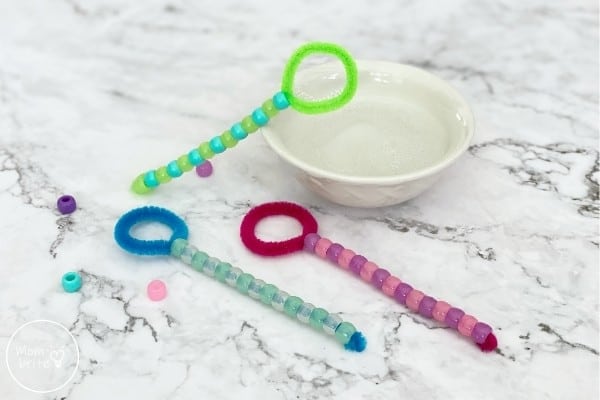 What is the Best Homemade Bubble Solution?
As for bubble solutions, feel free to make your own! The best bubble solutions have either glycerin, light corn syrup, or sugar in the recipe. They make the bubbles more durable – some even stay unpopped overnight on my carpet. Here is a bunch of recipes that you can try.
If you rather use a store-bought bubble solution, check out either the Gazillion Bubbles brand or the Fubbles Bubbles. They both work very well with our bubble machine.
Have lots of fun making the bubble wands and then playing with them!
What are your favorite bubbles activities?
---
Related Posts: