I have told my husband to never get me flowers because I get so sad when they start to wither and die.
Unlike real flowers, these beautiful egg carton flowers will last for a long time!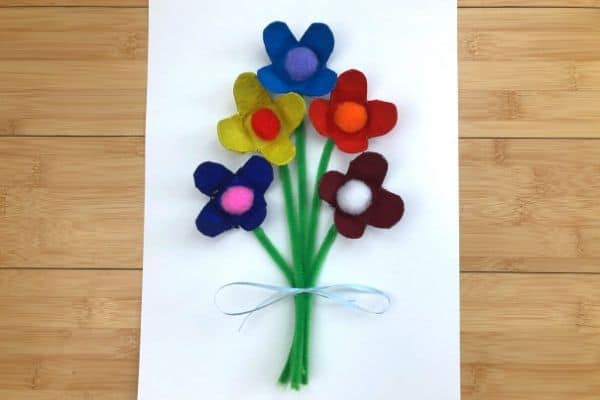 This egg carton flower bouquet craft is perfect for both Valentine's Day and Mother's Day. You can frame the bouquet as wall decoration for the house, or even use them to create a lovely Mother's Day card.
How to Make Simple Egg Carton Flowers
This post contains affiliate links. Please see my full disclosure policy for details.
Supplies:
Egg cartons
Paintbrushes
Paper plates (optional)
Pom poms (optional)
Ribbon
Scissors
Hot glue gun and glue sticks
Instructions:
Cut out the individual cups from an empty egg carton.
Trim each cup so they have 4 flower petals.

Push the petals down softly so the flowers are more open.

Squeeze the acrylic paint on a paper plate.
Let your child paint the egg cup flowers. I had my kid paint over a paper plate to avoid paint on the table.
After the paint dries, hot glue a pom pom in the middle of each flower. If you don't have pom poms, you can use buttons, pipe cleaners, or whatever you have around the house to decorate the flowers.
Hot glue the flowers to the cardstock paper.
Hot glue a green pipe cleaner to each flower to make the stems. *** Only glue the top of the stem so that the bottom of the pipe cleaner is not attached to the paper.
Slip a piece of ribbon underneath the pipe cleaners and tie a bow around the stems.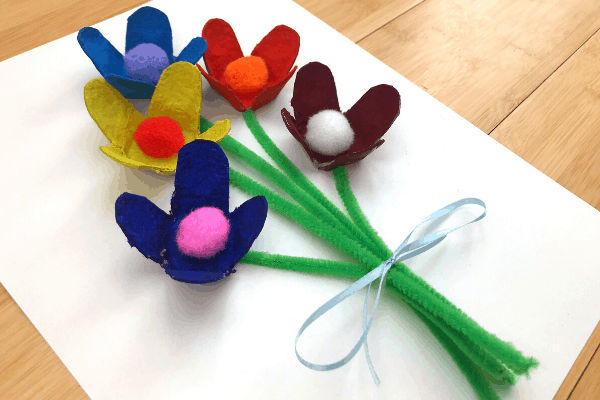 Isn't the egg carton flower bouquet so pretty? I would be thrilled to receive this for Mother's Day!
Final Thoughts on the Egg Carton Flower Bouquet
My preschooler had so much fun painting the egg carton flowers. She did get a lot of paint on her hands, but we were able to wash it all off later.
You can design different flowers with the egg cartons. Ask your child what's his or her favorite flower and cut the egg carton cups accordingly.
If you want the egg carton flower bouquet to last longer, you can coat the flowers with a layer of Mod Podge.
Time to make some good memories for Valentine's Day or Mother's Day!
YOU MAY ALSO LIKE: