Popsicle stick picture frames are easy to make and the kids love decorating them. You can make them for all the holidays and occasions!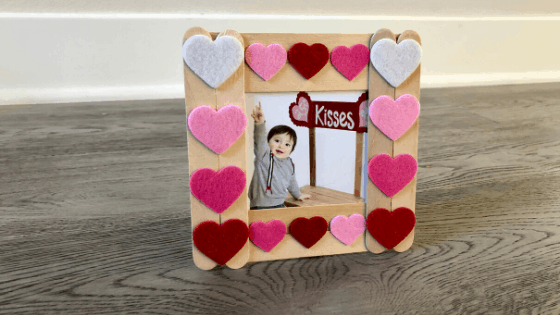 This post contains affiliate links. Please see my full disclosure policy for details.
It's amazing, no matter how many popsicle stick crafts we do in this household, there seems to be always more popping up. I have craft sticks in my kitchen drawers, underneath the dining table, and even next to my bed. They are invading the house! AHHHH!!!
Silliness aside, the kids do love popsicle sticks. They stack them, glue them together, and the latest obsession is the popsicle stick catapults.
Today we are doing a simple popsicle stick picture frame. The great thing about this craft is that you can customize it to any occasion. You build the frame, and your child can decorate it with egg stickers for Easter, hearts for Valentine's Day, red and green pom-poms for Christmas, etc.
How to Make a Craft Stick Picture Frame
Supplies:
Picture
Stickers and other decors
Scissors
Wooden clothespin
Directions:
Put two craft sticks on each side to form a square.
Glue the sticks at the ends together with a hot glue gun.

Place the picture in the back of the frame and make a note where you should cut so that the desired picture fits into the hole of the frame.
Cut the picture.
Hot glue the picture to the picture frame.

Turn the picture frame back around and decorate the frame with stickers, sequins, buttons, paper, etc.

Glue the wooden clothespin to the back of the picture frame.

Final Thoughts on Popsicle Stick Picture Frame
As you can see, this craft stick picture frame is super easy to make. However, your child will enjoy decorating it, and they will love seeing their pictures displayed around the house in a picture frame they helped to create.
Feel free to play around with the shape of the picture frame. You can make a triangle, pentagon, hexagon, or whatever shape picture frame you like! You can even use this activity as a chance to teach your kid geometric shapes.
Like this popsicle stick activity? Check out more here: