There are so many creative ways to use old egg cartons. Ever since we made the egg carton flower bouquet, I have been saving egg cartons as well as toilet paper rolls for crafts.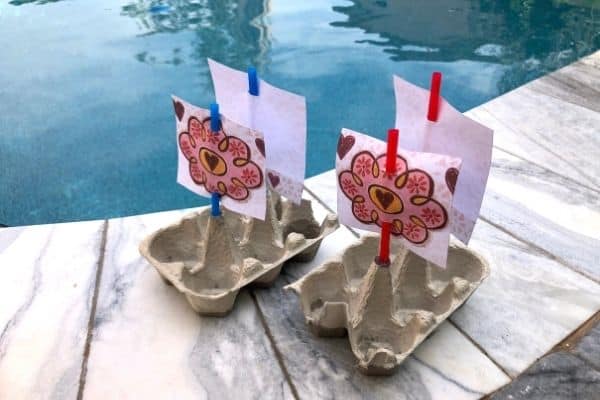 Since we just got a swimming pool in our backyard, I thought upcycling the egg carton to make a boat would be the perfect craft for the kids!
The egg carton boat has two criteria: 1) It needs to be able to float, and 2) It needs to be powered by wind. This way, my children could race them across the pool by blowing on them. 
How to Make an Egg Carton Boat
Materials:
Egg carton
Scissors
Straws
Paper
Optional: glue gun
Optional: Aluminum foil
Directions:
Cut the egg carton in half to make two boats. You can skip this step if you wish to keep the egg carton intact to make a big ship.

Cut out two rectangular pieces of paper per boat. These will be the sails.

Cut a small slit near the top and bottom of each rectangle.
Stick straws through the slits. The straws will be the masts.

Poke holes in the egg carton and stick the straws through the holes. You may need to cut the bottom of the straw to get it to the right height. We had holes already in our egg carton and we had to use a glue gun to secure the masts since the holes were too large.

Optional: Wrap your boat in aluminum foil to protect it from the water.
Put your favorite little figurines on the boats and take them sailing! We would have taken our favorite Elsa and Anna LEGO minifigures but they were in pieces and the kids couldn't wait. They were too excited about jumping in the pool that they just took the boats and ran outside. Under normal circumstances, I would have had them decorate the sails before putting them on the straws!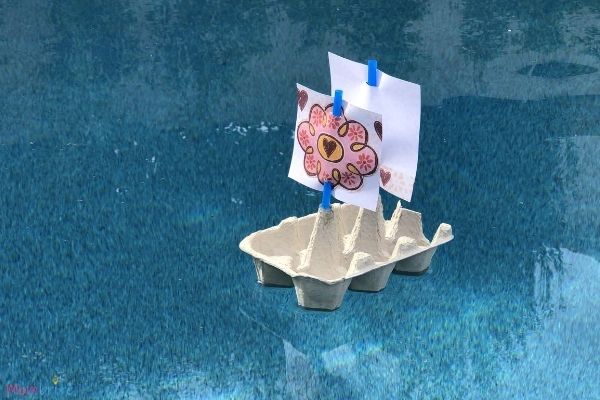 My kids also didn't give me time to protect the egg carton boats with aluminum foil. Fortunately, the boats did last longer than I thought. It wasn't until the kids started splashing the boats and getting water inside that it started sinking.
The sails did its job well and the boat went all over our pool. We originally wanted the kids to blow on the sails and race the boats, but it was too windy and the boats just started going by themselves. It was fun chasing them down though!
Isn't it great to upcycle items you would have otherwise thrown in the recycle bin? It saves you money and the kids have a blast. Win-win!
Happy sailing!