Whether it's her birthday, Christmas, Valentine's Day, or your anniversary, here are the 37 best gifts for a pregnant woman that she actually wants. From self-care to memory keepsakes, every new mom will cherish these gifts.
Between gender reveal parties and baby showers, expecting moms are well-prepared with adorable outfits, diapers, and other essentials for the new baby.
But who is doing the hard work here? The mom-to-be!
Too often, we forget the heroine of this 9-month long journey and focus only on the baby. After enduring morning sickness, back pain, and swollen ankles, our courageous pregnant mamas deserve to be pampered!
Here is a list of 37 thoughtful pregnancy gift ideas that will celebrate our expecting mamas for everything they have gone through. These great gifts will make the rest of their pregnancy more comfortable and ease them into their new life with a baby.
35 Best Pregnancy Gifts for Moms-to-Be
Self-Care Gifts for Pregnant Moms
1. Pregnancy Pillow
Help the pregnant mama sleep again (well, at least in between the multiple trips to the bathroom) with a pregnancy body pillow that supports the back, hips, knees, and head. A soft, supportive pillow can make a world of difference when it comes to a good night of rest.
2. Pregnancy Pillow Wedge
A pregnancy pillow is BIG, so not every pregnant mama can fit it in her bed (maybe kick the hubby to the floor?). If the size of the bed is an issue, the mom-to-be will appreciate this pregnancy pillow wedge to help her relax and sleep.
3. Earth Mama Natural Pregnancy Skin Care Set
Having an itchy belly that feels like it's splitting apart (hello stretch marks) is the worst! Keep the expecting mom's growing belly and body moisturized with this set of all-natural skincare products.
4. Organic Pregnancy Bath Salt
A lovely salt bath might be precisely what the mama-to-be needs to get relief from morning sickness, insomnia, and aches and pains.
5. Maternity Belt
Having a belly the size and weight of a bowling ball can do a number on your back. This breathable maternity belt will help support the belly and relieve spinal tension. Whew!
6. Pregnancy Gift Boxes
Both the Bump Box and the Ecocentric Mom Pregnancy Gift Box come full of must-have items to pamper future moms. There is one for every trimester so that the mama-to-be can enjoy every minute of pregnancy.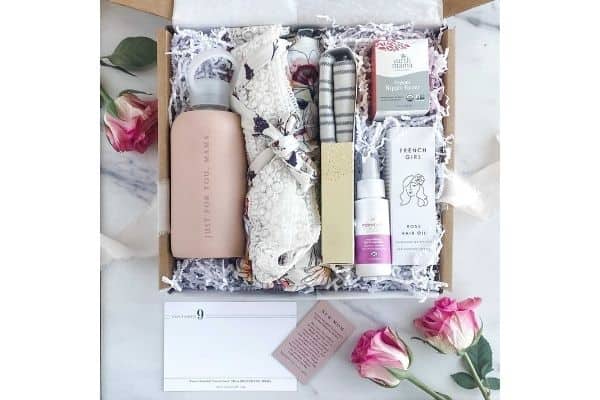 We are also in love with the pregnancy gift boxes from Nurtured 9. You can choose from a variety of boxes, like The "Congrats!" Pregnancy Gift Box, Baby's Arrival New Mom Gift Box, or The Hospital Bag Gift Box. If you want to select specific items to include in the box, you also have the option to curate your own!
7. Postpartum Gift Baskets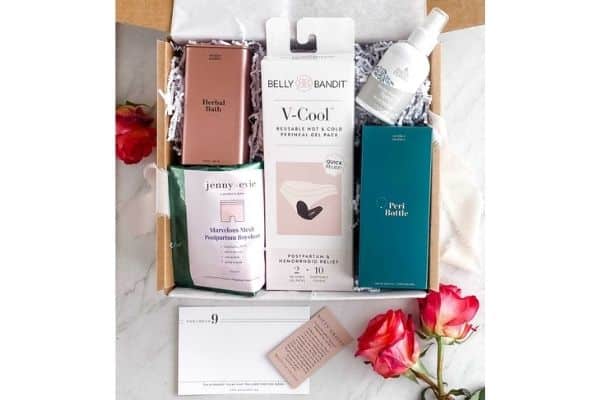 Recovering from childbirth is no small feat, and a new mom needs all the help she can get. We are loving the Nitty Gritty New Mom Gift Box from Nurtured 9 because it includes things like a soothing perineal spray, a herbal sitz bath, and a contoured ice & heat pack for the more sensitive areas.
And as a mom of two who had some damage "down there" after each birth, I will tell you that a good peri bottle is everything. Would not have survived postpartum without it!
8. Compression Socks
One of the many joys of pregnancy is swollen ankles and varicose veins. Pregnant mamas will be thanking you for these compression socks that help with circulation and reduce pain and swelling in their feet and legs.
9. Funny Pregnancy T-Shirt
Expecting mothers can show off their baby bump in cute and exciting ways with these funny pregnancy t-shirts. My favorites include the ones that say, "You're kicking me smalls" and the ones with a baby peeking out.
10. Stainless Steel Vacuum Insulated Water Bottle
It's important to keep hydrated during pregnancy, especially since all the hormonal changes will make a pregnant mama hotter and sweatier. She will appreciate having a large double-walled insulated water bottle that will keep her water ice-cold for up to 24 hours.
11. Cozy Memory Foam Slippers
At one point during pregnancy, mamas can no longer see past their bellies to tie their shoes. These ultra-comfortable anti-skid slippers are easy to put on, keep her feet warm, and are perfect for wearing indoors or outdoors.
12. Reliefband Premier Anti-Nausea Wristband
A pregnant mama will appreciate any relief from morning sickness. I personally had to endure morning sickness for 5 months before I could even stomach a full meal. This anti-nausea wristband will help her feel better naturally with patented neuromodulation technology.
13. Labor/Delivery Non-Skid Push Socks
These adorable socks with cute phrases on the bottom are the perfect "push presents" for expecting mamas. She will be keeping her feet warm in these socks and delivering the baby in style! Just remind her to throw them in her hospital bag, so she doesn't forget when the contractions start.
14. Labor/Delivery/Nursing Gown
Even though this beautiful gown is designed for labor and delivery, many pregnant moms love to wear it as a dress several weeks before giving birth. Then after childbirth, this nightgown provides easy access to the nurses for postpartum checks and the boobs for breastfeeding.
15. Prenatal Massage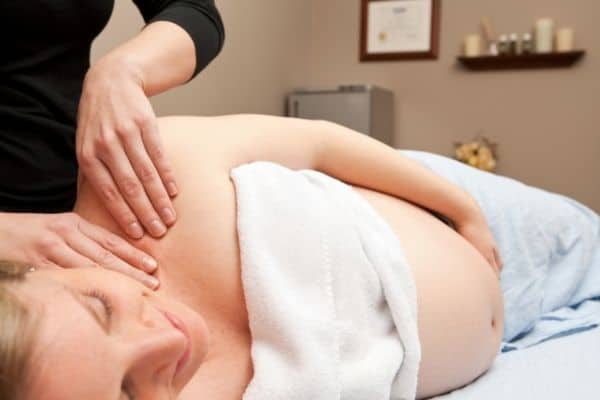 Carrying a baby is no small feat, and pregnant moms often experience backaches. A relaxing prenatal massage may be exactly what she needs to get some relief from the physical fatigue.
I was lucky when I was pregnant that my insurance covered prenatal massages, so I went every other week. I had really bad sciatica and a pregnancy massage with an experienced masseuse cured it after just one session.
I do want to note that there are risks involved with prenatal massages, especially for women with high-risk pregnancies. Do your research and make sure that the place you purchase the massage gift certificate is reputable and has good reviews. It's best if you can get a referral from a trusted friend.
Gifts for Book Lovers and Diary Keepers
16. The Big Fat Activity Book for Pregnant People
Every pregnant mama needs this hilarious activity book in her life. She will be laughing through the three trimesters with witty and funny activities like word finds, quizzes, and coloring pages.
17. Preggatinis: Mixology for the Mom-To-Be
She can get all the yummy taste of a cocktail without the harmful effect of alcohol with this Preggatinis drink mix book. The pages are organized by pregnancy stages and symptoms, with options such as "De-virginize for Dad" so the significant other can enjoy the delicious drinks with a little alcohol.
18. Letters to My Baby
You never know what the future holds, and kids one day will treasure these personal, hand-written letters from their parents. These letters will serve as a paper time capsule that captures the precious baby years for a lifetime.
19. 50 Things to Do Before You Deliver
Expecting mamas have enough to worry about between preparing the nursery and getting baby essentials. This humorous book is full of great advice with 50 things to plan, do, or think about before the little one is here.
20. The First-Time Mom's Pregnancy Journal
Nine months will go by fast, and before she knows it, the mama-to-be will be too busy taking care of a baby to remember what it was like being pregnant. With this trimester-by-trimester journal, she will be able to write down every meaningful milestone and memory of her pregnancy.
21. What to Expect When You're Expecting
Can't go wrong with America's pregnancy bible.
Gifts of Nourishment
22. Home-Cooked Meals
The last few weeks of pregnancy can be brutal, and the first few weeks after delivery are no better. Help the expecting mom by setting up a meal train and bring delicious home-cooked meals over to feed her and her family.
To organize meals for your pregnant friend, you can use mealtrain.com. It has features like an online meal calendar, gift cards, invitations, and donations that will make organizing meal giving a breeze.
23. Sun Basket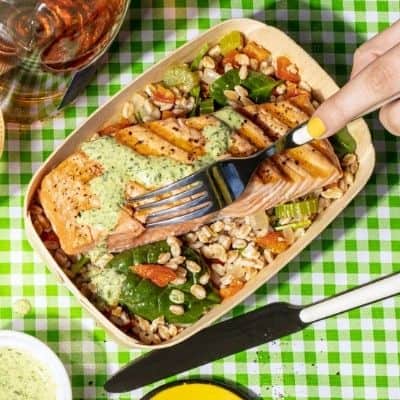 If cooking is not your thing, you can give the expecting mama in your life the gift of clean eating with Sun Basket. She will receive weekly deliveries full of fresh, pre-measured ingredients (including organic produce!) that she can cook up using easy, delicious recipes that come with the basket. You can get $35 off your first order here.
24. Caffeine-Free Coffee
If the expecting mama lives off coffee before pregnancy, it may be difficult for her to go through 9 months without it. Dandy Blend is a caffeine-free alternative to regular coffee, made from only barley, rye, chicory roots, and dandelion roots. Not only is it healthy, but in my opinion, it's even more delicious than coffee. I still drink it now!
25. Maternity Teas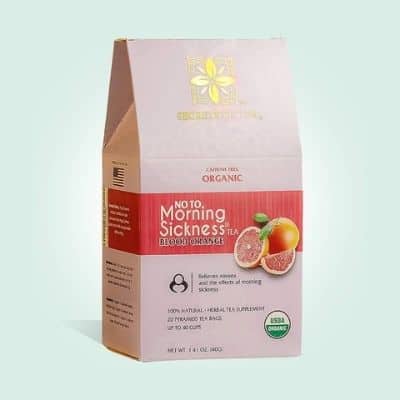 Blended for use during pregnancy, the maternity teas from Secrets of Tea will help with morning sickness, help pregnant moms relax and sleep like a baby, and even get their bodies ready for labor.
26. Lactation Cookies Mix
The first few weeks after giving birth is all about ensuring the baby is getting enough breast milk. Give the expecting mama peace of mind with this yummy lactation cookies mix she can whip up in case her supply is low.
Memory Keepsakes Gifts for New Parents
27. Sonogram Pregnancy Keepsake Frame
Expecting moms can document all three trimesters of their pregnancy with this beautiful, white wooden picture frame with three inserts for sonogram photos. Once the frame is stilled up, it's the perfect decoration for the baby's nursery.
28. Pregnancy Belly Cast Kit
Help the mama-to-be capture the memory of having her precious baby in her belly forever with the pregnancy belly cast kit.
29. Baby Keepsake Box
From the newborn's first blankie to the first locks of hair, this baby keepsake box makes the ideal gift for new parents to capture all their precious memories.
30. Pregnancy Stickers
The expecting mama can capture her belly bump growth throughout her pregnancy with these cute pregnancy stickers.
31. Felt Letter Board
Felt letter boards are essential for milestone photos. Your mom-to-be is going to love arranging the letters to reflect how many months pregnant she is and then using the same felt letter board later on to capture her baby's growth.
32. Maternity Photoshoot
The months might seem long, but once they are gone, they are gone forever. Help the pregnant mom celebrate her pregnancy and capture the precious memories of her baby in her belly with a maternity photoshoot.
If you don't know a maternity photographer in your area, you can try searching on shoott.com for a free photo session and pay only for photos that you love with no minimum purchase.
Gifts for the Home
33. House Cleaning
Do you know how often a new mom needs to wake up at night to feed the baby? Every 2 hours. Hence, she is not getting much sleep. Tell your pregnant mama to rest up before the baby arrives, and don't worry about cleaning the house! Invite yourself over and help clean the house or even just fold laundry while the pregnant mom takes a nap.
Not a fan of cleaning? I totally understand! You can also gift your mom-to-be a thorough deep cleaning by professional cleaners on dazzlingcleaning.com.
34. Robot Vacuum and Mop
Give your pregnant mom the gift of never needing to clean the floor again with a robotic vacuum and mop. Especially if she has pets, a robotic floor cleaner can save her from having to be on her hands and knees wiping the floor.
35. Free Two-Day Shipping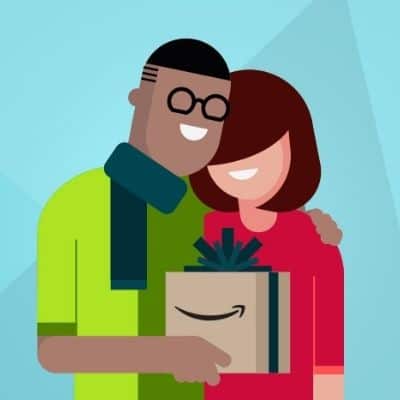 One of the best gifts for new moms is an Amazon Prime membership. Instead of dragging her gigantic bump to the stores, she can shop online and get everything shipped to her while she is nesting. Then after the baby is here, she will be using the free two-day shipping like crazy because something always runs out earlier than expected.
Gifts of Knowledge
36. Online Prenatal Class for Couples
Expecting mamas may be anxious about the big day coming up. What better gift to get her than an online prenatal class so she can learn about all the ins and outs of labor and delivery? Plus, she will get to do the course with her partner, who believe it or not plays a huge part in the labor process.
37. Online Postpartum Recovery Class
Know a mama-to-be who is eager to lose the baby weight and get back to her pre-pregnancy self? The Postpartum Cure is an online class that will jumpstart her health, weight loss, and nutritional balance after her baby. She will be thanking you as she sheds her baby weight!
Pamper the Expecting Moms in Your Life
I hope you like the pregnancy gift ideas! I tried to include some out-of-the-box gifts that real moms have loved. Whether we are talking about first-time moms or second-time moms, pregnancy can feel like a full-time job. Therefore, let's pamper the pregnant moms and give them a break so that they can handle pregnancy like a boss.
---
Related Posts: