Whether it's her birthday, Christmas, Valentines, or your anniversary, here are 35 best gifts for a pregnant woman that she actually wants.

This post contains affiliate links. Please see my full disclosure for details.
Between gender reveal parties and baby showers, expecting moms are well-prepared with adorable outfits, diapers, and other essentials for the new baby.
But who is doing the hard work here? The mama-to-be!
Too often, we forget the heroine of this 9-month long journey and focus only on the baby. After enduring morning sickness, back pain, and swollen ankles, our courageous pregnant mamas deserve to be pampered!
Here is a list of 35 thoughtful pregnancy gift ideas that will celebrate our expecting mamas for everything they have gone through. These great gifts will make the rest of their pregnancy more comfortable and ease them into their new life with a baby.
35 Best Pregnancy Gifts for Mamas-to-Be
1. Pregnancy Pillow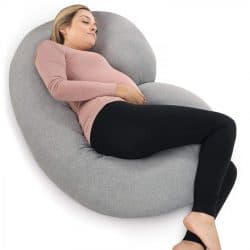 Help the pregnant mama sleep again (well, at least in between the multiple trips to the bathroom) with a
pregnancy body pillow
that supports the back, hips, knees, and head.
2. Pregnancy Pillow Wedge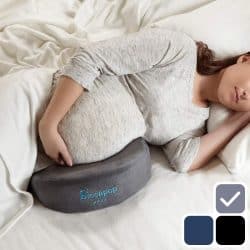 A pregnancy pillow is BIG, so not every pregnant mama can fit it in her bed (maybe kick the hubby to the floor?). If the size of the bed is an issue, the mama-to-be will appreciate this
pregnancy pillow wedge
to help her relax and sleep.
3. Earth Mama Natural Pregnancy Skin Care Set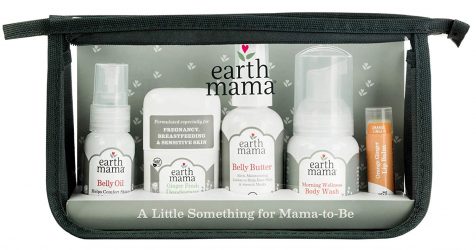 Having an itchy belly that feels like it's splitting apart (hello stretch marks) is the worst! Keep the expecting mom's growing belly and body moisturized with
this set of all-natural skincare products
.
4. Organic Pregnancy Bath Salt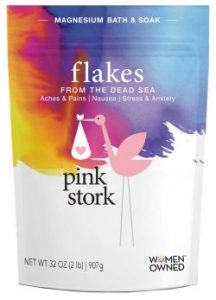 A lovely salt bath
might be precisely what the mama-to-be needs to get relief from morning sickness, insomnia, and aches and pains.
5. Maternity Belt
Having a belly the size and weight of a bowling ball can do a number on your back. This
breathable maternity belt
will help support the belly and relieve spinal tension. Whew!
6. Pregnancy Gift Boxes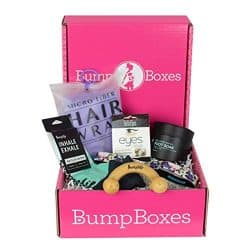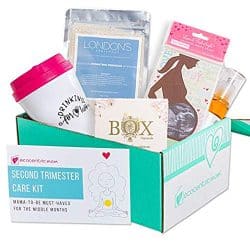 Both the
Bump Box
and the
Ecocentric Mom Pregnancy Gift Box
come full with must-have items to pamper the future moms. There is one for every trimester so that the mama-to-be can enjoy every minute of pregnancy.
7. Compression Socks
One of the many joys of pregnancy is swollen ankles and varicose veins. Pregnant mamas will be thanking you for these
compression socks
that help with circulation and reduce pain and swelling in their feet and legs.
8. Funny Pregnancy T-Shirt
Expecting mothers can show off their baby bump in cute and exciting ways with these
funny pregnancy t-shirts
. My favorites include the ones that say, "You're kicking me smalls" and the ones with a baby peeking out.
9. Stainless Steel Vacuum Insulated Water Bottle
It's important to keep hydrated during pregnancy, especially since all the hormonal changes will make a pregnant mama hotter and sweatier. She will appreciate having
a large double-walled insulated water bottle
that will keep her water ice-cold for up to 24 hours.
10. Cozy Memory Foam Slippers
At one point during pregnancy, mamas can no longer see past their bellies to tie their shoes. These ultra-comfortable anti-skid slippers are easy to put on, keep her feet warm, and are perfect for wearing indoors or outdoors.
11. Sea-Band Wristband
A pregnant mama will appreciate any relief from morning sickness. This
acupressure wristband
will help her feel better naturally from nausea.
12. Labor/Delivery Non-Skid Push Socks
These adorable socks with cute phrases on the bottom are the perfect "push presents" for expecting mamas. She will be keeping her feet warm in these socks and delivering the baby in style! Just remind her to throw them in her hospital bag, so she doesn't forget when the contractions start.
13. Labor/Delivery/Nursing Gown
Even though this
beautiful gown
is designed for labor and delivery, many pregnant mamas love to wear it as a dress several weeks before giving birth. The
nightgown
provides easy access to the nurses for postpartum checks and the boobs for breastfeeding.