Learn how to make an easy origami wolf as a Little Red Riding Hood craft or a non-spooky Halloween craft with these step-by-step instructions.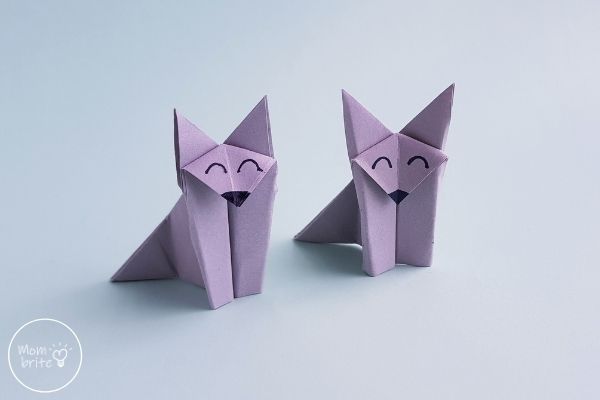 Paper crafting is a really fun and easy way to entertain kids. You can use paper to form so many different shapes, like animals or boxes. 
This easy origami wolf is an inexpensive craft that only uses a few supplies that you probably already have. You can make this craft with your kids or students on a rainy day or a quick Halloween project.
Let's get started on how to make these cute little paper animals!
Where Did Origami Originate?
Origami was invented in 17th century Japan and is still a popular pastime there today.  The word "origami" comes from the Japanese words for folding (oru) and paper (kami). Origami is also called papercraft or kirigami. 
Origami became popular in Europe after World War II when American soldiers brought it back with them as a form of relaxation. It's now quite common to see origamis at children's birthday parties, where they're often given as party favors.
What Do You Need to Make an Origami wolf?
Making an origami wolf is really easy and only requires you to know a few basic folds.
If you're new to paper folding, no worries! There are plenty of resources online to teach you how to fold origami & the basics you need to know. You can also refer to the detailed instructions and photos included with this paper wolf craft.
Supplies
Colored craft paper (grey or whatever color you prefer for your origami wolf)
Scissors or a craft knife (cutting with scissors is much easier than cutting with a craft knife, especially for little hands)
A glue stick 
A metal ruler and/or bone folder may also be used for smoothing out folds.
Black colored pencil, marker, or Sharpie
Optional: pencil, crayons, or markers to color your finished wolf in any way you like!
How to Make an Origami Wolf
Origami Wolf Instructions
Step 1: Select a piece of colored craft paper and cut it into an 8×8″ square shape. You can make a smaller square if you wish, but note that the smaller the paper, the harder it is to fold.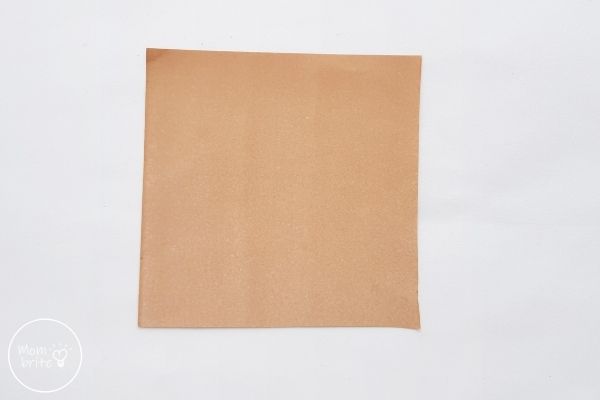 Step 2: Fold the paper in half diagonally, joining the 2 opposite corners together.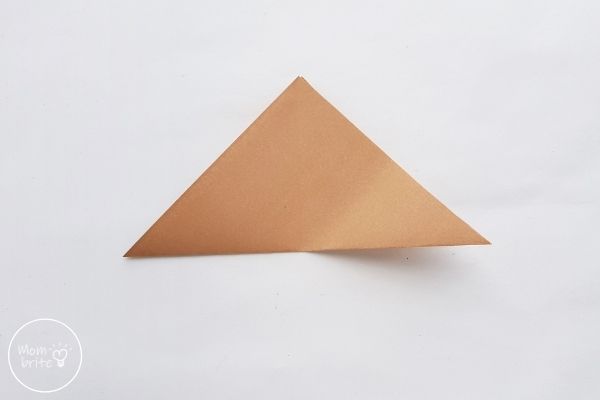 Step 3: Fold and bring the left bottom corner to the top corner and then the right bottom corner to the top corner, as pictured.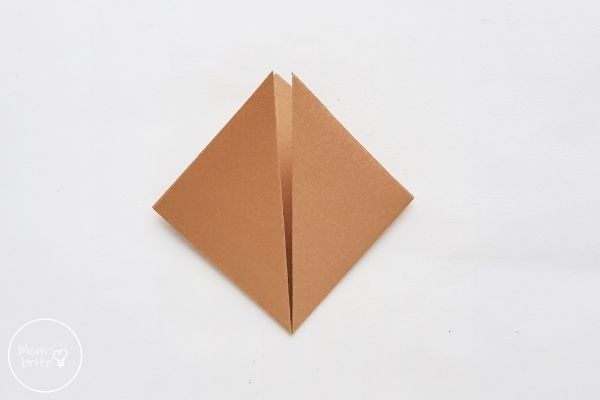 Step 4: Fold the pattern in half, keeping the open sides facing outwards.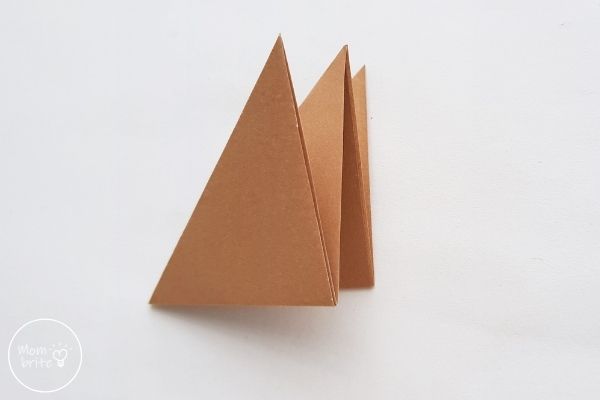 Step 5: Flatten the current pattern on a flat surface, using a ruler or bone folder.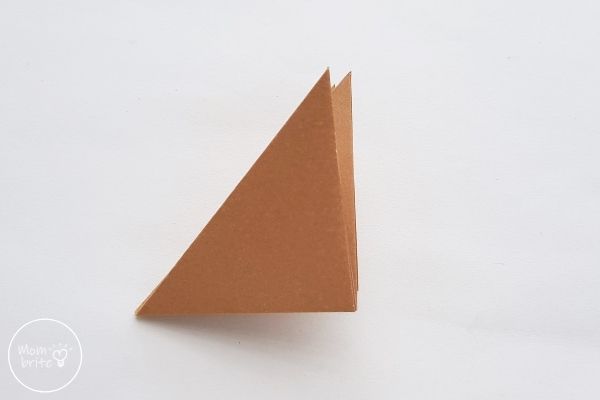 Step 6: Hold the side that has 4 layers (each layer having 2 layers). Fold that open end 1 cm inside.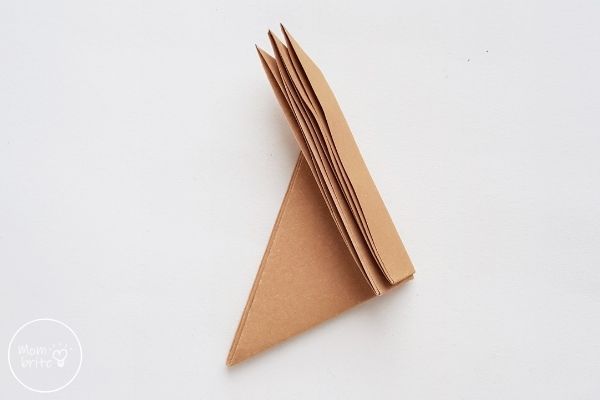 Step 7: Unfold half of the 1 cm folded part. This should look like the pattern in the picture of this step.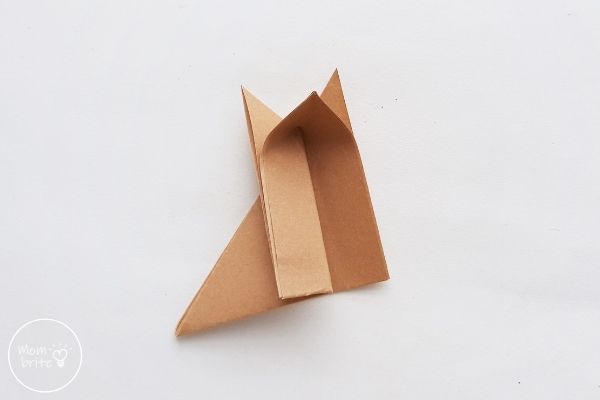 Step 8: Unfold the 1 cm fold completely.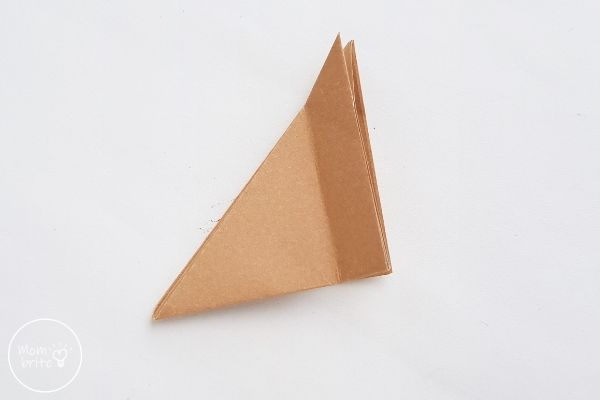 Step 9: To make the origami wolf's forelegs, make a neat and thin half-fold along the 1 cm part. To clarify, you should only fold the open-side that is closer to you.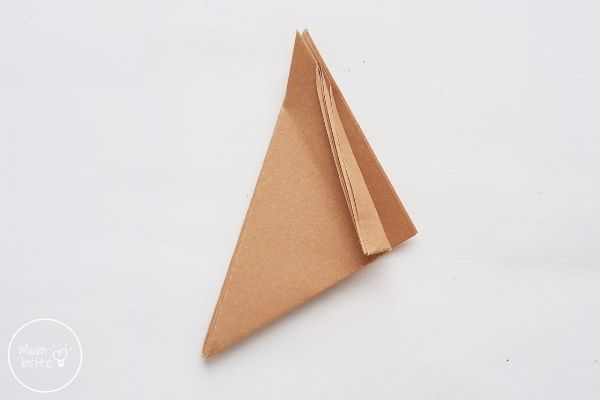 Step 10: Flip the pattern to the other side.
Step 11: Similarly, make a neat and thin half-fold along the 1 cm part on this side too.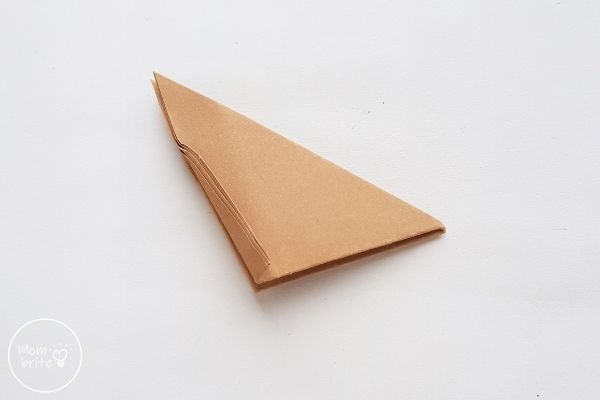 Step 12: Now, unfold half of the 1 cm folded part as we did in step 7. The pattern looks pretty much like a wolf now. Flatten the middle part of the 1 cm folded part.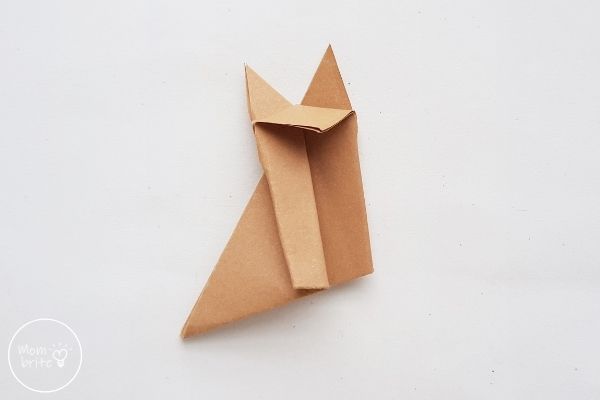 Step 13: Use a pen or sharpie to draw the eyes and nose of the origami wolf on the middle part.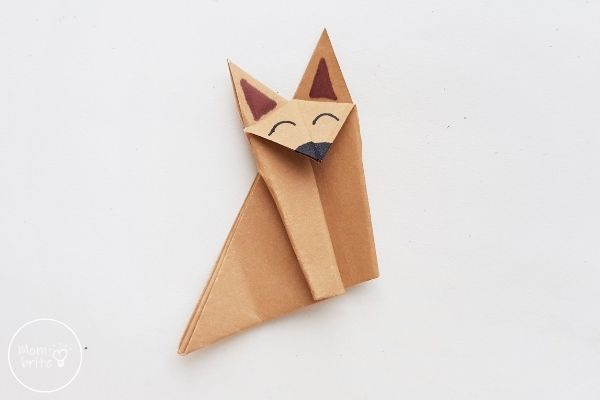 Step 14: You can make the origami wolf stand by folding the backside (this will be the tail) into half by 90 degrees.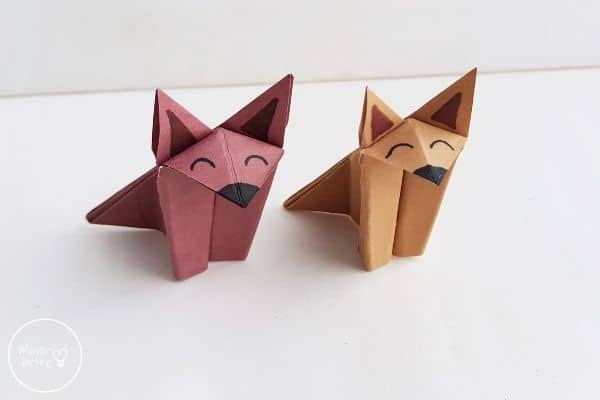 Can I Use this Origami Pattern to Make Other Animals?
Yes, you absolutely can! All you have to do is change the color of your paper or select a different type of colored paper. The folds are the same for several origami animals.
Just make sure that you fold an 8×8″ square piece of paper and then follow these patterns to get the animal shapes. A dog or fox will look exactly the same with these instructions, only a different color and you'll draw the face a bit differently. What animals can you make with these simple instructions?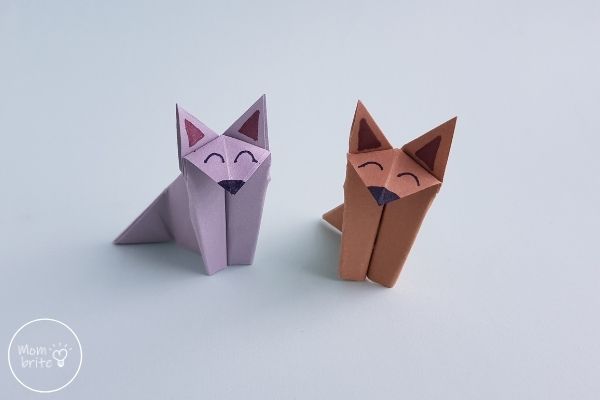 I hope you enjoy this origami wolf craft. I hope that it provides the motivation and information necessary to begin crafting with your children or spouse, even if you think you have no talent! It is always worth giving something new a try because there are so many fun, easy crafts available to make together here on the blog.
Try these animal crafts next: